How to Use Patterned HTV
Patterned Vinyl and Patterned Iron-On can be tricky materials to work with. In this post, we will show you the Cricut tips and tricks you need to have success with this cool product! This craft technique takes practice, but once you see our tutorial, you will become a Cricut Pro and want to use it all the time.
When working with heat transfer vinyl, there are a few things to remember. Patterned HTV adds a few extra elements that you need to know, but you'll be all ready to work with it!

How to Use Patterned HTV
We hope you enjoy this fun and informative How-To Cricut Tutorial about How To Use Patterned Iron-On The RIGHT Way and that it inspires you to make your own Cricut Patterned Iron-On creations.
The first thing to think about is that patterned heat transfer vinyl won't work as well with projects using small fonts or more intricate designs. The pattern simply won't show up well and it can be difficult to make out the design.
In this project, we are layering on iron-on vinyl. So we're creating a plain design and placing that on top of the patterned iron-on so that it shows through. Once you see this technique, you can apply it to a variety of different designs and surfaces.
Supplies needed:
Step by step tutorial:
Now that you have your supplies ready, we'll take you through the steps to create your layered HTV design using patterned iron-on vinyl.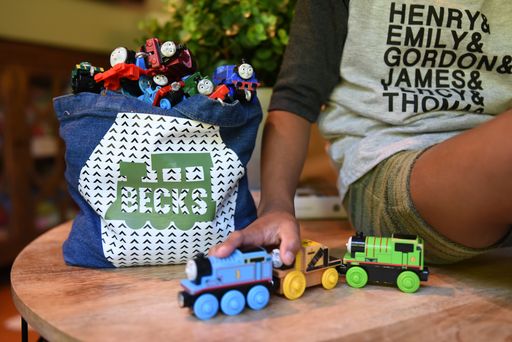 Working in Design Space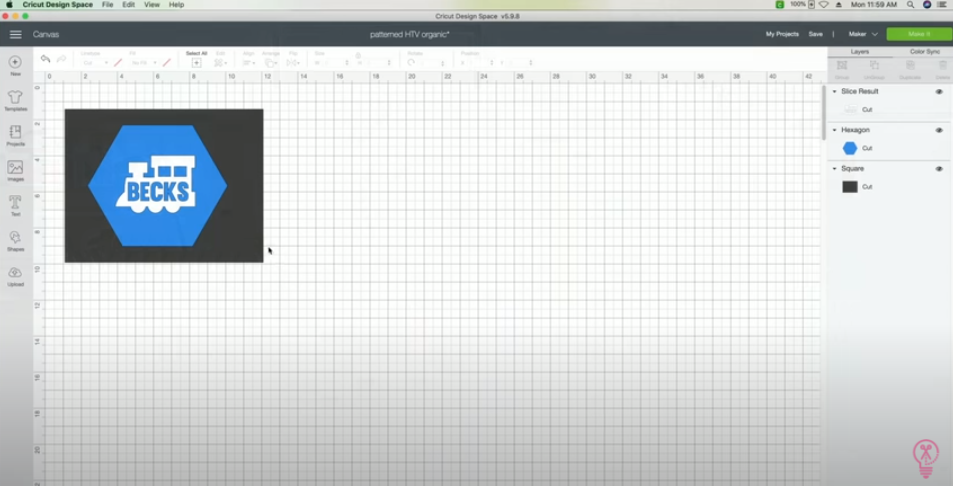 Let's begin in Cricut Design Space. We have added a rectangle that is the same size as the available space we have to work with on the tote bag.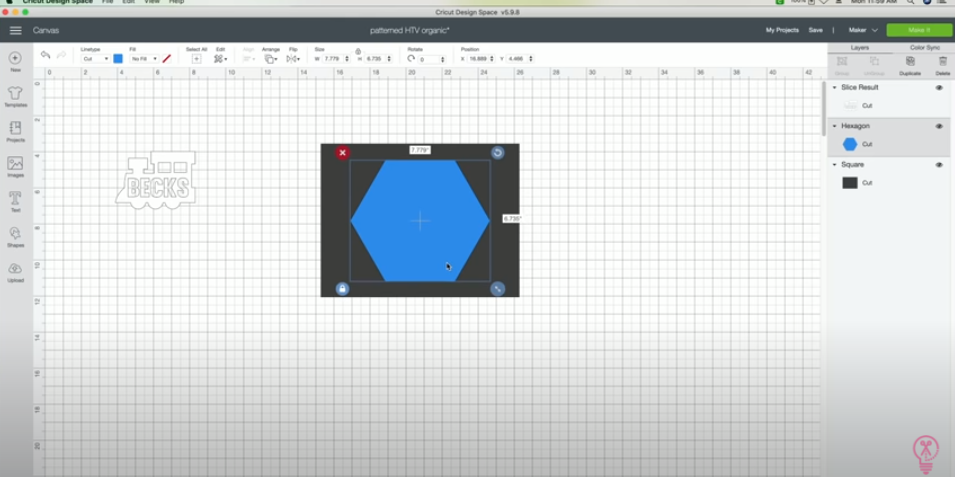 We then added a hexagon and sized it to fit the tote bag space well. This hexagon is what we're cutting out of the patterned HTV and will serve as a background for the plain HTV design. Remember, the point of one of these projects is to see the pattern, so you definitely want that piece to be large.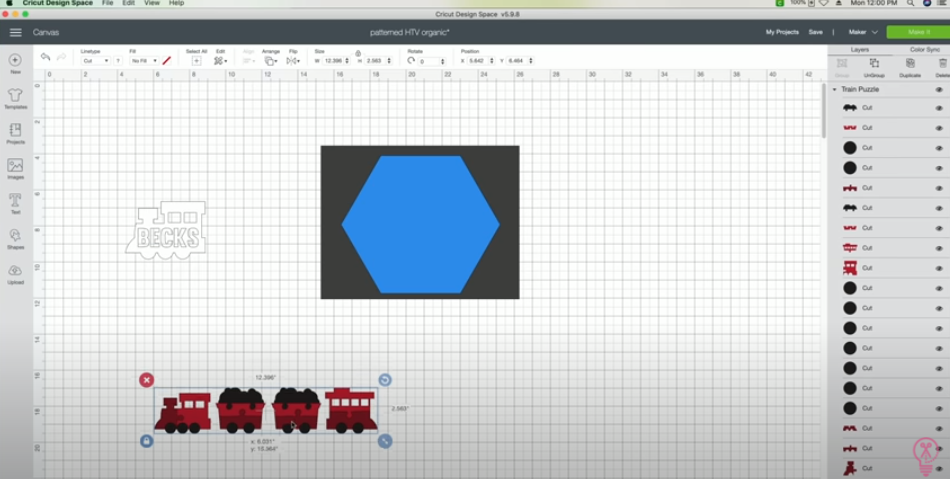 For the design with the plain heat transfer vinyl, we are using this train cut file from here on Makers Gonna Learn. Select the three train cars and delete them, leaving behind only the engine.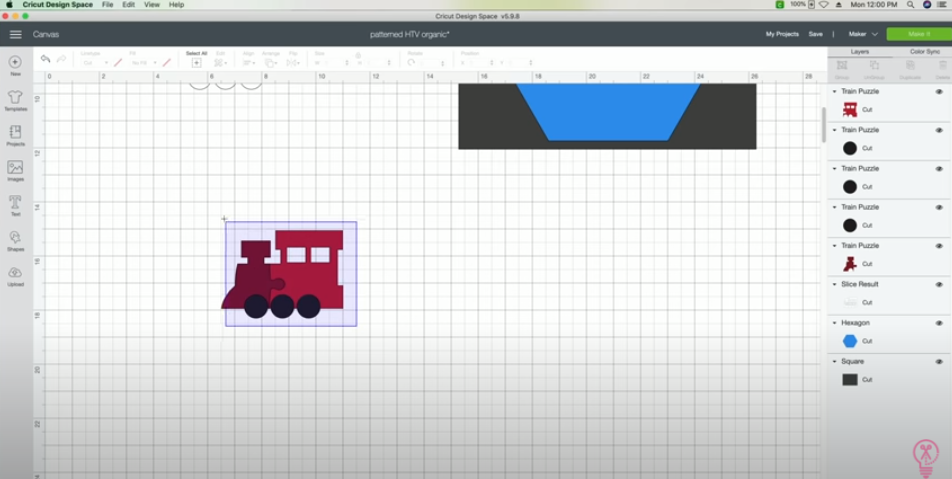 Select all of the layers of the train engine and to make them one layer, choose Weld. Size to fit well on the hexagon.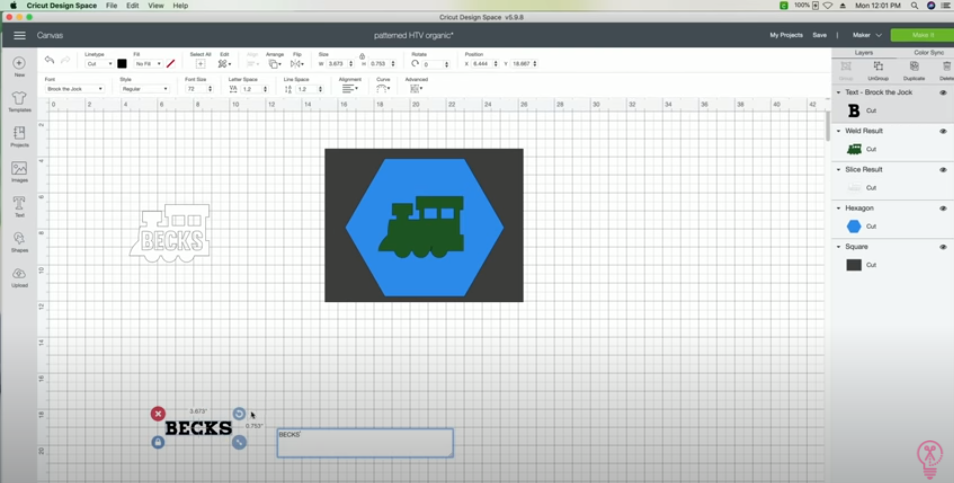 Add a text box and type in the text you want to use. You want to use a font that is thick and wide since it will be cut out of the train engine. We used our Brock the Jock font from here on Makers Gonna Learn.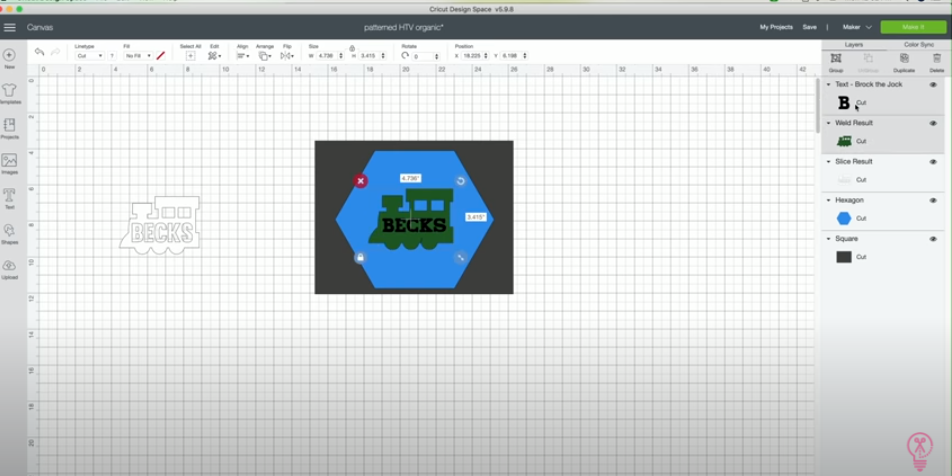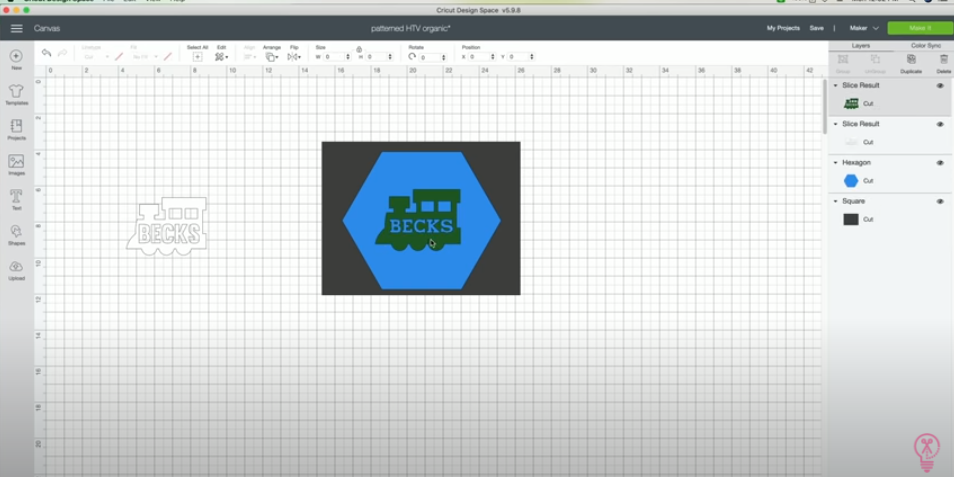 Size the text to fit on the train and then select both the train and the text layers. Press Slice. Discard the unnecessary slice results.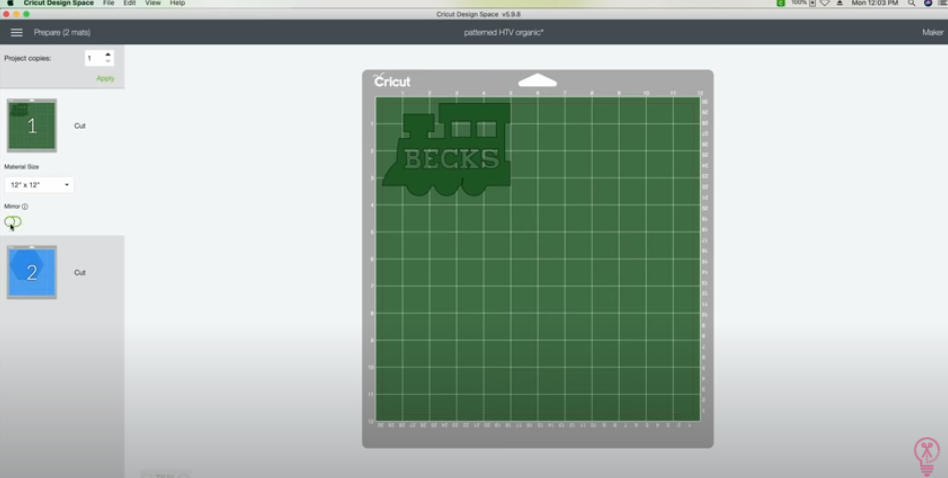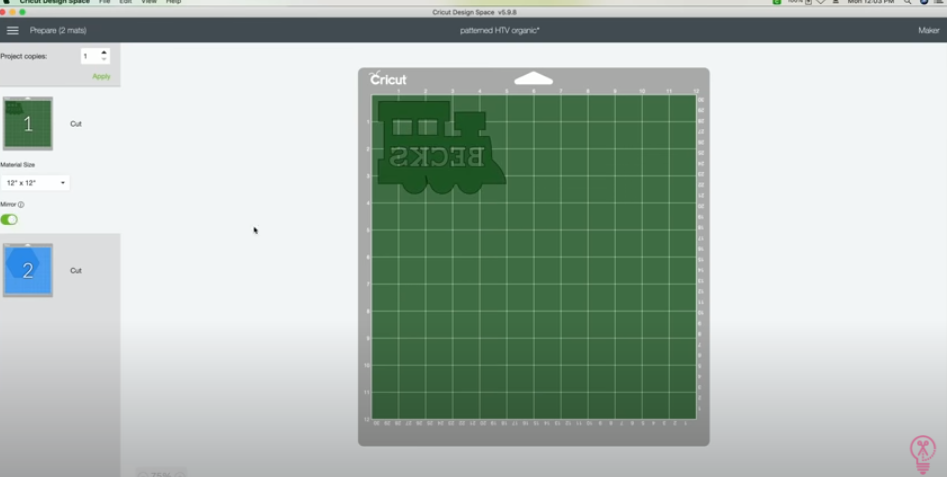 Cut out your design.
Click Make It to cut your heat transfer vinyl. Remember that because it's iron-on, you have to toggle on Mirror.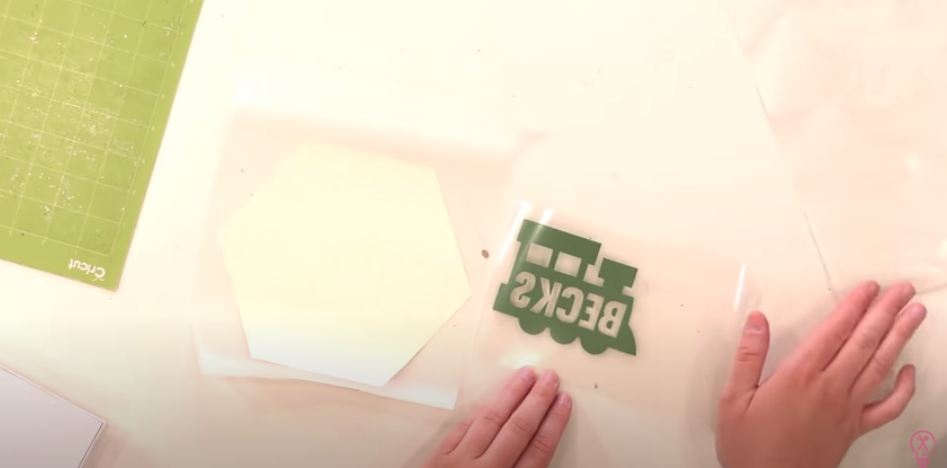 Cut out the vinyl and weed it. Remember to weed out the cut-out portions of the letters, leaving behind the centers of letters such as "B".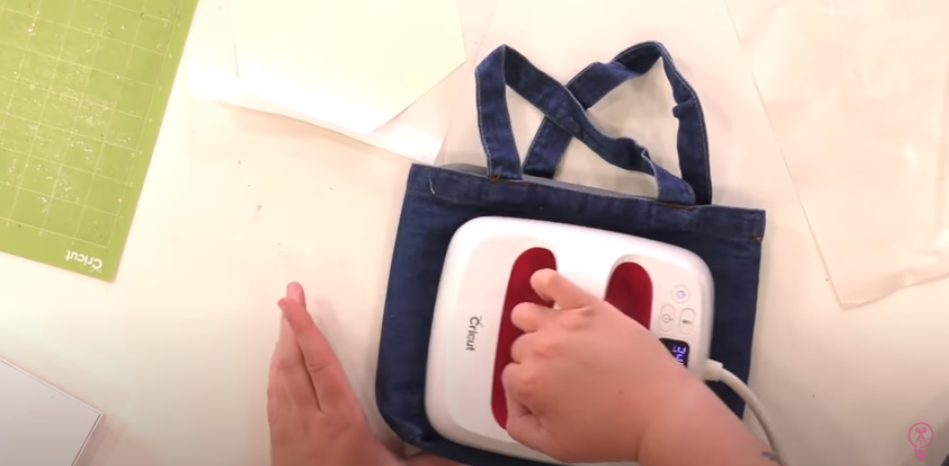 Preheat your EasyPress to 340 degrees. We like to place the EasyPress mat inside the tote bag to help get any seams on the back of the bag out of the way for adhering the iron-on vinyl. Use the EasyPress to iron out any wrinkles that might get in the way of your design adhering well.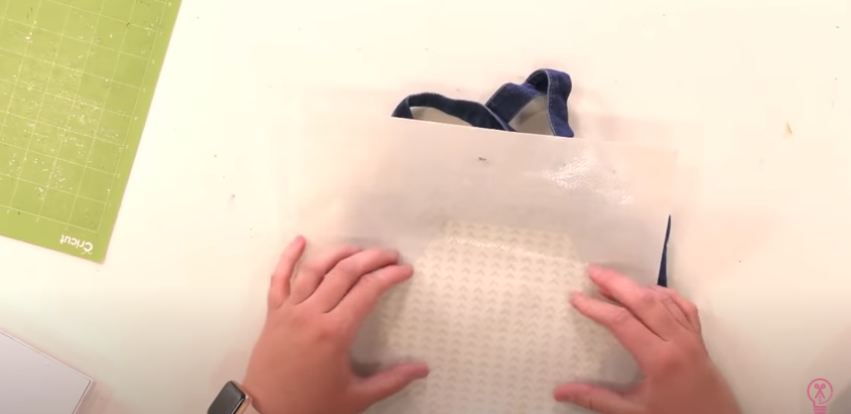 Lay down the patterned HTV onto your surface and cover with the Teflon sheet. Heat for 30 seconds.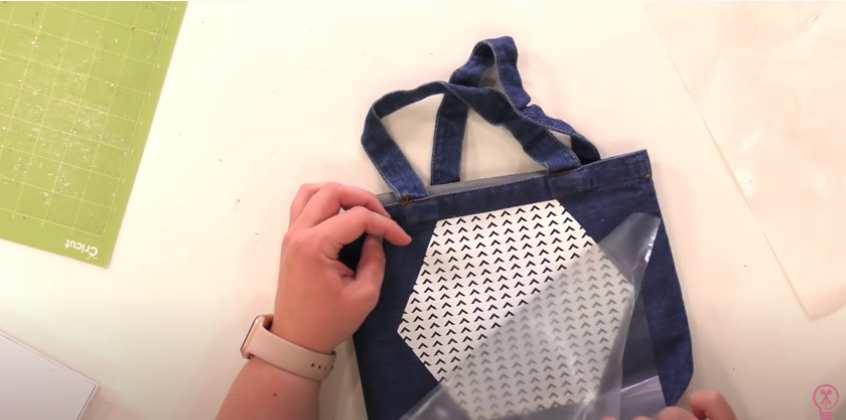 Start peeling up the transfer sheet gently. If any parts of the HTV start to come up too, place the transfer sheet and Teflon sheet back down and heat again. Once fully adhered, peel away the transfer tape.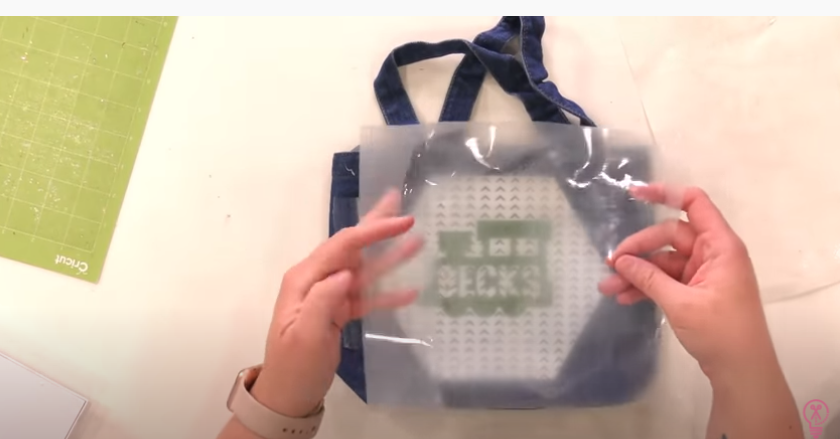 Place the train design down over the patterned iron-on. Cover with leftover transfer tape from the previous design (the hexagon). Any vinyl that you're heating must be fully covered or it will melt. Apply heat again for another 30 seconds.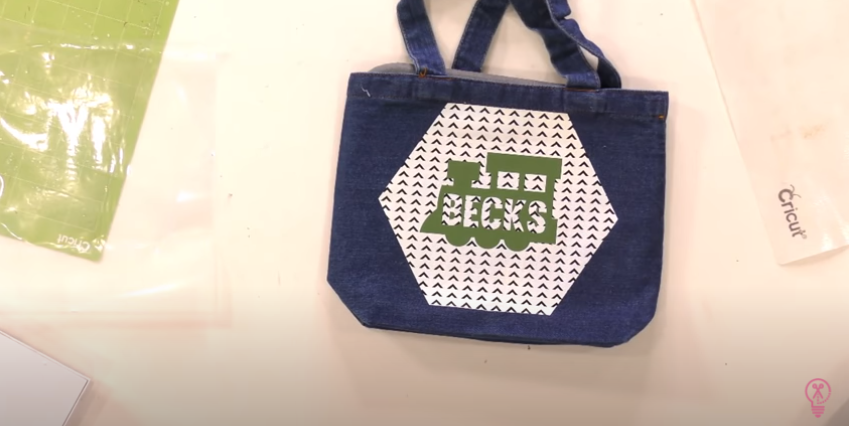 Peel away the transfer sheet and your design is complete!


Tanner, Courtney, and the rest of the Makers Gonna Learn Team are all here because we love die-cutting and especially love sharing fun projects and tutorials with fellow makers. We are all great friends and are always having a blast when we are together- you will see this on camera, especially during live streams! We are here to inspire and support you in your crafting journey!