How to Use Printable HTV
If you're ready to learn the basics of how to use printable HTV, this Cricut tutorial is for you! Once you master this, you will be able to design and make tons of different Cricut craft projects. Printable iron on vinyl (also known as HTV or heat transfer vinyl) opens the door to more die cutting projects than ever before. Just think of all the beautiful home decor, wearable, and other crafts you could make for yourself and to give as gifts.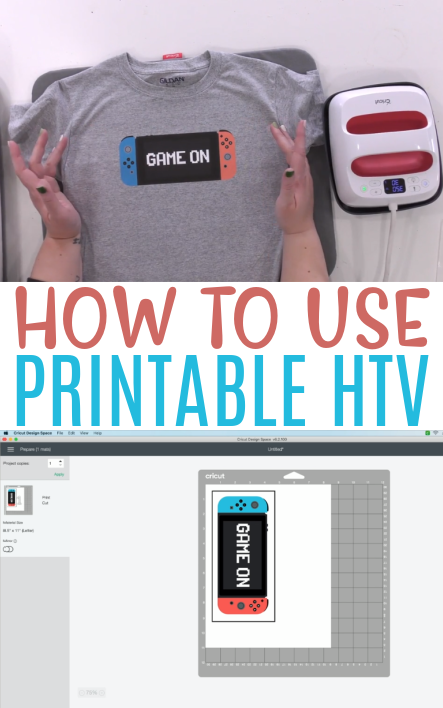 How to Use Printable HTV
We get asked about printable iron on all the time, so we're very excited to show you just how easy it is to use. Let's get started!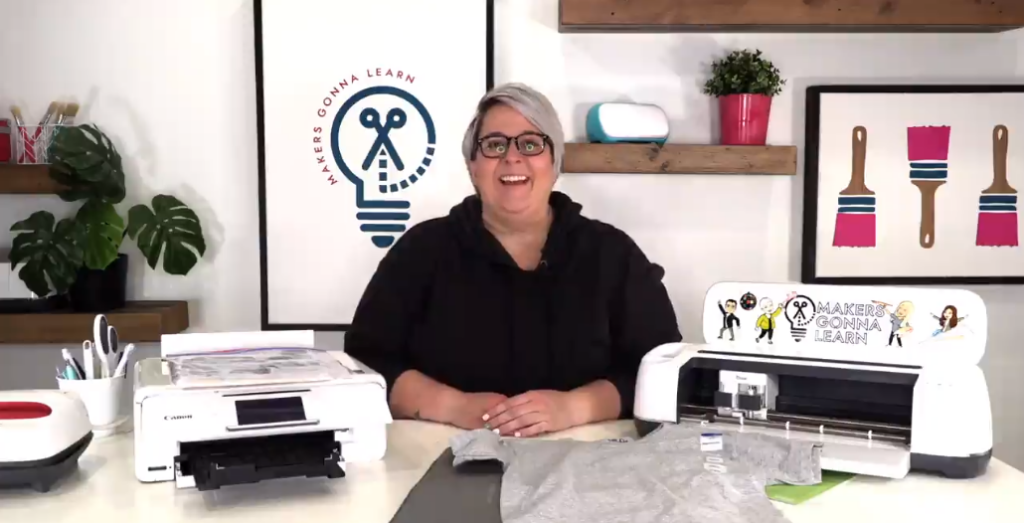 Materials We Used:
The most important material needed for making printable heat transfer projects is obviously the printable HTV itself! Our favorite is the NuFun brand as listed above. It comes in two types: one for light fabrics and one for dark. However, we prefer to use the one for dark fabrics for all colors of fabric.
It provides great coverage and the colors print on the fabric really well. It's a really good quality product and we highly recommend it. It's very easy to weed and sticks on your fabric really well.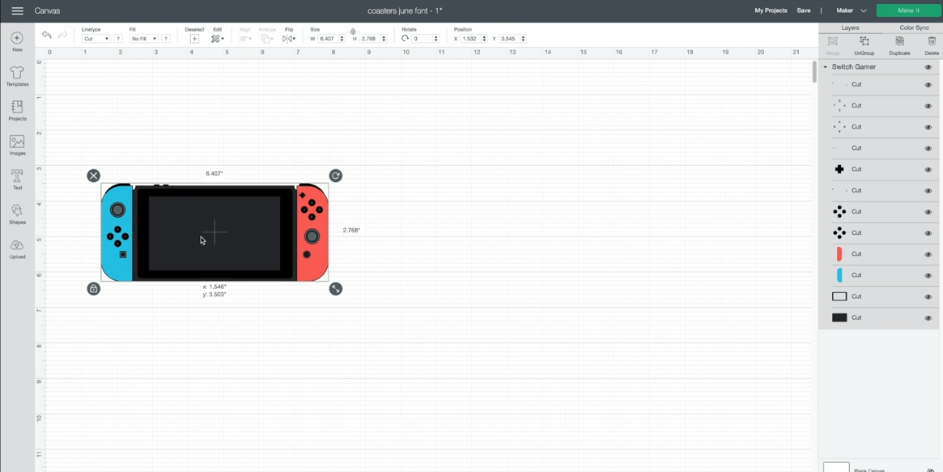 Downloading your cut files and fonts
Download the cut file and font that you want to use for your project. You can use a PNG if you want- it can be used for making stickers or other Print then Cut projects – but we prefer to grab the SVG. This way we can customize it and then flatten it to still use it as a print then cut design.
We are using the Switch Gamer cut file and the Hardcore Gamer font from right here on Makers Gonna Learn.
Install your font. If Cricut Design Space is already open, you'll need to close it down and then relaunch it so that you can see the new font you've installed. If you haven't opened it prior to installing the font, you can skip this step as you will find it already in Design Space. Upload your chosen cut file into Design Space and add it to your canvas.
If you need more detailed instructions on how to add new fonts and cut files to Cricut Design Space, be sure to watch the full video tutorial below.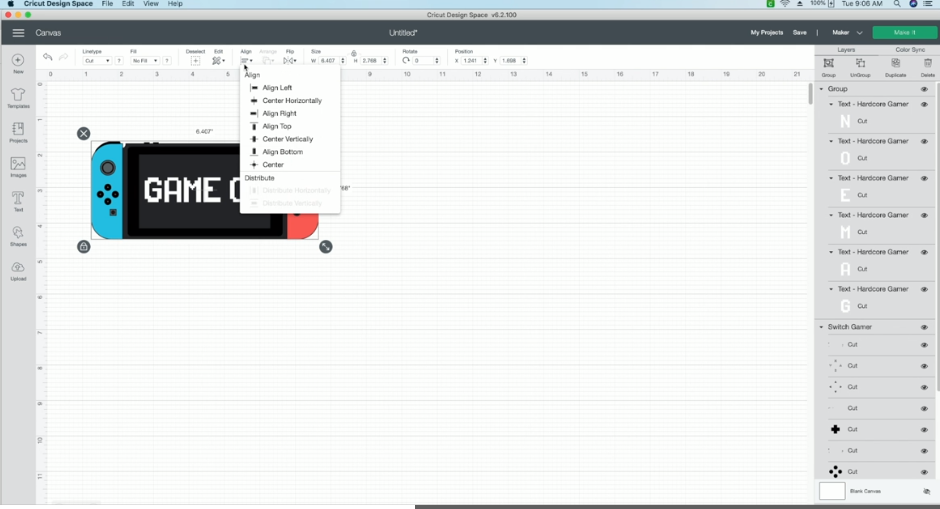 Creating your design in Cricut Design Space
After adding the cut file of your choice, you can go ahead and open a text box to add text if you'd like too. We added the words GAME ON and sized it to fit on our design. Then, we selected the whole thing and used the Align function to center the text on the cut file.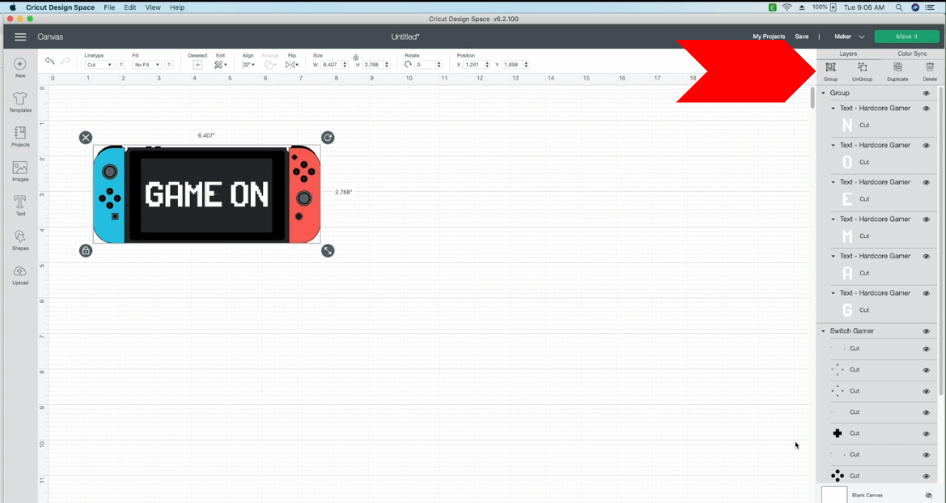 If you look at the Layers Panel, you'll see all the different layers making up your design. Go to the very bottom and press Flatten.
Check the Layers Panel again after flattening and you'll see that your design is now just one layer. You have changed the design from a cut file to a Print then Cut file. That's exactly what you want!
Now you can size your design, keeping in mind that there are size restrictions for Print then Cut projects. The maximum size design you can make is 6.75 by 9.25 inches. When you're happy with the size, go ahead and click Make It.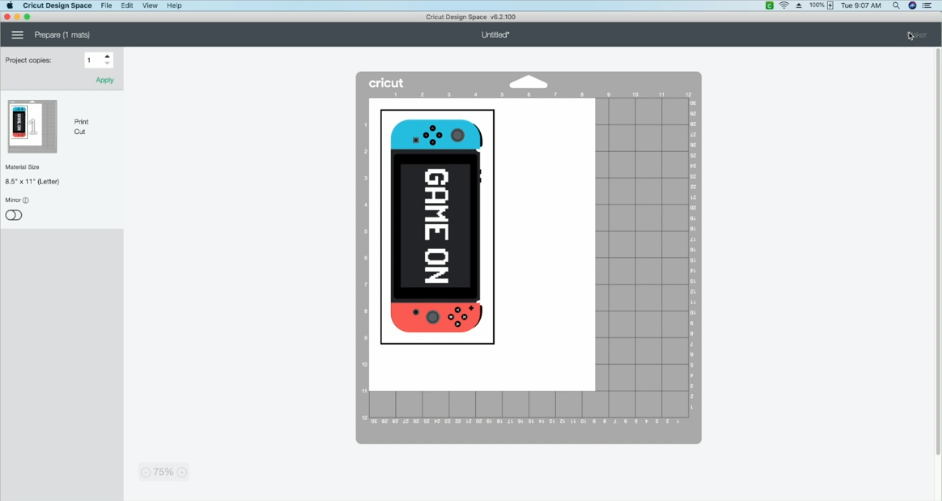 Printing your design
You can now see how your design looks on the Cricut cutting mat. The white rectangle represents your material – in this case, printable HTV, but it could also be something like cardstock. The black rectangle is made of lines known as registration marks or sensor lines. These are what your Cricut will "read" so that it can detect just where to cut. Press Continue and then Send to Printer.
We like to leave Add Bleed on and we also like to toggle on Use System Dialog. Then press Print.
The system dialog may get hidden behind Design Space so you might need to move or minimize Design Space so you can see it. The reason you want to see this dialog is so you can increase the print quality. By default, it will be on Normal and we liked to increase it up to Best.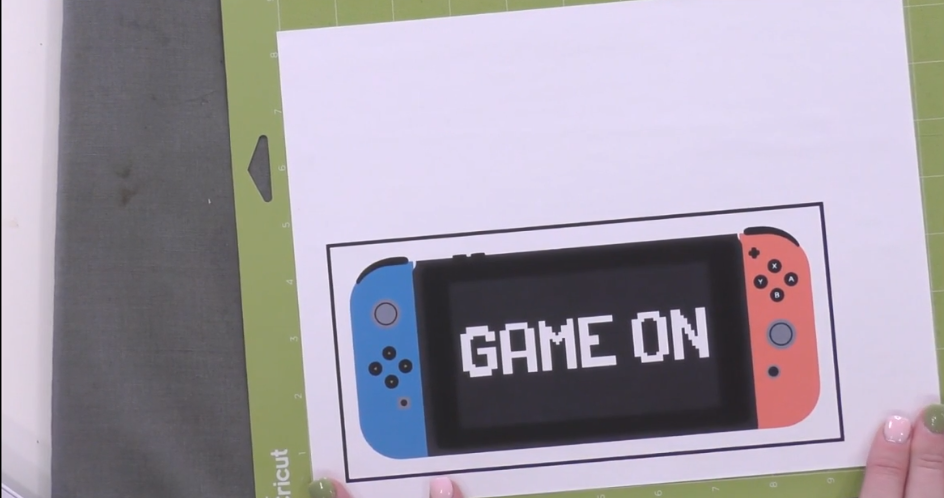 After you have printed out your design, let it just rest in the printer tray for a while. The ink will be wet at first and you don't want to smudge it. Once it is completely dry, place the printed design on your cutting mat.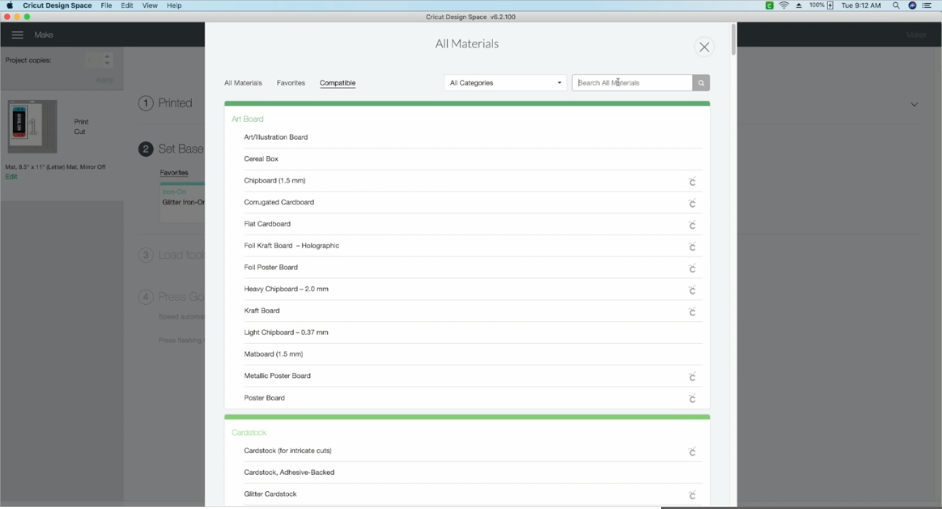 Cutting your design
Select your materials by searching for it in Design Space. Load the mat into your Cricut machine.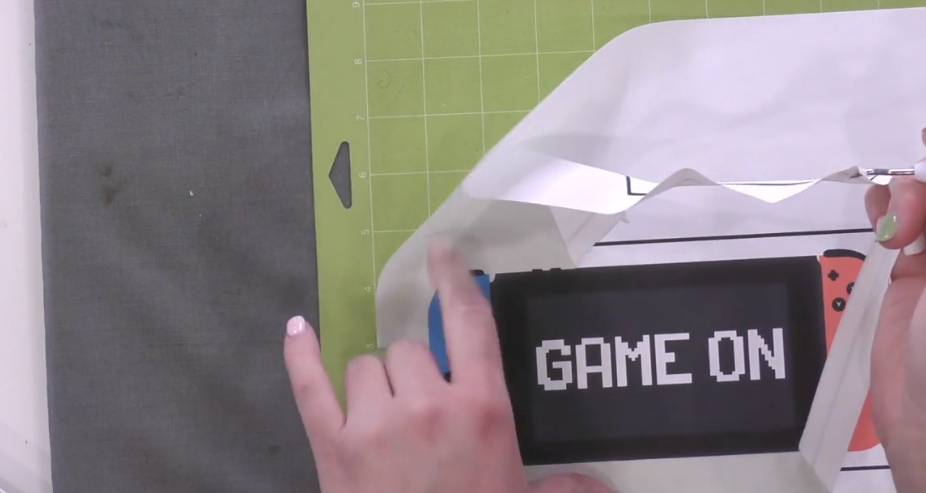 Weeding is really easy to do on this. Simply start at one corner and pull up the excess material. Remember that if your machine isn't cutting well on your Print then Cut projects, it needs calibration. If you're not sure how to do this, check out our video tutorial on How to Calibrate your Cricut Machine.
Remove the mat from the vinyl and then you can just peel up your design from the backing. Do it gently – this material can stretch.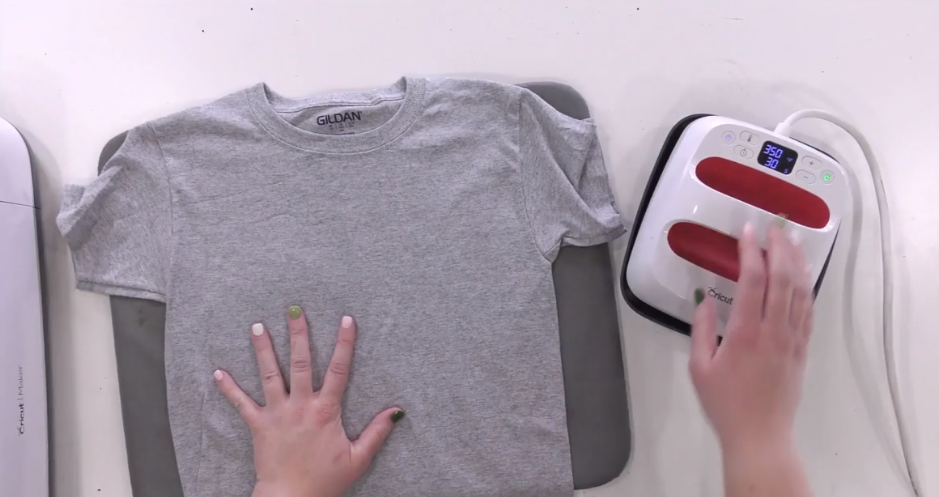 Lay the t-shirt on the EasyPress mat. Iron out any wrinkles in your material using your Cricut EasyPress. Preheat it to 350 degrees. It's also important to remember that if you're applying a design to a shirt, the shirt should be prewashed before adding a transfer to it.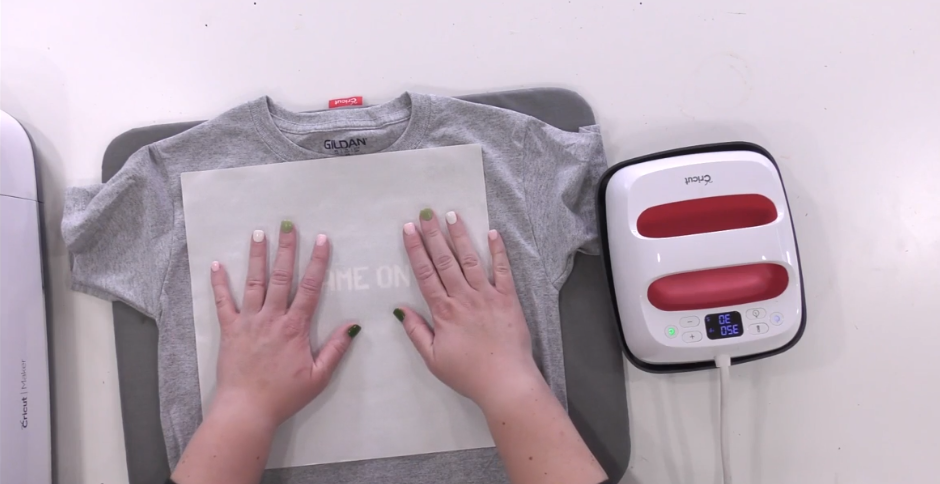 Place a piece of butcher paper or a Teflon sheet over your design to protect it during the heating process. Use your EasyPress to heat your design for about 25 seconds. Once you've heated one section, you can move the EasyPress to the other section of your design and heat that as well.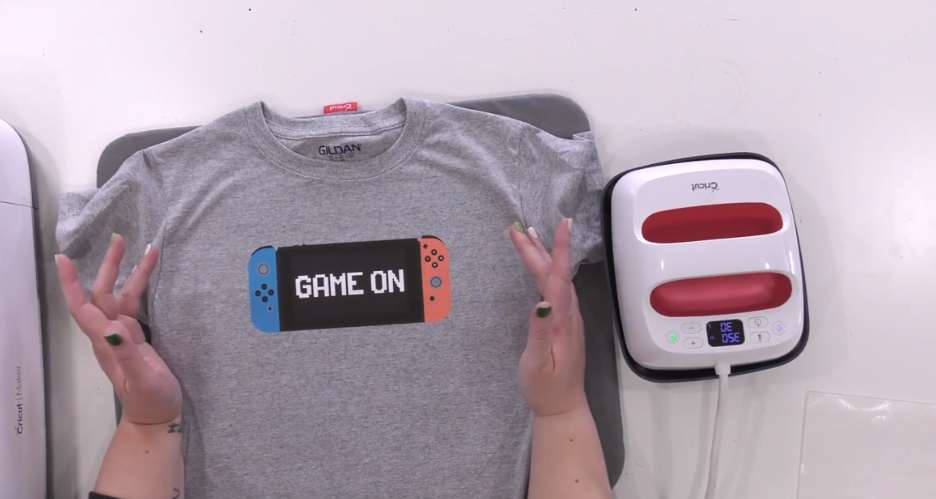 Doesn't it look great! We're all finished. See how easy that was? No sealing is necessary.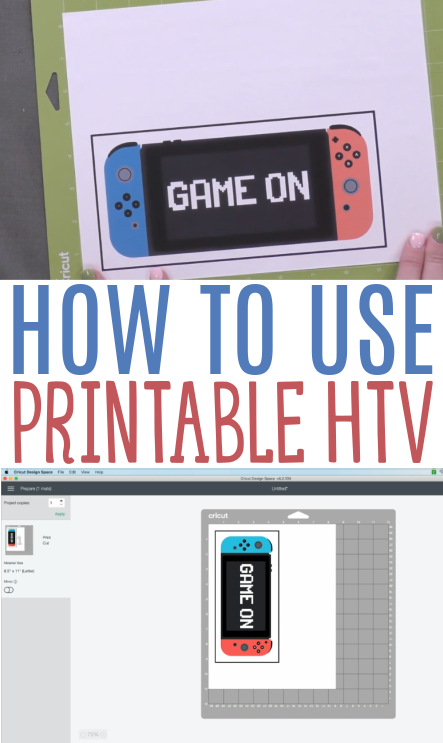 Tanner, Courtney, and the rest of the Makers Gonna Learn Team are all here because we love die-cutting and especially love sharing fun projects and tutorials with fellow makers. We are all great friends and are always having a blast when we are together- you will see this on camera, especially during live streams! We are here to inspire and support you in your crafting journey!