How To Use Printable Sticker Paper
Hello everyone! Today on the blog we're going to teach you on How To Use Printable Sticker Paper. I love printable sticker paper because it's a little bit more durable than the printable vinyl. It's very sturdy and it's perfect for all kinds of decor, organization, planner stickers and so on.
First, head over to Cricut Design Space and we'll get started! This is such a fun project and this technique can be used in so many different applications.
Today, we are going to use a beautiful floral print then cut file from Makers Gonna Learn. This is one of over 1000 cut files, as well as over 160 fonts. You also have access to some fantastic printable guides, a private Facebook group, and other awesome membership perks when you join with the yearly membership.
We're going to size this and as we can tell with our measuring tape, we have about four and a half inches to work with. So, once we have set it exactly how we would like it, all we're going to do is click "Make it".
Next, load your printable sticker paper into your printer. We are using an inkjet printer as you cannot use laser printers. Be sure to check the instructions for the proper way to load it into your particular printer. We're going to leave bleed on and we are going to hit "print now". It should connect to your printer and so all you have to do is hit the print button.
Now that it has printed out nicely, we're going to place it on the top left corner of our Cricut mat and then move on to select our materials. We'll hit continue and we will select generic sticker paper. Give that a little more pressure as well, because we really want this to cut through nicely and our blade is not the sharpest. So now we're just going to load this onto our mat.
And then, we're going to load the mat into our machine and press that flashing Cricut button. First, the Cricut is going to go through and read that black border called registration marks to sense where our design actually is. This is how it will be able to cut as precisely as it can.
Now that our printable sticker paper has been cut, we're going to weed it. You can weed the big part off or you can peel up the cut part like an actual sticker. Once done, we're going to remove this from the mat.
I'm going to use some scissors to cut closely around our design, and once you've cut that out, it's going to be a lot easier to remove the design from the backing. What we're gonna do is simply flip it over and we're gonna peel this back as if we were peeling transfer paper from a vinyl.
Now, we can see just how pretty this is. We're going to grab our notebook and position it down. I love how it looks! If you'd prefer, as you import this into Design Space, you can be very particular and get all the white spots out or you can make the border white all the way around it.
What did you guys think of this tutorial? This project was so easy and fun to make! It's thick, it's durable and I don't feel like it's going to go anywhere. I feel like it'll be here all through the school year if that's what you choose to use it for.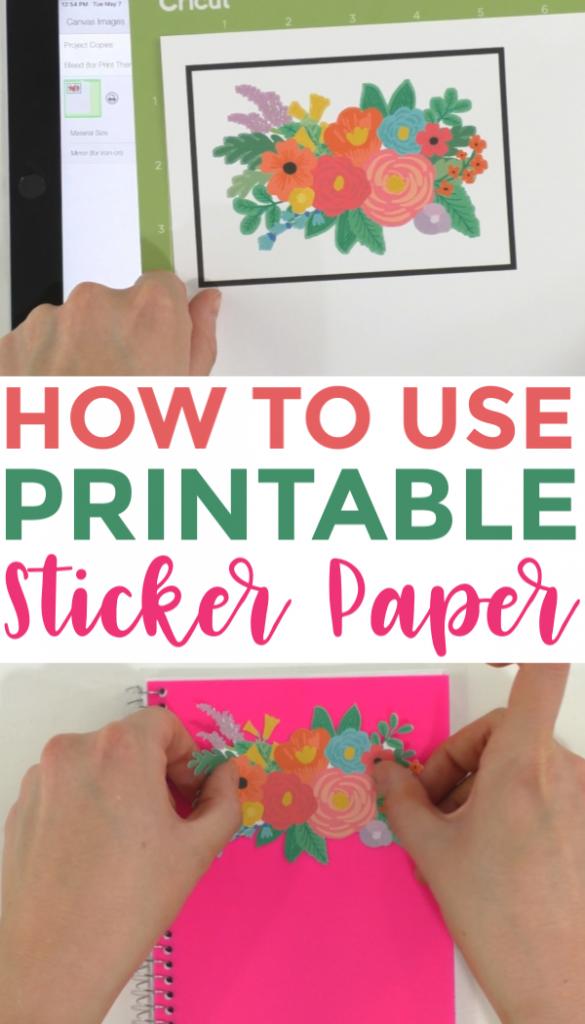 Tanner, Courtney, and the rest of the Makers Gonna Learn Team are all here because we love die-cutting and especially love sharing fun projects and tutorials with fellow makers. We are all great friends and are always having a blast when we are together- you will see this on camera, especially during live streams! We are here to inspire and support you in your crafting journey!