How To Work with Digital Cut Files on Your iPad or iPhone
We get asked all the time how to work with die-cutting cut files on an iPhone and iPad. So, in today's tutorial, we're going to show you How To Work with Digital Cut Files on Your iPad or iPhone. We're going to use an app called iZip, and this is the only additional tool that you will need aside from the Cricut Design Space app on your device and Safari.
There are some other apps you might want to use with your Cricut. Check them out here: Must Have Apps for Your Cricut
First things first, you want to open the app store and search for iZip. Now, you're going to find quite a few different apps but you should choose the iZip- Zip Unzip Unrar Tool.
Next, go to the Makers Gonna Learn site and access your cut files. Be sure to log in because you will be unable to download any cut files otherwise. Choose a cut file you want to download. You can download these in two different ways. You can click the button with the little cloud icon from either the category or individual cut file page or you can click "Download now" on the individual cut file page.
You can also favorite any of the cut files by pressing the little heart. It will then organize it under your "Favorites" in the upper right of your screen. We're going to click the download button on the cut file we have chosen. It's offering to open this in AnyFont but we're going to select "more" and click where it says copy to iZip.
There are ads on here because it is a free app, so feel free to purchase the paid version if you do not like the ads. Now it's going to ask if you want to unzip all files. Click OK. You'll be able to see the SVG version and the PNG version. At this point, that's all you need to do with iZip.
Now, open Cricut Design Space and select "New project". Click the bottom left-hand corner button that says "Upload".
Then, it's going to ask you to choose from 4 different options. You need to choose "Browse files".
You're going to see your iCloud drive, "on my iPad", "recently deleted", etc. Make sure to select "On my iPad". You'll see iZip and you need to click it.
Search for the cut file you've downloaded and select the SVG version of it. You can name it whatever you would like. Now it's been added to our "recently uploaded files", so you can select that and insert it. There you go! Now you're able to use all of your cut files on your iPad with no additional laptops, desktops or any software necessary other than that free iZip app.
I hope you guys loved learning how to work with and import those images directly onto your iPhone and iPad from our website. You can follow the same process for any other SVG sites on the web as it's pretty standard across the board. If you're not yet a member of Makers Gonna Learn be sure to check out our memberships. Happy crafting!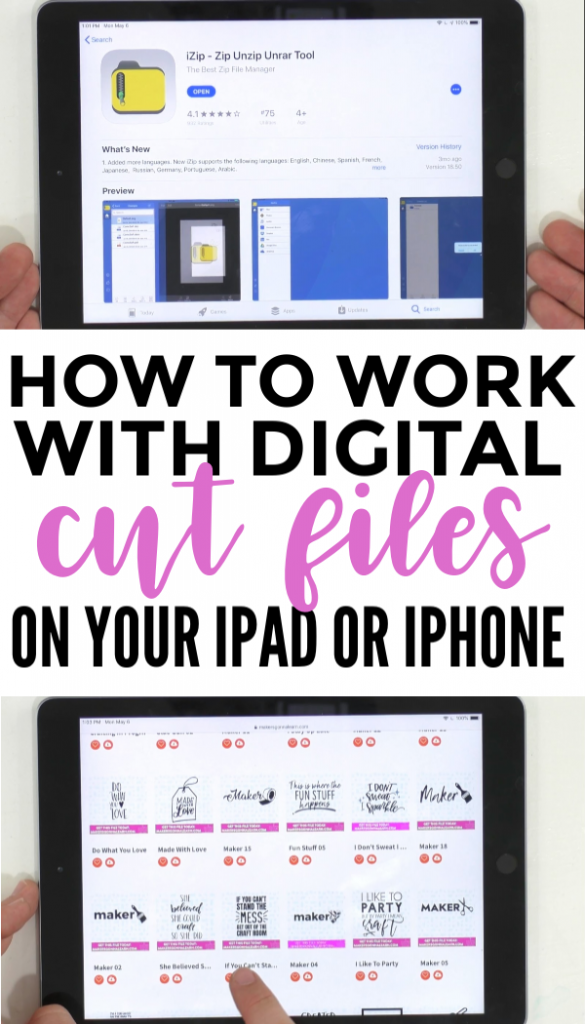 Tanner, Courtney, and the rest of the Makers Gonna Learn Team are all here because we love die-cutting and especially love sharing fun projects and tutorials with fellow makers. We are all great friends and are always having a blast when we are together- you will see this on camera, especially during live streams! We are here to inspire and support you in your crafting journey!