How to Write Inside a Card with Cricut
Hold onto your hats! This amazing Cricut hack is one that many people have been wondering about for quite some time. We just love that we can write and cut with our Cricut machines. Today, we're going to take it a step further and show you how to write inside a card with Cricut.
We've shown you before how to address envelopes with your Cricut, but this tutorial is going to show you how you can take a premade card and write in it with your die-cutting machine. How amazing is that?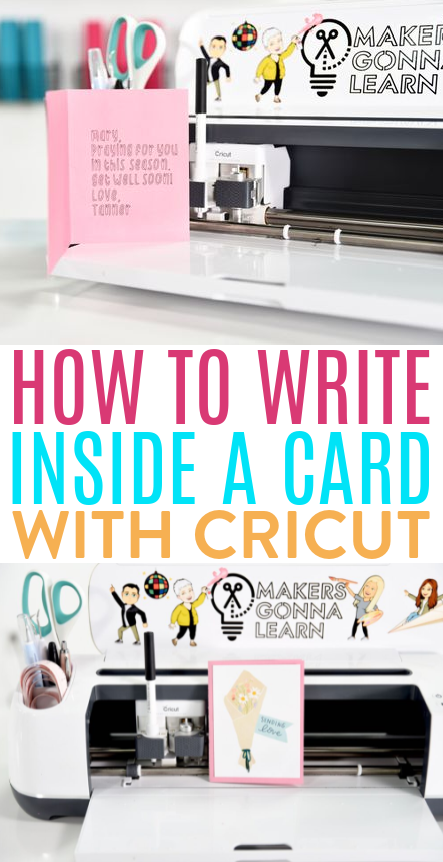 How to Write Inside a Card with Cricut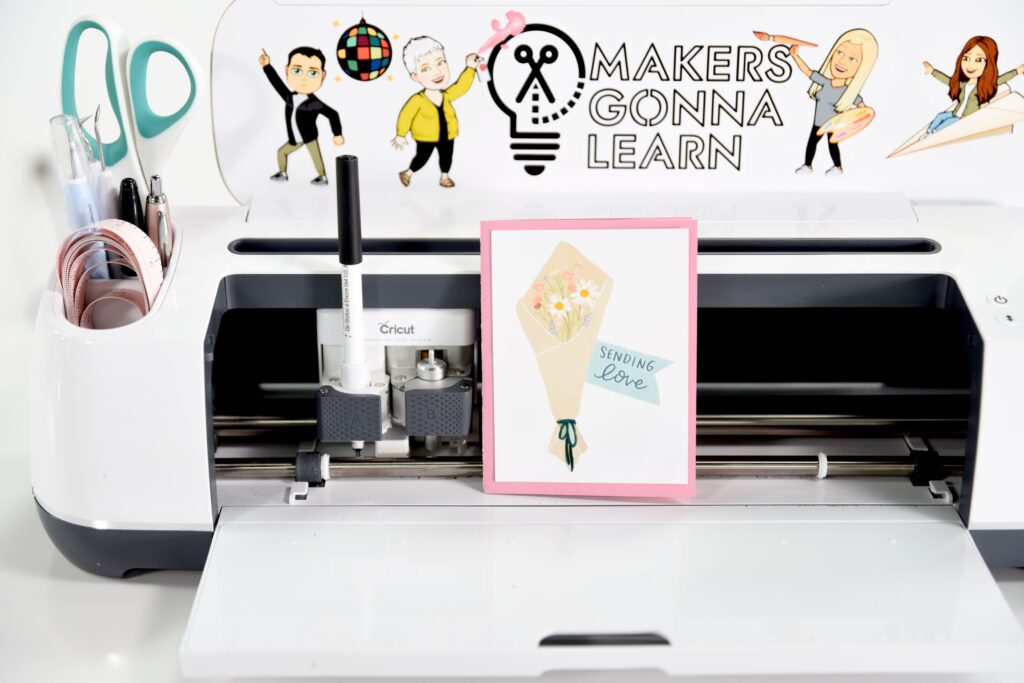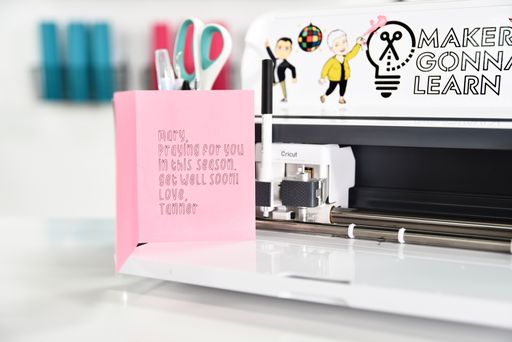 This is such a great technique if you're not crazy about your handwriting or just want to add a special touch to your handmade cards. Let your Cricut do the work for you!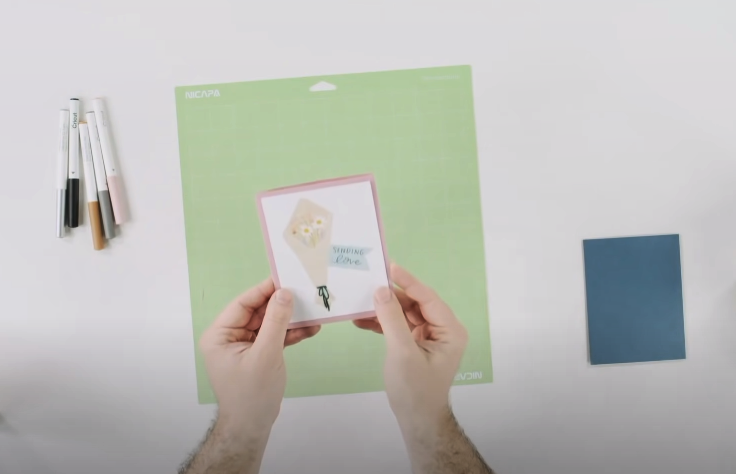 Begin by determining the size of your card.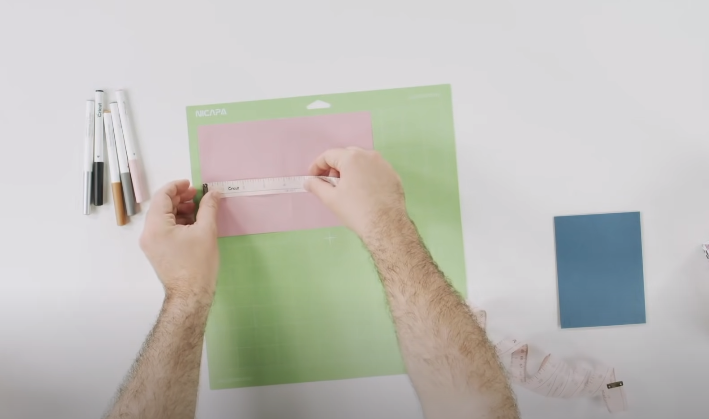 Ours is an A2-sized card – that's 4.25 x 5.5″ when folded. This is one of our favorite sizes to work with because if you take a standard 8.5 x 11″ sheet of paper and then cut it in half, that will give you two A2 sized cards. When unfolded, an A2-sized card is 8.5 x 5.5″.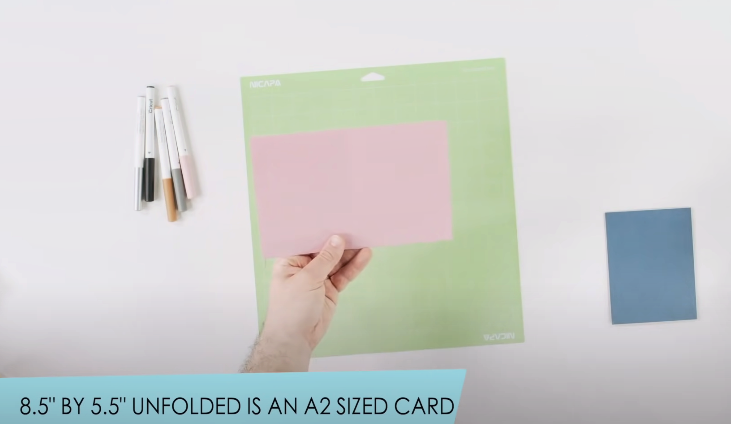 If you have a Cricut Joy, note that this is the same size as the Cricut Joy Insert Cards.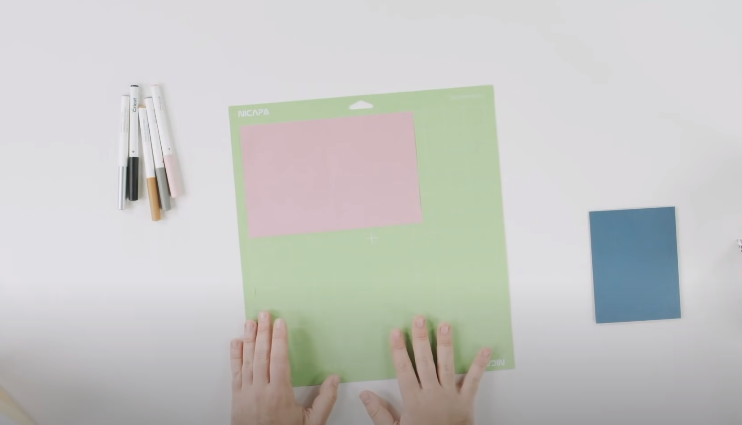 Create your text design in Cricut Design Space.
Open up your card and lay it on your cutting mat. Once you have it measured and on your mat, it's time to create your design in Cricut Design Space.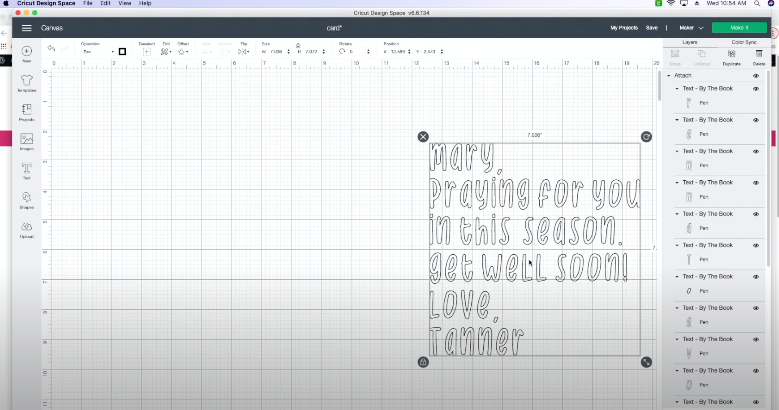 Find your chosen font for this project and type out your text. We are using By the Book, one of our Makers Gonna Learn fonts. It's important to note that when writing with your Cricut most fonts that don't come right from Cricut cannot be filled in. There are some hacks to work around this but the quickest and easiest is to simply change from Pen to Print then Cut.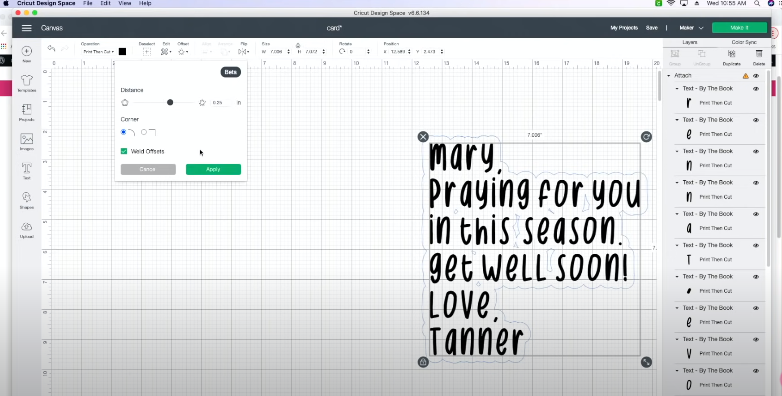 Using the offset tool.
Another great idea that you could use with the text inside your card is the new Offset tool in Design Space.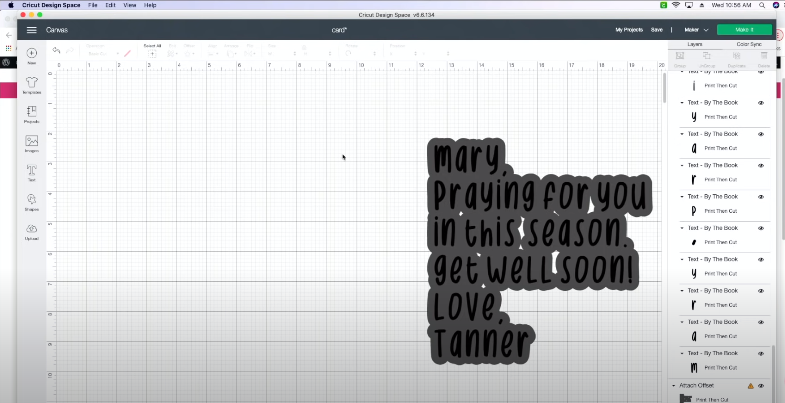 If you choose to use Offset to add a border around your text, you could then print this out and cut it. Use your ATG gun to attach it to the inside of your card.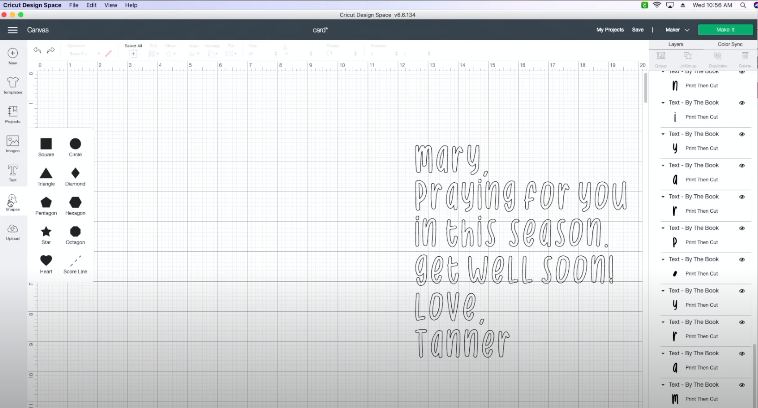 How to get your text in the right location.
For this project, to ensure that the text is printed in the correct spot on our card, we want to use a shape in Design Space. Grab a square, unlock and resize it to form a rectangle that is 8.5 inches wide by 5.5 inches high. Lock in that size.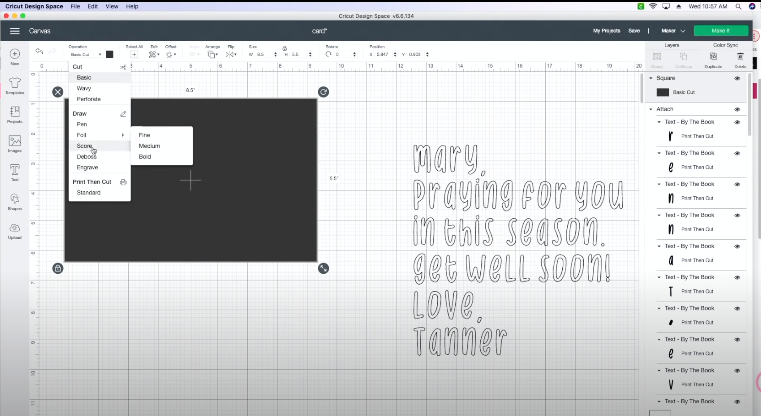 Under Operation, you could choose either Score or Pen. We're using Pen.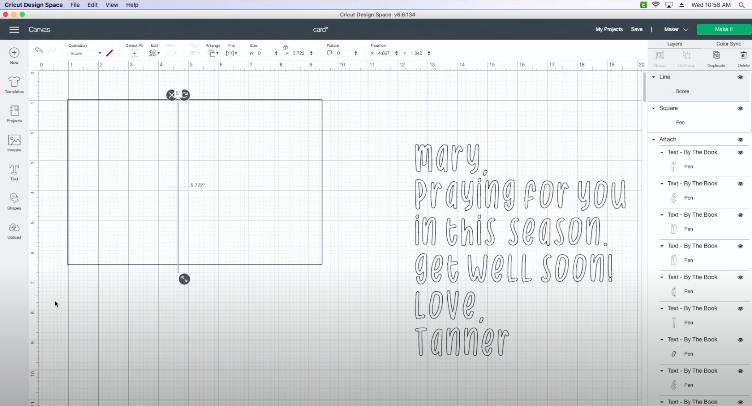 Now, go back to the Shapes and add a score line.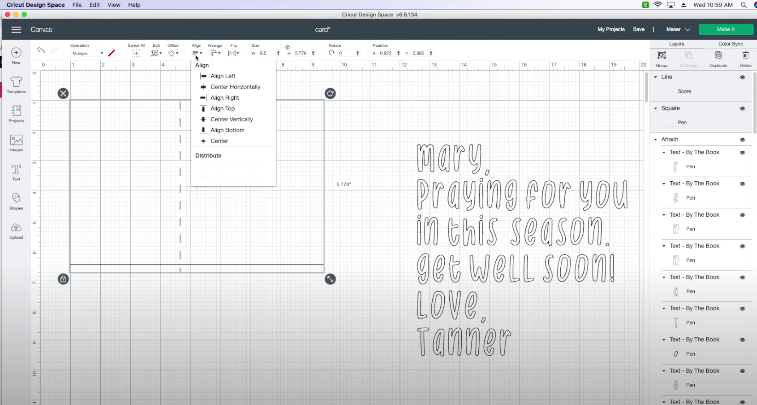 Select both layers – the rectangle and the score line – and choose Align Center to center the score line on the card.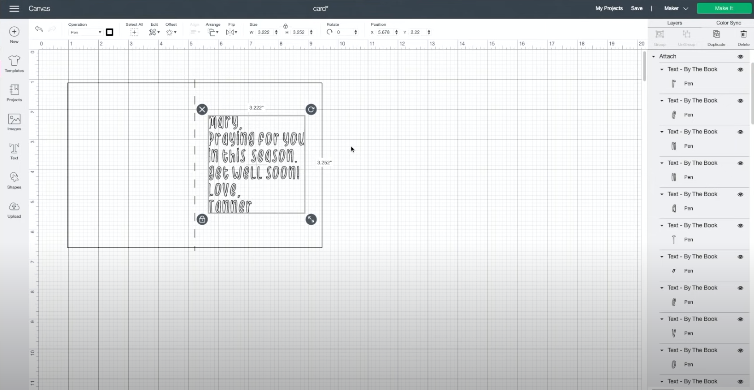 Our text has already been attached, so we can now just resize it to fit on the card where we want the writing to go. Once you're satisfied with the size and placement of the text, remove the score line. It's not needed since we already have a premade card.
Next, we have changed the color of the pen line on the card to gray and the text to black. It's important that the color of your rectangle is different than the color of the text. Select all of the layers of your project and choose Attach (at the bottom of the Layers panel).
We're not actually going to put a gray pen in the Cricut machine because we don't want to draw a line. We're using this technique simply to give us the size of our card. Now we're ready to click Make It.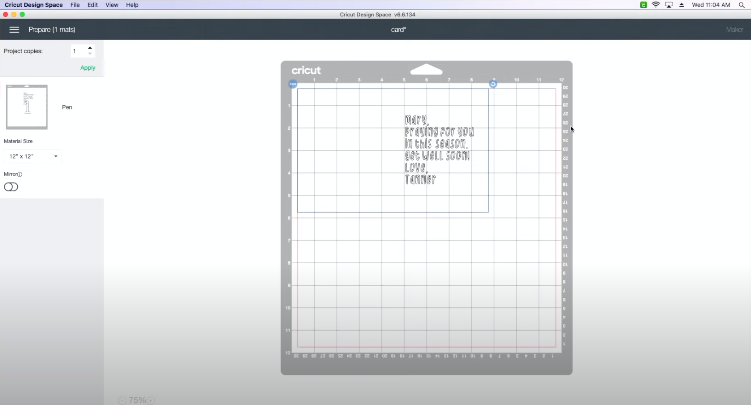 Writing on your card.
Next, press Continue. Design Space will connect to your Cricut machine and then you'll need to choose your materials. We are selecting Heavy Cardstock.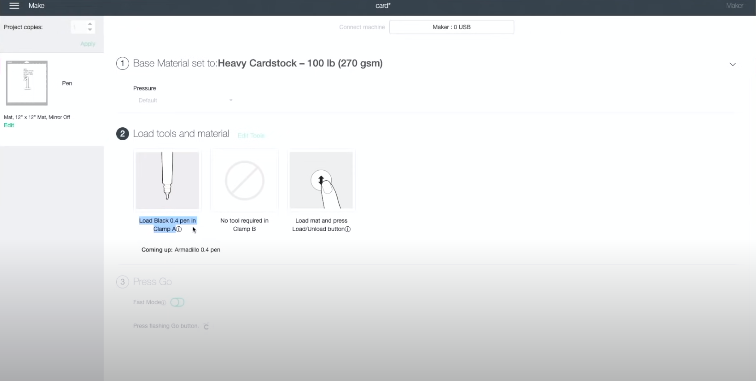 Design Space will prompt you to load your black pen into Clamp A. It also lets you know that coming up, you will be putting the gray pen into Clamp A, but we're not actually going to be doing that step.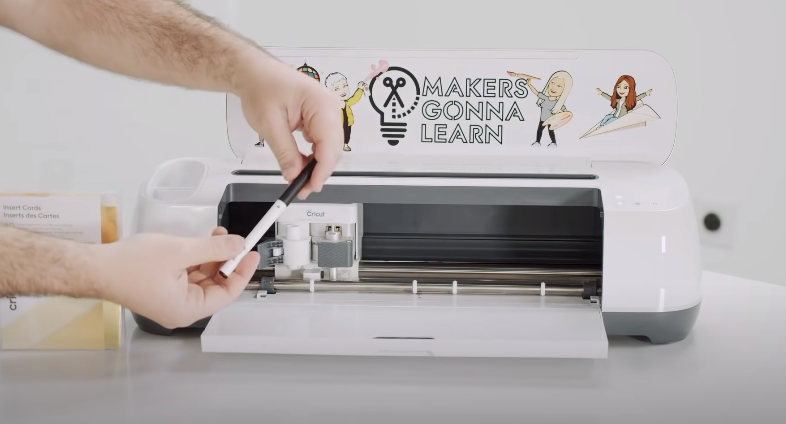 When you load your Cricut pen into the machine, you'll see there is a triangle on the pen. Once fully loaded, you shouldn't be able to see that triangle anymore. Load your mat with your premade card on it into your machine.
Pro tip: If you have added dimension to the card, it won't be able to go through the die-cutting machine. So, you'll want to use that tip we shared above, using Print then Cut text that you then glue inside your card instead.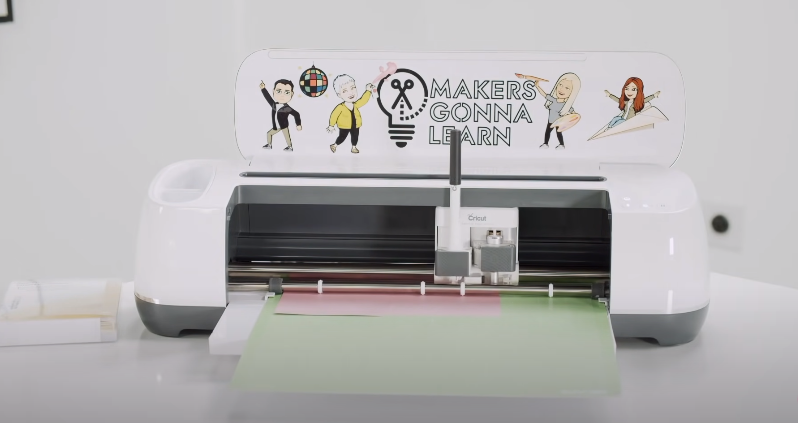 Press the flashing Cricut button and let the writing begin!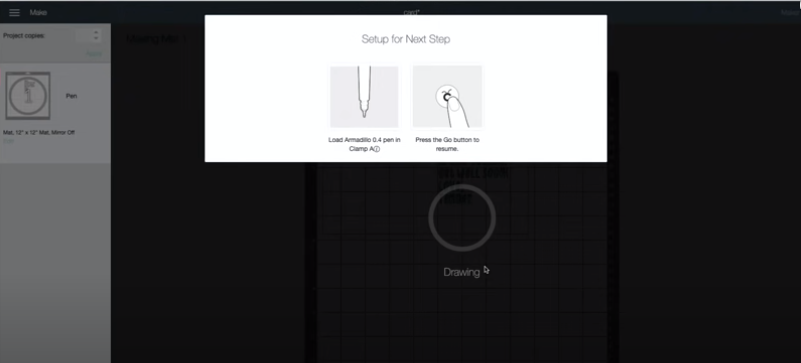 You'll then be prompted to put in the second pen. Since this isn't actually a step we're going to do, we can just go ahead and unload the cutting mat. If, when you press unload mat, it doesn't want to unload, simply turn your machine off and then back on again. This will not damage your machine at all.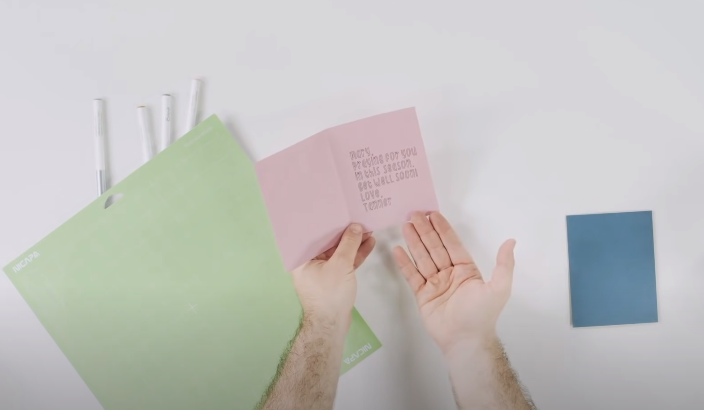 Now your card is finished and ready to be sent off!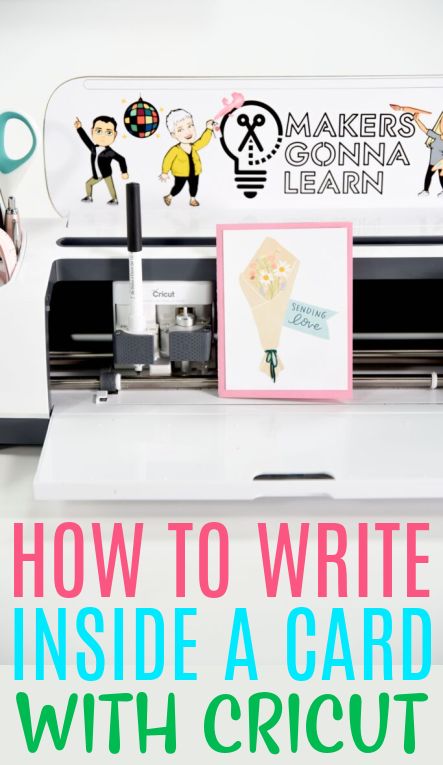 Tanner, Courtney, and the rest of the Makers Gonna Learn Team are all here because we love die-cutting and especially love sharing fun projects and tutorials with fellow makers. We are all great friends and are always having a blast when we are together- you will see this on camera, especially during live streams! We are here to inspire and support you in your crafting journey!