Iron-On For Beginners
Hey everyone! Today on the blog, we're going to show you how to Iron on For Beginners. This is the perfect project if you're just starting out with using iron on or maybe you just got a die-cutting machine and you are itching to use some iron on vinyl. This is a really great project for you. There are so many customized craft projects you can create using iron on vinyl. You'll love making tons of new things for yourself and to give as gifts. It's super fun and we will show you just how to get started. With these tips and tricks you'll be an iron on crafting pro in no time!
We're going to make a t-shirt today. We used one of over 1,000+ cut files from Makers Gonna Learn – just click here to see the cut file we used for this project. If you all want to see files like this plus so many more as well as a great selection of fonts, then please check our membership here.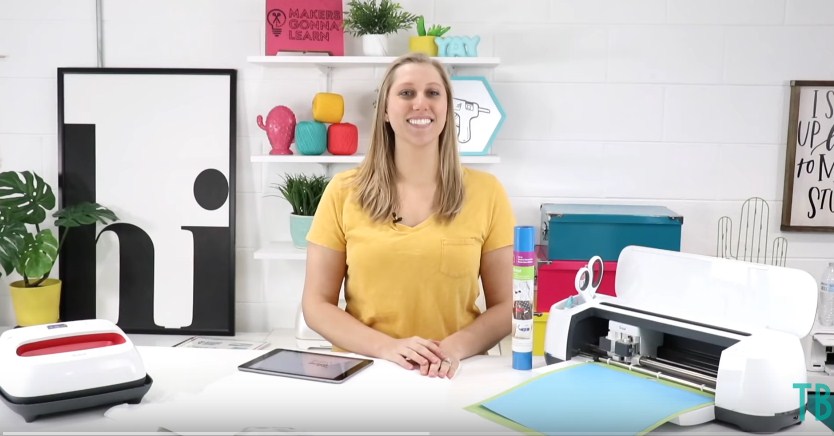 Let's start! We are already in Design Space and we already sized our design. For t-shirts and things like that, I recommend for adult t-shirts no more than 9 inches wide. Today, ours is just 8 inches wide which is a perfect place to be. Make sure you size your own – don't just take our word for it! Measure your own t-shirts just to make sure that it will be flawless. So now, we're gonna hit "Make it" and since this is iron-on we're going to choose "Iron on".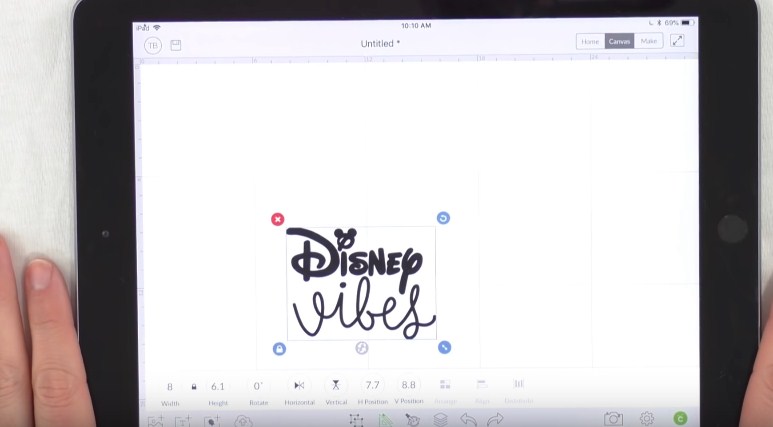 Iron-on has built in transfer paper. So, if you can see that shiny side there, that is our transfer paper. You need to lay iron on shiny side down on the mat so that when you cut it, it's backwards. Now we're gonna hit "continue" and we're going to select iron on. One more important thing – we want to give this project a little more pressure so that it just cuts a little deeper and makes weeding that much simpler.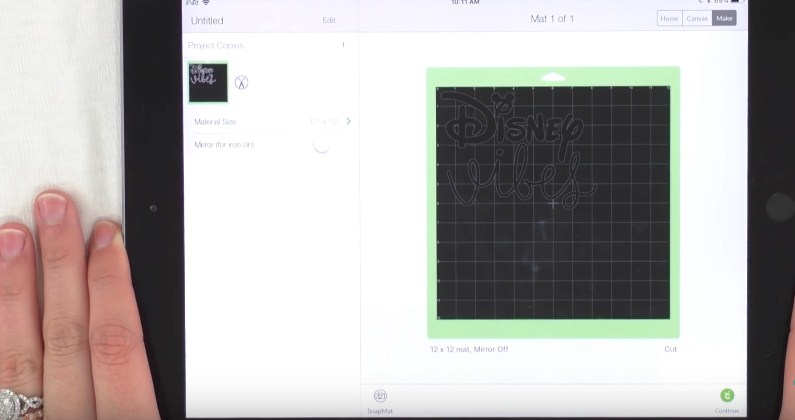 When you're good to go, we're going to go over to our machine and once you've applied your iron-on shiny side down onto the mat, you can go ahead and load it and hit that flashing Cricut button.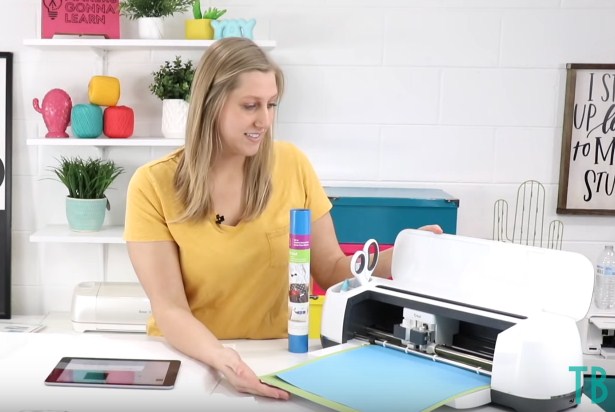 First thing I like to do before I weed our cut image is to take our handy dandy Cricut knife and cut off all of the excess. You will want to save all of this iron on for future projects so you don't want to waste it. Once you remove the excess and save it for another project, you're just going to grab your weeding tool and get to work!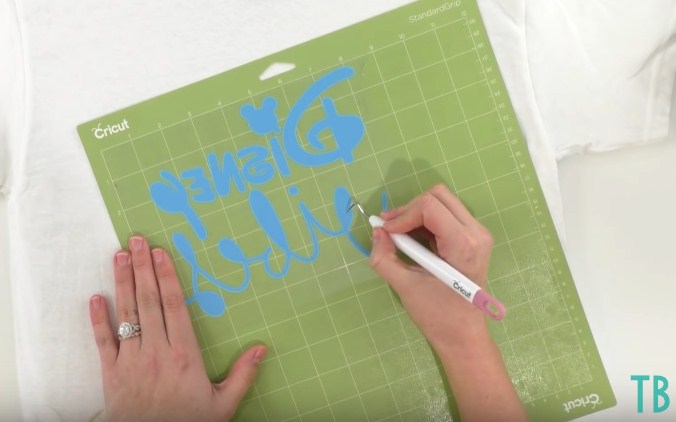 I love to weed on the mat, and I highly recommend you to try it! It's so easy and I feel like once you weed on the mat, you know that you have the most control over your project. This will really help to secure your project.
If you are a first timer or a beginner, I highly recommend starting out with iron on. Sometimes the vinyl can be a little bit tricky but it's awesome once you get the hang of it. Once you have everything weeded, it is a great time to come over to your Easy Press and set it up.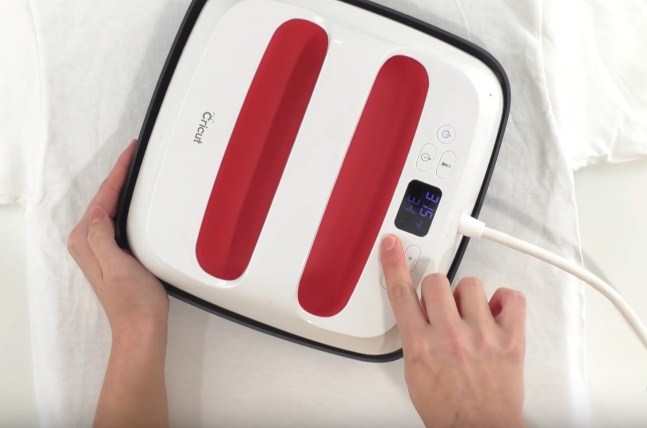 We already have ours preheated to 350 degrees and we're going to set it to 30 seconds. Now, just peel up your weeded image straight off the mat and position it where you'd like it to go on t-shirt. The rule of thumb, especially for adult t-shirts, is that you place your image 3 to 4 inches from the neckline. So, we're going to grab our handy-dandy measuring tape and measure this out.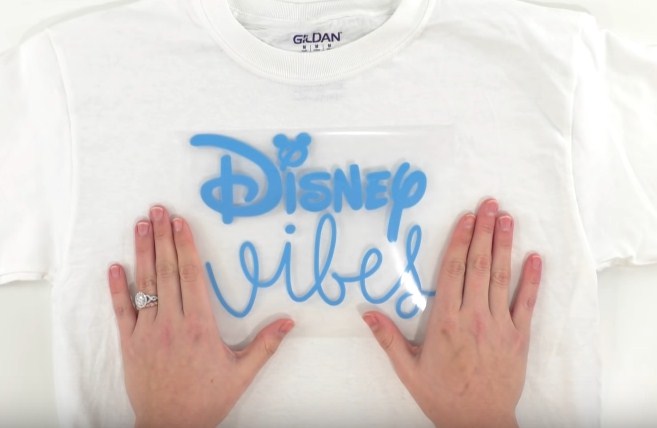 Be sure to preheat your surface for a few seconds. This is super important and it will ensure that you have a great result every time. I do want to mention that we used the Easy Press mat – this is not a towel or a cloth like you might be used to using. This is designed for our these projects and important for project success.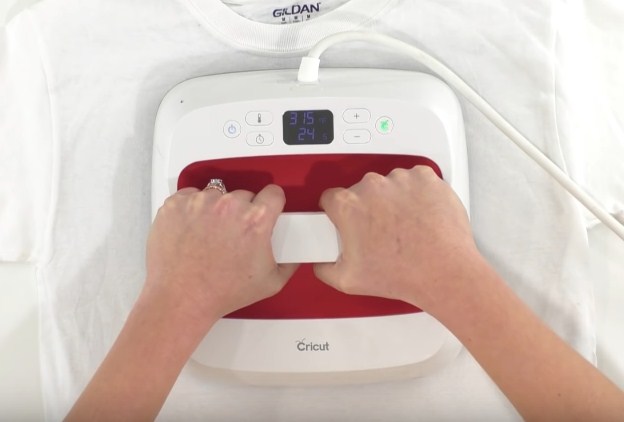 Once you have preheat your shirt, lay this back down where you had it and make sure you have the positioning how you want it. Then, we're going to take our Easy Press and hit that button. Apply some firm but even pressure. We don't want to be sliding the Easy Press all around our shirt. We just want to give firm pressure straight down.
Important tip: Remember that to have a finished product that really lasts wash after wash, it's very important to prewash your t-shirts especially if they're 100% cotton.
So we have heated the front for 30 seconds on 315 degrees, and now we're going to flip it to the back and hit it again back here for about 10 to 15 seconds. Cricut does recommend a warm peel for this. So while it's still just a little bit warm to the touch, we're going to take a corner and slowly peel it back.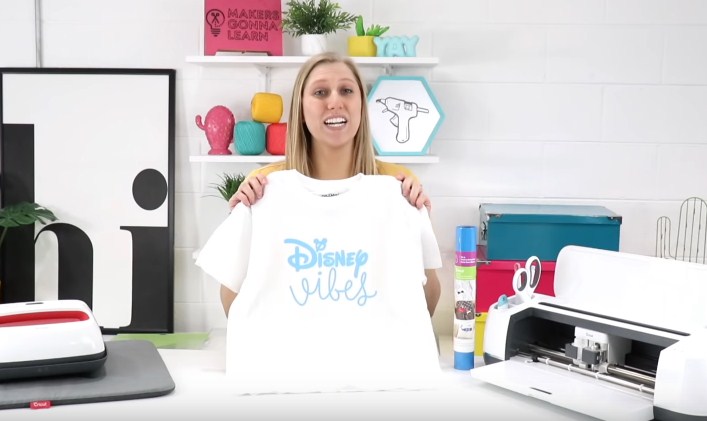 If you have any letters that are not sticking, just apply the transfer paper back down, grab your Easy Press and hit it again for a few seconds.
What did you all think of the project? I think it turned out awesome! Hope you guys enjoy making an iron on project as much as I did.

Tanner, Courtney, and the rest of the Makers Gonna Learn Team are all here because we love die-cutting and especially love sharing fun projects and tutorials with fellow makers. We are all great friends and are always having a blast when we are together- you will see this on camera, especially during live streams! We are here to inspire and support you in your crafting journey!