Confusion-free Cricut mastery? Is that even a thing?
YES!!
The #1 membership that beginner and experienced crafters LOVE for frustration-free training,
fabulous cut files, fresh and unique fonts, and a community that feels like FAMILY!
Create gorgeous gifts. Stay inspired creatively. Even build a side hustle.
SAVE $40 OFF! USE CODE: CRAFT40
Are you a maker who dreams of creating gorgeous, one-of-a-kind gifts but the lack of clear instructions and the continuous expense of paying for fonts, die-cut files, and more holds you back?
Do you feel you can't learn fast enough because the Cricut is difficult to master, you don't have a ton of time, and you're always frustrated trying to figure out a project and not waste supplies?
Or maybe you're a crafter who uses her Cricut regularly but wants more ongoing and advanced access to tutorials and die-cut files so you can make products and sell them?
Thousands of crafters and makers feel the exact-same-way.
ANY OF THESE SOUND FAMILIAR?
And it's not like you're not trying.
You Are.
You watch hours and hours of YouTube videos.
You put in tons of work trying to piece together instructions that would work for you.
You spend hard-earned dollars at Michaels to stock up on supplies.
You join groups and read post after post to find answers and support.
ONLY to end up feeling lost, overwhelmed, frustrated, and annoyed that you still have an expensive machine with no idea how to use it.
THAT'S THE BAD NEWS
The 
Good

 News?
Mastering your cricut can be a frustration-free experience.
Using your Cricut with confidence to create meaningful gifts, make gorgeous products and fuel your creativity on an everyday basis doesn't have to be complex or confusing.
You Can…
Create with confidence
Enjoy creative therapy
Love your Cricut like your BFF
…With ongoing support, step-by-step instructions, and the flexibility to have ALL the die-cut designs and font files at your fingertips.
The #1 trusted and MOST loved online destination
for crafters who want to master their Cricut
without wasting their time, money, or peace of mind!
20,000+
Maker
Members
2M+
Design
Downloads
515,000+
Subscribers
220,000+
Cricut Crafters
Served
With over 

20,000 makers

 in our membership programs…
you'll be right at home with crafters and makers who get you and are there to cheer you on!
When you JOIN TODAY,
You get INSTANT ACCESS to:
Digital Cut File Library PLUS
Monthly Cut File Releases
Get ALL the cut files you need for holidays, special occasions, or paid projects!
Everything from simple quotes to intricate mandalas, print and cut designs, 3D projects and SO much more!
PLUS… never pay for another cut file again because we release up to 1,000 (yes, a thousand!) new cut files every month!
Hundreds of Fonts PLUS
Monthly Font Releases
Finding the perfect font will never feel frustrating OR be expensive ever again.
Not only do you have INSTANT access to HUNDREDS of fonts to use, but we also release 20+ new fonts every month.
Whether you need script fonts, hand-lettered fonts, simple fonts, monogram fonts, holiday fonts, or banner fonts… we have you covered!
We have all the fonts (or files!) you'll ever need. Call us crazy but, you get to keep all the files you download F-O-R-E-V-E-R!
The Cricut Reference Printable Guide
Sometimes when you're working on a craft project with your Cricut, little questions popup and it can be so frustrating to have to stop what you're doing, jump online, and start searching for the answers. Days later you finally find what you needed but now a new issue pops up.
THAT wouldn't happen as a Makers Gonna Learn member.
Our members LOVE our Cricut Reference Guide!
They have printed it out (some have even laminated it!) and bound it together so they can keep it right there beside their Cricut machine. Then, when one of those questions pops up, you can just grab your handy dandy guide and look up the answer in a flash.
Member-Only Masterclasses
These are monthly elevated projects. We go live on our Facebook member only page
The Makers Gonna Learn Members' Community
Our Facebook community is full of makers excited to cheer you on, support you, and be the community you've always wanted.
No judgment. No shame. No fear.
Just a family that welcomes you with open arms!
1 Month
Pay as you go every month

+ CRICUT REFERENCE GUIDE AND TOOL
$27

/mo
Billed every month
---
Digital Cut File Library
Monthly Cut File Releases
Hundreds of Fonts
Monthly Font Releases
Exclusive Facebook Group
Member Only Projects
100% Ad-Free Experience
Printable Guides
Commercial License
30 Day Cricut Challenge
20+ Online Classes
Annual
Maximum Savings
Maximum Bonuses

+ CRICUT REFERENCE GUIDE AND STARTER KIT
Billed Annually
---
Digital Cut File Library
Monthly Cut File Releases
Hundreds of Fonts
Monthly Font Releases
Exclusive Facebook Group
Member Only Projects
100% Ad-Free Experience
Printable Guides
Commercial License
30 Day Cricut Challenge
20+ Online Classes
Exclusive Access to our
Annual Makers Summit
Pay in Full Discount
USE CODE: CRAFT40
FOR A LIMITED TIME ONLY!
GET THESE BONUSES:
Honestly, you'd spend anywhere from
$600-$800 if you were to buy this separately.
Your Makers Gonna Learn membership gives you ALL the fonts and files PLUS
easy-to-follow training AND a terrific community for less than $0.74 cents a day.
Why Join the Makers Gonna Learn Family?
Because you speed up your learning curve and make money with your machine!
TAKE A PEEK!
Commercial License
Want to make stunning products and sell them on Etsy, at craft fairs, or in a shop?
Our commercial license makes it easy for you to download and use ANY of our designs AND fonts for products you can later sell!
If you know you'd like to eventually sell the crafts you make… THIS alone is reason enough to sign up for the membership!
30-Day Cricut Challenge
Want to fast-track your Cricut confidence?
Our beginner-friendly 30 Days to Master Your Cricut Challenge is packed with VIDEO tutorials to teach you everything you need to know to get started with your Cricut machine. With confidence!
Frame Building Class
Take your crafting skills to the next level with our perfect-technique framing masterclass so you can create wooden signs and frames with confidence!
20+ Complementary Classes
These step-by-step courses will give you the resources you need to continue to grow in confidence as a Cricut crafter.
Your membership unlocks access to these courses that are perfect for both beginner and advanced crafters.
These complementary courses cover everything from Design Space basics and cutting different materials to making money with your die-cutting machine.
What Our Members Are Saying…
BE THE BEST CRAFTER YOU CAN BE
"They help you to be the best crafter you can be and someone is always there to help when you need it.
The membership offers so much"
– TRACY NEWTON-CLAYTON
THE KEY TOYOUR LEARNING
"I started with a $1.00 membership, and by days 3-4, I joined for the year.
It showed me so many advantages to having it.
It has been the key to my learning!"
– LINDA LOWERY
SELL YOUR
PRODUCTS!
"I made my first sale or should I say SALES!!
Thank you MGL… not only how to use my Cricut but also really put thought into how to price items."
– LAURA GOMEZ
"A company that actually wants to see their customers succeed and reach their goals, whether personal or business."
– CRYSTAL DOZARD
Our Mission is Simple
TO HELP YOU USE YOUR CRICKET TO…
For beginner and experienced crafters
who want 
confusion-free Cricut mastery


without burning a hole in their budget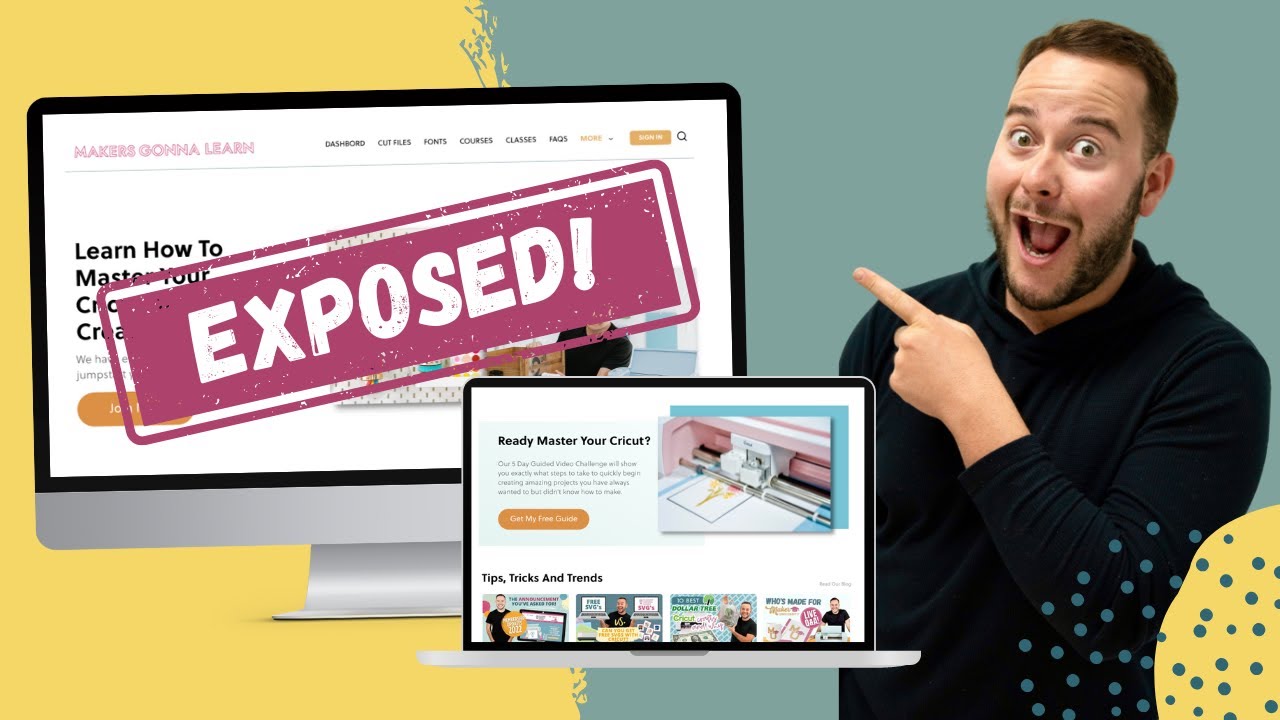 Listen to what these previously overwhelmed
and frustrated but now… confident and
creative Cricut owners say about their
Makers Gonna Learn membership
THE "MAKERS" BEHIND
Hello there!!! SO happy to have you here.
I'm Tanner and I'm the head "maker" behind the Makers Gonna Learn community.
But you wouldn't learn just from me.
You'll learn with the Makers Gonna Learn team and we are SO excited.
Together, we bring XXX years of crafting experience and hundreds of hours of expertise.
I started with my Cricut in elementary school and have had a lasting passion for it.
I can't wait to help you fall in love with your Cricut and turn it into a gift that brings you joy, inspires you, and helps you live your most creative life. With confidence and no confusion!
We know signing up for online memberships can feel scary. And sometimes, life can change and you may want the membership, but you cannot participate any longer, for whatever reason. That's okay!
You can cancel your membership at any time and not be billed in the future.
We don't offer refunds since we've had cases of folks joining and downloading everything and then canceling to get their money back.
We want to be friends with you regardless of whether you stay in the membership or not.
So, know that your investment is protected and you have complete freedom to cancel whenever you want.
Fuss-Free, Stay Friends Forever
CANCELLATION GUARANTEE
Know exactly HOW your Makers Gonna
Learn membership will give you the
confidence to use your Cricut. Everyday.
CREATE GORGEOUS GIFTS. EXPAND YOUR CREATIVE POTENTIAL.
Don't Take Our Word For It…
TAKE A PEEK AT WHAT OUR MEMBERS ARE MAKING.
Imagine being able to create ALL these
gorgeous, unique, and meaningful gifts
and crafts with your Cricut.
BE YOUR MOST CREATIVE SELF. WITH CONFIDENCE.
On the Fence?
Got Questions?
LET'S GET YOU SOME ANSWERS
Why do I need to pay to learn? Shouldn't this information be free?
Great question! Here's the thing… we do offer a TON of free video trainings, tutorials, and how-tos on our YouTube channel and you are most welcome to watch them and learn at no cost.
However, the Makers Gonna Learn membership not only gives you access to frustration-free training, THOUSANDS of cut files, HUNDREDS of free fonts, but also, TONS of support via our Facebook community and LOADS of guided inspiration via our monthly projects!
You save HUNDREDS of dollars and hours because you don't have to purchase everything separately OR waste time trying to find the right files or get answers when you're stuck on a project.
Offering ALL this support and resources to you requires us to hire a team, invest in tools, and of course, spend time to share with you.
We charge a small fee for the membership so we can continue to provide an overwhelm-free, support-filled path to mastering your Cricut.
When will I get access to the membership and my files?
How does INSTANTLY sound?!! Yes, you'll have access to ALL our current files right after you sign up. You'll get an email from us that'll look like this.
This email will give you all the information you need to log in and access your files right away!
I'm not in the US. Will this membership be helpful for me?
As long as you have a die-cutting machine, specifically, a Cricut or a Silhouette… you will LOVE the membership.
We have members from ALL over the world!
Please note that ALL prices are listed in US dollars. When making your purchase, Paypal or Stripe will automatically convert the price into the currency that you have set for your account.
How often are the LIVE workshops held? What if I can't make it for the LIVE workshops?
Live workshops are held EVERY month and you get the replays as well. So if you can't attend live, you have nothing to worry about. You can catch up whenever you want to!
Will I need to pay for Cricut Access too with my MGL membership?
Not if you don't want to! In fact, MANY of our members realize they get SO much with their Makers Gonna Learn membership, they quickly cancel their Cricut Access!
If I sign up for the Monthly membership, will I get access to video tutorials and the complimentary courses?
Yes, you'll get access to everything INSTANTLY!
I'm worried about paying online. Is my information secure?
Absolutely! We use encrypted payment processors, like Stripe and PayPal, and NONE of your information is shared with anyone or stored illegally.
I don't know if this will be right for me. Do you offer a trial membership?
Yes, we do! We have a $1 trial membership that gives you limited access so you can give the membership site a spin. Check it out here.
I still have questions. How do I contact you?
Sure thing! You can reach us at hi@makersgonnalearn.com with your questions and a friendly human will respond to you within 24-48 hours.