Lighted Paper Shadowbox
Looking for a fun way to take your shadowboxes to the next level? This tip will impress everyone who sees it! Not only does this shadow box have lights but they are custom colored for this specific look!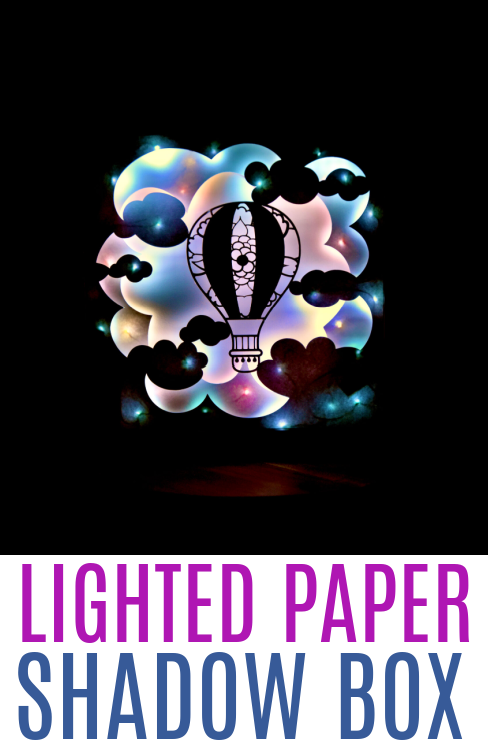 Lighted Paper Shadowbox
Disclosure: Some of the links below are affiliate links provided for your convenience. This means, at no additional cost to you, we will earn a commission if you click through and make a purchase.
Cut File Used:
Supply Links: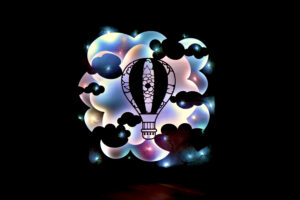 Step-by-step Instructions:
Upload the SVG file into Design Space and size to 8". You can ungroup and change the colors of each layer to match a specific color scheme you're going for, but we're going to make all the layers white.
Use an older StandardGrip mat or a newer LightGrip mat. Add your first sheet of paper. I've found it helpful to use a brayer to make sure the paper is well adhered to the mat.
Select your material, we went with Kraft Board. It's best to put a new blade in your machine as well. Please note this cardstock is very thick (about 110lbs) so be patient with your Cricut and give it "more pressure" if your blade isn't new.
Once we removed the cut paper from the mat we would use a burnishing tool to scrape the tiny pieces of paper off our mats to get ready for the next piece of paper.
While your paper is cutting you can paint your fairy lights. Protect your work surface with a poster board and unravel your lights. Using a small paintbrush paint each little light. For ours, we painted all the lights on one strand blue and for the other strand, we painted the lights pink, yellow, and orange.
Full coverage is not necessary, we want to make sure the light still comes through the color. Allow them to dry for at least an hour.
While the lights are drying, turn on your hot glue gun.
Once your paper is cut, your lights are dry, and your hot glue gun has pre-heated, you can adhere the lights to the paper.
Set the base layer aside as you will only be adding lights to the middle and first layers. Flip the middle layer over and first hot glue your battery pack onto one of the corners of the paper. The middle layer is where we are using the pink, yellow, and orange lights, and the top layer is where we are using the blue lights.
Glue the lights along the edge of the paper being sure to add glue every few inches. Try to have the lights evenly spaced out. Get them close to the inner edge as well. This is time-consuming as each bead of glue must dry before you can move on.
Once all of the lights are glued down on that layer, move onto your top layer.
Repeat that process with the top layer. Glue your battery pack to the opposite side you did on your last layer as you want the finished project to be somewhat balanced.
Once those lights are glued it's time to add the foam squares! Place a stack of 3 foam squares on 3 sides of the back of your middle layer, then add 1 foam square to your battery pack.
Carefully line that muddle layer up to your last back layer, and apply it down.
Now repeat step 13 for your top layer, and apply it down to your middle and last layers.
On ours, the on/off switches on our battery packs are easily accessible on the sides of the paper.
All that's left is to add it to your shadowbox! We removed the backing and the glass on the shadowbox and carefully pressed the layered paper into place. It was a tight fit.
Add the back panel of the shadowbox and enjoy!
Tanner, Courtney, and the rest of the Makers Gonna Learn Team are all here because we love die-cutting and especially love sharing fun projects and tutorials with fellow makers. We are all great friends and are always having a blast when we are together- you will see this on camera, especially during live streams! We are here to inspire and support you in your crafting journey!