Make a Barn Wood Frame
You are going to love these wooden frames! They're such a great home decor accent and although they're made of barn wood, they really will work in pretty much any decor scheme. We'll show you not only how to create your design in Cricut Design Space, but how to paint a distressed look on the wood and assemble the barn wood frame.
This is a beautiful home decor craft project and makes a lovely gift too. You could customize this wooden frame project by using a different cut file, creating your own design using fonts, changing the colors, and so much more. With our Cricut tips, it will be easy to personalize it any way you want.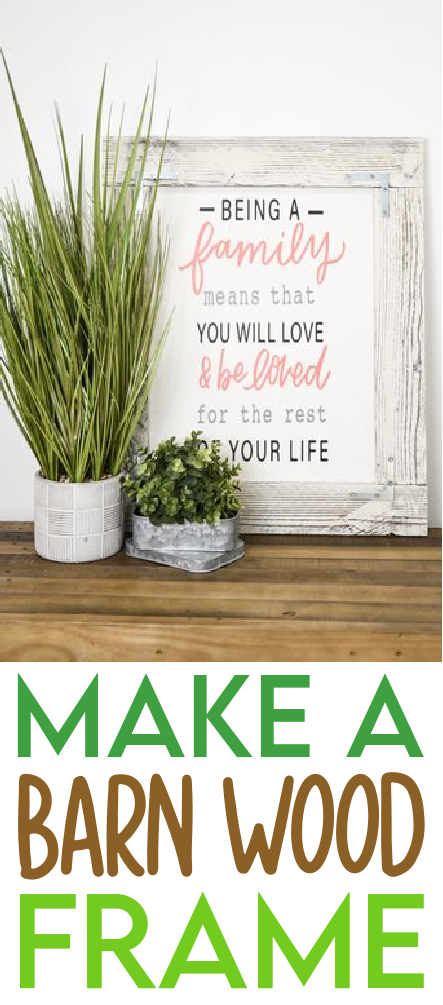 Make a Barn Wood Frame
Supplies needed:
Frame backing is 23 x 19 inches – plywood. 1/8 inch thick. We painted ours. Wood pile at Hobby Lobby.
Black gray and coral HTV
can iron on wood but we're using a flour sack towel as the background
Krylon spray adhesive
Staple gun
EasyPress Mini
White paint
Paintbrush
Gloves
Patch repair compound (spackling)
Flat corner brackets
Cutting mats – you will need 12 x 24 inch StandardGrip mat if you're making this as large as we did
We're using the Being a Family Means You Will be Loved cut file from here on Makers Gonna Learn.

Craft Tutorial: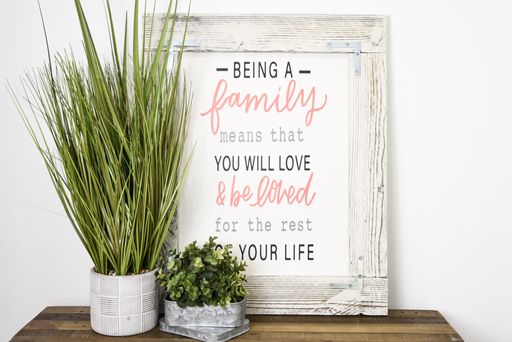 Getting the frame ready:
Begin by painting the frame backing with your white paint so it can start drying while you work on the rest of the project. We will be covering this with a white flour sack towel but they are quite thin and if you don't paint the backing it might show through.
Pro tip: Be sure to sand the backing if needed before applying a coat of paint.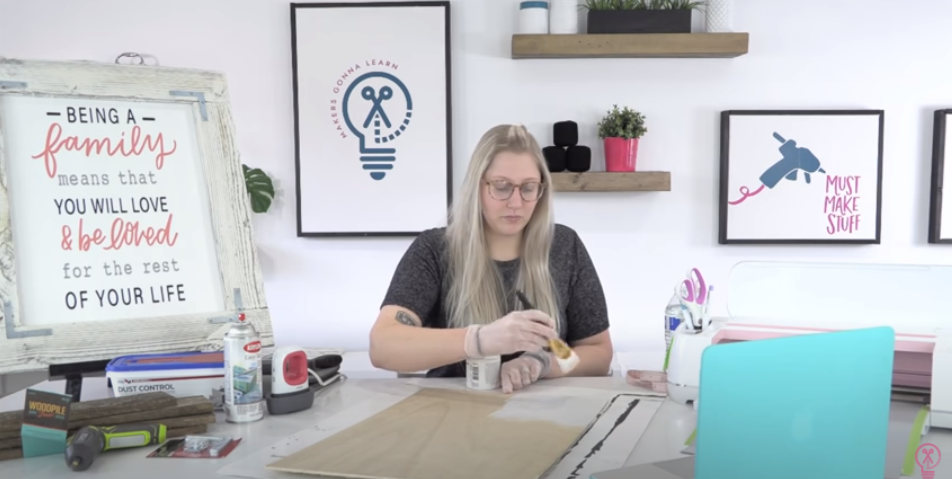 Next, we're going to cover the backing (once the paint is dry) with the flour sack towel. The towel doesn't have to be completely wrinkle-free but we do think it helps to iron out any major creases.
Spray the backing with the Krylon spray adhesive. Wait about 60 seconds to let the adhesive get tacky. Place the towel over the backing and pull out from the sides and smooth with your hands.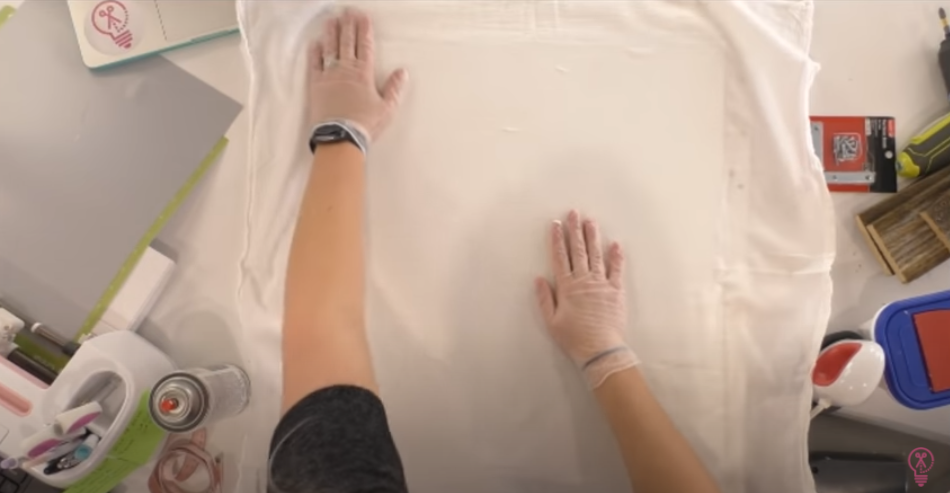 Use a pair of scissors to rough cut away the excess towel from around the edges of the backing.
Pro tip: Instead of painting the backing, you can also layer 2-3 towels, using the spray adhesive in between each layer.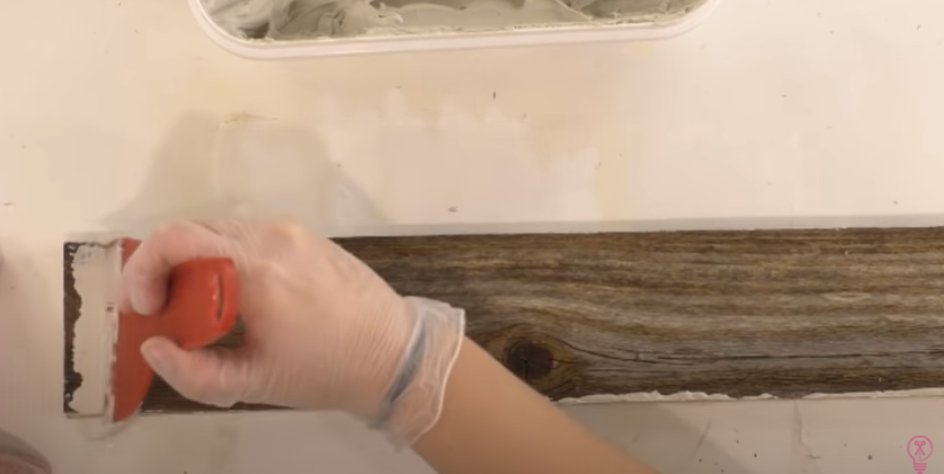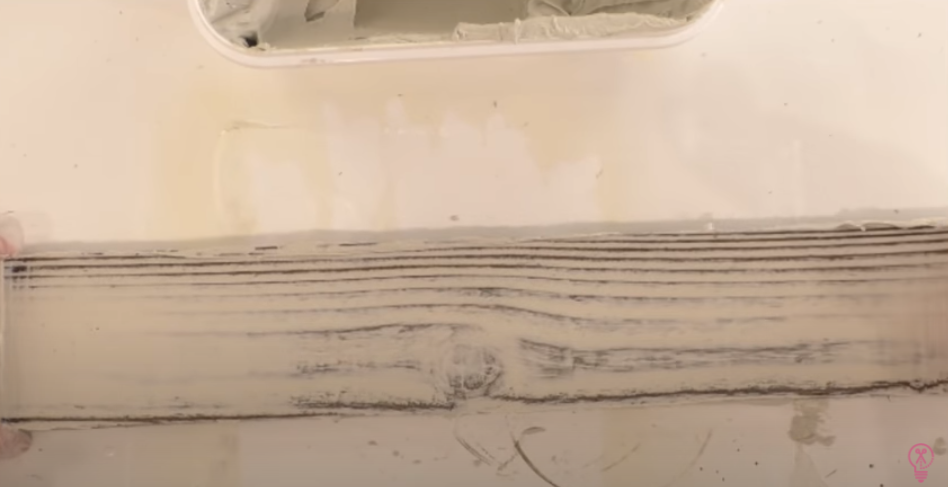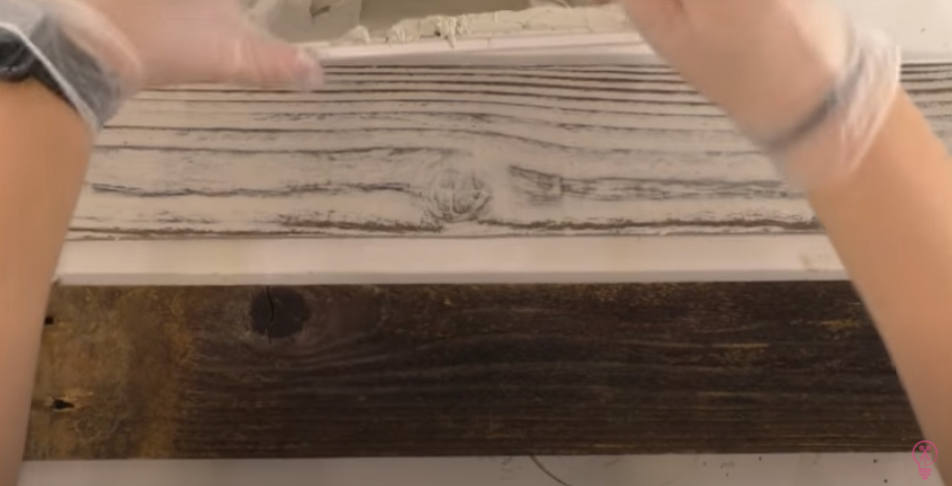 For the barn wood, apply some spackling with the scraper. Scrape off the excess spackling. Let the wood dry overnight. Note: the color will lighten a bit as it dries.
Working in Design Space
Add the cut file to your canvas. Duplicate it twice to be able to change it so that the design is three colors.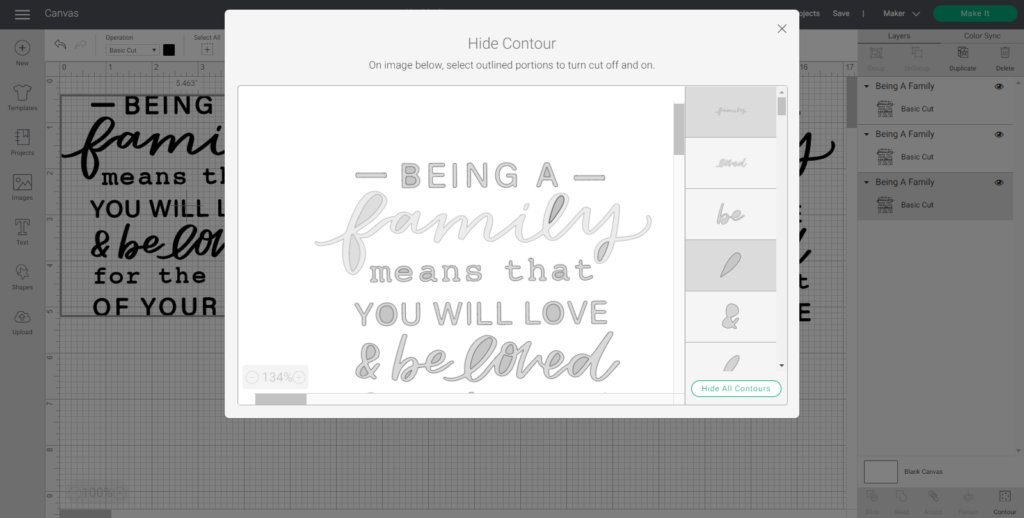 We are making each different font in this design a different color. So, on each of the copies of this cut file, we are using Contour. Pick one of the fonts and contour out anything that isn't in that font.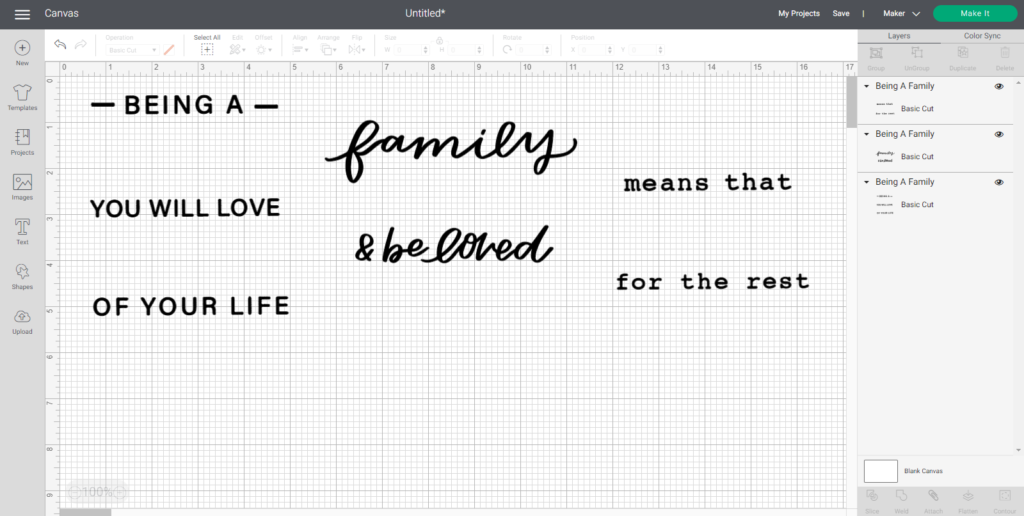 You should end up with something that looks like this. Now you can change each of these to a different color. (We left the first one black). We're using 3 colors of heat transfer vinyl for this project. Why are we changing the colors in Design Space then? This will make Design Space place each of them on a different mat so that we can cut them by HTV color.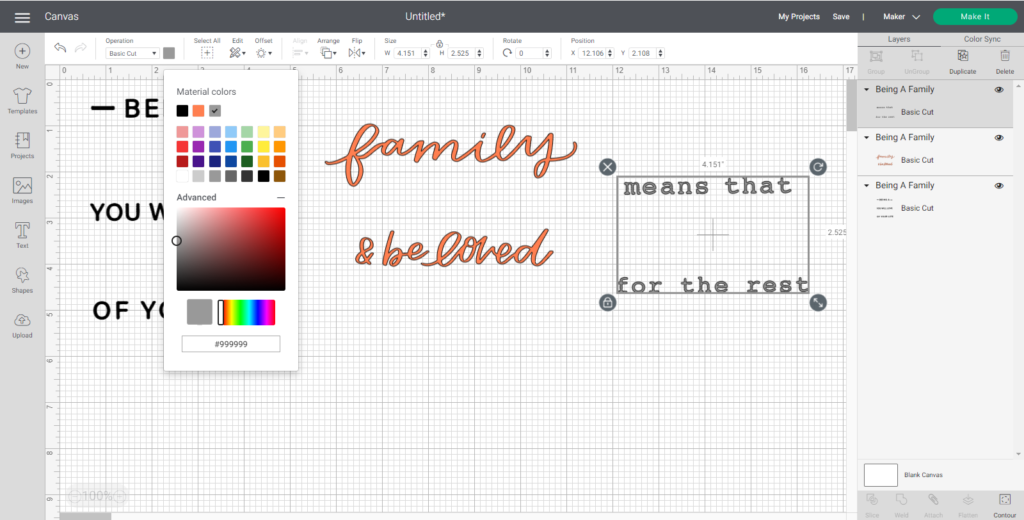 Changing the colors to something similar to your final project can also be helpful in visualizing the final project.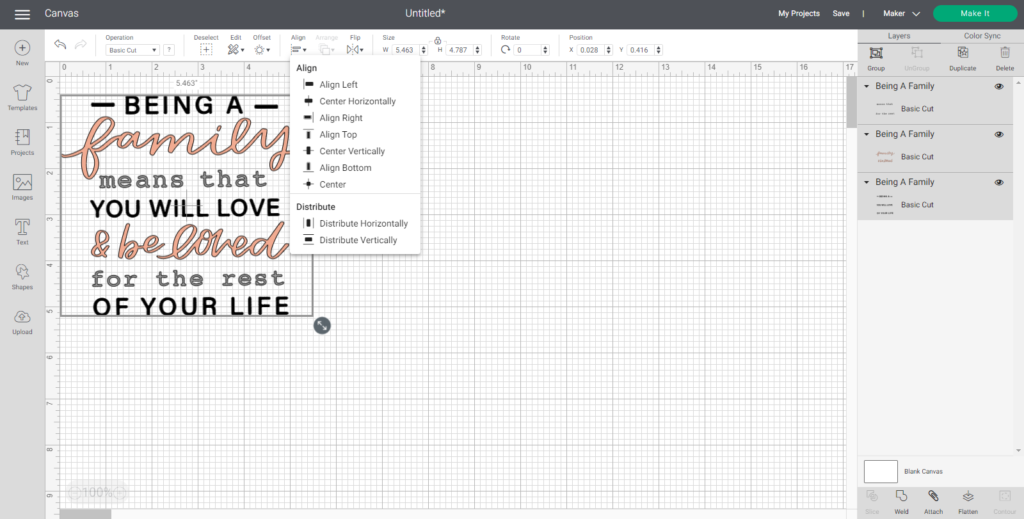 Move each layer back into the design and Align Center Horizontally. Again, it's not going to cut like this since they will be on three different mats. But, this will be helpful in sizing your design properly. Select all the layers and Group so it stays together in Design Space as you move it around and size it.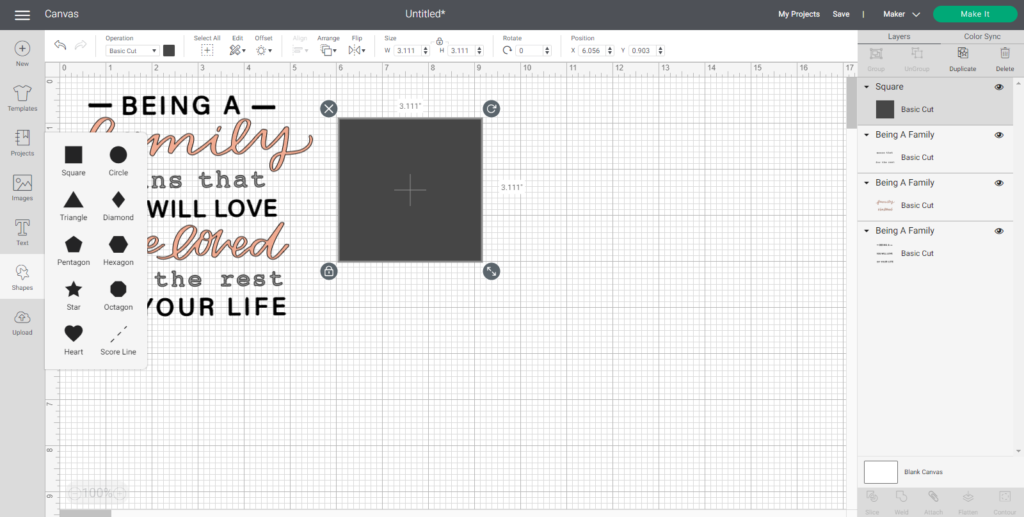 We like to add in a shape to represent the size and shape of the backing we're going to place the design on. Remember to measure only the size available for the design (and not, for example, the space taken up by the frame).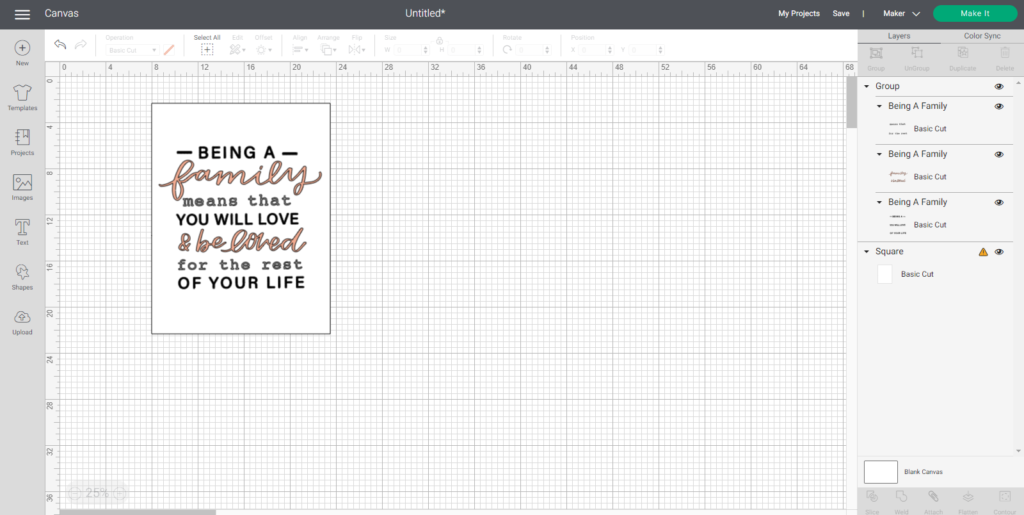 Size your design to fit.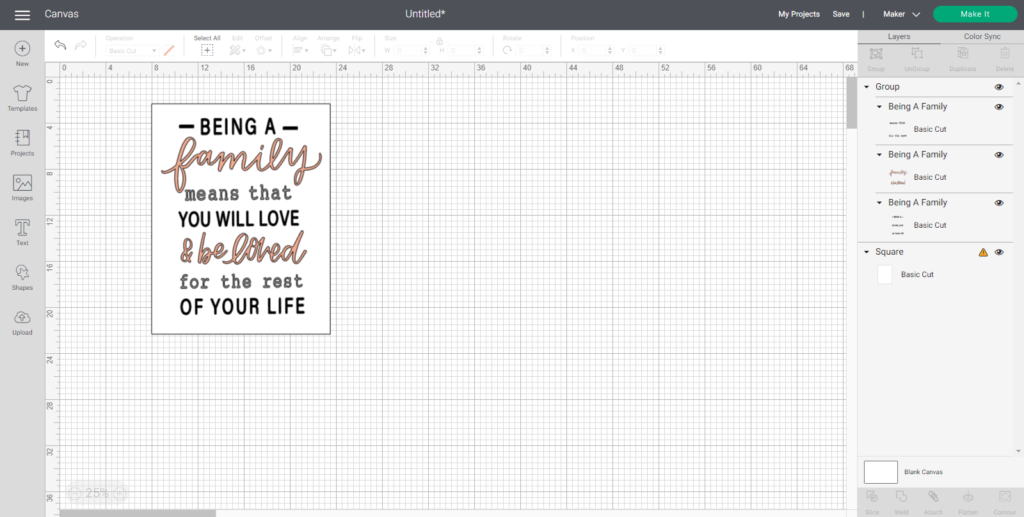 You can even "stretch" the design vertically to make it fit better. With some designs this can cause distortion but it works well with this one.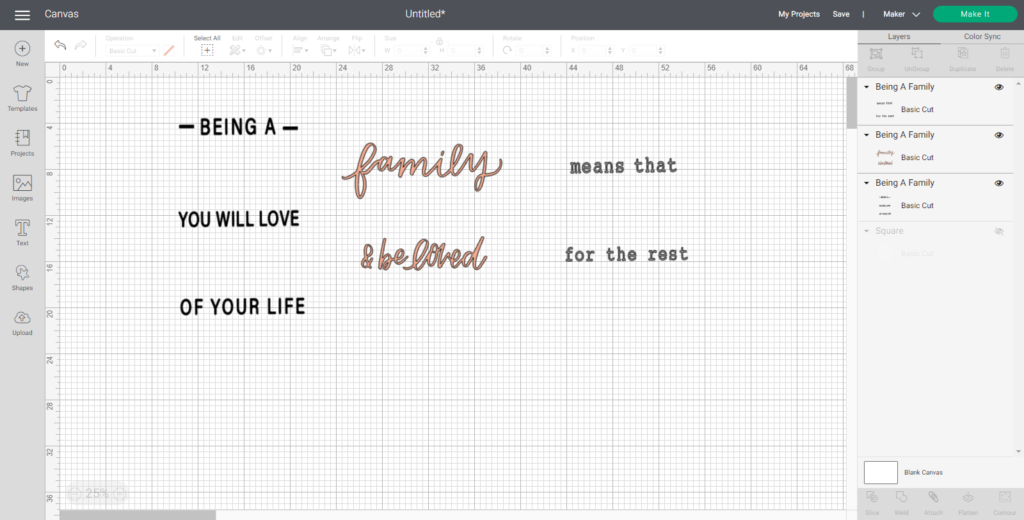 Now, you can delete or hide the rectangle. You won't be cutting that out. It's just for sizing and visualization. Ungroup your design. You can, at this point, ungroup each layer as well and move them closer together to save on vinyl. We chose to leave them as is to make the placement easier.
Cutting your design:
Click Make It. Don't forget to mirror your design since you're working with iron-on vinyl. Connect your machine and select your material. Cut out your three mats of HTV and weed them.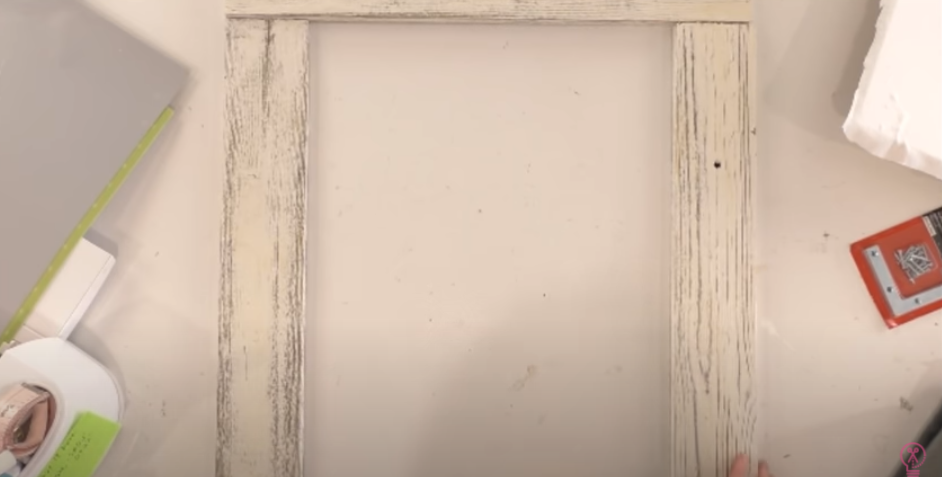 Preheat the Cricut EasyPress Mini on the second setting.
Assembling the frame:
Place the frame pieces together, butting the ends together. Secure with the L brackets in each corner, screwing them in place.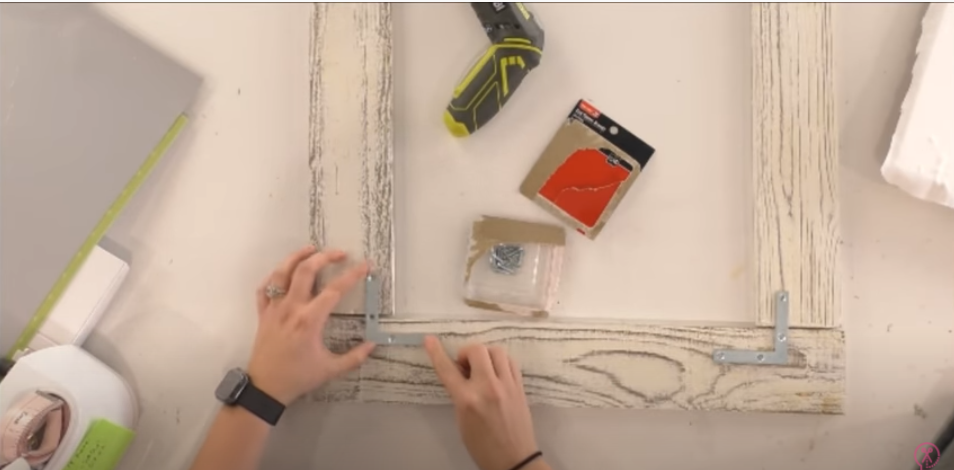 Use a staple gun to secure the backing in the frame.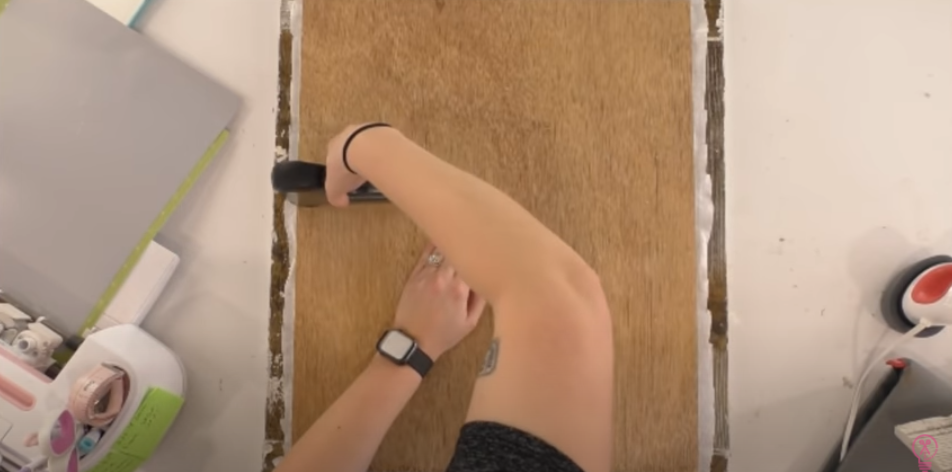 Start with largest layer, place your HTV design on the flour sack towel covered backing in the frame.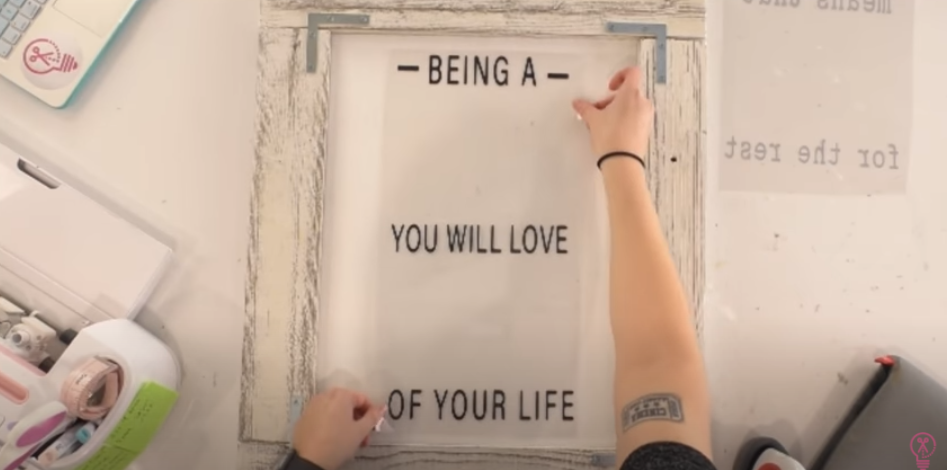 Heat your design using the Cricut EasyPress Mini.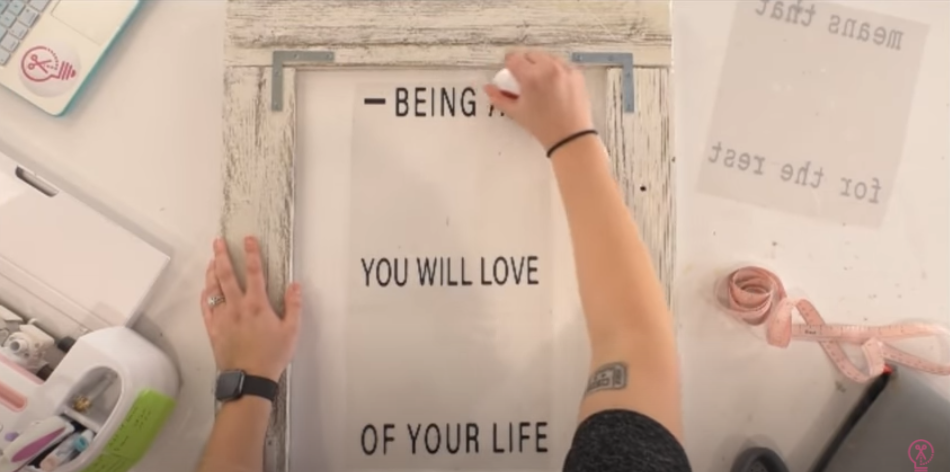 Peel away the transfer tape.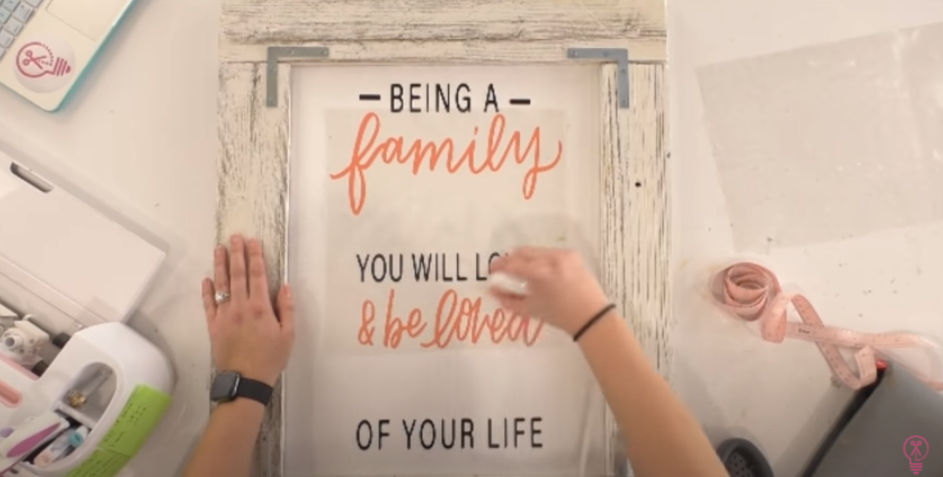 Repeat with each of the other layers. Make sure that any iron-on vinyl that you are touching with the EasyPress is protected by some transfer tape. You can use the leftover pieces you've already removed from your HTV design.
Enjoy your new piece of artwork!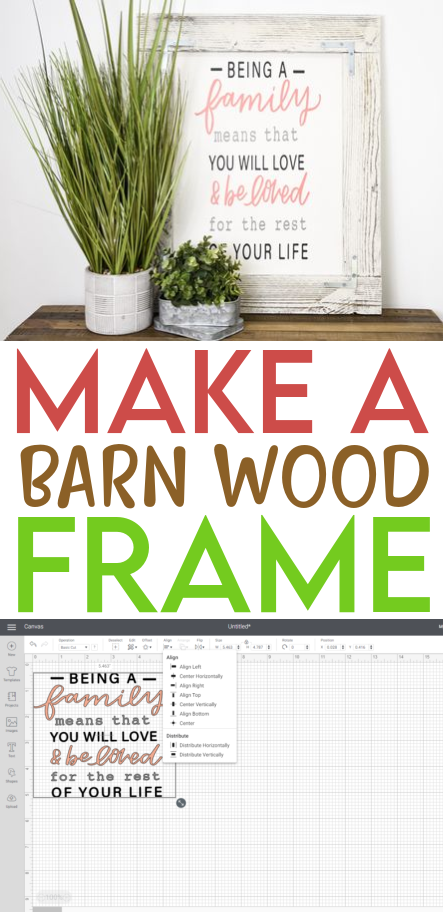 Tanner, Courtney, and the rest of the Makers Gonna Learn Team are all here because we love die-cutting and especially love sharing fun projects and tutorials with fellow makers. We are all great friends and are always having a blast when we are together- you will see this on camera, especially during live streams! We are here to inspire and support you in your crafting journey!