Make Spiral Betty Artwork with Cricut
Spiral Betty artwork has really taken off lately and we are seeing it everywhere. So naturally, we wanted to try it for ourselves. Today, we've got a step by step tutorial to show you just how easy this super trendy artwork is and how you can make some of your own.
You might be wondering – what IS Spiral Betty Artwork? It gets its name from the Spiral Betty website where you can upload a photograph and turn it into a one-line spiral design. It's a fun, fresh way to create a design from a favorite photo.
Note: The Spiral Betty website is free to use. You will be asked to make a donation, but that is optional.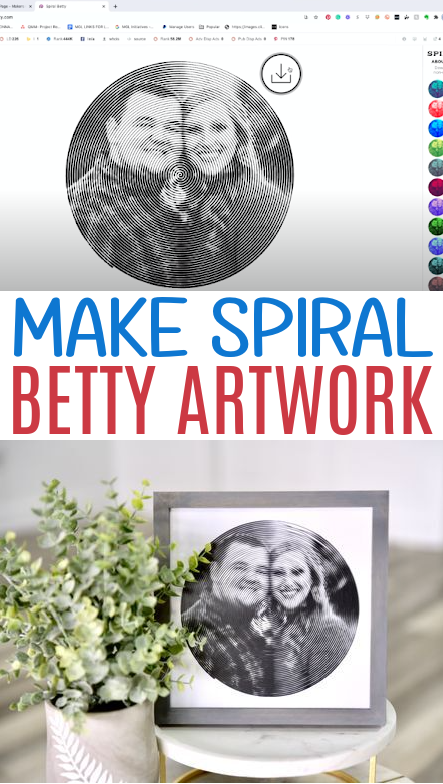 Make Spiral Betty Artwork
We love this idea. It was based on a famous piece of artwork by Claude Mellan, a French engraver from the 17th century. One of his most famous pieces is called The Face of Christ or Sudarium of Saint Veronica in which he engraved an image of Christ with a single line starting at the tip of His nose.
We think it's perfect for wedding and anniversary gifts as well as something very special to give for Mother's Day or Father's Day. Several people we have talked to are making them as special memorial gifts in honor of loved ones who have passed on. We're sure you could come up with tons of reasons to make one of these fun spiral designs.
Materials Used:
Instructions: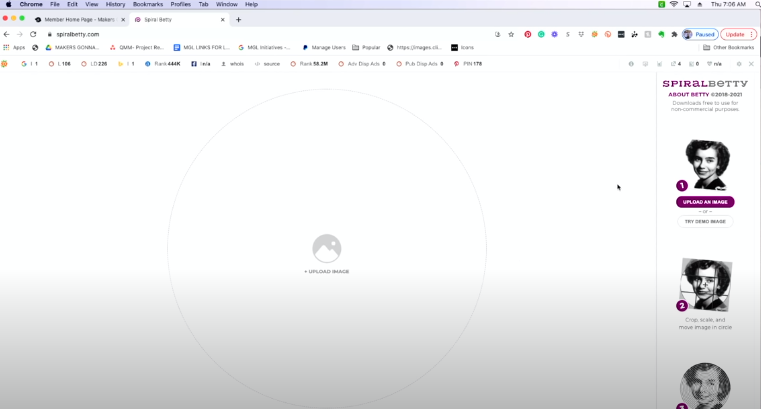 Head to the Spiral Betty website.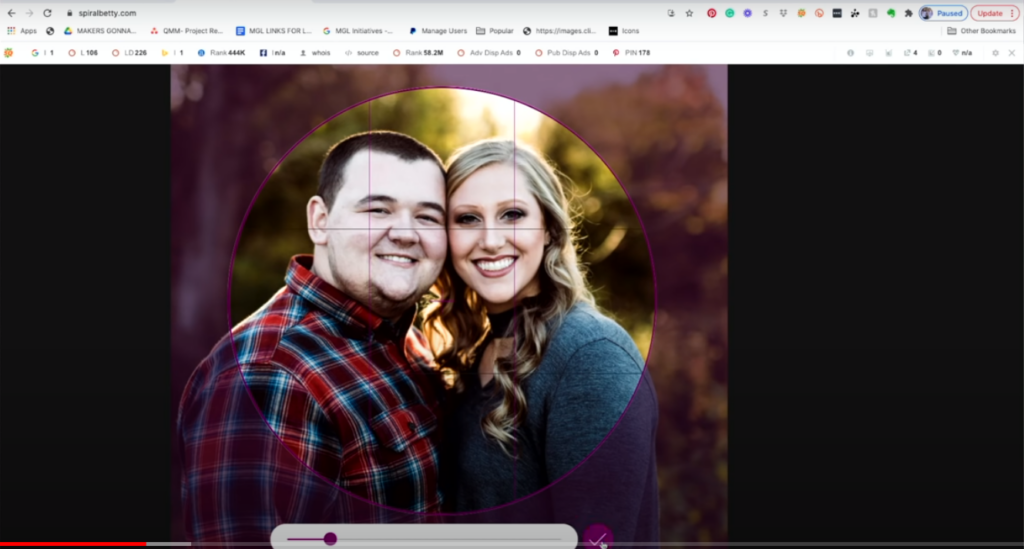 Drag or upload your chosen photo onto Spiral Betty. There is a toggle at the bottom where you can zoom in or out to choose where you'd like to crop the image. You can move the image around within the circle as well. Once happy with it, click on the checkmark at the bottom.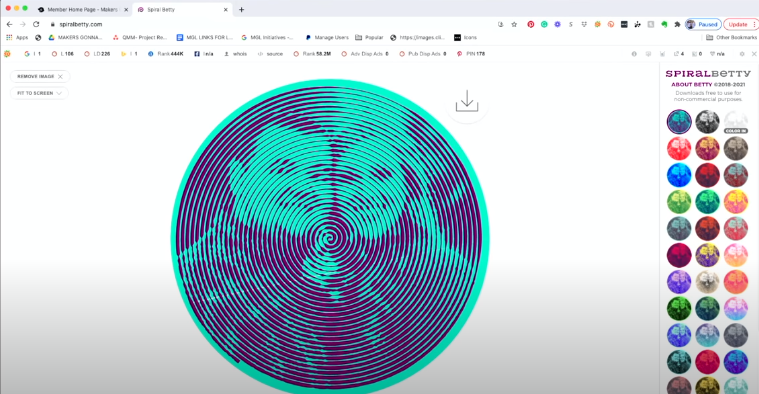 The website will go ahead and spiralize your photo. There are a variety of colors to choose from, but these are not appropriate for our purposes. Instead, move one to the right of the color Spiral Betty has selected for you and choose Black and White. This keeps it really simple for your Cricut machine when you import the image over there.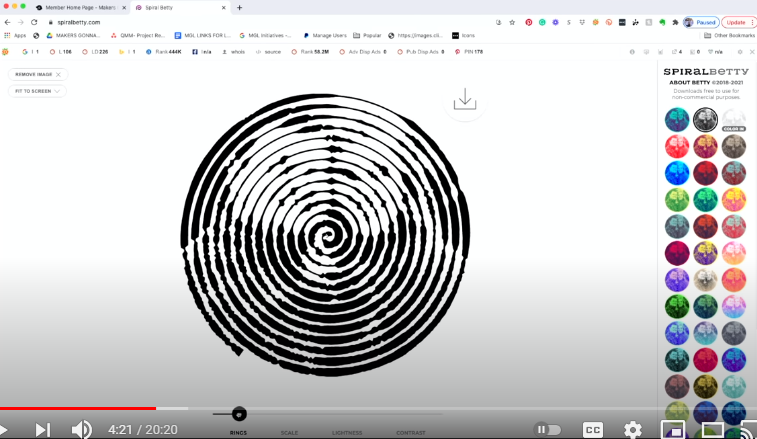 Using the toggle at the bottom, you can increase or decrease the number of spirals. The more spirals you have, the more detail you have to your image. However, remember that the more detail, the longer it will take your Cricut to cut this design out. You might want not want to choose the most detailed option because of that.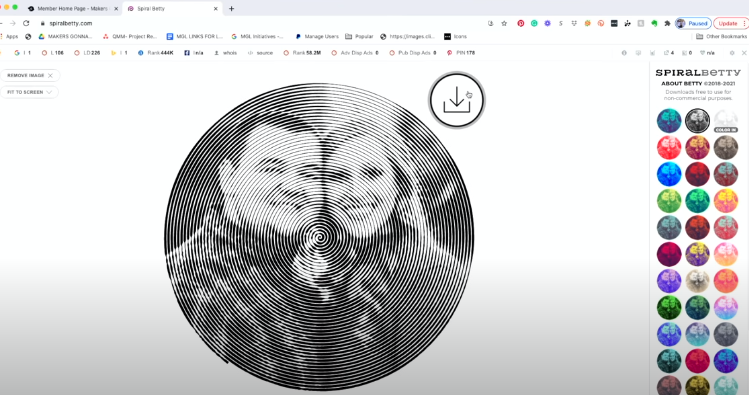 Downloading your Design and Uploading into Cricut Design Space
Click the download button to download the image and save to your computer. You will be given the option there to "Buy Betty a coffee" and to purchase a commercial license for your image if you'd like.
Upload your image into Cricut Design Space and add it to your canvas. You want to be sure to choose Complex when prompted for the type of design you are uploading.
You'll see Select and Erase next. Click on the area around your image to make it transparent. Remember to add to Design Space as a cut file. Click Upload and then click on your image to add it to your canvas.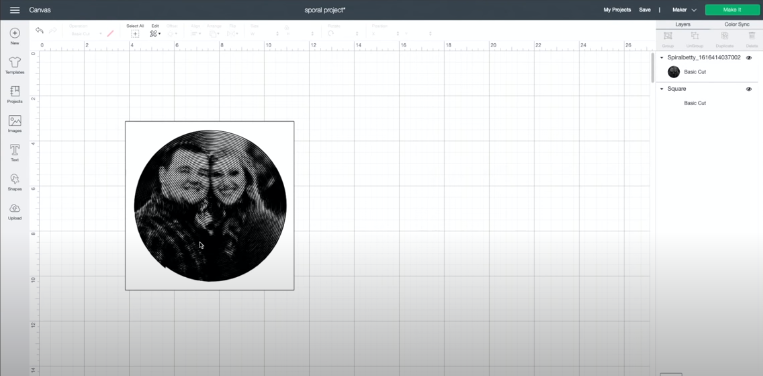 Sizing and Cutting Your Spiral Design
We have added a square to represent the working space within our frame that is available for us to place our design on. This is really helpful when it comes to visualizing the project and sizing it.
We have chosen to size ours as large as we can because the larger it is, the easier it will be for the Cricut to cut your design and the easier it will be for you to weed it.
Click Make It and then Continue to connect to your machine. Select your material – we're using Premium Vinyl. Since we're using a new blade, we're leaving it on default pressure. This is definitely not a project where you want to use Fast Mode.
Lay the vinyl on your cutting mat and be sure to burnish the vinyl down really well to the mat. Another tip: make sure you're using a good, sticky mat for this (but not a StrongGrip mat. You want it to stick but not to be too difficult to remove.)You want it to be really well adhered!
Then, load the mat into the Cricut machine. This will take about 10-15 minutes to cut. Press the flashing Cricut button to start cutting.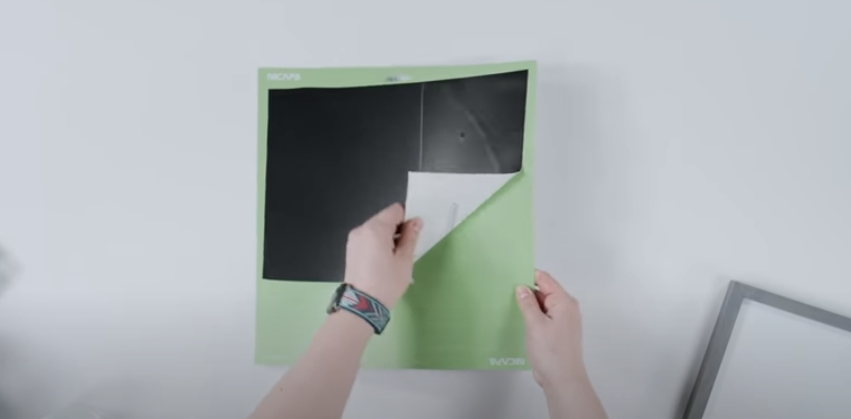 Weeding Your Design
We use our TruControl Knife to remove the excess vinyl from around our design. We can save this scrap to use for other projects.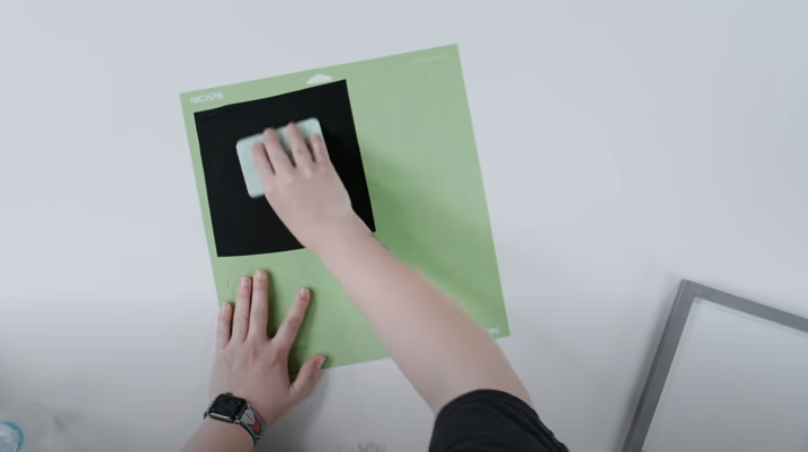 Burnish your design down to the mat really well using your scraper tool. You want to burnish gently though so that no pieces accidentally get pulled up. Burnishing is a crucial step in being able to weed flawlessly.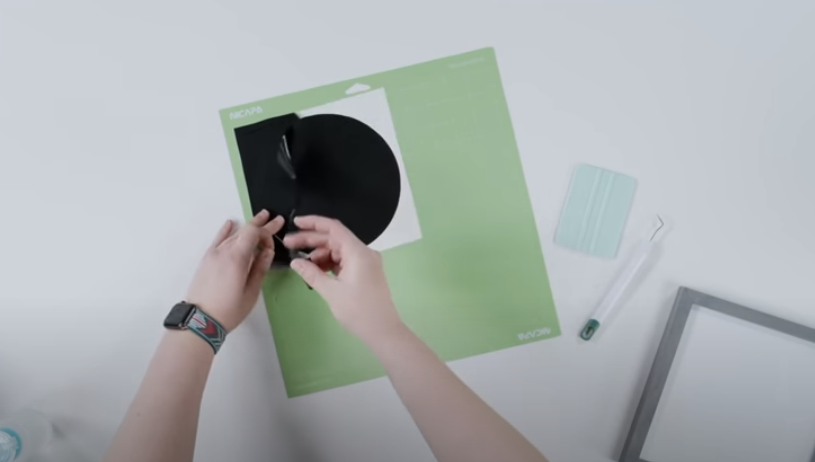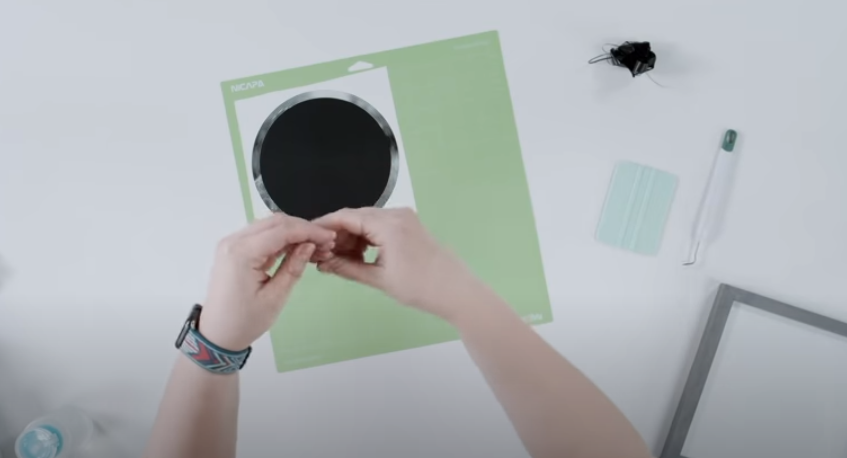 You're going to start by weeding away the vinyl border surrounding the spiral design. As you pull it up (gently!), you will see that you are starting to weed away the spiral. Continue gently pulling as the design circles around in the spiral.
On occasion, the vinyl may pull up entirely on you. If that happens, you just need to use your weeding tool to find the end of the spiral and gently lift it up so you can begin pulling the spiral away again.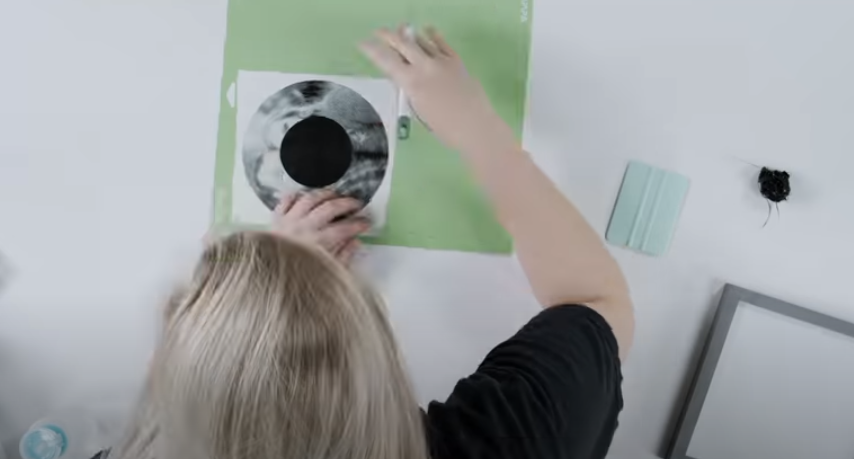 Applying Transfer Tape and Placing Your Design in the Frame
As you weed, you'll see the spiral design start to take shape. Remember, the larger the design, the less time it will take to weed. Once fully weeded, apply transfer tape to cover your entire design.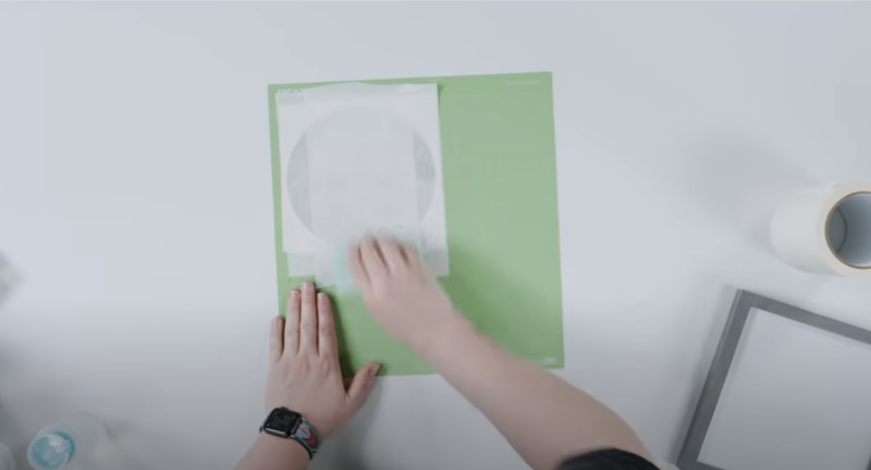 Burnish the transfer tape to your design. Flip it over and peel the mat away from the design gently. Burnish once again from the back of the design.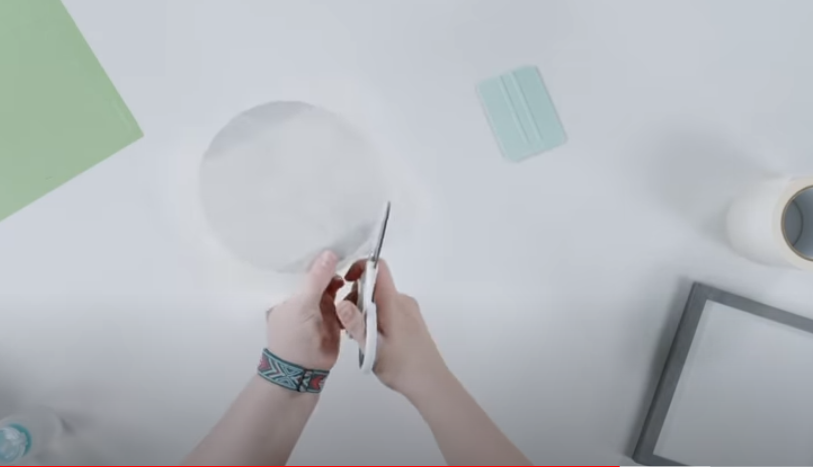 With a circular design, we like to use scissors to trim around the edges. It makes it much easier to line up and place your design.
Before applying our design to the sign, we like to clean it with rubbing alcohol and a paper towel to make sure all finger prints, dust, and debris are removed. This helps ensure that it adheres perfectly.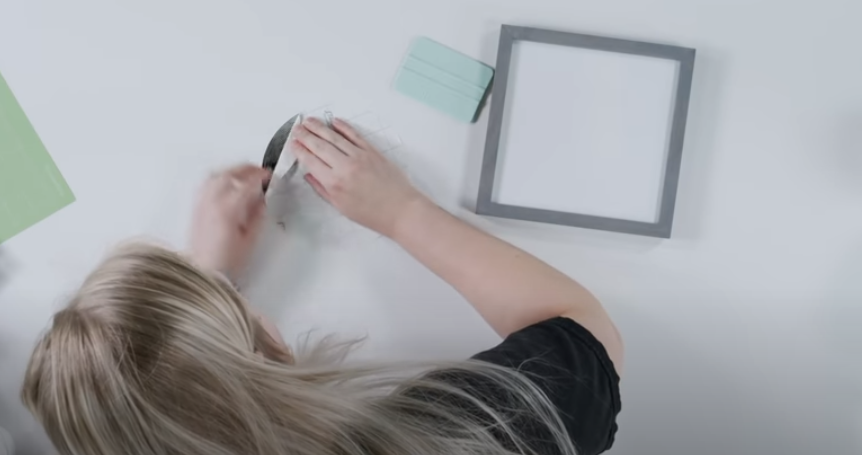 Carefully peel away the backing. You want to peel it straight down and away from your design, moving slowly and carefully and keeping the backing tight against the design. If you encounter any issues, lay the backing back down and burnish again.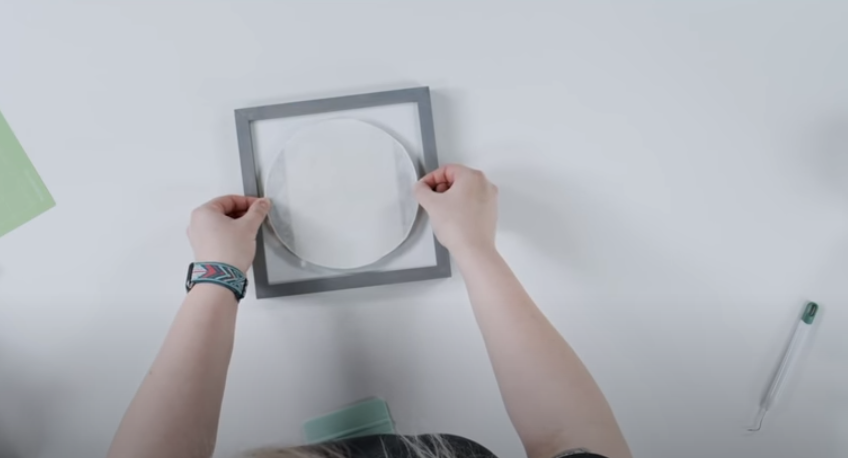 Place your design carefully onto the frame. Be sure you like exactly where it is and lay it down carefully because you won't be able to peel it up and lay it down again. Start from the center of the design and burnish out.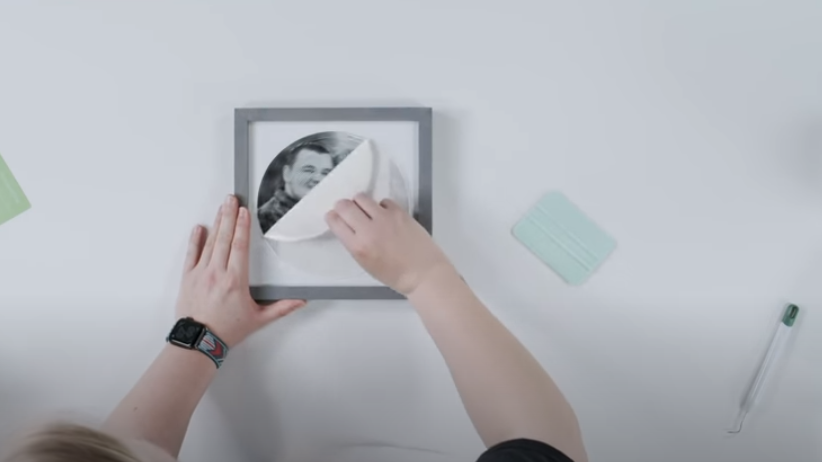 Peel away the transfer tape to reveal your beautiful design.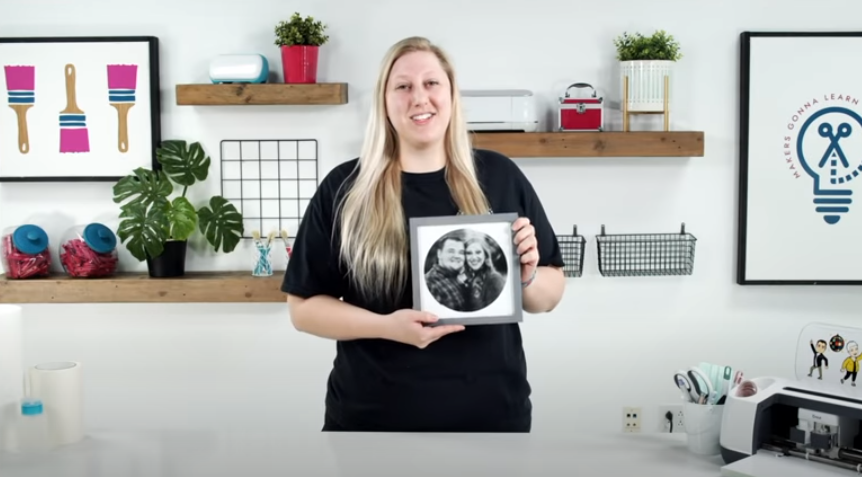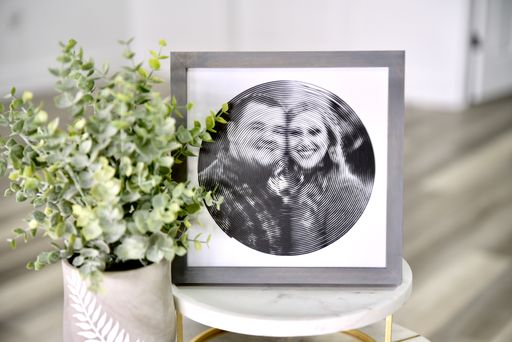 We think this Spiral Betty artwork would make fantastic gifts! Perfect for Mother's Day, Father's Day, birthdays, anniversaries, wedding gifts, and baby gifts. We can't wait to see your Spiral Betty designs. Share them on social media using the hashtag #MakersGonnaLearn.
We have TONS of Cricut craft projects that would make beautiful gifts. Check them out here: Gifts You Can Make with Your Die Cutting Machine
See the full step-by-step video tutorial below: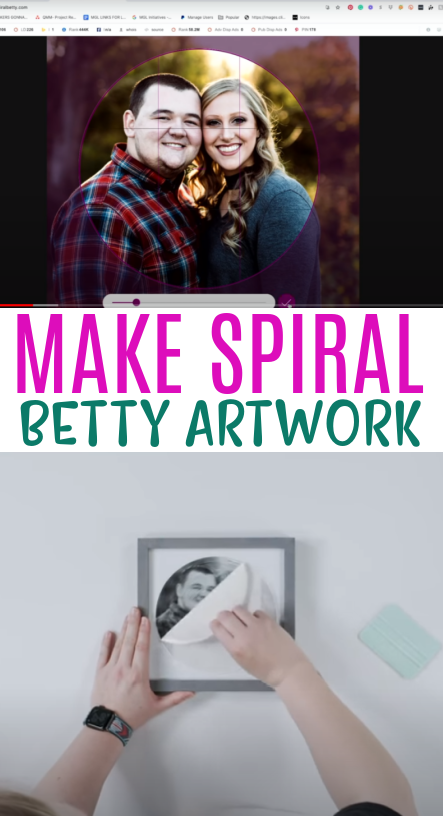 Tanner, Courtney, and the rest of the Makers Gonna Learn Team are all here because we love die-cutting and especially love sharing fun projects and tutorials with fellow makers. We are all great friends and are always having a blast when we are together- you will see this on camera, especially during live streams! We are here to inspire and support you in your crafting journey!