Make Your Own Crackle Paint
You are going to LOVE this amazing sign we're making using HTV on wood that we have painted with a fun crackle paint technique. You can use it for so many different purposes and projects.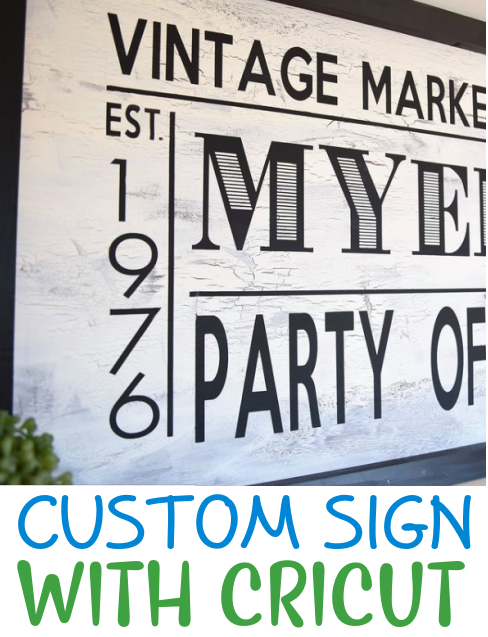 Make Your Own Crackle Paint
Disclosure: Some of the links below are affiliate links provided for your convenience. This means, at no additional cost to you, we will earn a commission if you click through and make a purchase.
Fonts Used:
Family Name Grid 4
Passion
Distillery
Supply Links: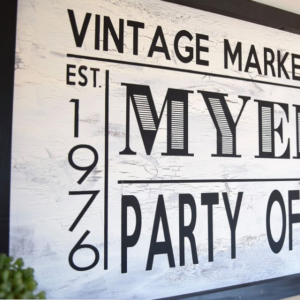 Step-by-step Instructions:
Download the cut files and fonts from Makers Gonna Learn. Make sure to unzip all the downloaded files and install the fonts on your computer.
In Design Space, grab a square and size it to 24.25″x16.25″ or whatever size you need to match the size of your frame. Duplicate it or get another square and size it up to 21.5″x13.25 or whatever size you want. These are to represent the frame and then the center area where your design will go. Change the color of them if you'd like for better visualization and place the smaller rectangle on top of the larger. Select both and choose Align, Center.
Now, with your grid in Design Space, move it over to your rectangles and size it so that it fits as you wish.
Open a text box and type in your last name. Change to the desired font. Move the text to the grid and you can arrange it however you want. Size it and adjust the letter spacing as needed.
Repeat with the remaining text needed. To get the year positioned vertically instead of horizontally, just type in the first number, then enter, then the second number, and enter. Repeat this until you have all 4 numbers there.
Once you are satisfied with how it looks, you need to hide the red layer (the grid). We also contoured out the tiny little lines as they can be tricky to cut and weed well. When you're happy with your design, select all of it (not the frame rectangles that you're using for visualization) and choose Weld.
Delete the rectangles that you used to represent the frame. You don't need those anymore.
Click Make It. Be sure to Mirror your design because we are using HTV. Click Continue and select your machine. Set your material to an everyday iron-on.
Place your vinyl on the cutting mat and load the mat into the machine. Once cut, weed your design.
Take the piece of plywood for the backing and paint it with black acrylic. Once dry, pour glue all over it and use a brush to smear it all over. You don't want it super thick because it will take forever to dry.
After about 10 minutes, you are ready for the next step. You don't want it to dry, but you do want it to feel tacky. Paint with the gray acrylic paint over the glue. You will see the paint start to crack.
Once dry, place the plywood backing piece into the frame and secure it with the staple gun.
Lay the HTV inside the frame and arrange it however you want. Use the Mini EasyPress to heat and adhere your design to the wood. Peel up the transfer tape.
Tanner, Courtney, and the rest of the Makers Gonna Learn Team are all here because we love die-cutting and especially love sharing fun projects and tutorials with fellow makers. We are all great friends and are always having a blast when we are together- you will see this on camera, especially during live streams! We are here to inspire and support you in your crafting journey!