Most Asked Cricut Questions
Whether you are a Cricut beginner or a Cricut pro, you are going to love this post where we answer The 20 Most Asked Cricut Questions we receive.In this post, we are are sharing our best Cricut hacks, Cricut tips, and Cricut FAQs all in one informative resource.
Be sure to pin this or bookmark it so you can refer back to it anytime you have questions about your Cricut machine and Cricut Design Space. You're going to find so much helpful information here!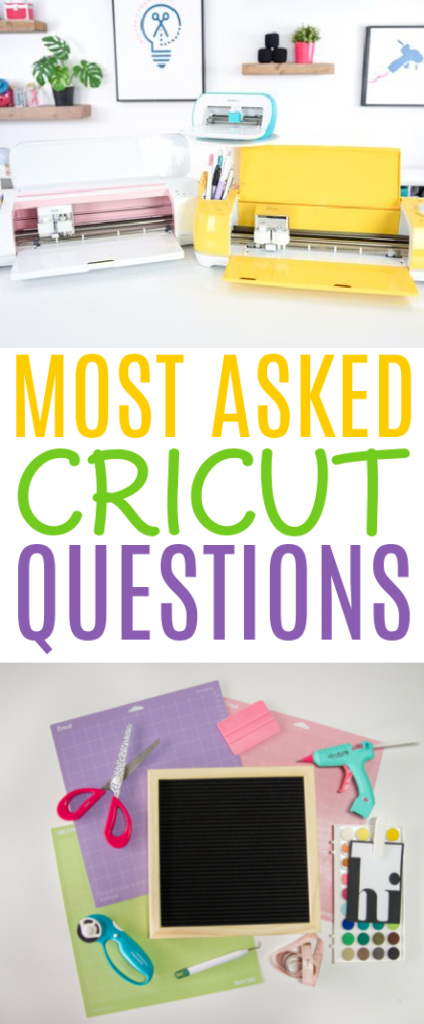 Most Asked Cricut Questions
What burning Cricut questions do you have? Be sure to tag us on social media with #MakersGonnaLearn and we'll try to answer your questions too.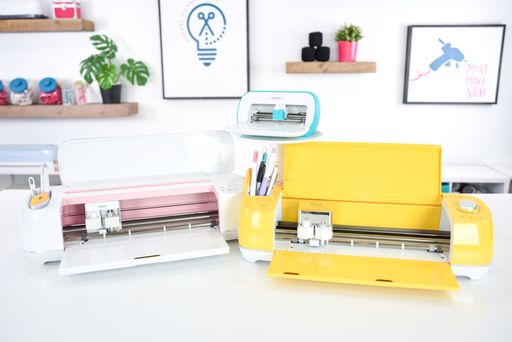 Can You Reverse Weed HTV?
You may already know that you can reverse weed adhesive vinyl. If not, and you want to learn more about it, you can see how to do it in the video below. In this method, you apply the transfer tape first and then weed, instead of the other way around.
Why would you want to do reverse weeding? If you are working with a design that is particularly intricate, it can make the process of weeding and applying your design much easier!
However, sometimes we are asked if you can do the same with HTV. The answer is "yes, but". Yes you can, but you actually already are reverse weeding heat transfer vinyl. Since iron-on vinyl comes with the transfer sheet already built in, the way you weed it is by nature reverse weeding!

Why Do You Waste So Much Vinyl?
We get this question A LOT! After watching our videos, some of you will write in to ask why we waste so much vinyl and we get it. It can be frustrating to see things being wasted instead of getting our full money's worth out of them.
The answer is simple. In most cases, when we are wasting vinyl, it's because we're trying to teach you a Cricut technique and we want the focus to be on the steps for that particular technique and project. If we also try to use the vinyl as efficiently as possible, it can add additional steps that can be confusing to Cricut beginners. We simply don't want to overwhelm you.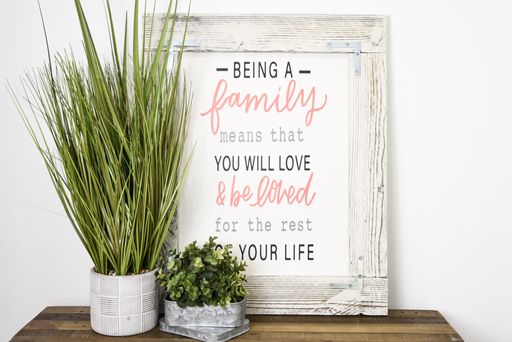 Another reason why we might be seen as wasting vinyl on some projects is because it makes it so much easier to place them. If we have a multi-colored design, there are times where placing the various layers onto the blank would be much trickier if we tried to conserve vinyl.
You can see just what we mean by this with this Barn Wood Frame project. Lining up the lines of text is much easier with the method we demonstrate in this tutorial, but it does mean that there is a bit of vinyl waste. With this technique, we attach each layer together by color in Design Space – attach all the black together, all the pink together, etc. We get much more professional results this way and once you see it demonstrated, you'll see why!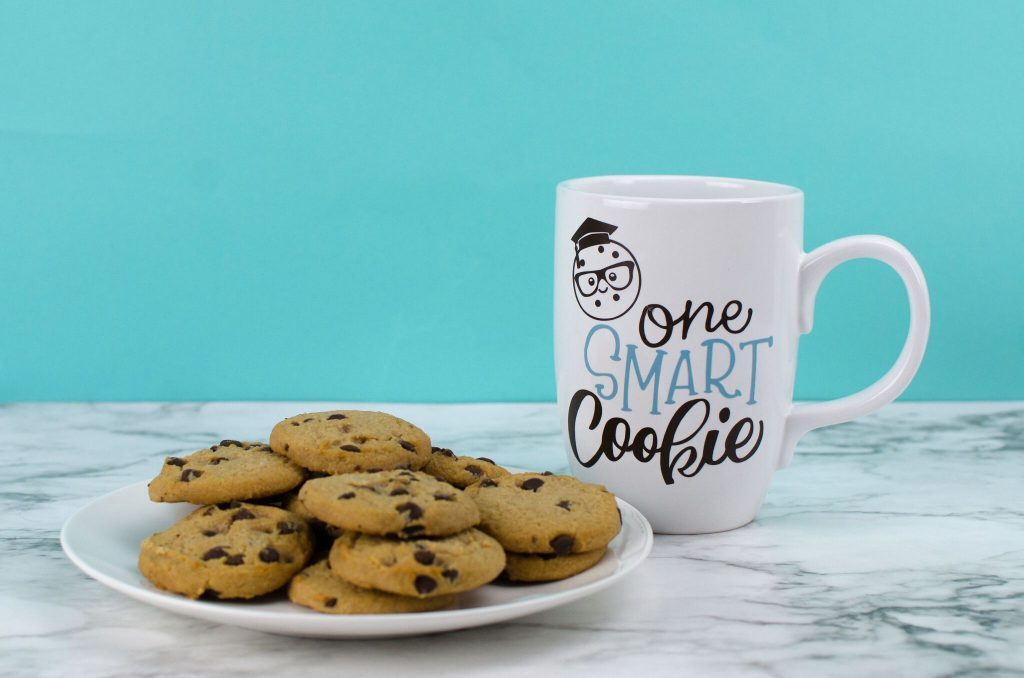 Can I Put Mugs With Vinyl on Them in The Dishwasher?
A mug with vinyl placed on it as is cannot be put into the dishwasher. The heat, water, and soap will damage the vinyl and cause it to lift.
If you use the right sealer on it, you can make a mug dishwasher-safe though! Once protected, your design will hold up in the dishwasher quite well.
Can I Microwave My Mug With Vinyl on it?
The answer to this question is similar to the one above. If you have sealed your mug, then yes, it can go into the microwave. One warning though – it can only go in for a few minutes. Anything longer than that might cause the vinyl to begin lifting. So, you can heat up your cup of coffee, but we wouldn't suggest one of those mug recipes where it takes 10 minutes, for example.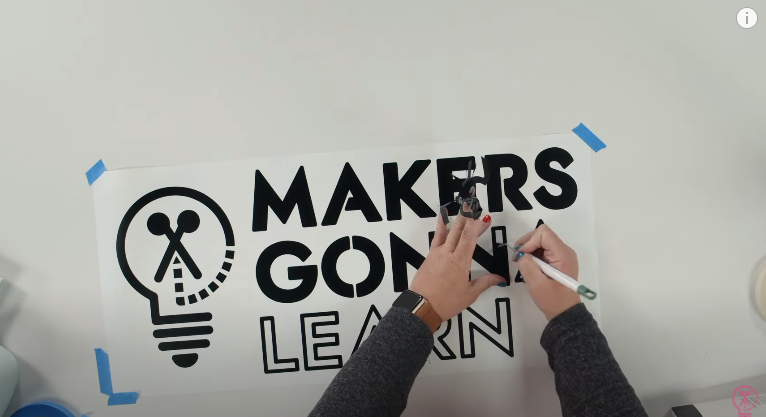 Why Should I Weed on The Mat?
Weeding on the mat is like having an extra hand to help you! The stickiness of the cutting mat will help hold down your vinyl and HTV while you weed. This makes it so much easier to weed successfully.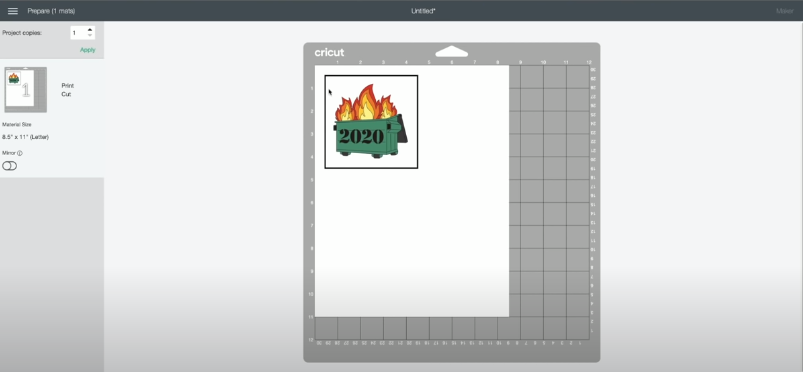 Why is there a black box around my image with Print Then Cut?
These black lines are called registration marks. Your Cricut will use its sensors to read these lines and know exactly where to cut out your design.
Find our tips for troubleshooting and fixing issues with Print then Cut projects here.
Can I use Cricut/Design Space with Android?
Yes you can. Unfortunately, we don't currently have many resources on using your Android devices because we only use Apple products here.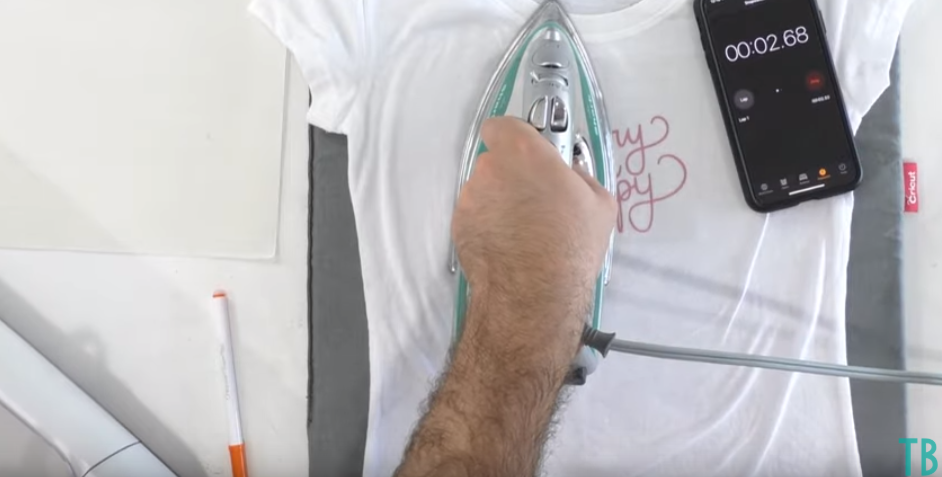 Can I use a household iron with HTV/Iron-on?
You can but we don't advise using a household iron with heat transfer vinyl. The results you will get from it can be quite uneven and unpredictable. We have also found that when you use an iron to apply iron-on vinyl, it simply doesn't last as long either.
For the best results, we recommend using a Cricut EasyPress instead. The even heat it provides can make all the difference! The EasyPress Mini is quite economical and not much more expensive than a good iron.
Should I Heat Set Adhesive Vinyl?
There is no need to heat set adhesive vinyl and in fact, you might even melt it or cause it to discolor if you try. The only time we have ever used heat on adhesive vinyl is to remove vinyl from a project when we no longer wanted it there.
Why does my Cricut not cut my Print then Cut projects properly?
If your Cricut isn't cutting out your Print then Cut projects properly, it probably needs to be calibrated. You can find our tips for correcting Print then Cut issues and calibrating your machine here.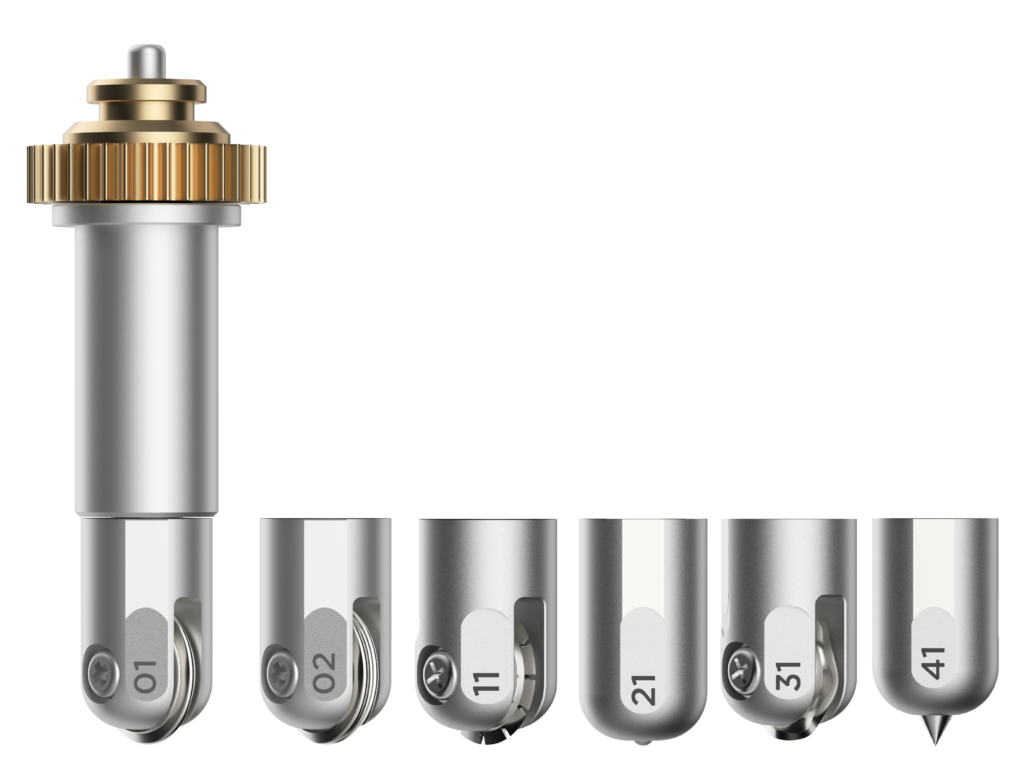 Can I use the adaptive tools (ie. knife blade, rotary blade, embossing tool, etc) on my Cricut Explore Air 2?
No. These are made only for the Maker series and it is not possible to use them in the Explore machines.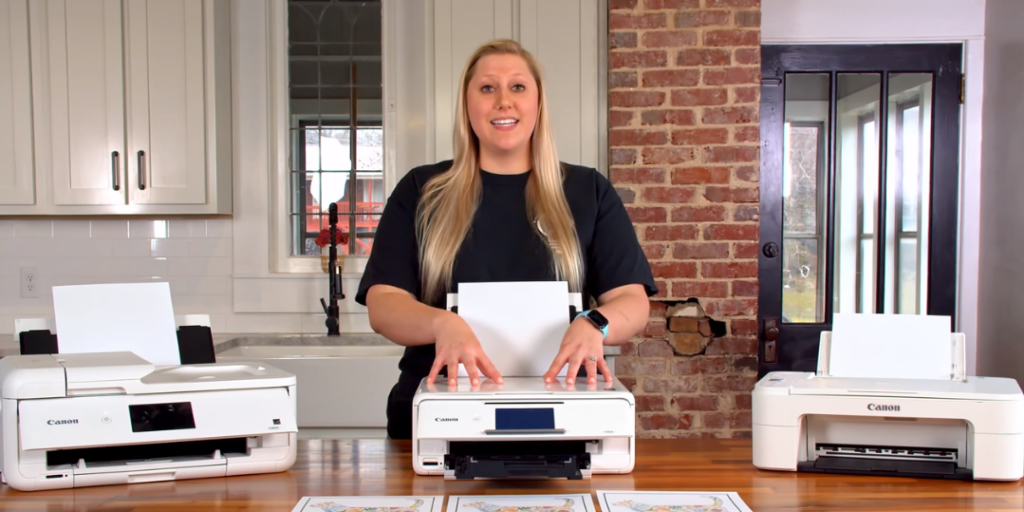 Can I use ANY printer for Cricut Print then Cut?
As long as it is an inkjet printer, you can use any you want, but some printers definitely work better than others. We have done some Cricut printer comparisons and we have found some that make all the difference when it comes to getting the best results.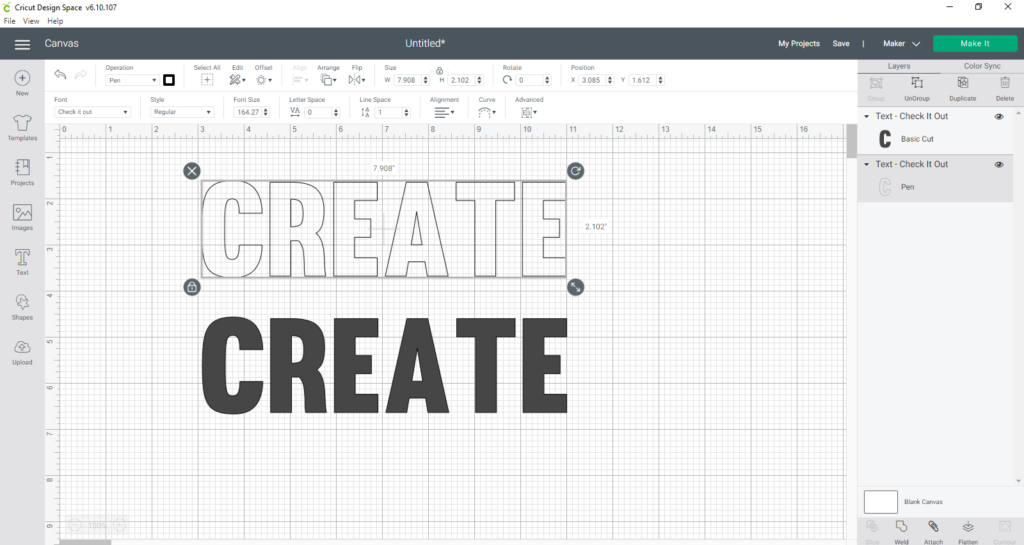 Why won't my Cricut fill in my fonts?
Unfortunately, your Cricut is unable to fill in third party fonts. There are some filled-in fonts available from Cricut, but if you want to use fonts you find here on Makers Gonna Learn, they will not be filled in. We have some great Cricut hacks for filling in fonts that you will definitely want to check out!
Why won't my material cut well?
There are several different reasons why your material might not be cutting well on your Cricut, but one of the most common is that you are using the wrong cutting pressure. We have a helpful post that you can use to determine the best cutting pressure for your project.
Which device is best for using Design Space?
Laptops/desktops, iPhones, and iPads all work well. For the most part, it is personal preference.
However, it's important to note that for some tasks you might perform with your Cricut machine, you must use a laptop or desktop computer. For example, when making long cuts like with your Maker and knife blade, you will want to use a computer and not a mobile device. In addition, some functions, like curving text, are only available on laptop/desktop.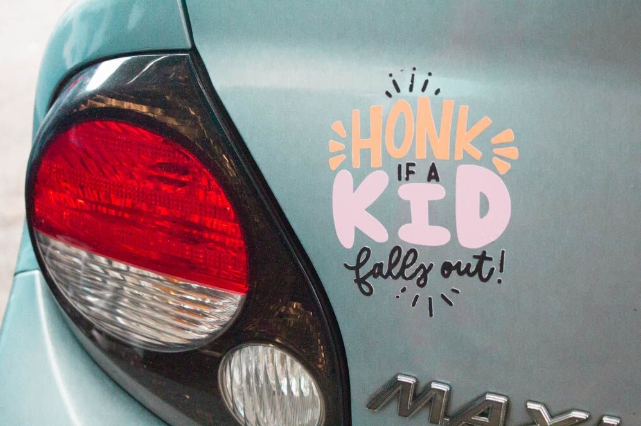 Which type of vinyl should I use for a car decal?
Any good reputable brand of adhesive vinyl, in our experience, works well for a car decal. They all pretty much last for about the same amount of time and adhere just as well as the others.
Where is the best place to order vinyl/What is the best brand of vinyl to use?
Our favorite place to buy HTV and adhesive vinyl from is 143Vinyl. The vinyl cuts and weeds well and it is great quality. Not only that, but you can buy in bulk and the prices are amazing! We like to use Starcraft Vinyl and Siser EasyWeed HTV.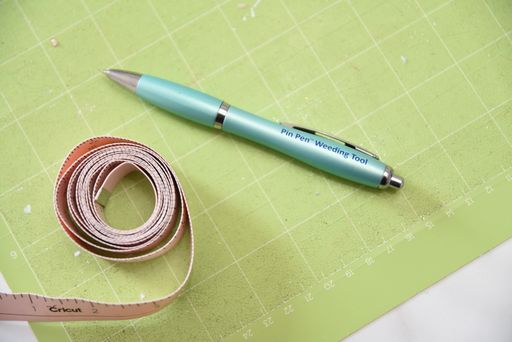 Off Brand Products good or bad? (ie. replacement blades, transfer tape, mats, weeding tools, vinyl, etc)?
You do not have to stick only to Cricut brand products. We have tried and tested many off brand products and had great success with them. In fact, in some cases, we prefer the quality of the off brand products over those of Cricut products.
Cricut EasyPress Mini vs Off Brand Mini Heat Press
Infusible Ink Blanks We Recommend
Using Off Brand Mugs in your Cricut Mug Press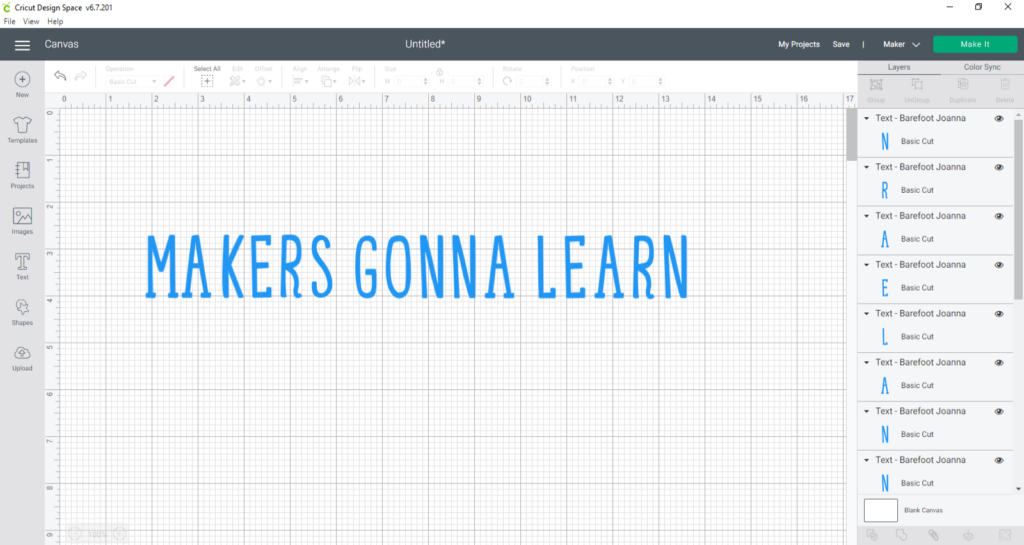 Why are my letters cutting separately/jumbled up but in Design Space they're together where I want them to be?
If you're working with regular text, you need to Attach (or Weld) your words in Design Space to keep them together. With cursive words, you need to use Weld to hold them in place as one fluid word instead of separate letters.
Learn more here: The differences between Weld, Attach, and Group
What is the difference between vinyl and HTV?
They are both vinyl but the key difference between what most people call vinyl (or regular vinyl or adhesive vinyl) and HTV (heat transfer vinyl or iron-on vinyl) is how they are adhered. Regular vinyl is like a sticker or decal. It has adhesive on the back and you just stick it to your surface.
HTV requires heat to activate the adhesive and cause it to adhere to your surface. So, with iron-on vinyl, you will be using a heat press like a Cricut EasyPress to iron it onto your surface.
And there we have it! Twenty of our most asked questions answered for you. We hope that you found this informative post helpful!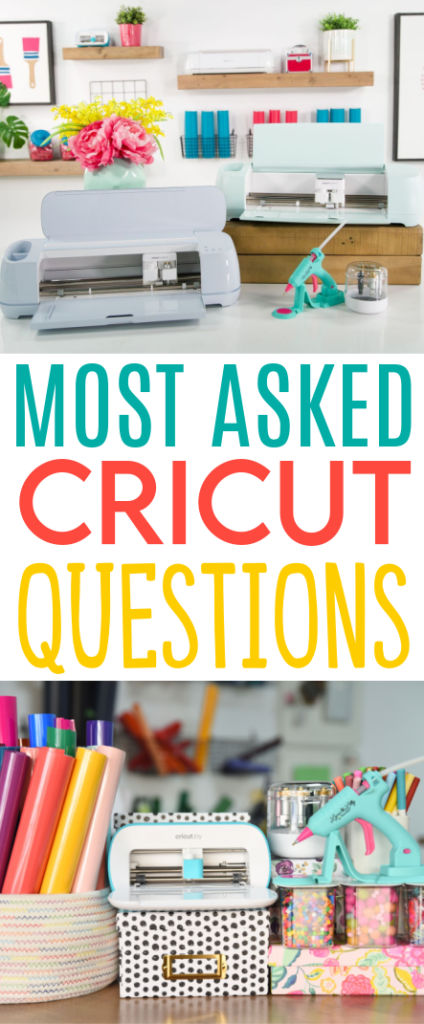 Meet the Makers Gonna Learn team! Tanner, Rachel, and Courtney are all here because we love diecutting and especially love sharing fun projects and tutorials with fellow makers. We are all great friends and are always having a blast when we are together- you will see this on camera especially during live streams! We are here to inspire and support you in your crafting journey!