Most Common Sublimation Questions
Want to start sublimating? Check out this post for answers to the most common sublimation questions.
The crafting world is all abuzz talking about sublimation. It has really taken off as a popular craft right now and we understand why. It's so much fun!
If you're thinking about getting started with sublimation, you will likely find that answers to any of your most pressing questions here. We want you to make an informed decision before you invest in a new type of crafting, so be sure to read this post first!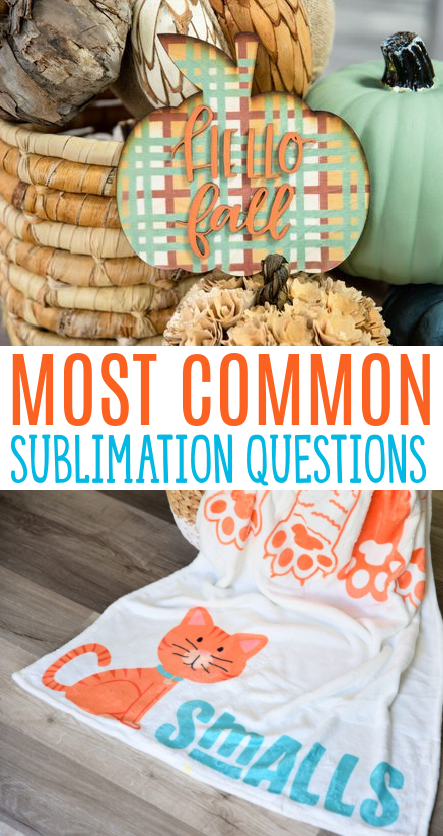 Most Common Sublimation Questions
We want to provide you with some sublimation tips and helpful information that you'll need to make an informed decision about whether you want to dive in or not. There seem to be a lot of misconceptions out there about what sublimation is and people seem to have a lot of questions about it. We hope that by answering these most common sublimation questions, we can fill in the gaps of what you need to know.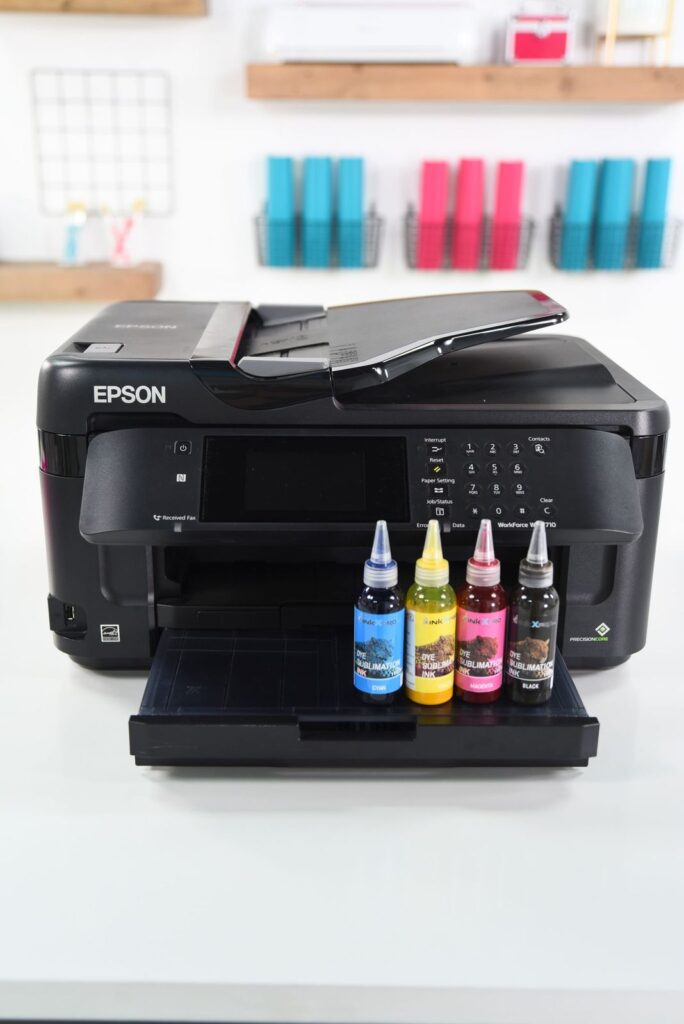 What is sublimation and how does it work?
Sublimation is a method of printing that allows you to transfer a design onto fabric or another material with the help of heat. Using sublimation ink, a design is printed on special sublimation paper. This imprinted paper is placed on the blank and when heat is applied, the ink turns into a gas that embeds directly into the surface material.
Heat transfer vinyl is, of course, also applied with heat, but the vinyl still "sits" on the surface of the material it's being adhered to. It's similar to applying an iron-on sticker or decal. Sublimation results in a design that combines with the surface material and basically becomes part of it. It's more like a tattoo than a decal.
The heat, aided by pressure, basically opens the "pores" of the material you are printing on and turns the ink into a gas that can permeate those pores. As it cools, the gas turns back into a solid, providing you with a permanent design.
Why would I use sublimation?
Sublimation gives you the ability to print designs in any color you want – not just what is available to you based on the brand of vinyl you purchase. You can imagine a design in any color combination you wish and then see it come to life on your material.
As mentioned previously, a sublimated design is permanent. It won't fade or wash away and it won't crack or peel off.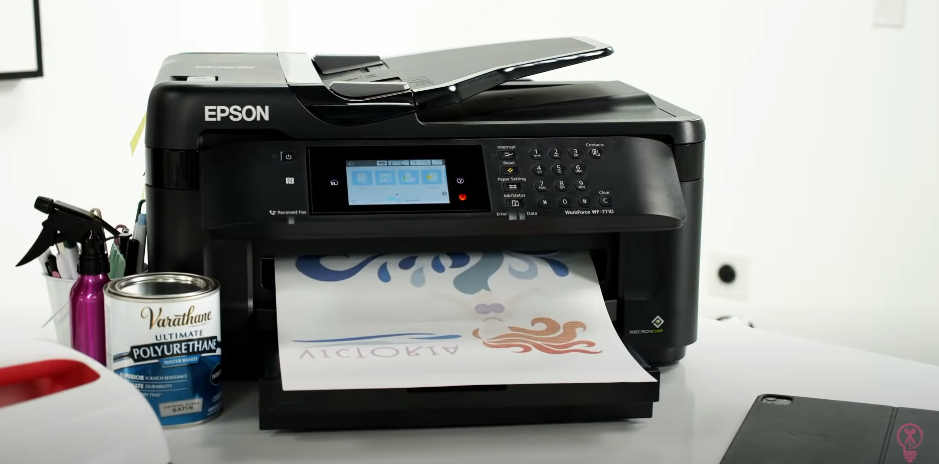 What kind of printer do I need for sublimation?
There are several different options. You can buy a printer that is made specifically for sublimation like a Sawgrass printer. Or you can purchase certain regular printers and convert them to use as a sublimation printer. We've had good luck with Epson EcoTank printers for this. The key is that once you have used a printer for sublimation, you really can't successfully use it again for other purposes and vice versa.
What kind of heat source do I need?
You will need some kind of heat press in order to provide the temperatures and pressure needed for successful sublimation. In addition, it is much easier to use a heat press that completely covers your design for even heating and best results. Picking up and placing the heat press down more than once can result in inconsistent colors or "ghosting" of your design.
You can even find multi-purpose heat presses that come with mug press, plate, and other attachments. The Cricut Mug Press also works well with sublimation.
A household iron or Cricut EasyPress Mini are not good options for sublimation.
Check out our test using an air fryer instead of a mug press!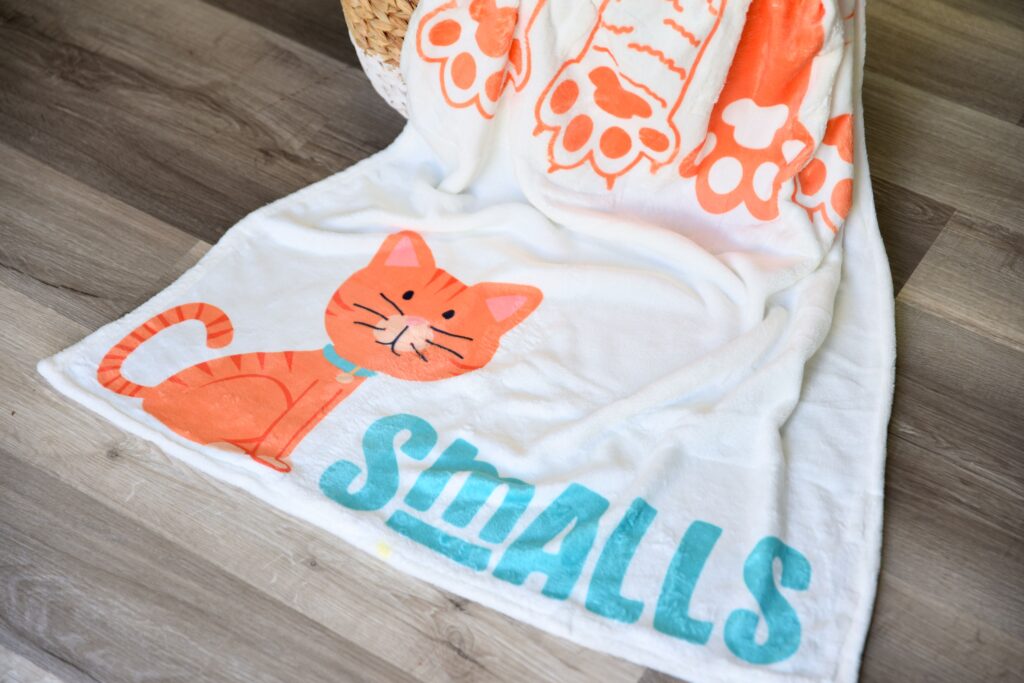 Can I sublimate on anything?
The short answer is No. However, there is a wide range of materials that you can sublimate on. In general, when sublimating on fabric, you want a high polyester count for the best results. The less polyester there is in the fabric, the less likely you are to get a crisp, vibrant design and it will give more of a "distressed" look.
You have to choose items that are at least 65% polyester to be successful with sublimation. Remember, the higher the polyester count, the more saturated the ink will be.
If you try to add a sublimation design to cotton fabric as is, it may appear to be imbedded in the fabric. Unfortunately, when you wash the fabric, the design will fade away. In addition, you may end up dyeing other items in the washer.
To sublimate on cotton, there are some techniques that can be employed as a craft hack. For example, there is a sublimation spray (Poly T is a popular one) that you can apply to the cotton which will turn it into a sublimation surface. The disadvantage of using this is that it stiffens the fabric a bit and doesn't leave it with that soft cottony feel to it. In addition, some people have found the results a bit inconsistent.
Another option for sublimating on cotton is to use white glitter HTV. You This gives you a non-cotton background to apply your sublimation design to and the heat transfer vinyl is the part that is directly adhered to the cotton. The disadvantage of this one is that it may simply not be the look you're going for and in addition, it now means that your project isn't as long-lasting as one that is strictly sublimation.
We have a blog post and video all about this method of sublimating on cotton using Cricut Infusible Ink, but the process is the same with regular sublimation.
When it comes to other items – mugs, keychains, tumblers, coasters, phone cases, and more – most of the time, you need to use blanks that are specifically designed and designated for sublimation. Besides sublimation blanks and polyester fabrics, we have also been successful sublimating on wood.
How can I make my sublimation colors more vibrant?
As mentioned above, the higher the polyester count, the more vibrant the colors will be. In addition, adjusting the print settings on your printer can help you achieve the color saturation you'd like. This is one of the things we teach in our Makers Gonna Sublimate course.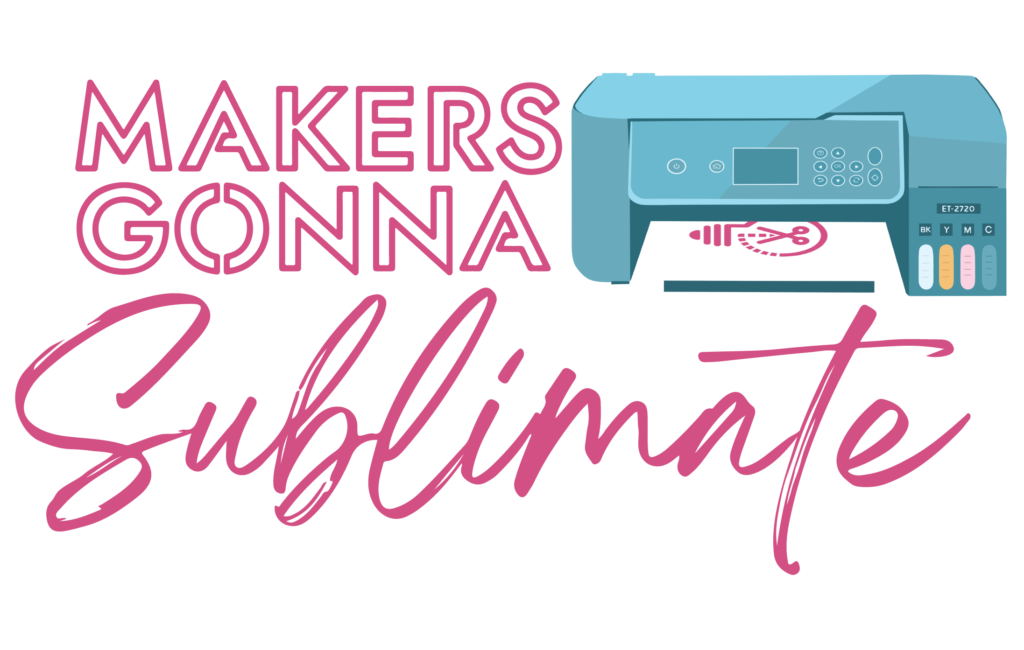 In Makers Gonna Sublimate, we'll give you all the tools you need to succeed with sublimation. Sublimation doesn't have to be scary or intimidating. Our easy-to-follow tips, step-by-step instructions and practical advice will make learning sublimation feel more straightforward than you ever thought possible. 
Is sublimation hard to do?
No! Sublimation is like one-step Cricuting. There's no weeding or burnishing to do, there aren't multiple layers to work with, and the most complicated part of it is creating your design. Of course, you can get around that step while you're mastering the sublimation part by simply using premade designs from other people.
However, we know that some of you have looked into sublimation and were confused by what you found. That's why we developed our course. It breaks it down into simple steps that will help you reach success with your sublimation craft projects. We don't think that sublimation is any more difficult than learning to make die cutting crafts, but sometimes learning something new can feel overwhelming. Having someone there to hold your hand and guide you through it can be incredibly helpful!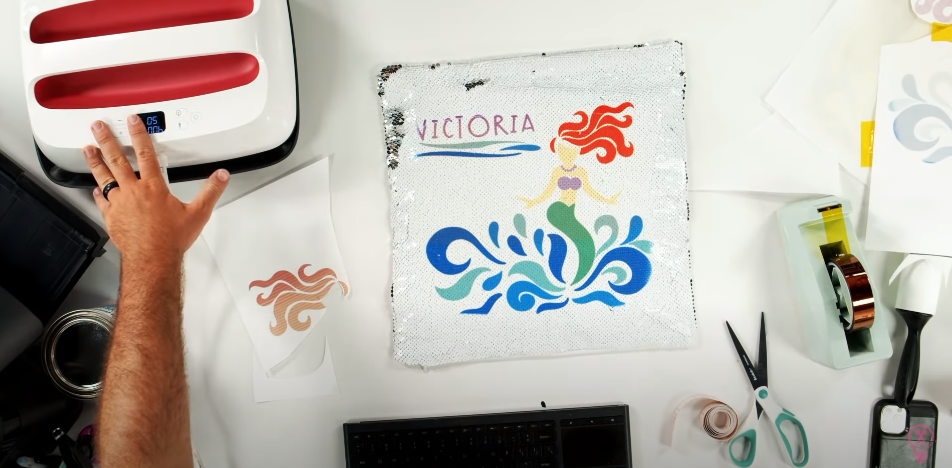 Is sublimation expensive?
There is an initial outlaying of money, just as with die cutting. You'll need a sublimation printer with ink and a heat press. Ongoing expenses will include ink refills, sublimation paper, and blanks. We also find that it is helpful to have other craft supplies like scissors, a measuring tape, heat resistant tape, and a lint roller on hand.
Remember though, how much you get for your money. Instead of needing shelves filled with every possible color of vinyl and HTV, you have every single color available at your fingertips with sublimation through your printer and ink. You don't even need a die cutting machine to do this. We do like to use Cricut Design Space when creating some of our designs, but really, if you don't already have a Cricut, Silhouette, or other die cutting machine, you don't need to purchase one for sublimation.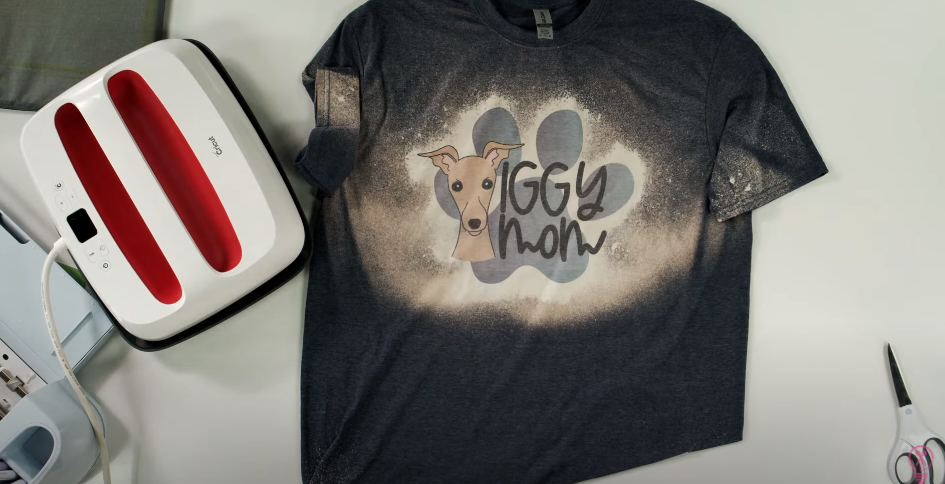 Can I make money with sublimation?
Absolutely! It has grown in popularity and sublimated items are in high demand. When people find out just how much longer a sublimation design will last than a vinyl one, they're even more interested in them.
Just remember, you can't take just any image off the internet and use it to create sublimated products for sale. You must have a commercial license that allows you to use the designs when making items to sell.
Hot tip: Our Makers Gonna Sublimate course includes 200+ exclusive sublimation files AND a commercial license!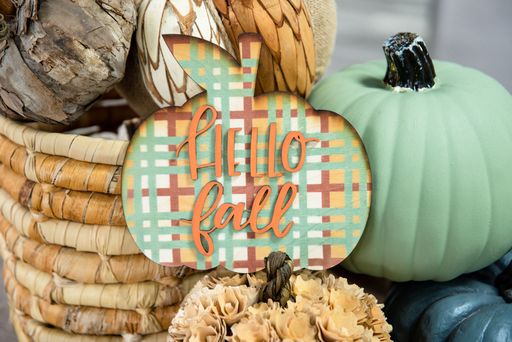 What software can I use for sublimation?
Any time that we can, we use Cricut Design Space. It's so easy to use and we're very familiar with it. However, it's important to remember that Design Space has some limitations. The largest size design you can make with it is 6.75 by 9.25 inches (the same size as Print then Cuts).
We also really enjoy working in Canva. It's a simple free program that will help you make larger designs than Cricut Design Space permits.
Inkscape is essentially a free version of Adobe Illustrator. If you really want to get into making your own designs from scratch, this is a great place to start. Eventually you might want to upgrade to Illustrator but it's a good beginner option.
If you have a Mac, you may also want to use Preview. We rely on it for our sublimation projects. It will help you size your designs, pick your ink settings, and get the best results from your prints.
Can I sublimate on dark fabric?
The answer is "Yes, but…". In general, you will get the best results from sublimating on white or light fabrics and blanks. The designs simply don't show up as well on dark fabrics. However, there are workarounds. For example, one popular trend in the sublimation world is adding sublimation designs to bleached shirts.
The bleaching technique gives you a lighter colored space to place your sublimated design in while still having the rest of the project a darker color.
How do I avoid moisture issues with sublimation?
Obviously, your first step is to ensure that the blanks you are working with are dry. Then, when it's time to heat your design, be sure to avoid using a Teflon sheet, use butcher's paper. It will work in the same way as the Teflon sheet to protect your design and heat press, while also absorbing any excess moisture.
Did we answer your burning sublimation questions? If not, tag us on social media using hashtag #MakersGonnaLearn and we'll add to this post!
Tanner, Courtney, and the rest of the Makers Gonna Learn Team are all here because we love die-cutting and especially love sharing fun projects and tutorials with fellow makers. We are all great friends and are always having a blast when we are together- you will see this on camera, especially during live streams! We are here to inspire and support you in your crafting journey!