Multi-Layer Holiday Socks
Do you love those If You Can Read This socks as much as we do? There are so many fun phrases that you can add to them and they make such a great gift. This is a multi-layer project which may intimidate some of you, but we want to show you just how easy it is!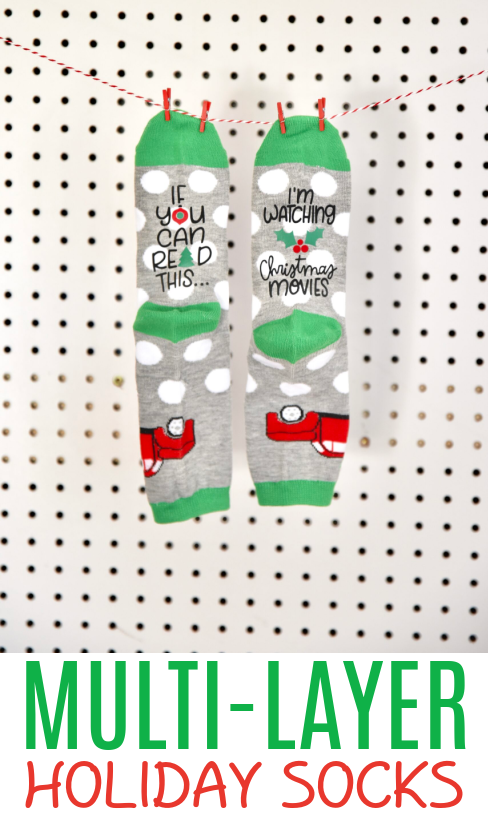 Multi-Layer Holiday Socks
Disclosure: Some of the links below are affiliate links provided for your convenience. This means, at no additional cost to you, we will earn a commission if you click through and make a purchase.
Cut File Used:
Supply Links: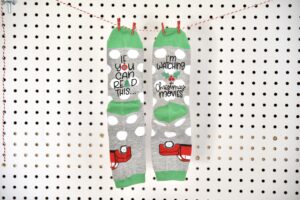 Step-by-step Instructions:
Download the cut file you want to use from Makers Gonna Learn and import it to Design Space.
Grab a square from the shape button located at the left-hand side of the design space and resize it to create a rectangle – we're using one that is 3 x 4.5 inches to represent the working space on the bottom of our socks.
Move the sentiments in the cut file one by one to the rectangle and size to fit. We recommend keeping them together and just making sure that they will each fit in the available space on the socks.
If you are satisfied with the size and how it looks, you can now delete the rectangle because you don't need them anymore. (NOTE: The rectangle was just for visualization purposes).
Click Make It. Since we're using HTV, you need to mirror all 3 mats. Also, remember that with HTV, you're going to be placing it down on the mat, shiny side down.
Load each mat one at a time into your machine and cut out your 3 colors of vinyl.
Once cutting is done, remove the mat from the machine and cut off the excess HTV using the TruControl knife. Now you can weed your designs. Because they are cut from HTV, they have built-in transfer tape.
Preheat the EasyPress Mini to 350 degrees (the second setting). Place your socks on the EasyPress mat and iron them so you won't have any wrinkles interfering with your design.
We find it easiest to trim down these pieces of HTV before applying them to the socks. This makes it easier to position them.
Place the words on the first sock and use your EasyPress to heat it. Here's the hack for making this multi-layer project a success: heat only for a few seconds. You're going to do it for much less time than you usually would. Let cool for a few seconds and then peel up the transfer tape. KEEP IT! You will need this transfer tape in a later step.
Next, position the red piece that fills in the O on the word "you". Cover your entire design with that saved piece of transfer tape. Heat again with your EasyPress Mini for just a few seconds. Peel up the transfer tape from the O and you can discard that little piece. Make sure to keep the bigger piece of transfer tape.
Repeat these steps with every piece of your HTV making sure it is covered completely with a piece of transfer tape. Once you have the last piece on the sock, you can heat it for a bit longer to ensure that everything has been fully adhered to.
Do the same thing with the other sock.
Tanner, Courtney, and the rest of the Makers Gonna Learn Team are all here because we love die-cutting and especially love sharing fun projects and tutorials with fellow makers. We are all great friends and are always having a blast when we are together- you will see this on camera, especially during live streams! We are here to inspire and support you in your crafting journey!