Organize Your Cricut Craft Room
When it comes to getting organized, we are all in! It makes everything so much easier and calmer when you can find what you need when you need it. We're going to share some of our favorite tips for how to organize your Cricut craft room.
We are professional crafters here at Makers Gonna Learn. It's what we do all day, every day. So, we have come up with many different ways of organizing our craft supplies over the years. These have saved us so much time and money! We'd love to share them with you.

Organize Your Cricut Craft Room
One of the important things to consider when getting organized is your own personality. Are you the kind of person who wants to see everything or are you someone who gets overwhelmed by having too much on display, seeing it as "visual clutter"?
There's no right or wrong answer. Both types of people can be organized. They will just tend to gravitate towards and work better with certain types of organization.
Another important consideration is space. How much space do you have to work with? You may not even have a craft room. It could be a closet or a corner of a room. Or you might not really have a crafting space at all and you create from your kitchen table or on the couch while watching TV.
As you check out our organizing tips and tricks here, think about those things and start making a list of which of these might work for you.
Use what you have. Grab cheap bins from the dollar store.
HANGING THINGS UP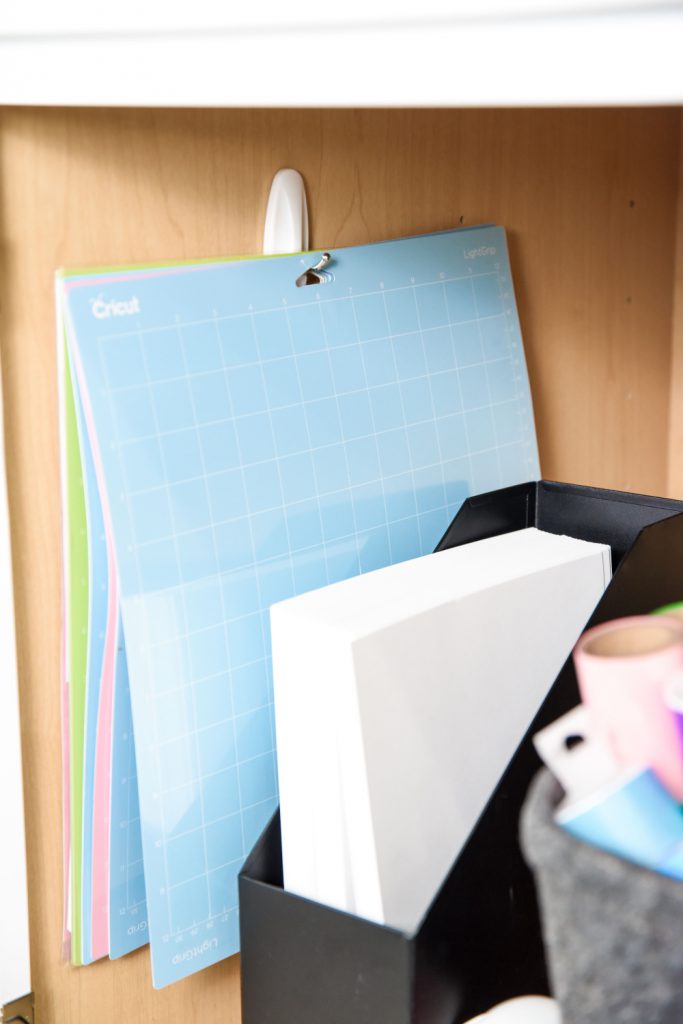 Vertical storage is always a great idea. Floor space is limited to the size of your room, but if you start thinking vertically, you can make use of the space above the floor as well.
Things like shelves and stacking storage containers can be really helpful to extend your available storage space. Another way to take advantage of that space is by hanging things up. With the little tab on them, cutting mats lend themselves really well to hanging storage.
Craft tools are another item you can hang up in your crafting space. Use pegboard, a wire rack, or simply an arrangement of hooks to hang tools in a handy spot within reach of your work surface.
Pro tip: Use Command hooks. No need to get out the toolbox or make holes in your wall. You can use these hooks to hang up your supplies and if you ever want to make a change, they're easy to remove without causing any damage to your wall.
ANOTHER IDEA FOR VERTICAL STORAGE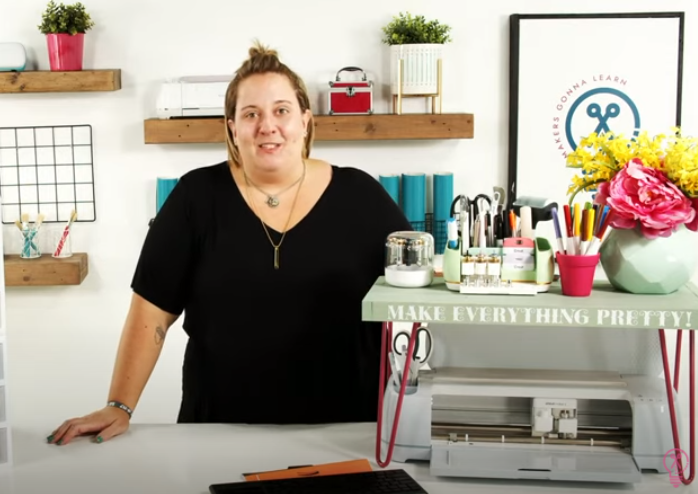 One of our amazing members created a "Cricut Bunk Bed" and we just loved the idea! She bought a shoe shelf but only used the top shelf from it. Then, she was able to place it over one of her Cricut machines, so she could place her second machine on the shelf – in a sense, stacking them.
We took this idea and adapted it. We used a piece of wood and added hairpin legs to it. After painting, of course, we used our Cricut to make a fun text design to put on it as well.
If you're a Makers Gonna Learn member, we have an upcoming Member Only video teaching you just how to make this!

DRAWER STORAGE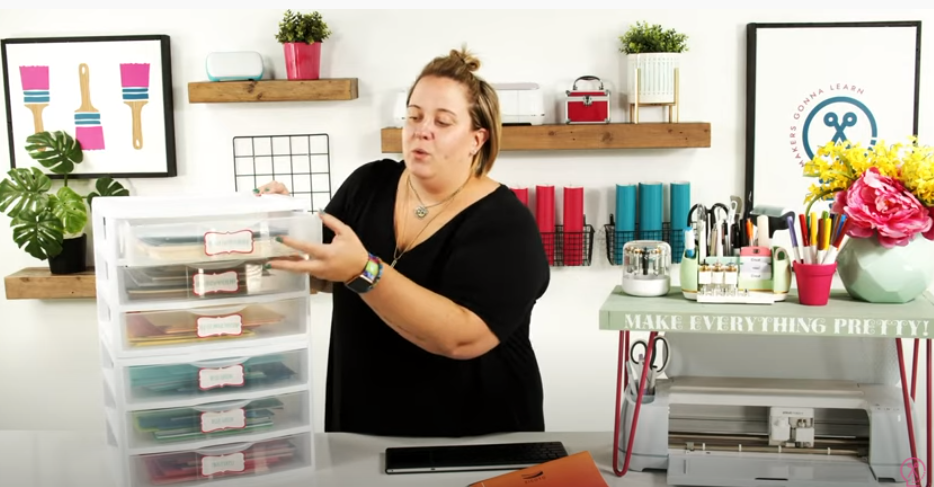 We love these stacked drawers. They're so inexpensive and they are the perfect size to store 12 x 12 sheets of vinyl and cardstock. We have ours sorted by colors and then made some labels for them to keep them organized.
Pro tip: If you don't have a lot of vinyl, you can roll each piece up and then lay each of the rolls side-by-side in the drawers instead of flat.
For some products, we find it better to organize them by type rather than color. For example, we have a drawer for glitter vinyl, patterned cardstock, sticker paper, and so on. If you have any themed items – for example, Christmas cardstock – you might want to have dedicated drawers for those too.
We have tried vertical storage for these items before (placing them vertically into storage bins) but we find that they tend to get bent and damaged that way.
Money-saving hack: Pizza boxes are just the right size for 12 x 12 vinyl and paper. Some pizza places will give you a stack of them, free of charge. Others may charge a nominal fee (we have found them for 50 cents to $1 each). This is also a great solution for those of you who prefer not to use see-through storage.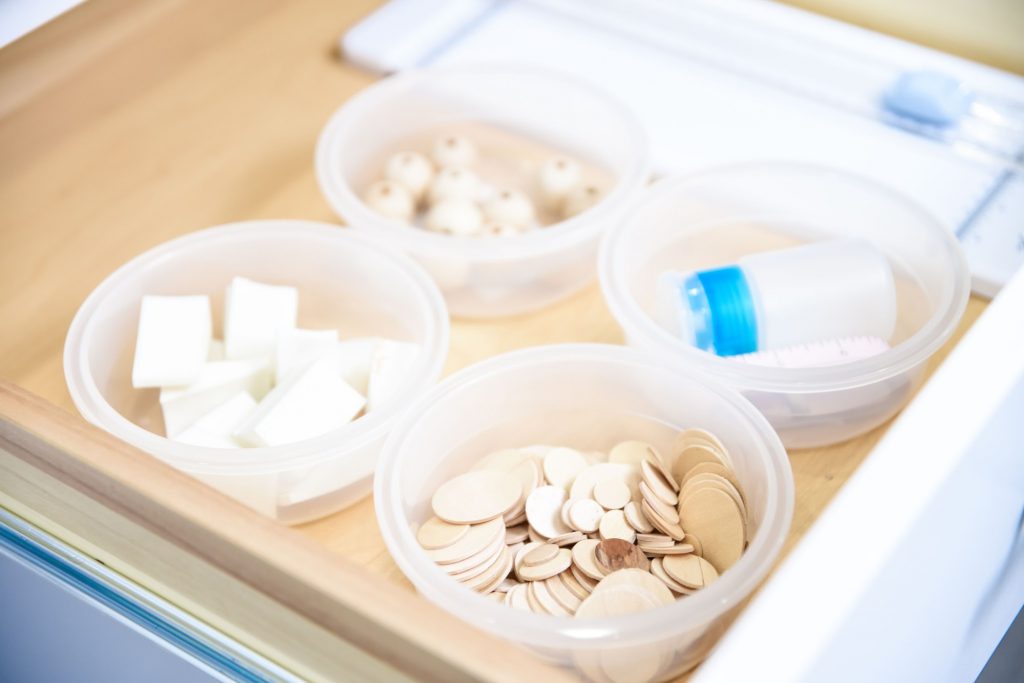 Keeping Drawers Neat and Tidy
We've all heard of the concept of a junk drawer. Maybe you even have one. Assigning a category to each drawer (and even labeling them!) helps, but if you then just dump your items into the drawer, it will quickly become a tangled mess.
We suggest using some simple containers to subdivide each drawer and help keep your items neat, tidy, and easy to find. This helps prevent them from banging around against each other and potentially getting damaged too.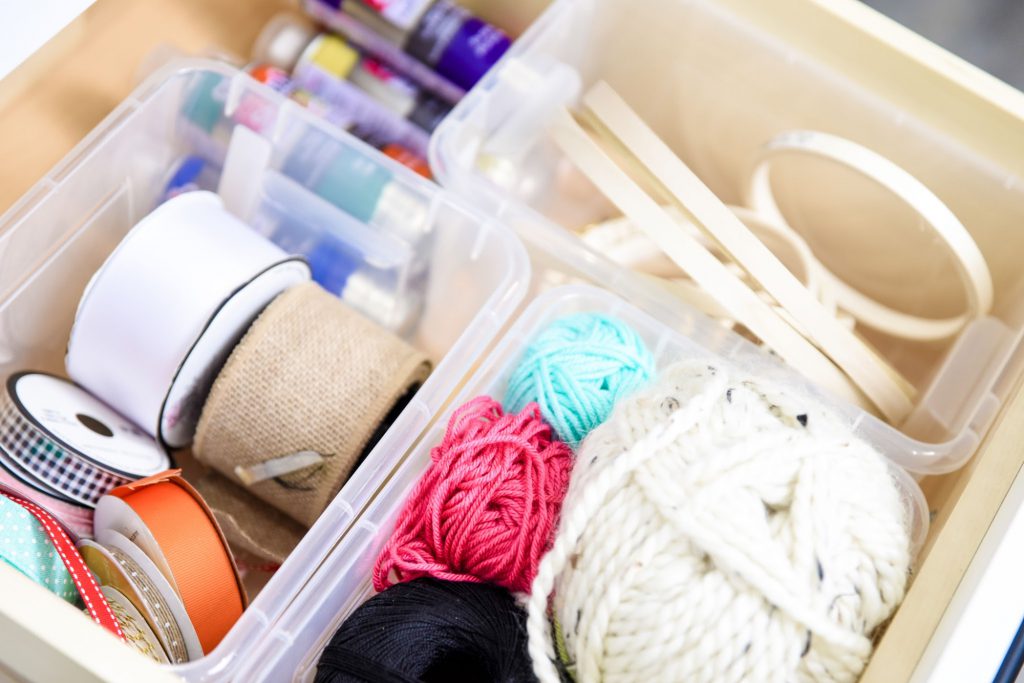 Basic containers from the dollar store can work quite well and are an inexpensive solution. An added bonus of this method is that you can grab the container and take it with you to your work station.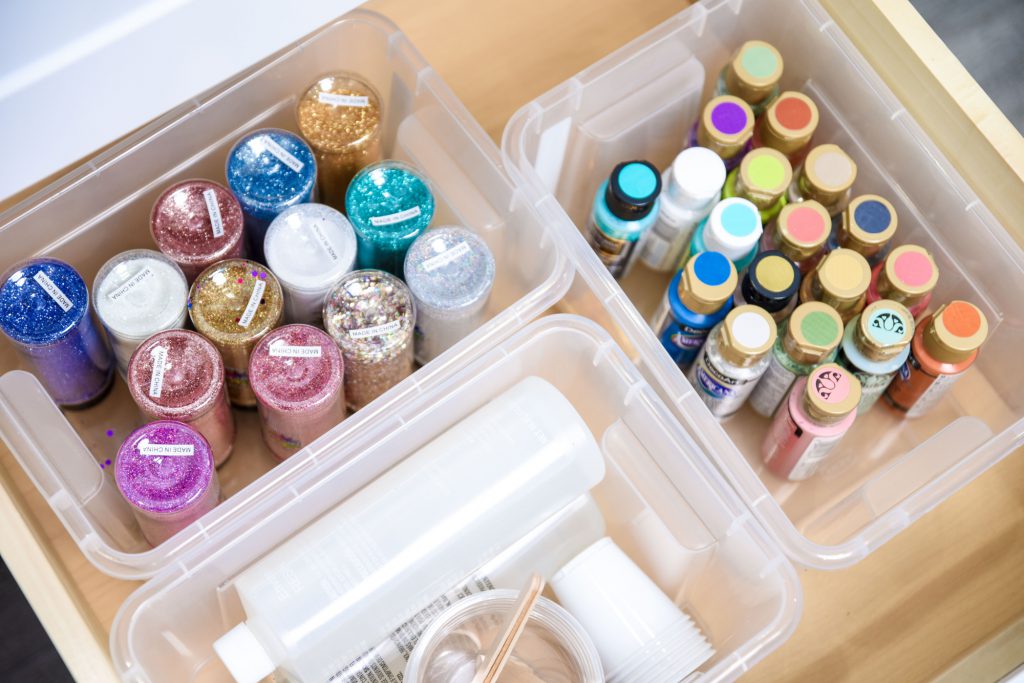 Money saving tip: While dollar store containers are cheap, you may just find that by looking around your home, you can find items already on hand that you can use for free.
Cut down cereal boxes, save packaging from items you receive in the mail, and repurpose cleaned out food containers (soup cans and yogurt cups work really well!). You might even have some little bowls in the kitchen that you're no longer using.
DEALING WITH AWKWARD ITEMS
Sometimes, we crafters find we have some very awkward items to try and store. They're big, bulky, or an awkward shape. When it comes to rolls of vinyl for example, as mentioned above, you might be able to find drawers or bins where you can place the rolls horizontally, side-by-side in each drawer. Or you can use open bins and baskets such as shown below.
Pro tip: Store rolls of HTV and rolls of adhesive vinyl in separate bins so you can know at a glance, which is which.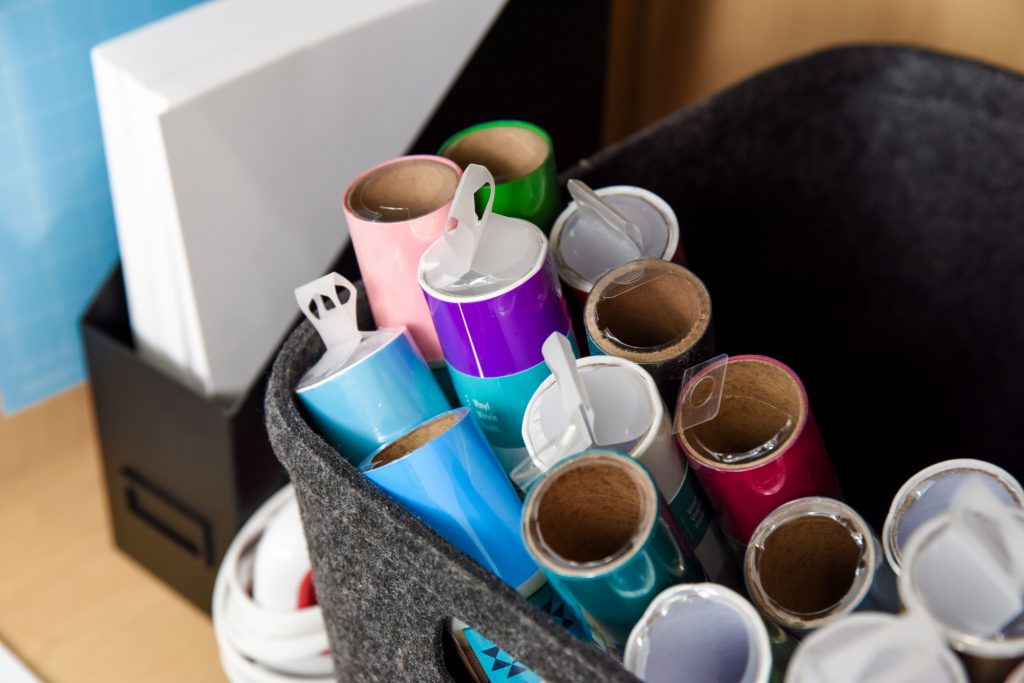 THINK PORTABILITY
A cart on wheels is a fantastic idea for every craft room. It's also a great solution for those of you who won't have a dedicated crafting space. Simply fill it with your most used tools for easy access. You can then roll it anywhere you need it.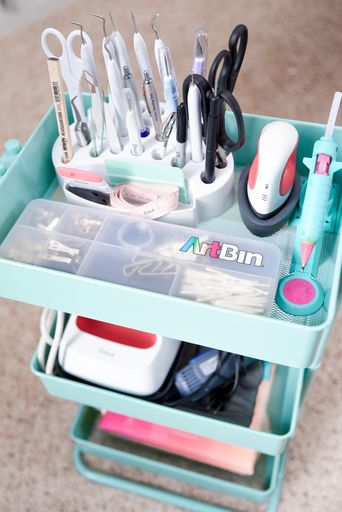 Small caddies to hold craft tools are not only a great way to keep those tiny, easy-to-lose items contained safely, but they're also a easily portable way to take them to your workspace when needed.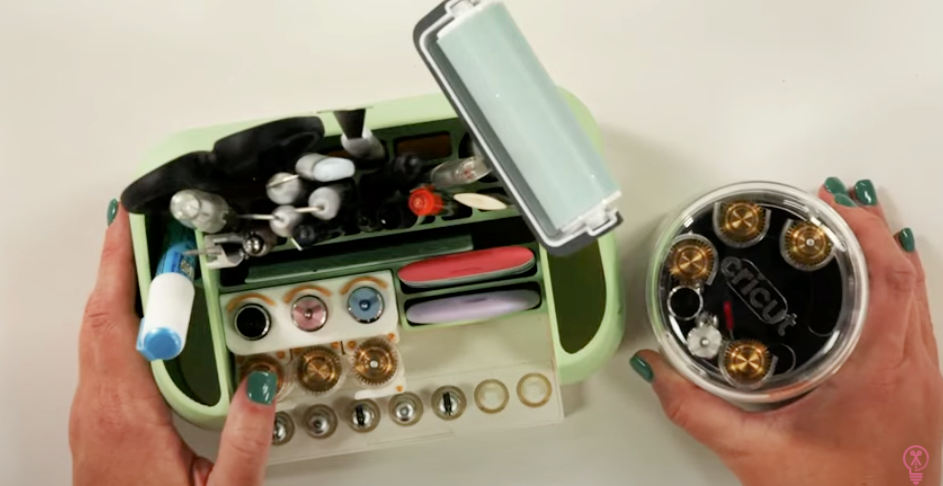 You can purchase all kinds of different caddies specifically made for use with Cricut and other die cutting machines, but once again, you can certainly make your own as well.
Dollar stores often sell small stacking containers that would work well for this. Those medicine containers for sorting out pills day-by-day are great for the really tiny parts.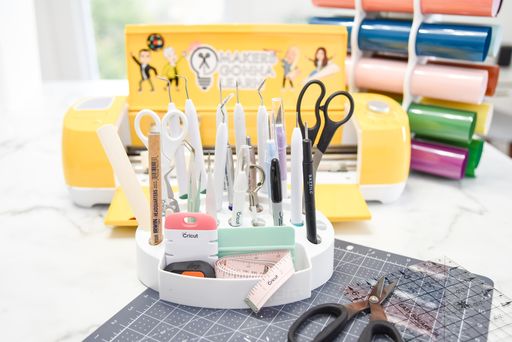 Money saving tip: You can also use items from around the house like an egg carton. Get creative! Sometimes you will find solutions in unusual places if you look carefully. Look not only at containers, but their lids as well, as possible storage items. You can even use hot glue or duct tape to attach several of the items together to create one caddy.
LOOK FOR UNUSUAL OPTIONS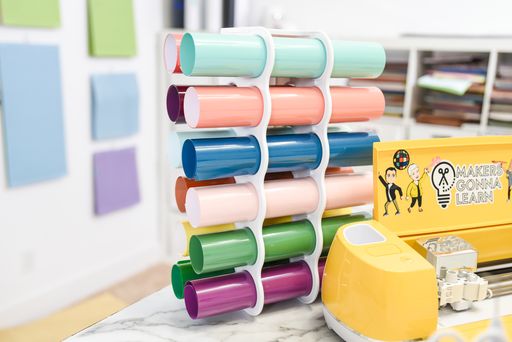 Take a walk around your local dollar store and try to look beyond the intended use for various items. We've given a few suggestions here for different ways you can use commonly found, inexpensive items.
Once you see exactly what space you're working with and what items you need storage for, you can look for even more ideas that work for you. Shoe bags with pockets, paper towel holders, serving trays, divided totes, baskets, and so much more can be put to use in your craft room.
Pro tip: Check out thrift stores for even more options!
MAKE IT CUTE
Don't forget about the importance of making your crafting space attractive! It may seem silly, but a cute craft area can be really motivating. The nicer it looks, the more likely you are to keep it clean and organized.
So, think functional of course, but then try to find ways to make it cute. Of course, some items you might purchase already come in a variety of pretty colors and designs. But how can you make basic items like storage boxes and tin cans attractive?
Paint them. Cover them with old wallpaper, fabric, or paper scraps. Tie bows on. Wrap them in colorful yarn. There are so many ways to make your space pretty and being a crafter, you probably have lots of items already in your stash that you can use for it.
Pro tip: Get out your die cutting machine! Use it to make some cute labels for your craft storage. Create some Print then Cut designs to add interest and color.
We can't wait to see what you do with your crafting space! Be sure to share on social media, tagging us with the hashtag #MakersGonnaLearn so we can check it out.
Tanner, Courtney, and the rest of the Makers Gonna Learn Team are all here because we love die-cutting and especially love sharing fun projects and tutorials with fellow makers. We are all great friends and are always having a blast when we are together- you will see this on camera, especially during live streams! We are here to inspire and support you in your crafting journey!