Paper Fringe Wall Decor
If you love paper crafting this is the perfect Cricut project for you. We're making some paper fringe wall art that will knock your socks off. With very few materials you can make this project for pennies on the dollar. We hope you enjoy it!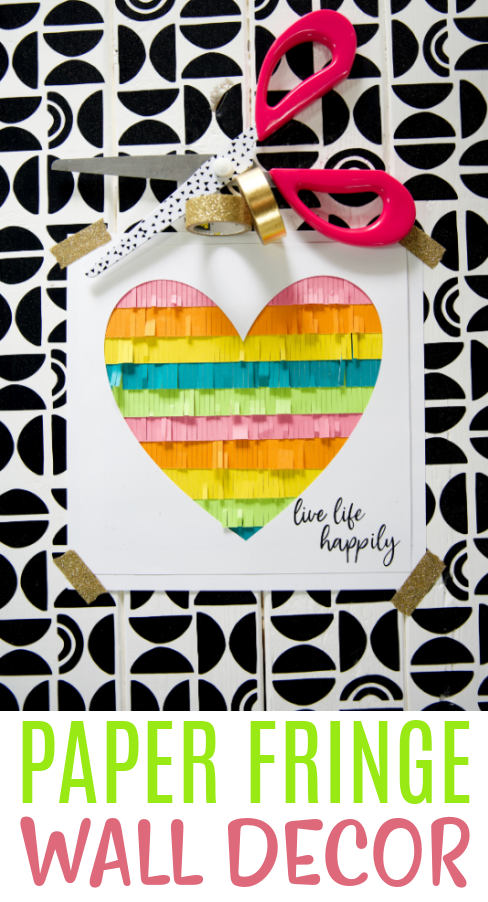 Paper Fringe Wall Decor
Disclosure: Some of the links below are affiliate links provided for your convenience. This means, at no additional cost to you, we will earn a commission if you click through and make a purchase.
Font Used:
Supply Links: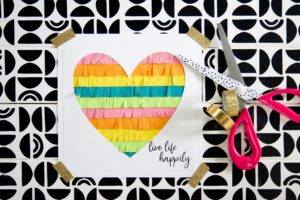 Step-by-step Instructions:
Use your font to create your chosen sentiment. Be sure to kern and weld your sentiment as well.
Get a square and make it 9″.
Get another square and make it 8.25″.
Get a heart and size it to fit well onto the 8.25″ square, center it, and slice it out of the square.
Size your welded sentiment to fit on the bottom right of the sliced layer.
Refer to time 8:42 in the training video for the detailed design creation and manipulation for the fringe.
Once all your layers are sized and ready, click "make it".
Cut out all of your pieces and organize them as you go.
When the vinyl is cut weed and apply transfer to tape to the design.
Place the fringe on your work surface one by one in the color order you choose. Flip all of the fringe pieces over and using the ATG gun adhere the fringe strips to one another as shown in the video at time 20:45.
Once all of the fringes are attached together, apply more dry adhesive to the back edges of the 8.25″ heart layer and place it on the fringe.
Now apply more dry adhesive to the back of the fringe, align it to the 9″ square, and apply it down. Enjoy!
Tanner, Courtney, and the rest of the Makers Gonna Learn Team are all here because we love die-cutting and especially love sharing fun projects and tutorials with fellow makers. We are all great friends and are always having a blast when we are together- you will see this on camera, especially during live streams! We are here to inspire and support you in your crafting journey!