Paper Letterboard Card
Do you love letterboards? We sure do. This paper letterboard card is perfectly on trend and oh so adorable.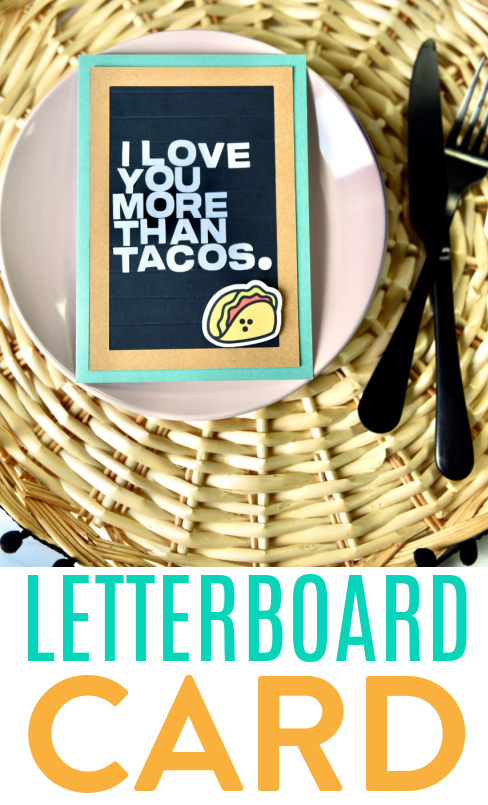 Paper Letterboard Card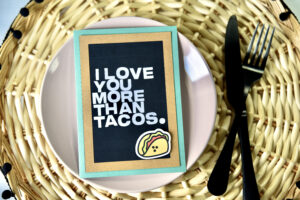 Disclosure: Some of the links below are affiliate links provided for your convenience. This means, at no additional cost to you, we will earn a commission if you click through and make a purchase.
Cut Files/Fonts Used:
Supply Links:
Step-by-step Instructions:
Using a square and scoreline from basic shapes, create a card base and liner by sizing the square to desired size and length-to-width ratio. Size score line accordingly and attach to the card base.
Add another square from basic shapes to the front of the card. Size accordingly to create the back of the letter board
Duplicate the letter board and change the color to brown (or whatever color you want the frame of your letter board to be)
Add another smaller rectangle on top of the brown layer and slice. Deleting the unwanted yielded results. (this creates your letter board frame)
Add a text box and type the desired text. Change the font to "satisfaction" and format line and letter spacing as well as text size until desired design is achieved
Add taco cut file to canvas.
Duplicate the taco cut file and slice or contour so that you can create a "fill in" for the taco. Color each layer accordingly.
Perfectly align the "fill in" with the taco outline and then select both
Create a white offset and then flatten the offset along with the taco layers
Size taco to fit in the desired area of the card
Press "make it" and follow the commands in the design space to print then cut, cut, and score accordingly
Using the back layer of the letter board and we r memory keepers scoring board, score lines every 1/2 along the card stock.
Use a bone folder to crease score lines in the card base and liner
Use the ATG gun to attach the liner to the card base
Use the ATG gun to attach the letter board backing to the letter board frame
Use the ATG gun to attach assembled letter board with the frame to the front of the card
Use tweezers and a zig glue pen to individually place each letter of your text onto the letter board backing
Use an adhesive foam square to apply the print then cut the taco to the front of the card
Tanner, Courtney, and the rest of the Makers Gonna Learn Team are all here because we love die-cutting and especially love sharing fun projects and tutorials with fellow makers. We are all great friends and are always having a blast when we are together- you will see this on camera, especially during live streams! We are here to inspire and support you in your crafting journey!