Products and Devices to Use With a Cricut Machine
We get a lot of questions about what types of Products and Devices to Use With a Cricut Machine. Whether a beginner or Cricut pro, you will probably find something here that is new to you. These aren't items that are specifically designed for the Cricut but they complement it very well.
You might also want to check this out: Must Have Apps to Use with Your Cricut
Products and Devices I Use With My Cricut
First thing first, I'm going to start with my handy-dandy iPad. I rave about this all the time. It really is a game changer for our crafting! This is just a simple sixth-generation iPad but it works just great for our purposes. It's Wi-Fi only so that is one thing to consider. Most people nowadays simply use the personal hotspot on their smart phones.
We absolutely love designing on the iPad – you can even design projects on the go! It's so great that the Cricut Maker even has a handy dock for it!
Rubbing Alcohol and Dispenser Pump
Next up, rubbing alcohol. We had no idea how many people would be impressed by our little dispenser pump from the Dollar Tree. This thing's a game changer. If you want the perfect amount of rubbing alcohol, this is definitely the way to go. You need rubbing alcohol to clean your surfaces before applying vinyl to them. Any slick surface needs to be cleaned with rubbing alcohol so that any dirt, oils, and finger residue is gone. This will ensure that your vinyl sticks really well to your surface and that your project lasts much longer.
Cricut Printable Guide
One thing we find ourselves referencing time and time again is this amazing Cricut Printable Guide that we've created at Makers Gonna Learn. You get this if you are a member! It is 20 pages of Cricut goodness from terminology to tips & tricks to referencing what temperature we recommend for different things. You can view it as a PDF and save it to your smartphone, laptop, or iPad as a reference there but many of our members like to print it out and laminate it.
ATG Gun
Next up is our ATG gun. This can be found at your local Michaels store. It's really awesome for all your 3D paper crafting projects. Now, if you're like me and not a huge fan of the pink, this is pretty much the same as the Scotch ATG 714. The pink one was made specifically for Michaels and is a bit more affordable because you can use your Michaels coupon for it. You will see huge savings using one of these ATG guns as opposed to those small tape dispensers.
LA's Totally Awesome
We have another Dollar Tree product LA's Totally Awesome. I have seen mixed reviews on this product but I honestly think that chances are, if you don't like it, it's because you aren't using it correctly.
We have a video explaining exactly how to clean your Cricut mats to get the longest life out of the mat. In it, we give very solid and strict instructions on how to take advantage of this product and clean your mats. We clean our mats using this method and they last for a long time!
VLR
Next, we have VLR. You are going to love this product! You can find it on Amazon and you're going to want to have some on hand if you do a lot of iron-on projects. This can remove heat transfer vinyl from your shirt. If you aren't happy with the way you positioned your design or it just didn't turn out the way you had hoped, this product is crazy awesome!
We have a video on using VLR and Removing HTV from Fabric. Check that out to see how quickly and effortlessly it works. It is a game changer for your crafting because I feel like it allows me to get a little bit edgier and take more risks with my projects. I know if I mess up, I'm not ruining the shirt!
Masking Tape Transfer Sheets
One of our newer products we've been talking about and using here at Makers Gonna Learn are these masking tape transfer sheets. We are all about saving money here and not just buying things for the sake of it, but these are amazing! This is a 6 by a 100 feet roll that I got from Auntie Tay for about $11. This is perfect for print and cut projects, for curved surface projects, and for vinyl projects. This really does the trick and you're going to love it!
Printers
Probably the most asked question that I get via email and our Facebook community is what printer do I recommend and I have to say the Canon TS-8120. We love this printer and you are going to love it too. It's under $100, the ink refills are competitively priced and you're going to get great results. If you want a lightweight, accessible crafting printer, this is an amazing solution.
Canon does have larger printers, if you're interested in larger printing and using things like seamless 12 by 12 paper and things like that but for us, this is what we find yourself gravitating towards time after time. We get great results from it! I highly recommend it for you to upgrade or treat yourself to a Canon TS-8120.
Computer
Another product we are always going to ask about is what computer do we design with and I have to say that I am Apple all the way. I have a MacBook Pro with the touch bar. It's super awesome but you do not need something that powerful to use Cricut Design Space.
If you're not really using it for gaming or photo editing or video editing, anything in the MacBook Air lineup is going to be perfect for you. It's at the perfect price point for a durable long lasting machine. You are going to be paying a little bit more for a MacBook Air or MacBook Pro but from my experience, it's worth it. I still have all of the Macs I've ever purchased and they are still running great. Plus, if you already have an iPhone, the compatibility is flawless and you're going to love it!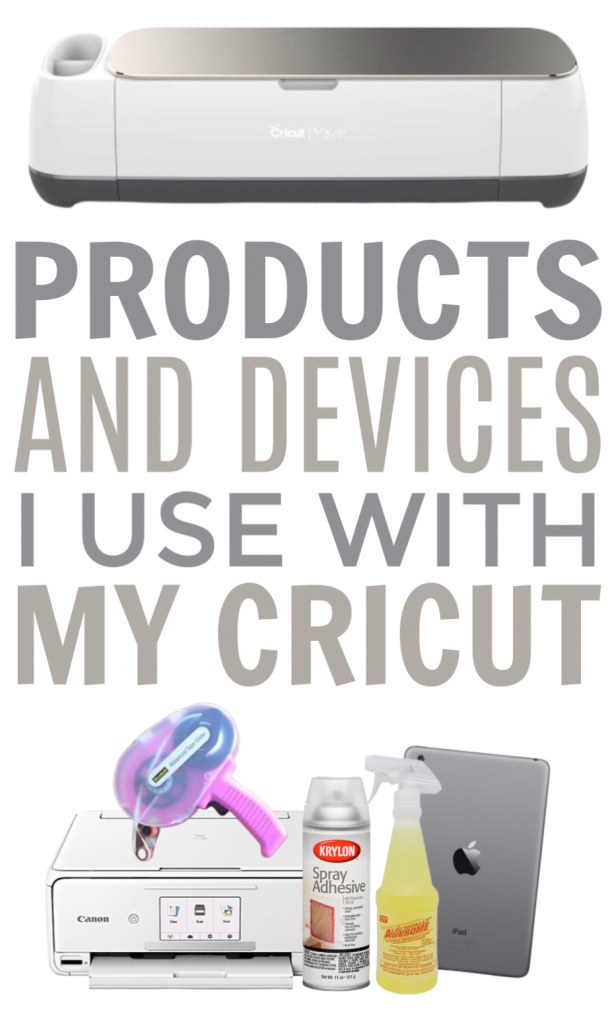 We love talking about products and devices we use with our Cricut. These are not really Cricut related items but they are must-haves for us in our Cricut workroom! They will definitely help you have a lot of fun and take full advantage of your machine.
Tanner, Courtney, and the rest of the Makers Gonna Learn Team are all here because we love die-cutting and especially love sharing fun projects and tutorials with fellow makers. We are all great friends and are always having a blast when we are together- you will see this on camera, especially during live streams! We are here to inspire and support you in your crafting journey!