Rainbow & Striped Vinyl Decals
September 22, 2022 by Janine
Want some fun Rainbow & Striped Vinyl Decals but only have solid colored vinyl? No big deal! In this video, we teach you our favorite hack for creating vibrant and virtually seamless decals using 6 different permanent vinyl colors!
This method works beautifully with our Starbucks wrap cut file collection that you will love to use in order to create adorable custom tumblers for friends, family, and customers.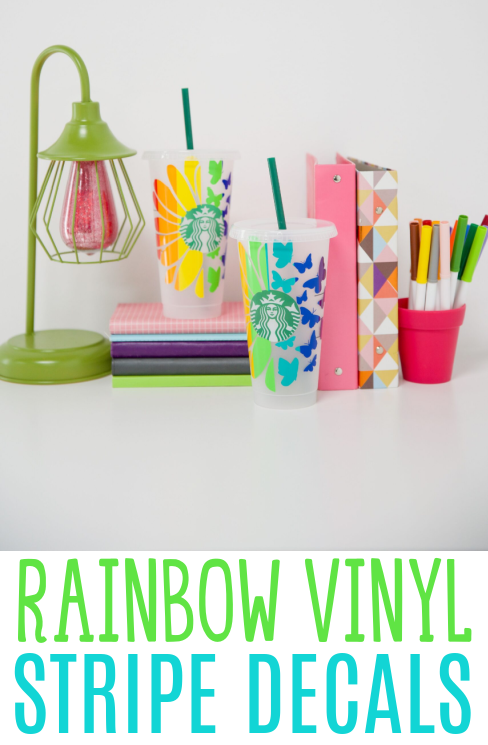 RainboRainbow & Striped Vinyl Decals
Disclosure: Some of the links below are affiliate links provided for your convenience. This means, at no additional cost to you, we will earn a commission if you click through and make a purchase.
Cut File Used:
Supply Links: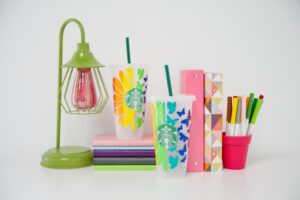 Step-by-step Instructions:
Import cut file and size to just a little over 6″ (measure cup to ensure Starbucks emblem fits nicely in the center of cut file design).
Using a paper trimmer, Cut 1 – 6″x1.125″ strips of each color of vinyl. (will have 6 strips total)
Place vinyl strips touching side by side in the top left-hand corner of the standard grip mat. Once all pieces of vinyl are placed, you will have a square of vinyl that measures 6″x6.75″
Load the mat into the machine and let cut
Remove mat, use squeegee tool to burnish vinyl, and weeding too to weed off the excess vinyl
Apply clear transfer tape to vinyl and burnish the transfer tape to the vinyl.
Remove mat from the vinyl and burnish from the back.
Remove backing and apply to clean (it's a great idea to prep your tumbler by cleaning it with alcohol and a lint-free cloth) Starbucks tumbler
Burnish vinyl to the tumbler. Once transferred smoothly and firmly to the tumbler, remove the transfer tape.