Screen Printing Multiple Colors
Disclosure: Some of the links below are affiliate links provided for your convenience. This means, at no additional cost to you, we will earn a commission if you click through and make a purchase
Have you tried screen printing with your Cricut machine? We love this craft technique, but single color screen printing can be limiting at times. That's why we're so excited to share this technique for screen printing multiple colors.
We'll take you through a step-by-step Cricut screen printing tutorial using more than one color. It can seem intimidating if you're a Cricut beginner, but we'll teach you everything you need to know to make successful screen printing projects every time.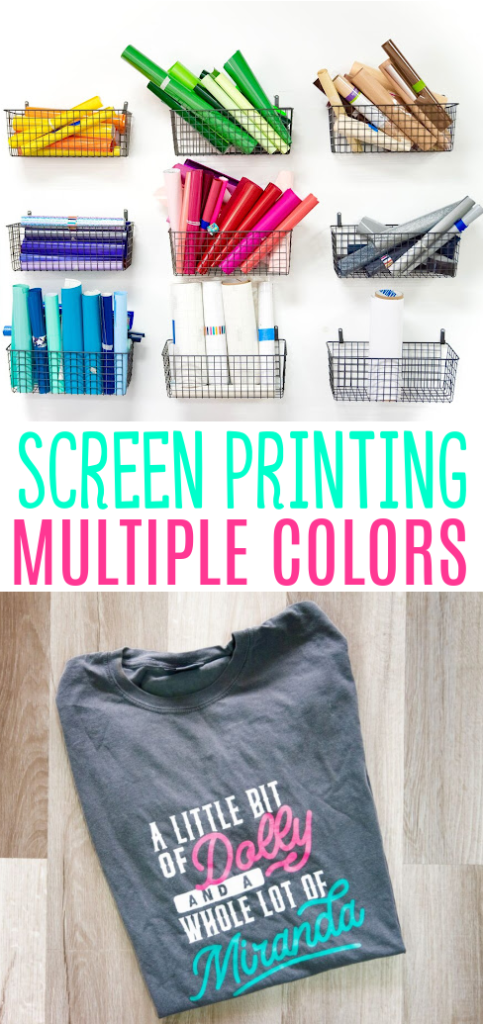 Screen Printing Multiple Colors
Materials Needed:
Cut File – https://makersgonnalearn.com/cut_files/a-little-bit-of-dolly/
T-shirt – https://amzn.to/3BGwrNr
Screen Print Frame – https://amzn.to/3QlF3wW (or you can make your own – check out our frame building course which is FREE with your Makers Gonna Learn membership!)
White Screen Print Ink – https://amzn.to/3zE2CL0
Hot pink Screen Print Ink – https://amzn.to/3d8mJJl
Turquoise Screen Print Ink – https://amzn.to/3zuMsn6
Squeegee – https://amzn.to/3zXhwx5
Starcraft Vinyl: https://bit.ly/3uP2GUo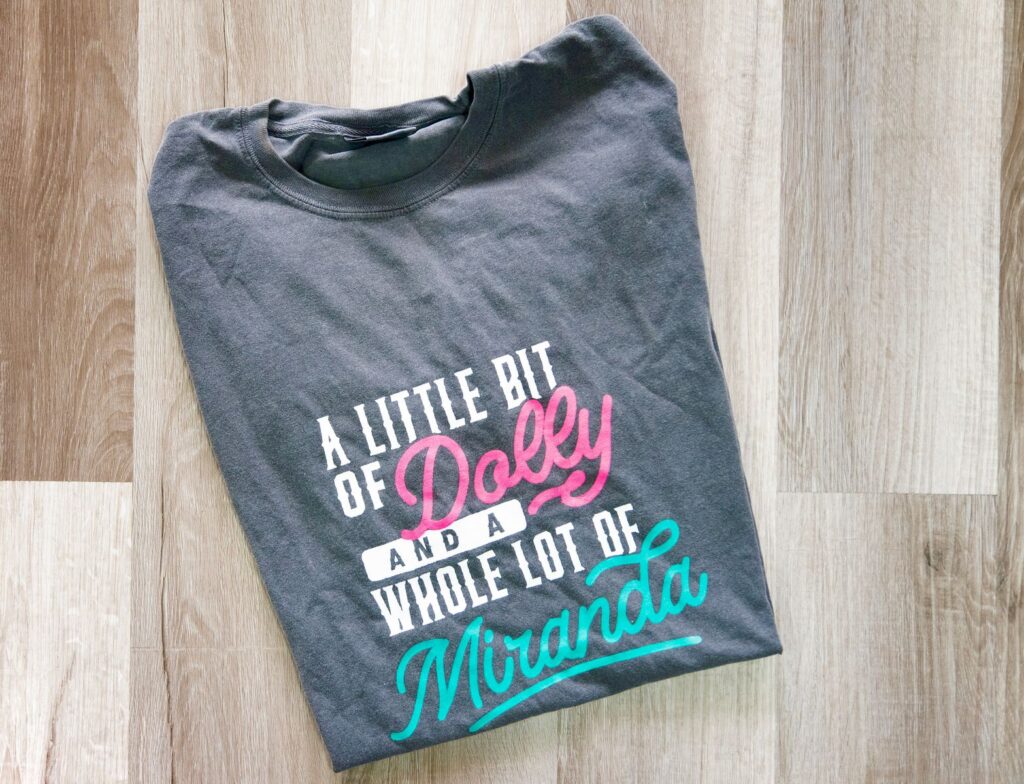 Step-by-Step Tutorial:
WORKING IN CRICUT DESIGN SPACE –
1 – Let's start our project in Design Space. Download the cut file from Makers Gonna Learn and upload the SVG into Design Space.
2 – Measure the space available on your blank (in our case, a t-shirt) for your design. This is important to know so you can size your design accordingly.
Pro Tip: We will be adding registration marks with this design since it is multi-colored. Leave a little bit of space to allow for those marks.
3 – Once you have sized your design in Design Space, it's time to add the registration marks. Add a small square to the corner of your design and duplicate it 3 times. Place one square in each corner of your design and use the Align function to get them lined up. Select your design and all of the squares and Weld.
4 – Duplicate your welded image 2 times.
5 – Change the colors of each layer of your design as you'd like.
6 – Use Contour on each layer to delete the parts that you don't want cut out of that particular color.
Pro Tip: Make sure you don't contour out the registration marks.
7 – Select all 3 layers and choose Align, Center.
NOTE: You can use 3 different screens for this – one for each color. However, we were able to do it with just 2 screens. To do that, instead of centering all 3 layers of your design, you would only center the Dolly and Miranda layers. They are positioned so far apart that you can easily use just one screen for them.
CUTTING OUT AND APPLYING YOUR DESIGN –
7 – Weld the Dolly/Miranda layer together. It will change it so that it's all the same color, but since we are screenprinting, that will be fine. Click Make It.
8 – Be sure that you mirror both mats. Connect to your machine. Press Continue and choose Premium Vinyl, Removable for your material.
9 – Cut out your vinyl and weed it. Remember that you want to weed away the parts that you are going to be screenprinting. (This is the opposite of what you would usually weed away.) Add a piece of transfer tape over your design.
10 – Remove the backing from your vinyl. You might need to do some burnishing to ensure that your design remains down and well-adhered to the transfer tape.
11 – Apply your design to the screen. Flip the screen over and burnish from the other side to make sure that your design is pressed down well.
11 – Remove the transfer tape.
Pro Tip: Save and reuse it for the next layer.
SCREEN PRINTING YOUR DESIGN –
12 – Use painter's tape to cover up any parts of the screen that are not covered by the vinyl.
13 – Add brightly colored pieces of cardstock (or index cards) in the corners where each of the registration marks are. Tape them in place.
14 – Add ink to your screen. Lift up your screen slightly so that it's not longer touching the shirt. Run your squeegee over the screen to backfill your design with ink.
15 – Lay your screen back down and pull the squeegee through the ink. Be sure to cover the registration marks as well as the design. Go over your design several times. Use a decent amount of pressure on it. If you have any leftover ink, use a plastic spoon to scoop it back up and save it.
Pro Tip: Wash your screen immediately.
Note: You can use your heat gun to speed up the drying process of the ink.
WORKING ON THE NEXT LAYER –
16 – Repeat the process of applying the vinyl to the screen for the next part of your design. Tape off the parts of your screen where you don't want the ink to show through – in this case, we taped off Miranda as well as any edges not covered by vinyl.
17 – Line up the second layer of the design on the t-shirt using the registration marks.
18 – Add your ink.
19 – Once again, lift up your screen and backfill your design. Run your squeegee over the design to screenprint this color onto the shirt. Wash your screen immediately.
Pro Tip: If there are any sections that don't have quite enough ink on them, you can grab a paintbrush and touch them up. Use your heat gun to dry the ink.
20 – Remove the tape from over the third part of your design – in our case, the word Miranda. Tape off the parts that you don't want covered with ink. Line up your screen again using the registration marks. Backfill the design and then screenprint as you have done before.
Don't forget to wash your screen right away!
Let the ink dry thoroughly and your shirt is ready to wear!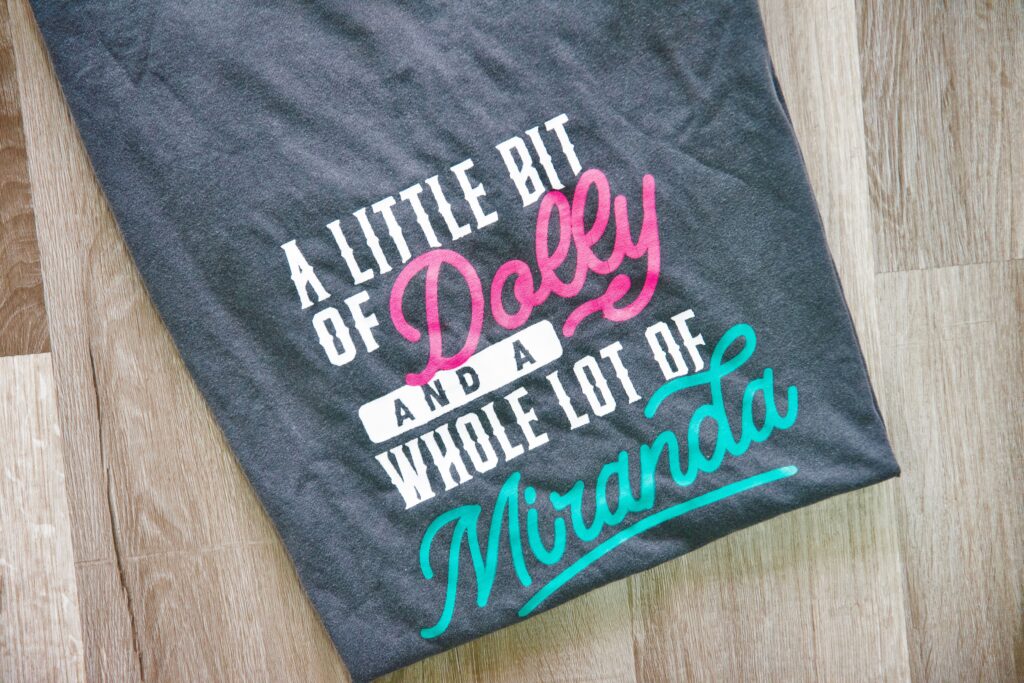 Tanner, Courtney, and the rest of the Makers Gonna Learn Team are all here because we love die-cutting and especially love sharing fun projects and tutorials with fellow makers. We are all great friends and are always having a blast when we are together- you will see this on camera, especially during live streams! We are here to inspire and support you in your crafting journey!