Sublimation 101 – What You Need to Know
Sublimation is such a hot topic right now in the crafting world, but we're not sure everyone is getting the full picture. We've told you all about how to use Cricut Infusible Ink. Now, it's time to break down sublimation for you in this Sublimation 101 post.
We want to provide you with some sublimation tips and helpful information that you'll need to make an informed decision. There seem to be a lot of misconceptions out there about what sublimation is, what it can do, and what it takes to really jump into it as a hobby or business. Keep reading and we'll bust a few myths and give you the full story on sublimation.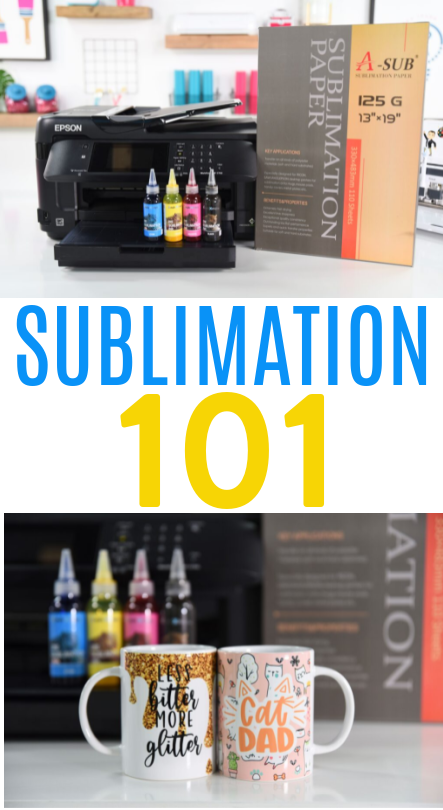 Sublimation 101
Sublimation vs. Cricut Infusible Ink
Cricut Infusible Ink sheets are sublimation sheets that you can print with a regular printer and then cut out with your Cricut machine. It's a great product but you are limited to the designs available from Cricut. With sublimation, once you have converted a printer to a sublimation printer, you can create your own designs!
Infusible Ink can be pricey, but startup costs for sublimation can be an investment of $300-400.
Consider Your Heat Source.
Both Infusible Ink and sublimation are both applied with heat. It's really important to have a heat plate that covers your entire design. You need to be able to heat the whole thing at once. Whether you choose a Cricut EasyPress or another brand, you want to be sure it's large enough for any projects you plan to make.
This Is a Great Alternative to HTV
Don't get us wrong. We love heat transfer vinyl. But if you want something that is truly permanent, sublimation is the way to go. No more worries about vinyl peeling up!
If you're selling designs, this could be the answer for you. Even if you include care instructions with your shirts, many customers don't follow those well. Once sublimation has been applied to a shirt, it's there forever. There won't be any fading or peeling.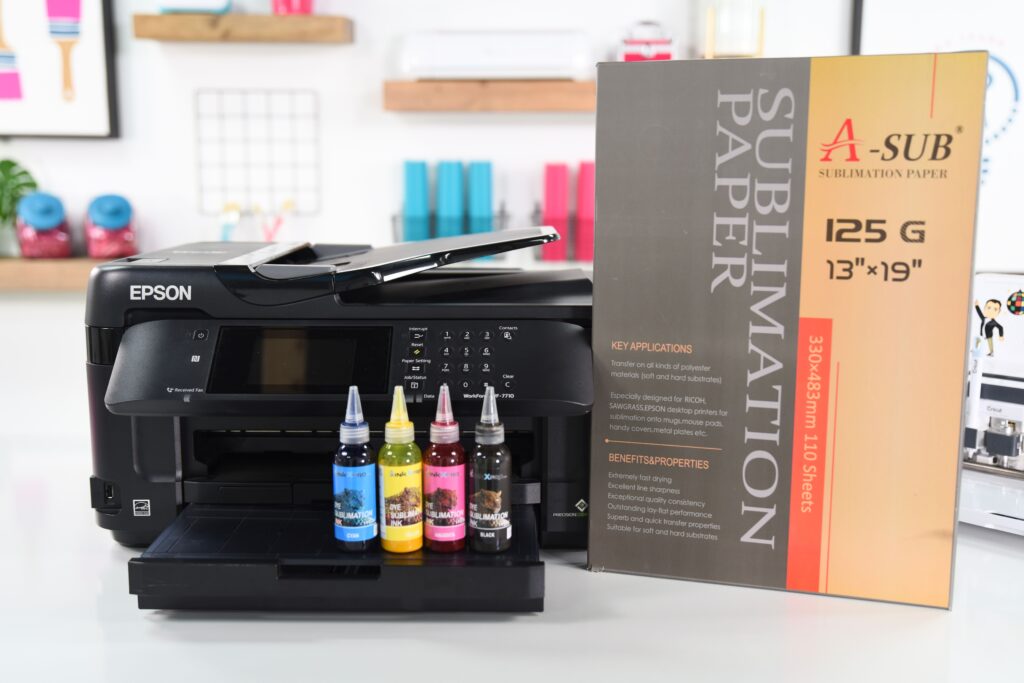 Be Mindful of the Printer You Choose
You need to research your sublimation printer well. We chose this Epson WorkForce WF-7710 printer because we didn't want a lot of size restrictions. This printer will allow us to print designs up to 11 x 17 inches.
Remember though, you would still need some sort of heat press that will cover your design completely. So, if you're making designs that are 11 x 17, the heat plate of your press needs to be at least that size.
Important note: Not all printers can be converted to a sublimation printer. In fact, there are very few that can be converted. If you're concerned about converting one, stay tuned! We will be doing a video tutorial showing you exactly how we converted ours!
Choose Your Ink Conversion Kit
Once you have picked out your printer, you'll need to look into which ink conversion kit you want to buy. Keep in mind your expenses to this point. You'll need a printer, a heat press with a large enough heat plate, sublimation paper, and an ink conversion kit.
Select Your Heat Press
You can certainly use a Cricut EasyPress for sublimation projects, as long as you can get one in a size that works for you. The largest size they make is 10 x 12. If you need something larger, you will need to look at a heat press.
The one we have featured in our video is a good middle-of-the-line one. It's called a 5-in-1. It even includes the mug clamp which many people have been comparing to the Cricut Mug Press.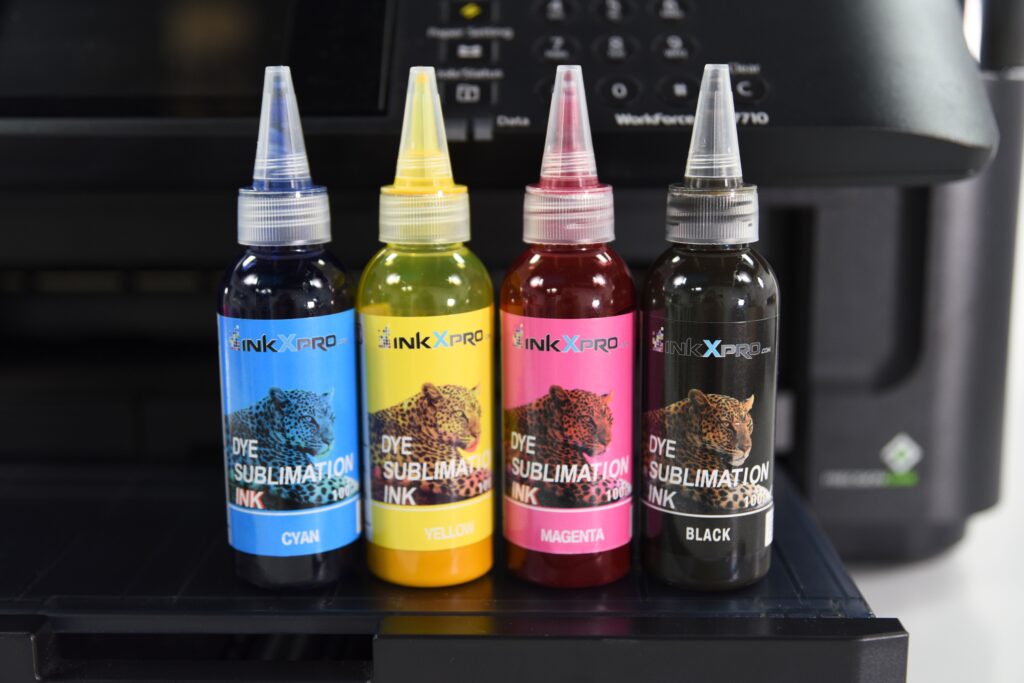 Sublimation Ink Has a Shelf Life
You want to map out how many projects you'll be completing in a six-month period before purchasing ink. Sublimation ink has a shelf life of about 6 months. You want to get your money's worth out of the ink! Once you've been making sublimation projects for a while, you probably won't even need to keep track of this. But, as a beginner, this is something to bear in mind.
You Can't Just Use Any Shirts
You have to choose shirts that are at least 65% polyester. The higher the polyester count, the more saturated the ink will be.
One point you may not have thought of: if you're trying to live a more eco-friendly life, it's important to remember that these shirts don't degrade the way that cotton shirts do and they will be in our landfills for a long time.
Blanks Must be Light in Color
Your blanks need to be white or very light in color. If you want to see the deep colors of your design, this is essential. You can certainly try putting it on darker colors and there may be some that will work. However, you won't see the intense saturation that you will with white or light colors and may be disappointed.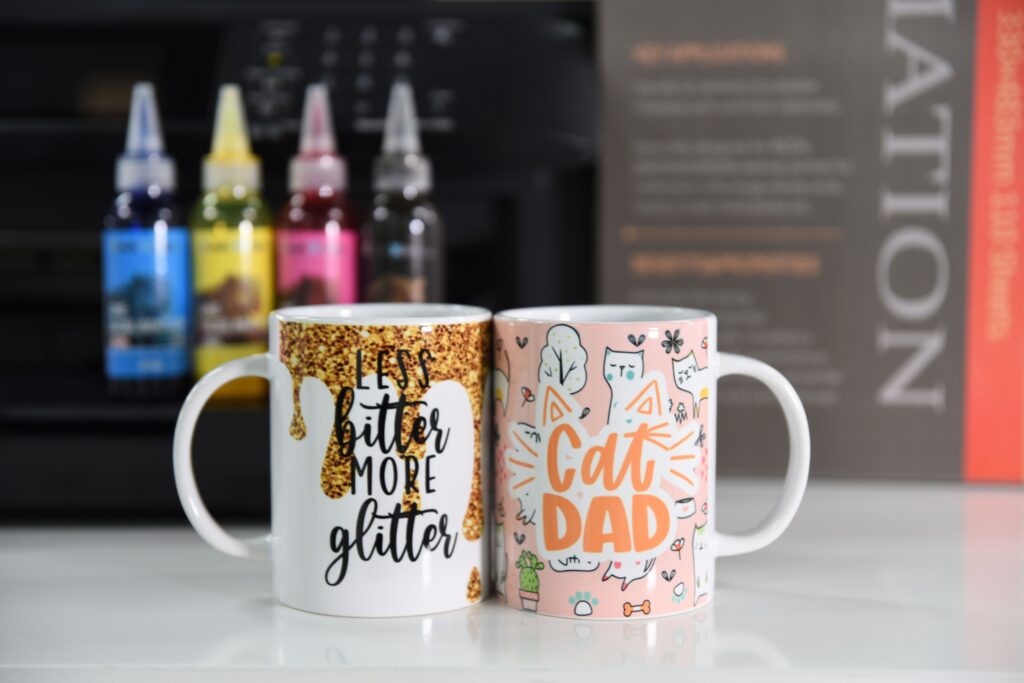 Sublimation Blanks Are Limited
We have tested out a ton of different sublimation blanks. Our findings? You are somewhat limited in your options if you want good quality. Not only that, but the ones we found gave us good results, were the ones on the pricier end.
This is something to keep in mind when you're wanting to make a lot of sublimation projects. The initial investment is a bit steep. However, the blanks you will be using on an ongoing basis may be more expensive than you were expecting too. Of course, sublimation lasts forever, so that's an important factor to weigh in here as well.
The selection is a bit limited too. Although you may not find 50 different t-shirts or mugs to choose from, there is still a good variety of different types of blanks. For example, besides the mugs and shirts, there are license plates, koozies, puzzles, hats, coasters, and many other items.
We aren't trying to discourage you from getting started in sublimation. In fact, we love it and think it's so much fun! We just want to point out the factors to take into consideration so you can make an informed decision.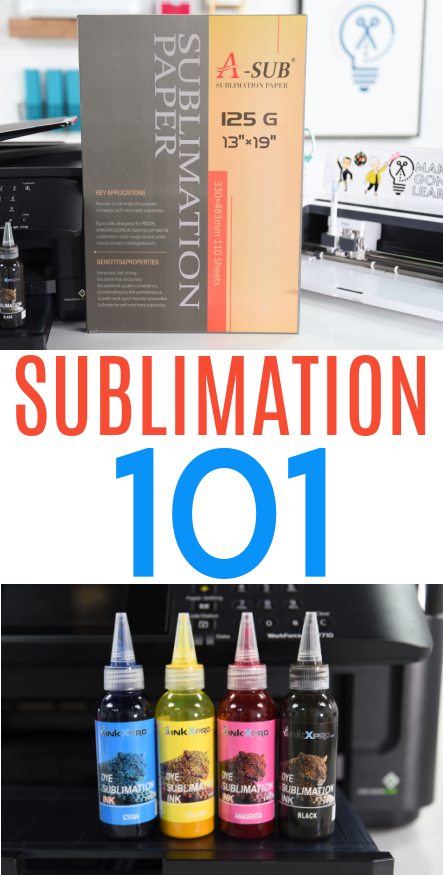 Tanner, Courtney, and the rest of the Makers Gonna Learn Team are all here because we love die-cutting and especially love sharing fun projects and tutorials with fellow makers. We are all great friends and are always having a blast when we are together- you will see this on camera, especially during live streams! We are here to inspire and support you in your crafting journey!