Sublimation on a Blanket
In this video, we're breaking free from the print then cut size restraints of Cricut Design Space to create a sublimated micro fleece lap blanket full of color and large images! Easily customize this blanket by utilizing an MGL font to add a name. Learn all of our tips for sublimation on a blanket.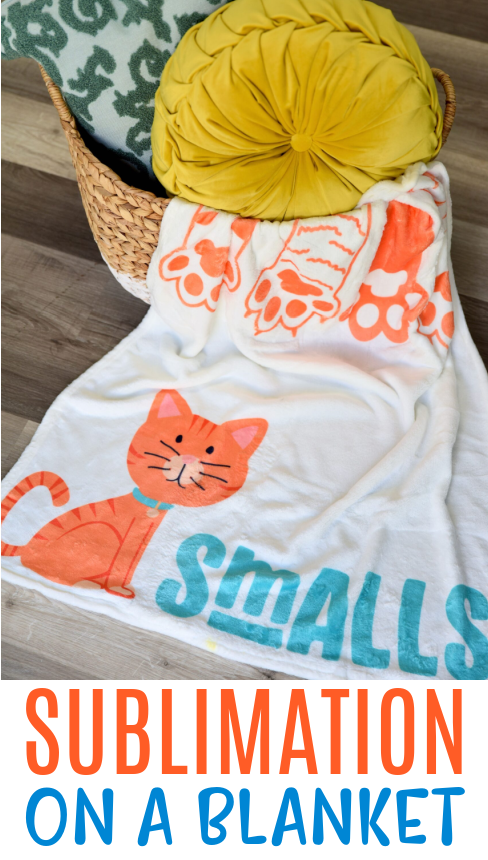 Sublimation on a Blanket
Disclosure: Some of the links below are affiliate links provided for your convenience. This means, at no additional cost to you, we will earn a commission if you click through and make a purchase.
Cut Files/Fonts Used:
Orange Cat
You Had Me At Meow
Atmospheric
Supply Links: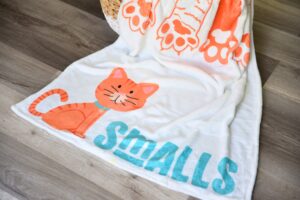 Step-by-step Instructions:
Import cut files, size, and manipulate as needed. Size files so that they can each be printed on 13×19″ pieces of sublimation paper.
Add a text box and type in "name" using the atmospheric font. Color match text to cat collar color.
Color match paws to cat body color.
Transform all cut files and text to reflect (mirror).
Save each image as a png (if sizes like mine, there should be 6 saved images total.)
Print each image. Makes sure to select the 13×19″ paper setting
Using scissors, cut around each image for easier placement.
Use heat-resistant tape to keep sublimation paper in place.
Apply heat to each section of printed sublimation paper. 400 degrees for 40 seconds.
Remove paper and tape.
Tanner, Courtney, and the rest of the Makers Gonna Learn Team are all here because we love die-cutting and especially love sharing fun projects and tutorials with fellow makers. We are all great friends and are always having a blast when we are together- you will see this on camera, especially during live streams! We are here to inspire and support you in your crafting journey!