Supplies You Need From Harbor Freight NOW!
Harbor Freight is a great place to search for cheap Cricut tool alternatives. You'd be surprised at all the goodies you can find in there that you can use with your die-cutting machine. If you have a Cricut and you're looking for more affordable ways to craft, this is a great post for you. We will break down several different items purchased from Harbor Freight and how you can save money by switching to Harbor Freight for your weeding tools. I'm going to tell you all about the supplies you need from Harbor Freight now!
Supplies You Need From Harbor Freight NOW!
I went on a little field trip to Harbor Freight and I checked the aisles for everything that they offer. A great tip I have to share for your is that if you are having trouble locating the things we're talking about today, take a screenshot of them and ask the staff to help you. They are so helpful and will be happy to find what you're looking for.
You are going to be blown away what I have been able to discover at Harbor Freight. I was so impressed not only with the pricing but also really impressed with the quality in comparison to Cricut weeding tools. You need to know that these might not last as long as Cricut brand products, but they can be a great alternative for you.
The Cricut toolset is roughly $26 before any discounts or any sales, this is retail and if you purchase it at Michaels you can use a coupon but if you can't order it online you get five tools for roughly $26. If you are a budget-friendly crafter you really must check out the options at Harbor Freight. I don't work for Harbor Freight, I'm just really excited to share some of these tool alternatives with you.
The Tool Options at Harbor Freight
First, we have the four pen pack mini pick and hook tool. A lot of people use these and highly recommend them because these have a lifetime warranty. So, they will replace these if anything happens to them. I wish the Cricut weeder had a lifetime warranty as well. The difference here is that you get four different hooks and pick tools for $1.99 from Harbor Freight. So, that's a great deal for you! These are not my favorites of the tools I tried but they are very popular.
I'm going to show you a few other ones that I think are gonna be much better for weeding, but I didn't find them as comfortable to hold and to work with.
Next up is this set. I love this one! I can grip them well and they work really well to pick and pull. These aren't made for crafting but they do the trick and they're only $2.99 so they're certainly worth a try for you.
Next up, I want to show you this six-pack carving set. It's only $3.99. They're not necessarily going to work well for weeding but they will come in handy for other uses. You can use it to peel paper up and for other similar uses. It's not the most useful specifically for Cricut craft projects, but they are good tools to have in your craft room. Once again, it has a lifetime warranty which is pretty impressive.
Here's another hook and pick set we found at Harbor Freight for only $3.99. They are perfect for Cricuting, but again, the handles aren't nearly as comfortable as the ones on the Cricut tools. Still, they're such a great bargain and are perfect for for budget-conscious crafter.
This next one is the most expensive pack that we found at Harbor Freight. This is their stainless steel tweezers set. It's $5.99 for the set. It's just a variety pack of tweezers but you know how handy that can be. Tweezers can be great for for picking up small craft materials like rhinestones and things like that.
I bought all of these packs of tools for roughly the same amount I'd spend on one weeding tool set from Cricut. Of course, Cricut tools are high quality and specifically made to work with die cutting machines and the craft projects you make with them. But these tools from Harbor Freight definitely have their place in your craft room and are a fantastic bargain. I also love that they come with a lifetime warranty!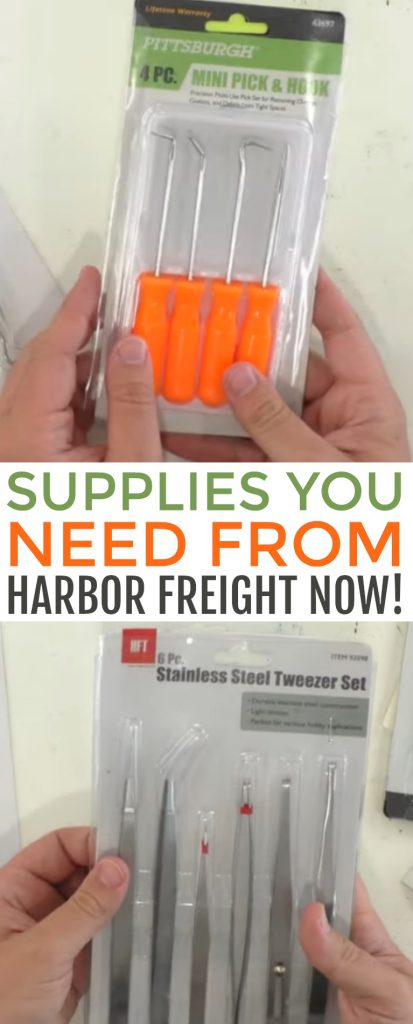 What do you think? Do you have any favorite tools from Harbor Freight that you use in your craft room? Let us know about them in the comments below.
Tanner, Courtney, and the rest of the Makers Gonna Learn Team are all here because we love die-cutting and especially love sharing fun projects and tutorials with fellow makers. We are all great friends and are always having a blast when we are together- you will see this on camera, especially during live streams! We are here to inspire and support you in your crafting journey!