This little bear holding a banner card is perfect for any occasion. It's really easy to make! Our tutorial will show you some tips and tricks for manipulating a variety of files to create your own custom design.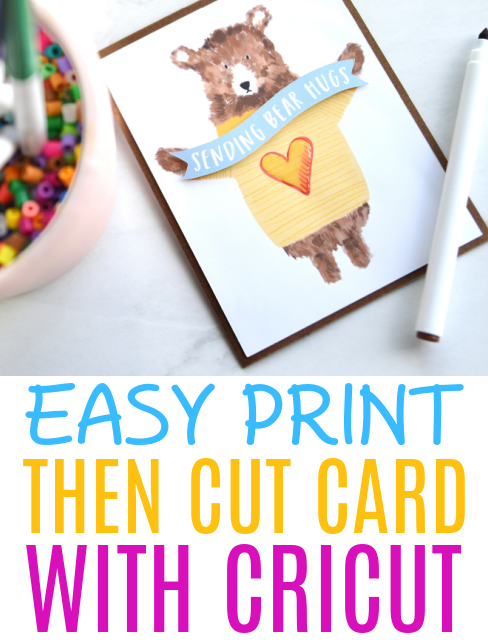 Easy Print Then Cut Card
Disclosure: Some of the links below are affiliate links provided for your convenience. This means, at no additional cost to you, we will earn a commission if you click through and make a purchase.
Cut Files/Fonts Used:
Shaded Heart
Banner_1
Bear Hug
May Katherine
Supply Links: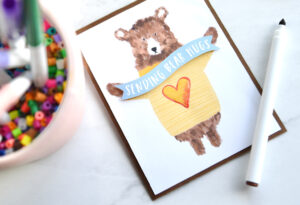 Step-by-step Instructions:
Import the cut files and fonts to Design Space. We will be working on them one by one.
Start by grabbing a square and size it to what you need for your card base. We have changed ours to white so that we can truly visualize what our completed project will look like.
Now, move the bear over to the white square. Select it and choose to Send to Front. Size it so it will fit perfectly.
We're going to remove the sentiment under the bear. Move it back off the rectangle. Pull in a square and size appropriately to cover the sentiment. Select both the bear layer and the square layer and choose Slice. Now the sentiment is separate from the bear and you can delete it.
Now the bear layer is done, so now you can work on the banner. Begin by ungrouping it and then you can choose which banner you want to use from there. Move it over to the bear layer and size it..
Next is the heart layer. Move it over to the bear layer and arrange where you want to put it. Don't forget to use "Bring to Front" if it's behind your bear!
Lastly, open a text box and type in the words you will be putting. Then select the font you want to use. We are doing one word at a time, each in its own text box. This makes it so much easier to curve. Size your words and curve them to fit into the banner.
When you are satisfied with how it looks, go ahead and click Make It and send it to your printer to print.
When it's done printing, transfer it to the mat and load it into the machine to cut. Make sure you have changed the material setting in Design Space to Medium Cardstock.
After it's cut, you can now apply them to the cardstock. We added Glossy Accents to the heart to make it really stand out.