Do you have a Cricut Joy? We love these Cricut machines! They are small but mighty. This Complete Guide to Cricut Joy will tell you everything you need to know about them.
If you're thinking about purchasing a Cricut Joy or have one and just want to learn more about it, this is the post for you. We'll talk about everything it can and can't do and give you ideas for making the most of it.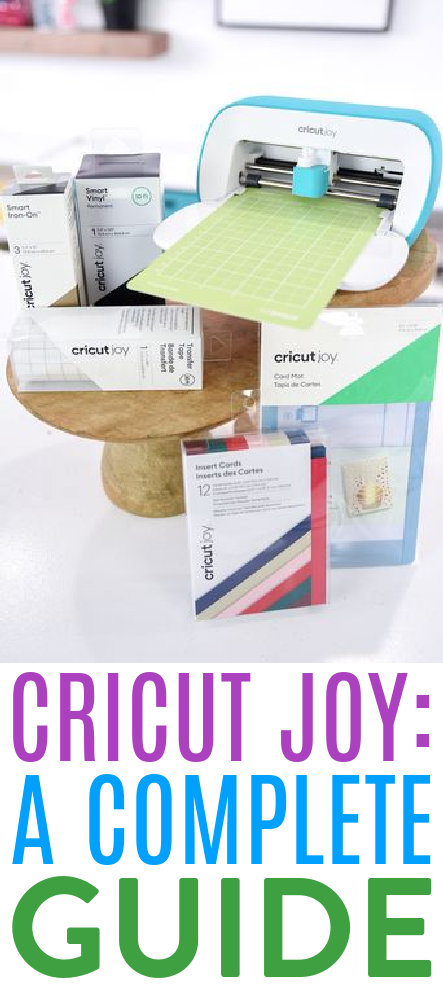 Cricut Joy: A Complete Guide
The Cricut Joy is a small compact cutting machine. It's a great option for people on the go or those with limited space in their homes. If you're going camping or will be traveling a lot, this is a cutting machine that you can easily take along with you. At home, it's easy to take it to any room you want. You can even use it while watching TV. The size of the Joy is one of the biggest advantages of this particular Cricut machine.
The Cricut Joy is so small and lightweight that you can easily hold it in the palm of your hands. The machine itself measures about 8 1/2 by 6 inches and is 75% lighter than any other Cricut machines, weighing only 4 pounds. If you're traveling, you can even fit this machine into your carry on bag!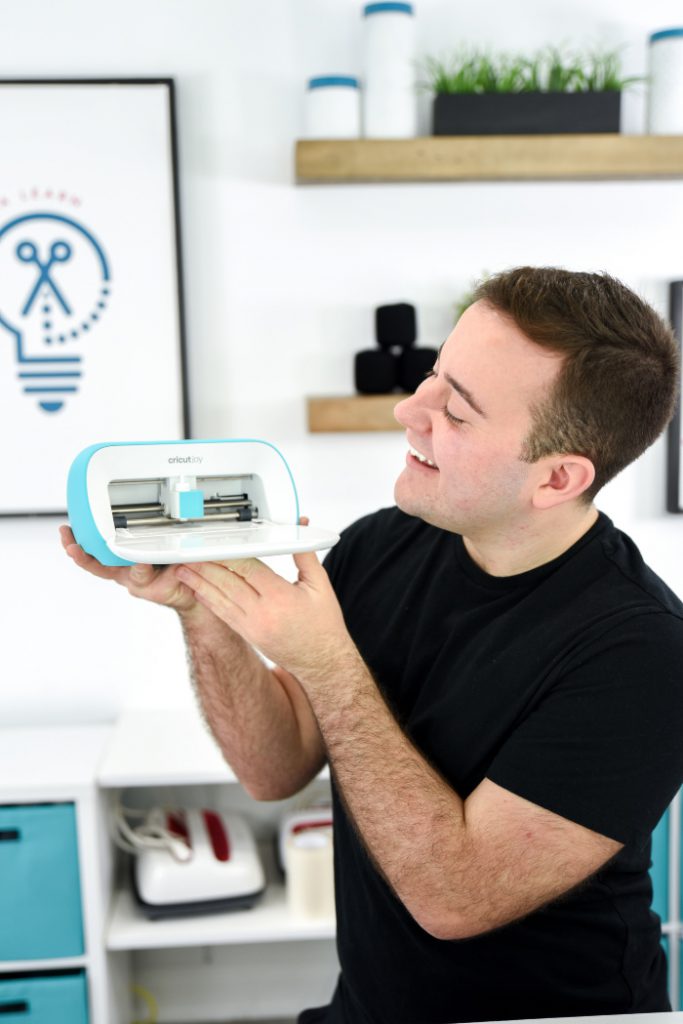 The Joy is a great entry-level machine. It's perfect for the person who really has no crafting experience and isn't sure how much they want to make or for using more for projects around the house, than for general crafting. For example, I could see this being something purchased by people who are doing a big home organization project – making vinyl decals for organizing their closets and so on.
It's a perfect machine for card-makers too. In fact, card-making was one of the things Cricut had in mind when they designed the machine. You can even purchase a separate card-making mat and greeting card supplies for it.

What Can You Do with the Cricut Joy?
The Cricut Joy makes it possible to cut single designs up to four feet long and repeated cuts up to 20 feet long with Cricut Smart Materials. The cutting space on the Cricut Joy is 5.5 inches wide.
With Smart Vinyl, you don't even need to use a mat. Smart Materials come in vinyl, iron on, and labels and are available in 10 and 20-foot rolls.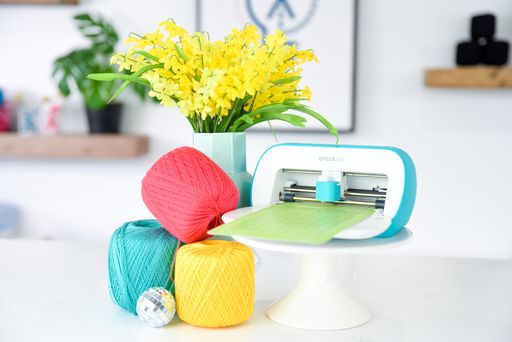 On top of its ability to cut, the machine can also draw and write on a variety of popular materials such as iron-on, vinyl, and the Cricut Infusible Ink. Personalize everyday items with the ability to make custom stickers, decals, labels, and more in less than 15 minutes.
There is no USB connection so you will need to use the Cricut Joy with Bluetooth. When it comes to materials, you won't be able to cut any thick materials with it. You will need to stick to these 3 basic materials: Vinyl, Paper, and Iron On.
What Comes in the Cricut Joy Box?
The machine itself
Blade and blade housing already inside the machine
Warranty information
Safety information
Get started guide
Sample of Smart Vinyl
Standard Grip cutting mat
Fine Point Pen, Black (0.4 mm) (specifically for Cricut Joy)
Power adapter
Free 30-day trial membership to Cricut Access (for new subscribers)
50 ready-to-make projects online
Size and Specifications
Compact 5″ x 8″ and less than 4 lb. size that sets up instantly and packs away easily
Accurate precision and speed of the company's full-size smart cutting machines at 75 percent less weight and one-third of the size
Buttonless design with Bluetooth® wireless connectivity for designing and cutting
Still works with Cricut Design Space®, for Mac, Windows, iOS, and Android
Cuts over 50 different types of materials
Load-and-go sensor technology that facilitates automated loading of materials and detection of material length
Housing unit to hold blade or pen tools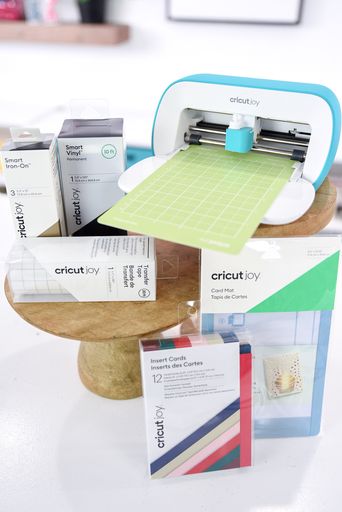 Setting Up Your New Cricut Joy
It's really quick and easy to set up your Joy. It only has one plug – this is an electrical plug to plug it into an outlet for power. There is no USB cord because the machine only works with Bluetooth. Your blade and housing are already installed for you.
You'll notice there are no buttons on the machine. Everything is controlled through Cricut Design Space. To open the Cricut Joy, just pull down on the front panel.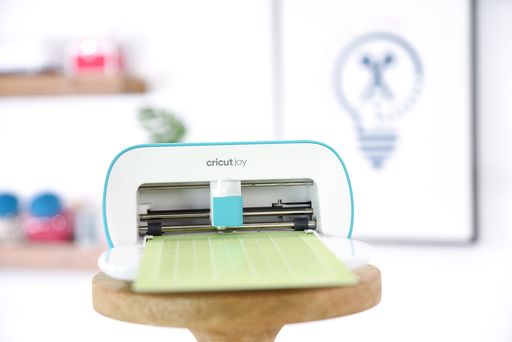 Cricut Joy Materials and Accessories
In general, materials used for the Cricut Joy are not interchangeable with your other Cricut machines. We do have a few Cricut Joy hacks for using materials not specifically made for the Joy, but bear in mind, these involved some extra work on your part and are only possible with some materials.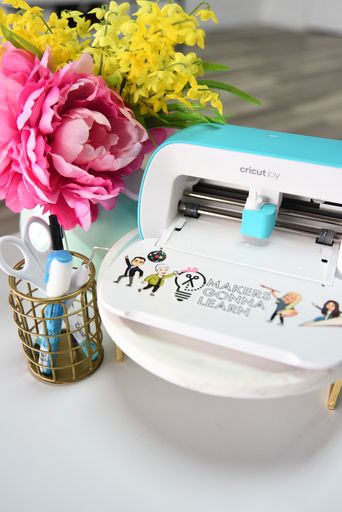 Some of the materials that a Cricut Joy can cut:
Adhesive Vinyl
Smart Vinyl
Iron-On Vinyl
Smart Iron-On Vinyl
Cricut Joy Insert Cards
Medium Cardstock
Thin cardboard
Corrugated cardboard
Cricut Infusible Ink
Sportflex
Dry Erase Vinyl
Chalkboard Vinyl
Window Cling
Paper Thin Faux Leather
Paper including foiled, shimmer, sparkle, and others
Smart Label Writable Paper
Copy Paper
Construction Paper
Foil Acetate
Premium Vinyl such as frosted, pearl, mosaic, and holographic
Adhesive-backed Paper
and many more!
Cricut Joy Mats
There are only a few cutting mats available for the Cricut Joy. The cutting mats available are the StandardGrip and LightGrip in a 4.5 by 6.5 and a 4.5 by 12 inch size. In addition, there is the Cricut Joy card mat. Of course, you can also cut certain projects without a mat if you use Cricut Smart Products.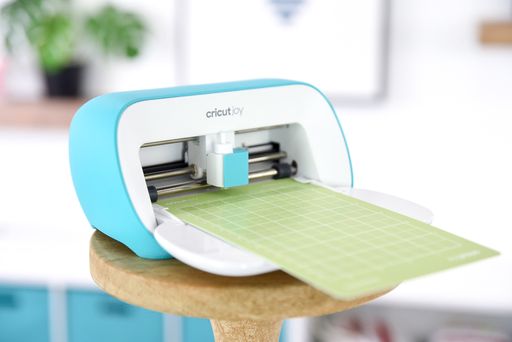 Cricut Joy Pens
The Cricut Joy pens are a different size than the other Cricut pens and cannot be used interchangeably.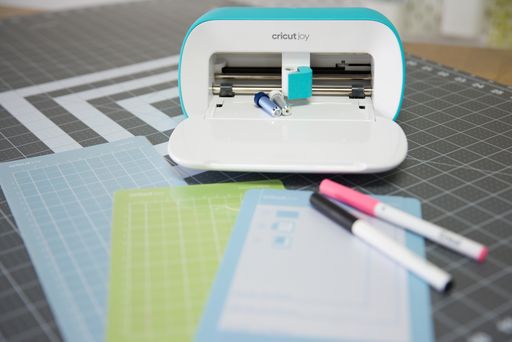 Cricut Joy Blades and Tools
There is only one blade available for the Cricut Joy. It is a fine point blade and this blade and its housing are not interchangeable with other machines.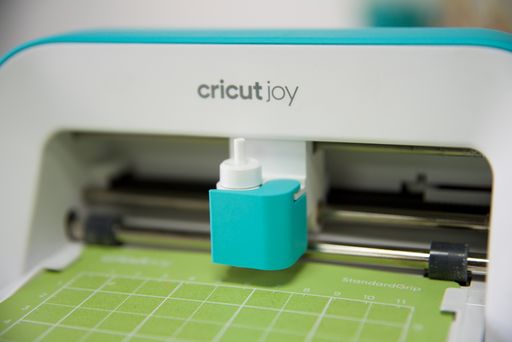 The only tool currently available for the Joy is the Cricut Joy foil tip. Again, this is not the same as the Cricut Foil Transfer Kit for the other machines and can't be used interchangeably.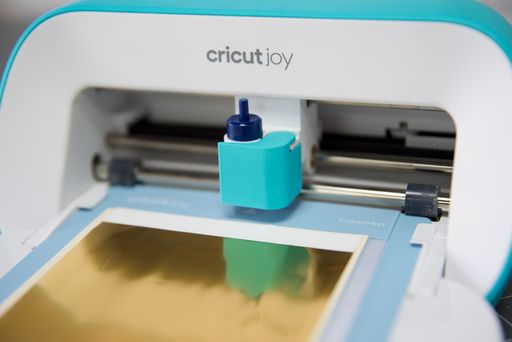 How to use the Cricut Joy foil tip
Pro tip: There are some adaptors available on places such as Etsy that can be used in your Cricut Joy to allow you to use tools such as the Scoring Stylus in it. We have not tested these out ourselves but have seen others get good results from them. If you use these while your machine is under warranty, however, and something goes wrong, you will void your warranty.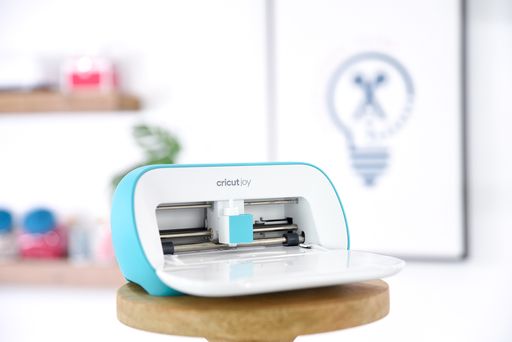 What Kinds of Projects Can You Make with the Cricut Joy?
You can make a wide variety of craft projects similar to the ones you can make with your Cricut Explore machine. This machine is not powerful enough, nor does it have the necessary tools available for making projects with thicker materials like the Cricut Maker can.
In addition, working within the size limitations of the machine, you cannot make very large projects without using a Cricut hack to work around it. The hack we use to work around Print then Cut size limitations can be used with the Cricut Joy as well. Of course, if this is something you're going to do on a regular basis, it does mean extra work and you may want to consider investing in a Cricut Explore or Maker.
Which Cricut machine is right for me?
Cricut Joy Craft Project Ideas
More Crafts You Can Make with the Cricut Joy