Tiered trays are so popular right now in the decor world, but decorating one can admittedly be a little intimidating! In this video, we're going to tackle decorating a red, white, and blue-themed tray and will give you tips on how we approach this task.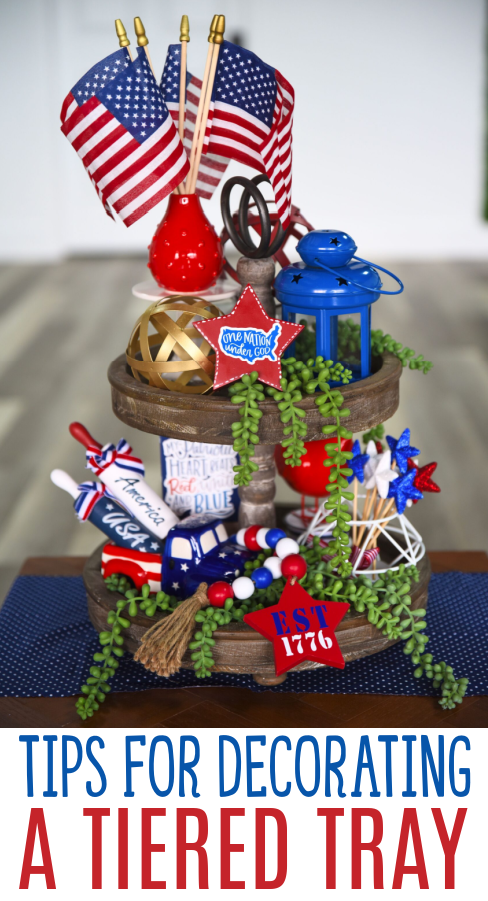 Tips for Decorating a Tiered Tray
Disclosure: Some of the links below are affiliate links provided for your convenience. This means, at no additional cost to you, we will earn a commission if you click through and make a purchase.
Supply Links: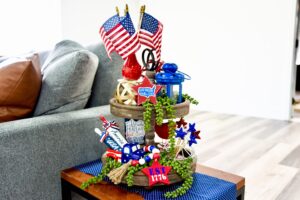 Step-by-step Instructions:
Tips for decorating a tiered tray
Choose a theme for your tray
Look for small or miniature items (measure the size of your tray so that you can be specific when looking for items)
Collect more items than you think you'll need
Make sure your items have a variety of sizes and shapes
Use small risers (from things you already have around your house) to create height if needed
Choose items that are pretty from the front and the back so that your tray is pretty from all sides
Use items like string of pearl succulents and garlands to fill in void space
Start by placing larger or focal pieces on your tray (don't work level by level but look at the whole picture/tray)
Next, place smaller/filler pieces
Once the majority of the tray is filled, you can start placing the finishing touches