Making a mandala shadow box has become so popular! Whether you want to make them for your home or office, to give as a gift, or to sell them, be sure to watch this video to learn the ins & outs so you can feel confident making them!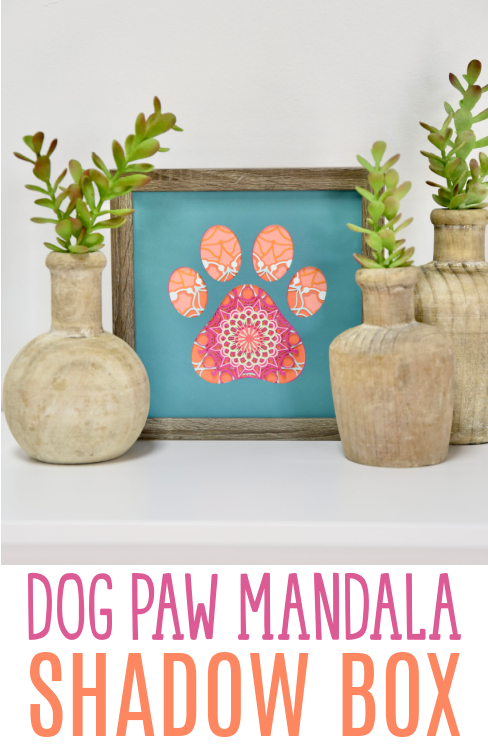 Dog Paw Mandala Shadow Box
Disclosure: Some of the links below are affiliate links provided for your convenience. This means, at no additional cost to you, we will earn a commission if you click through and make a purchase.
Cut File Used:
Supply Links: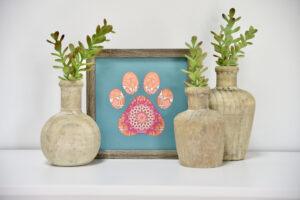 Step-by-step Instructions:
Upload the SVG file into Design Space and size to 8". You can ungroup and change the colors of each layer to match a specific color scheme you're going for, but we're using the same colors that are already in the file!
Click "make it" and on that screen, it's much easier to see the paper colors so you can go through your craft space and grab the colors of cardstock you have that match each mat.
Use an older StandardGrip mat or a newer LightGrip mat. Start with mat one, add the paper of the correct color. I've found it helpful to use a brayer to make sure the paper is well adhered to the mat.
Select your material, we went with Medium Cardstock. It's best to put a new blade in your machine as well. Please note if you are using any varying thicknesses of cardstock to be sure and change your material setting accordingly.
Go through all 10 colors of paper and allow them to cut. Once we removed the cut paper from the mat we would use a burnishing tool to scrape the tiny pieces of paper off our mats to get ready for the next color.
Once all your paper is cut out, refer back to Design Space. Ungroup your image and pull your layers out one by one and line them up. This is so you can clearly see how the papers are layered!
Start from the very back layer. Refer to Design Space to see the order of how the layers need to adhere. Flip the second to last layer over and apply ATG along the edges. Turn it over and line it up with the last layer and apply it down.
Repeat that process until you've come to the second layer where you will also add the three small circular mandalas. We used the glue pen for those tiny layers!
Once those small pieces are on the larger second piece, add ATG to the back and adhere as normal.
Now, add ATG to the front piece of the mandala and apply it down to finish the design.
Add the mandala into a shadowbox and enjoy.