Disclosure: Some of the links below are affiliate links provided for your convenience. This means, at no additional cost to you, we will earn a commission if you click through and make a purchase.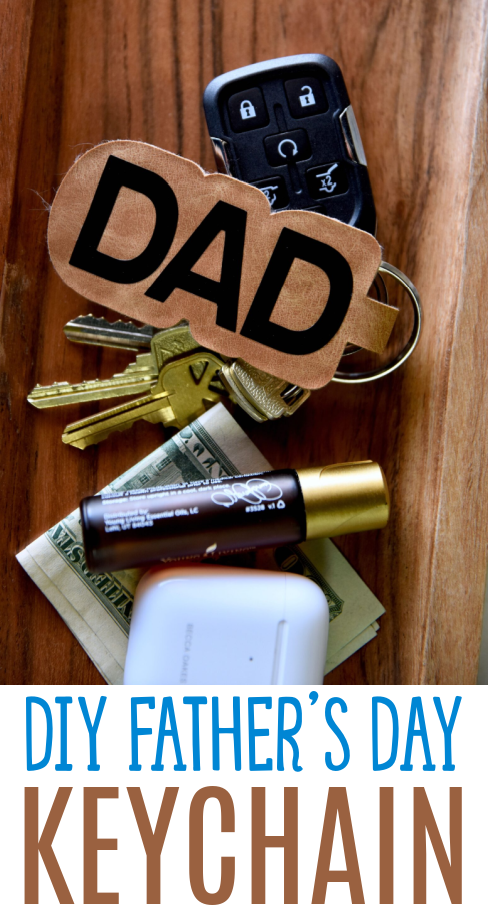 You've stumbled upon one of the best personalized Cricut projects to date! With this DIY Father's Day keychain, you have the freedom of the alphabet to make adorable customized keychains for anyone in your life.
These are amazing for DIY gifts and who wouldn't want a professional-looking personalized gift? We made ours for Dad, but you can make it for anyone. You will fall in love with this faux leather, too. It's a game-changer. Have fun!
DIY Father's Day Keychain
Font Used:
Supply Links: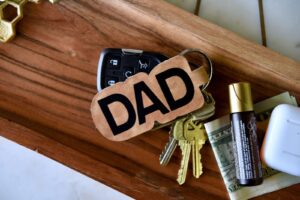 Step-by-step Instructions:
Type the word in your chosen font in Design Space and kern if needed. Duplicate to have two.
Add an offset to your word. Duplicate it, and flip one offset horizontally.
Add a small rectangle connecting the two offsets and weld.
Cut the welded offset out of faux leather and the two words out of white HTV. Weed the HTV.
Heat the words onto the offset faux leather.
Pull half of the leather offset through the keychain. Fold the offset and hot glue the sides together.