Think that making your own DIY Christmas gifts is just too expensive? Think again! We're going to show you some amazing Dollar Tree Christmas Gift Ideas that you are going to love.
With the help of your die cutting machine, you can make so many fun handmade gifts to give someone special for Christmas or to sell in your craft business. Let's start planning our gift ideas today!
Dollar Tree Christmas Gifts
We have gift ideas for everyone on your list including your neighbors, the grandparents, the kids' stocking stuffers, and so much more. Let's go through them so you can start making your list. We even have gifts for those elusive people on your list you have NO idea what to give!
USING PIZZA PANS
There are so many ways you can upcycle a pizza pan and turn it into an adorable sign.
This could easily be adapted to a perpetual calendar.
This is such a fun idea that allows you to decorate for a holiday or season without having to store a bunch of bulky items
Add some simple paper, adhesive shelf liner, or even some shims or other small pieces of wood to give the sign a different look. You could even put a family name on it to customize it for the recipient
USING PHOTO FRAMES
Frames from Dollar Tree can be fixed up in so many ways. Whitewash them, paint them, stain them to make them look more expensive, and then turn them into something special.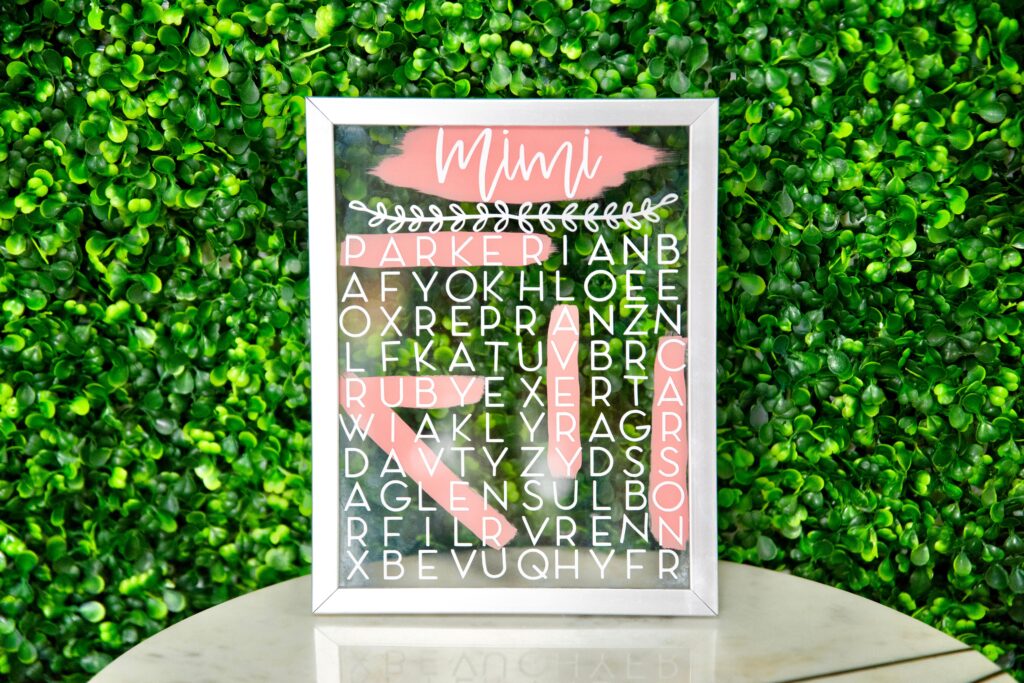 Word search sign –
This word search style sign makes a great gift for a proud grandparent! Use this same sort of idea of making a clear sign to make a menu board, To Do list, one of those family signs with the established date on it, or one of those signs showing the locations of where the couple met and got married.
CHRISTMAS ORNAMENTS
There are so many different kinds of Christmas ornaments you can make with Dollar Tree supplies and your Cricut machine. We even have some amazing packaging ideas for presenting the ornaments as gifts!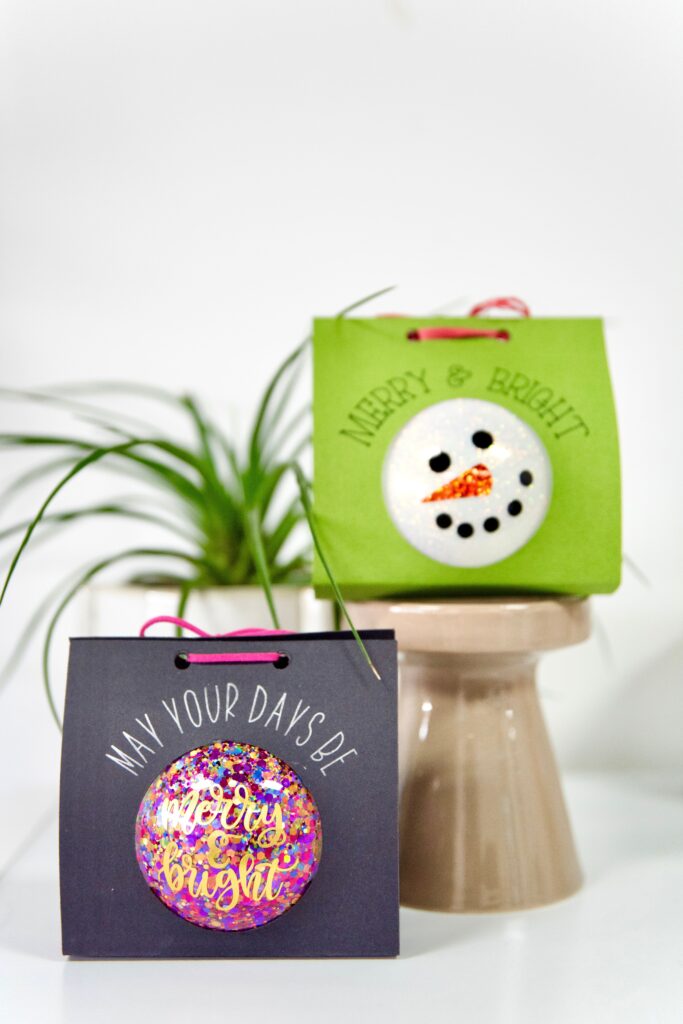 There are many different types of Christmas ornaments you can make with your Cricut. Here at Makers Gonna Learn, we have made some really cute Print then Cut ornaments as well as some from felt, vinyl applied to glass and plastic, iron-on vinyl applied to wood, glitter ornaments, and more.
STOCKING STUFFERS
Don't overlook the stocking stuffers you can grab at the dollar store and then add your own custom designs to. For example, these headphones can be personalized by adding some fun designs or monograms to them. It's such an easy way to take a basic inexpensive stocking stuffer from Dollar Tree and turn it into something special.
The earbud holders and pop sockets are additional great ideas we love!
And be sure to check out this combination mousepad/phone charger! What a fantastic idea and your design on it will just take it right to the next level.
GREAT NEIGHBOR AND TEACHER GIFT IDEAS
Baking sets
These baking sets are a perfect gift idea for neighbors, teachers, coworkers, and more! And they're oh so easy to make. Simply customize the pot holder with some HTV and tie it all up with some kitchen utensils and a baking mix.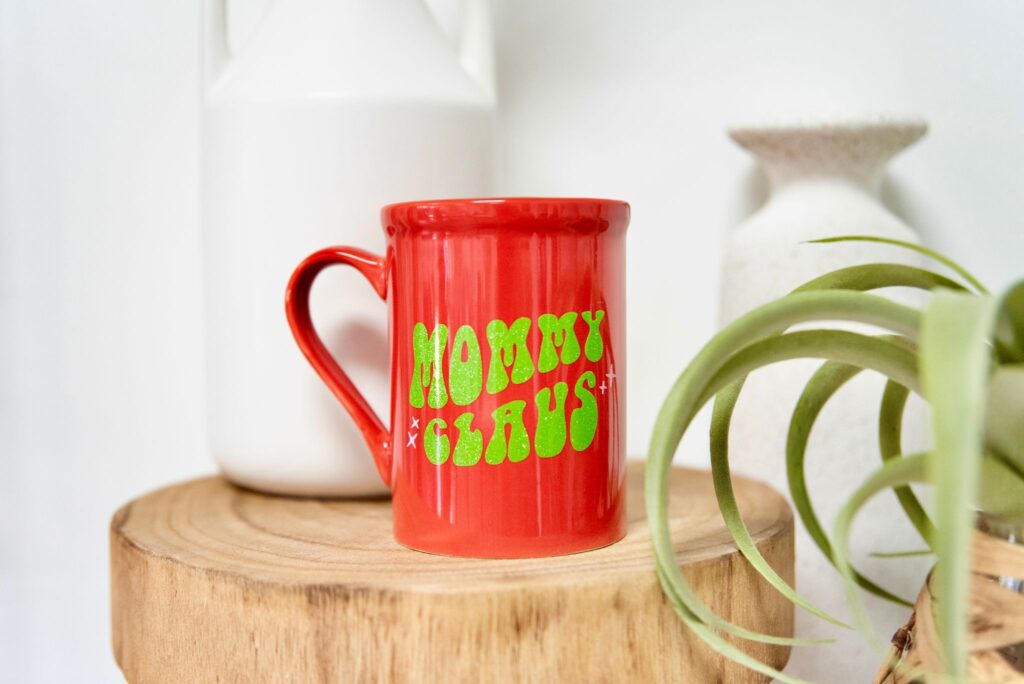 Mugs and tumblers
You can find some really great plain mugs and tumblers at Dollar Tree that you can use to apply vinyl to and create custom designs. Leave them as is or fill with hot cocoa mix and marshmallows for an extra fun gift.
Or how about etching stainless steel tumblers and mugs? You can grab a really nice stainless steel tumbler for $5 at Dollar Tree and turn it into a really lovely, expensive-looking gift.
You can also sublimate on Dollar Tree products! Make sure to check the polyester content of it to ensure that it will work well for sublimation projects but you can often pillows, throws, dishtowels, socks, slippers, and more that are perfect for sublimating.
These Dollar Tree sublimation socks are one of our favorite projects ever!
Remember, even if you don't have a Dollar Tree in your area, check out your local dollar stores to see what similar items they might have for you to use.