We LOVE paper crafting and 3d projects. They are inexpensive to create, you generally have all the supplies needed already stocked in your craft room, AND with a little visual aid from this video, they are easy to put together.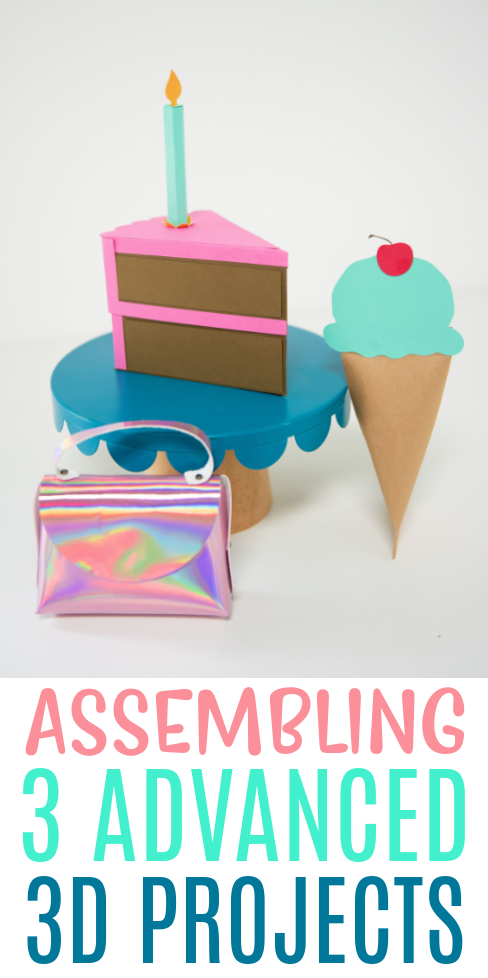 In just a few minutes with the aid of our Cricut, you can create beautiful and one-of-a-kind pieces of art to use: as decorations, for baging treats, or as an aid in a gift presentation!
Assembling 3 Advanced 3D projects
Disclosure: Some of the links below are affiliate links provided for your convenience. This means, at no additional cost to you, we will earn a commission if you click through and make a purchase.
Cut Files/Fonts Used:
3D Purse: https://makersgonnalearn.com/cut_files/3d-purse-2/
Cake Slice Box: https://makersgonnalearn.com/cut_files/cake-slice-box-2/
Ice Cream: https://makersgonnalearn.com/cut_files/ice-cream-3/
Supply Links: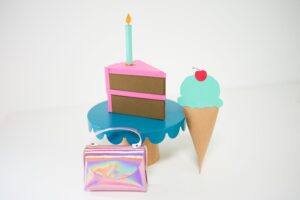 Step-by-step Instructions:
Import cut files and size them to the desired size.
Install the scoring stylus (or scoring wheel) into the machine.
Place cardstock on the light grip mat in the top left corner of the mat
Select medium-weight cardstock as your material setting
Load the mat and let your machine score and cut the cardstock
Unload the mat and remove the mat from the cardstock
Repeat steps 3-6 for the remaining mats
Using a bone folder, fold and crease all score lines on all cardstock pieces
Apply adhesive (double-sided adhesive tape or ZIG glue) to the intended areas and attach the correct pieces together.