You are going to love this new paint technique. This is such a fun tone-on-tone project that you have simply got to see! It makes the perfect backdrop for favorite quotes and other designs. Best of all, it's really easy to make!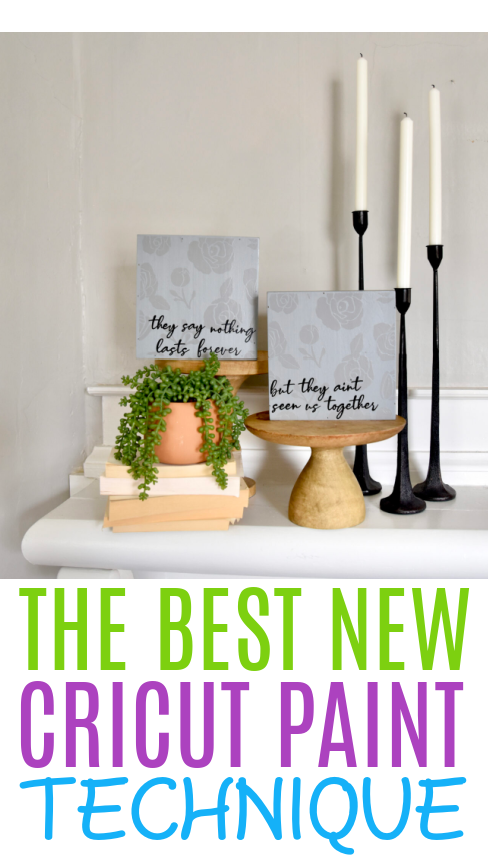 The BEST New Paint Technique
Disclosure: Some of the links below are affiliate links provided for your convenience. This means, at no additional cost to you, we will earn a commission if you click through and make a purchase.
Cut Files/Fonts Used:
Supply Links: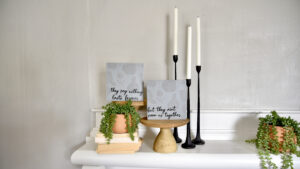 Step-by-step Instructions:
Make sure that you have already painted the wood plaque in grey when starting so it can thoroughly dry before trying to apply the vinyl. Be sure to measure your plaque.
Import the cut file and font downloaded from Makers Gonna Learn into Design Space.
In Design Space, get a square and resize it to the same measurement as the wood plaque to give you a guide for sizing your design. Now, move the rose pattern over to the square and size it the same size or a bit smaller depending on how you want it to look. Change the color so it's a lighter shade of the paint color you used.
Open a text box and type the quote you want. Change it to your chosen font – if it's a font you have uploaded into Design Space, you will need to look in System Fonts.
Kern your text. There are multiple ways to do this. We are beginning one word at a time. With all but the first letter of a word selected, we are using our arrow tool to move those letters closer to the first letter. Then, we are selecting all but the first two letters, and do the same thing. Keep repeating this process until you have all of the words kerned. Once each word is kerned, weld it.
Next, kern the entire phrase to be sure that each of the words is placed where you want it in proximity to each other. Once you're happy with that, select all of the words and choose Attach.
Place your phrase on your sign and size accordingly. Once you are satisfied with your design, delete the square because you don't need that anymore then click make it. Make sure to mirror the pattern and the quote.
Choose Everyday Iron-on in the Material Setting and select more for the pressure (if your blade isn't brand new and you need more).
Place your material onto your mat and load it into the machine to cut.
Once done cutting, weed the excess vinyl away and weed out the centers of the letters. .
Apply the background vinyl design onto the wood plaque. Make sure your EasyPress Mini is heated to the second setting (about 350 degrees) and heat your vinyl. Start in the center and work your way out. Give a little pressure as you heat. Too much pressure and you may start moving it around.
Let it cool a bit and remove the transfer paper.
If you see a few areas with bubbles, simply lay a Teflon sheet over your design and heat again to help lay those down.
Now, place down and position your text. If you're worried about touching the background while you heat the words, you can use your Teflon sheet again. Heat your words with the EasyPress Mini. Remove the transfer tape and enjoy your new project!