We are thrilled to see that Cricut Design Space now offers the ability to create an offset on our designs. We used to have to use hacks and workarounds to get this, but now it's right there on our toolbar! In this post, we'll show you step-by-step how to use offset in Cricut Design Space.
Cricut recently announced several new updates to Design Space that are making our crafting lives so much easier. We love that Cricut gives us a hand with kerning our fonts and organizing our projects, but offset is definitely one of our favorite new additions!
How to Use Cricut Offset
What is Offset?
Offset allows you to create a border or shadow around your design quickly and easily. We can see some really great applications for this, but the first one that pops to mind is stickers. It will add that bit of definition between your design and the surface you place the stickers on, making them look so much more polished and professional.
Before we get started, we need to make note of the fact that the Cricut offset tool only works on desktop at this time. You cannot use it on your mobile devices.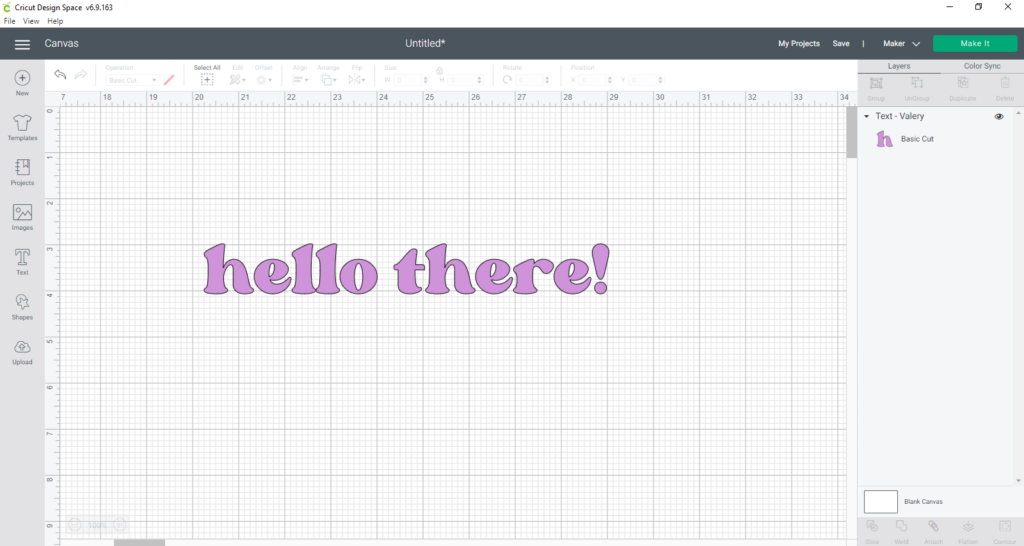 How to create the offset around your design:
Here, we are typing in the words "hello there!" using the font Valery from here on Makers Gonna Learn. This is what we're going to be placing an offset around.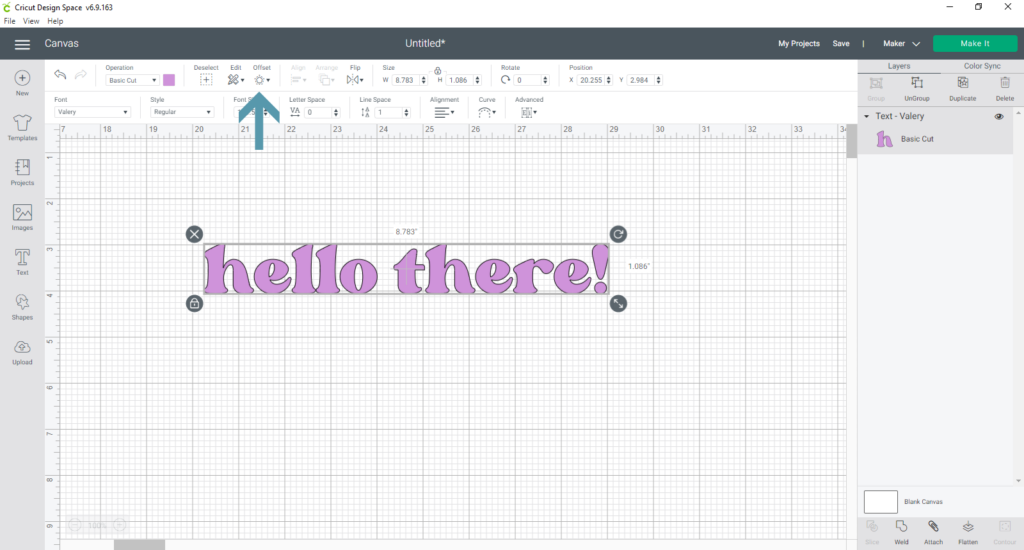 Select your text (other image) that you want to use Offset with and choose Offset in the top menu.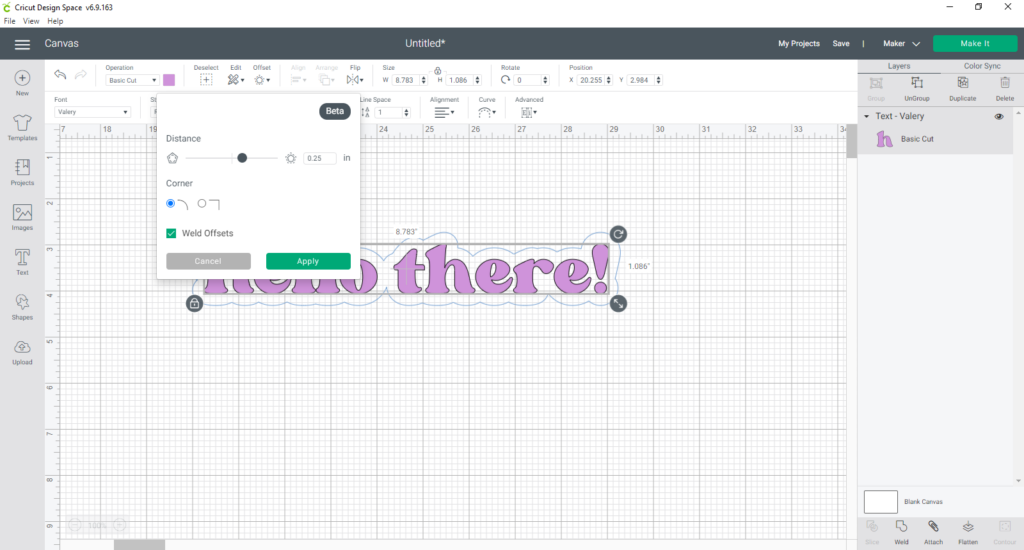 Cricut Offset Options
You'll see that when you click on it, it opens up some options. You can adjust the size of the offset, choose rounded or square corners, and select/deselect "Weld Offsets".
"Weld Offsets" is selected by default when working with multi-layered designs, text boxes, or when you have selected multiple objects. This function merges the offsets for all of the selected objects and allows them to work as a single layer. You can deselect this if you want to work with each separately.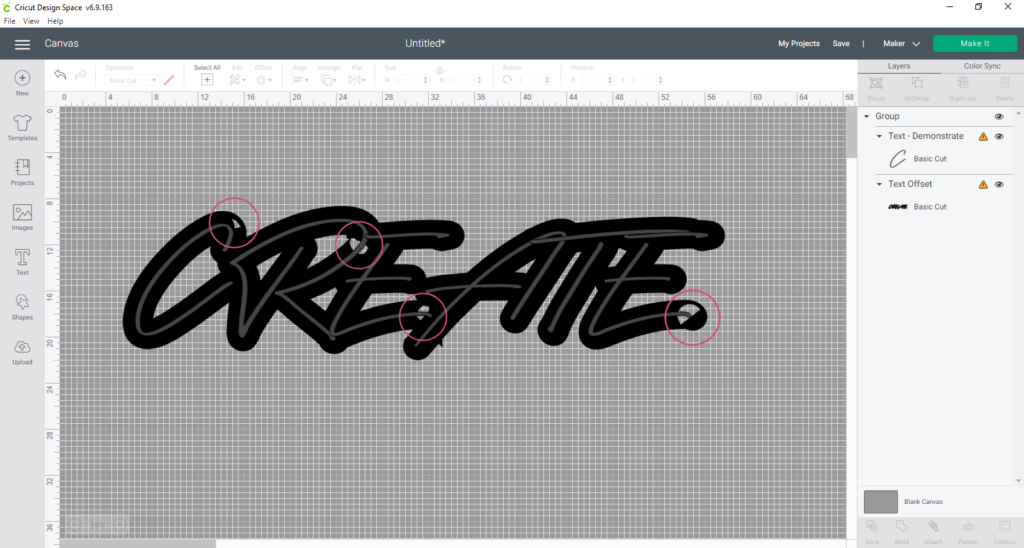 Note that with some designs the square corners option can create a few issues.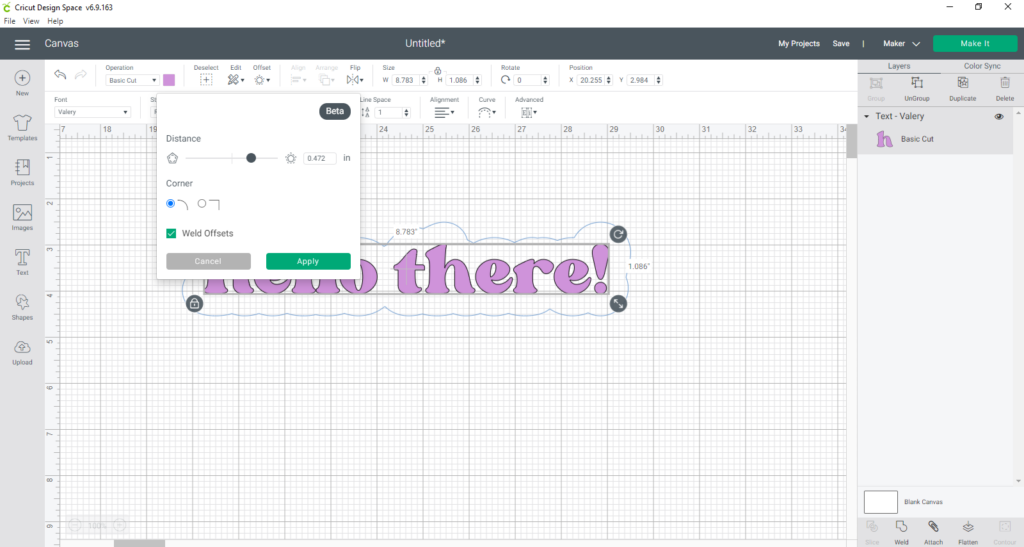 Adjust the size of the Offset as desired. Then click Apply.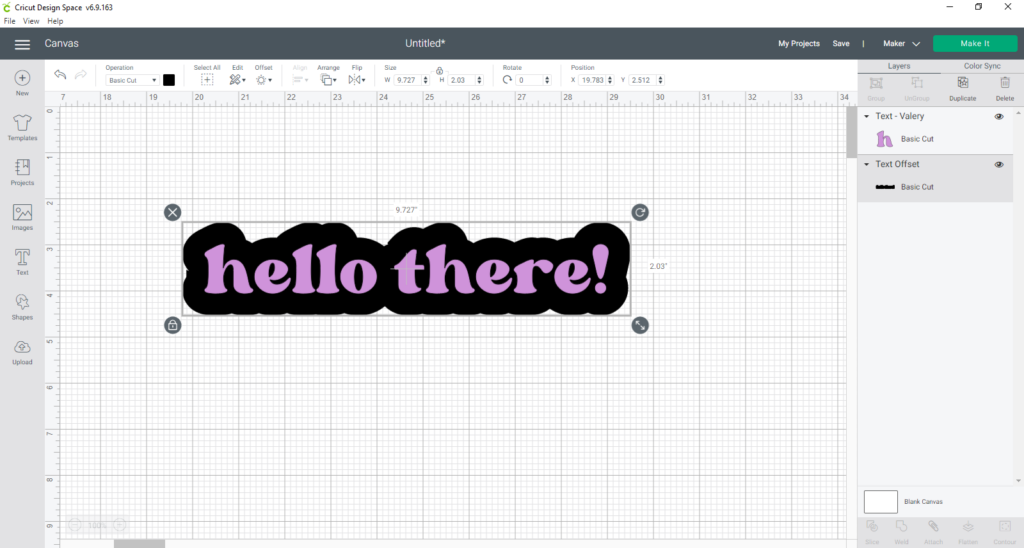 Once you have applied the Offset, you can change the color of it if you'd like.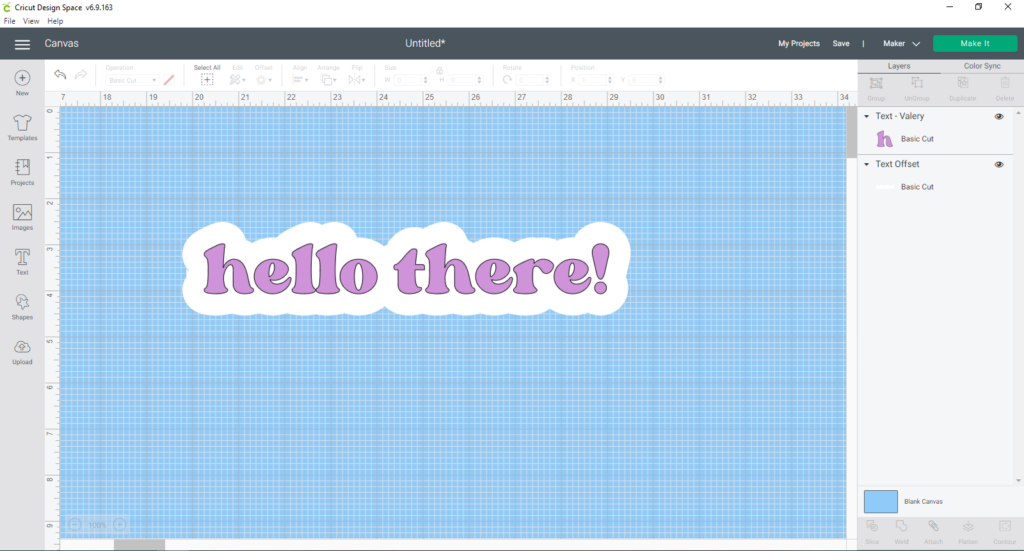 Make sure you have selected the Offset layer and click on the color in the top menu to open the color palette.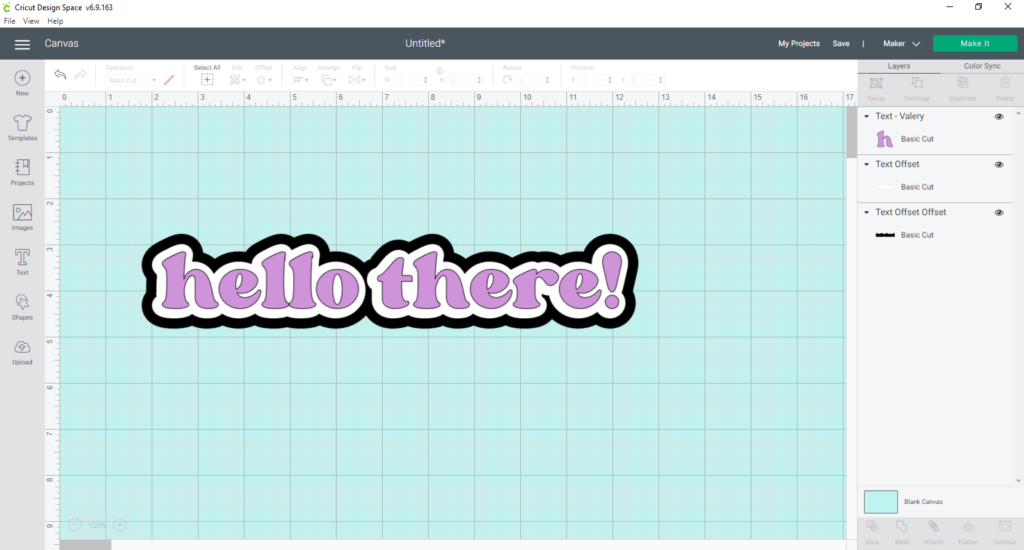 You can create layered offsets too.
You can even select your design again to add another Offset for a layered look.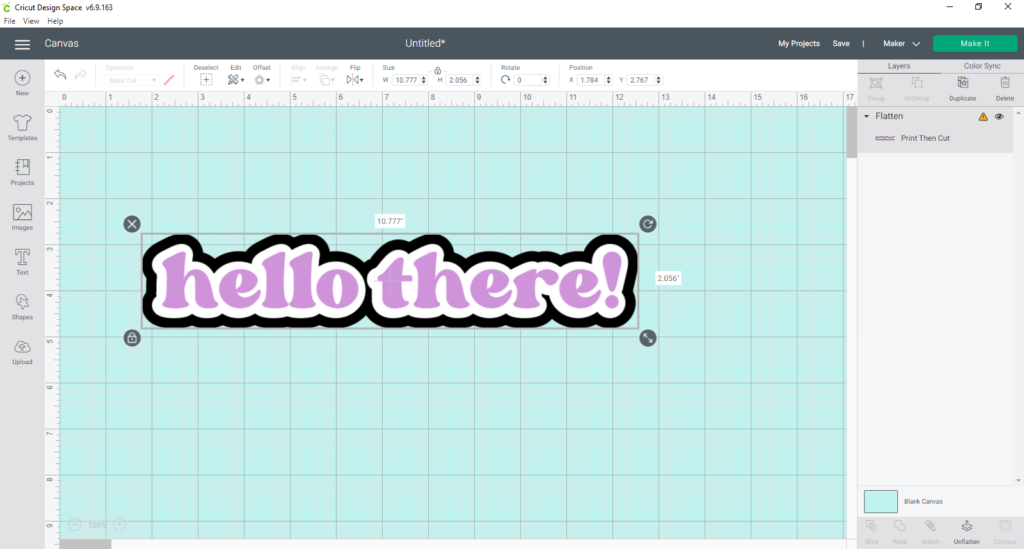 Turning your offset designs into a Print then Cut
Once you have finished with your design, you can choose Flatten at the bottom of the Layers Panel to turn your design into a Print then Cut.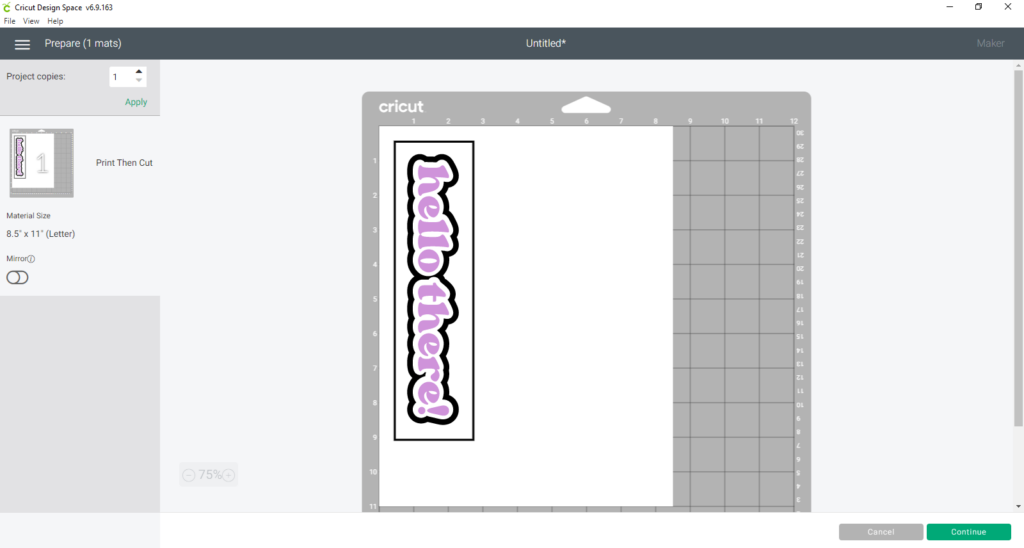 Click Make It to send it to the cutting mat and get ready for printing and cutting.
What happens if you don't flatten your design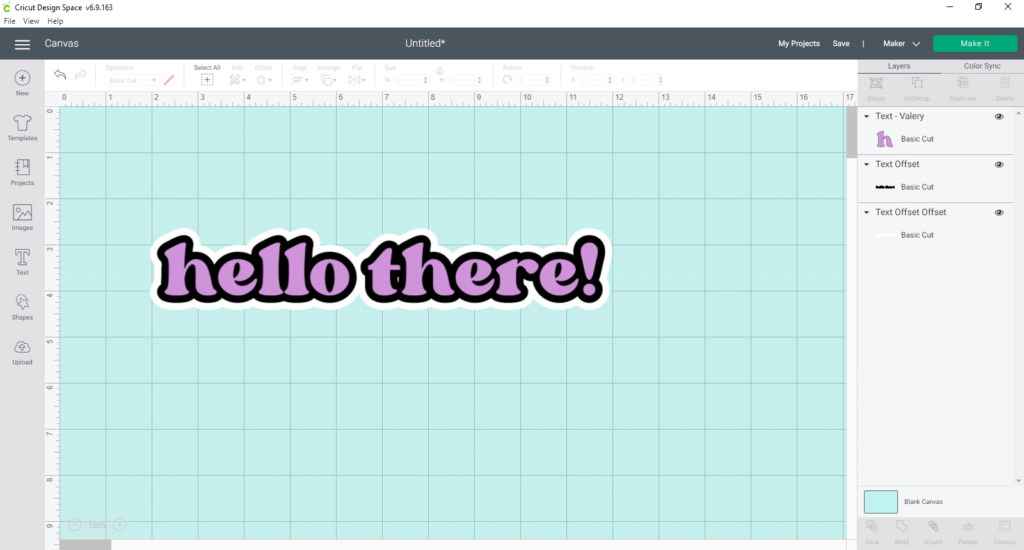 With this design, we chose not to Flatten it to show you what happens.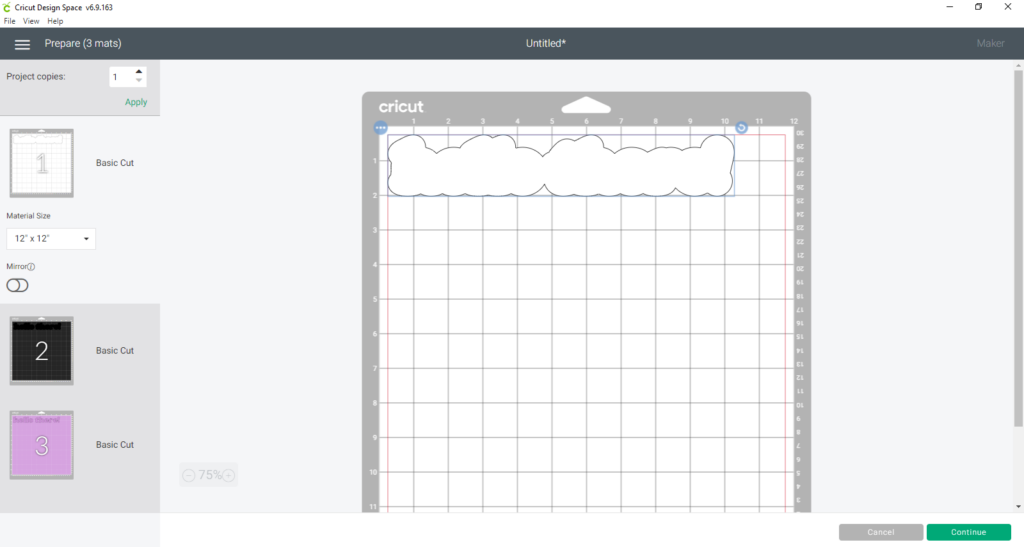 Here, when you click Make It, your Cricut is going to place it on 3 different mats – 1 for each color – and cut them out separately. Your offset layer won't be automatically grouped or attached with your original layer.
How to fix any holes in your design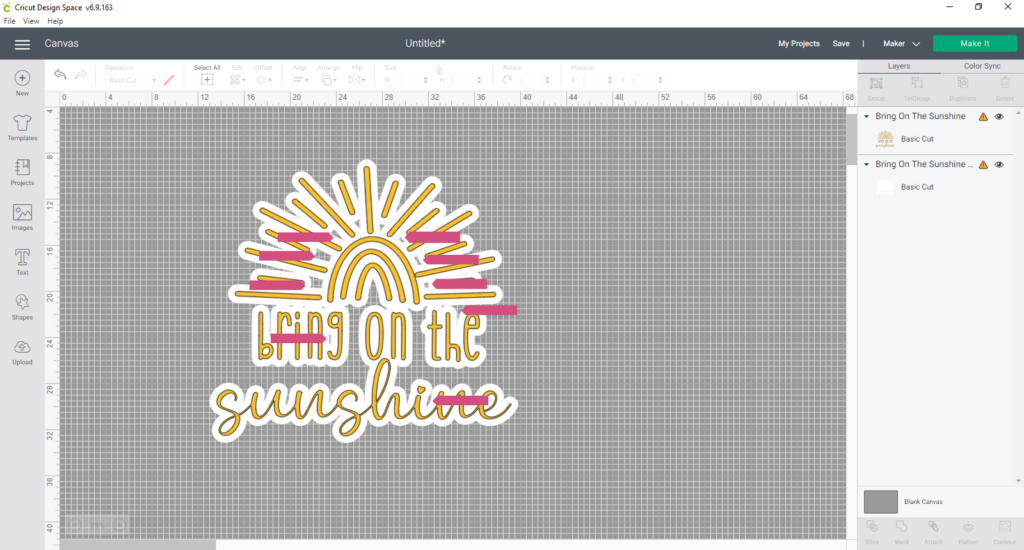 For this offset design, we're using the cut file Bring on the Sunshine from here on Makers Gonna Learn. You may find with some designs that there are "holes" left in it that aren't covered by the offset. You can leave those if you'd like (but remember that this will create some intricate areas in need of weeding) or you can fix this in one of three ways.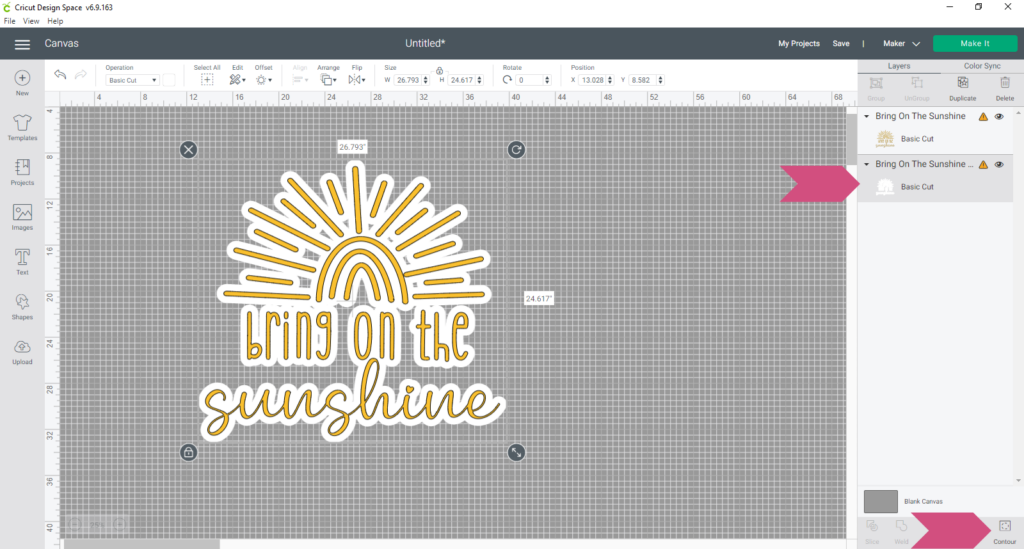 Using contour
Select only the offset layer and click Contour.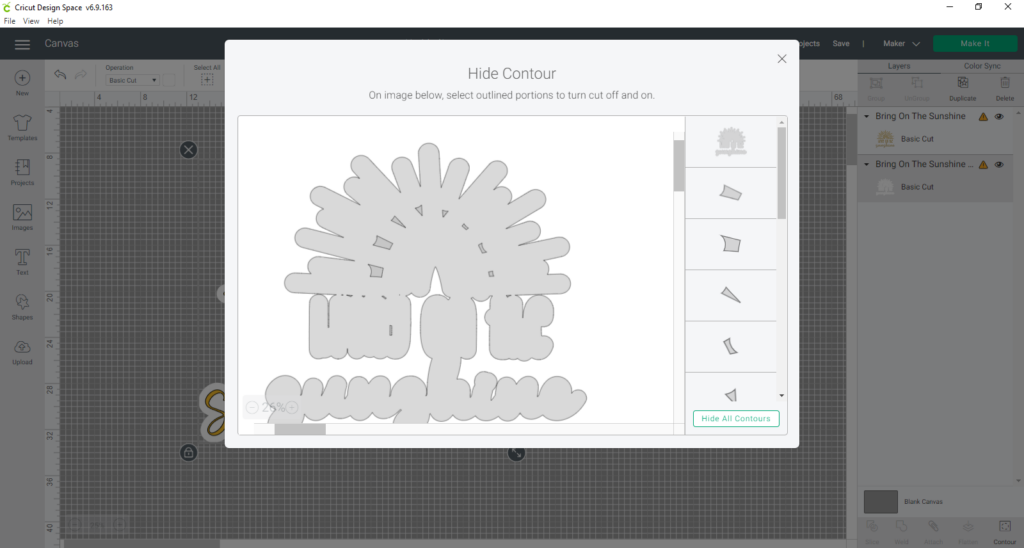 Click on the parts of the design that you want to remove.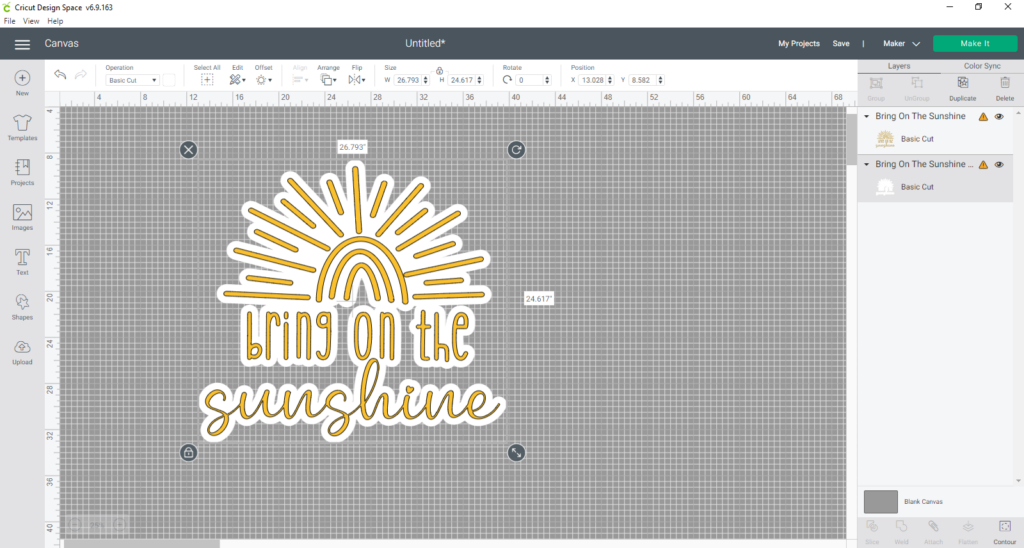 Those tiny little cut-outs have been eliminated. Note: You may want to fill in the entire background, not just the little holes. Check out the next two methods for other ways of dealing with this.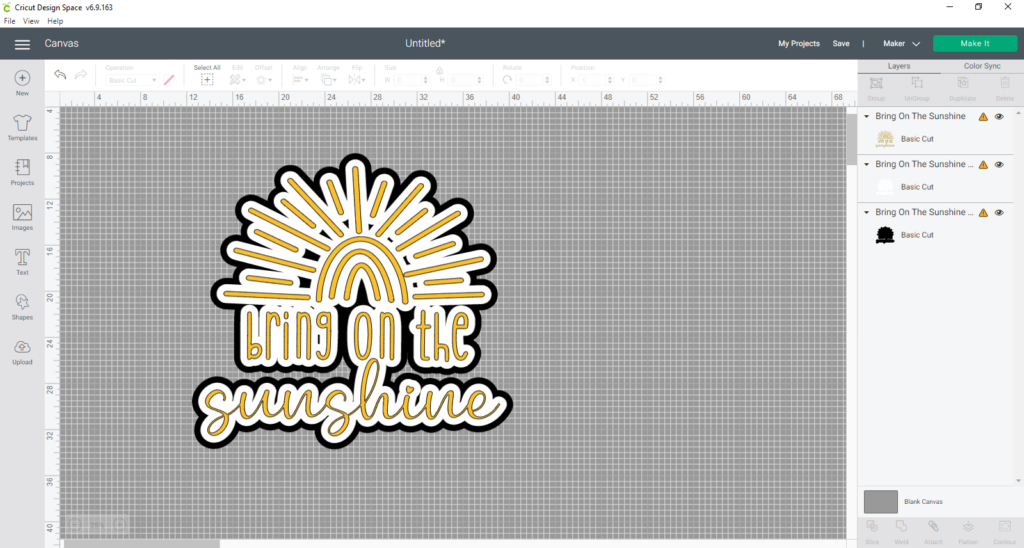 Using offset for a second time.
If you'd like to use Offset a second time, this will also sometimes get rid of and cover all of those open areas in the design. Again, the little openings have been closed, but there are still some larger areas left.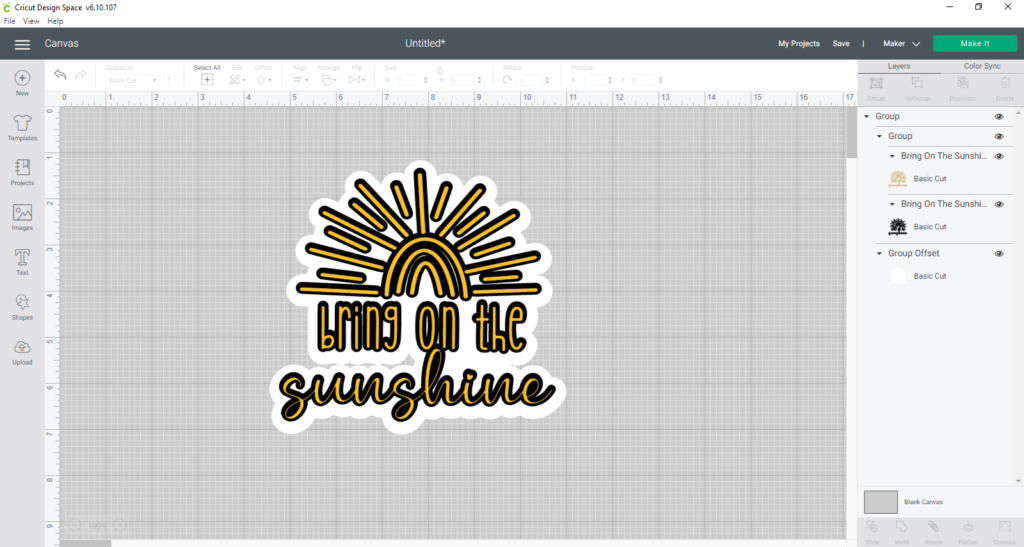 Using basic shapes to cover holes.
As you can see there are still a few areas on the left of this design that we'd like to close up. So, another way to do this is with basic shapes.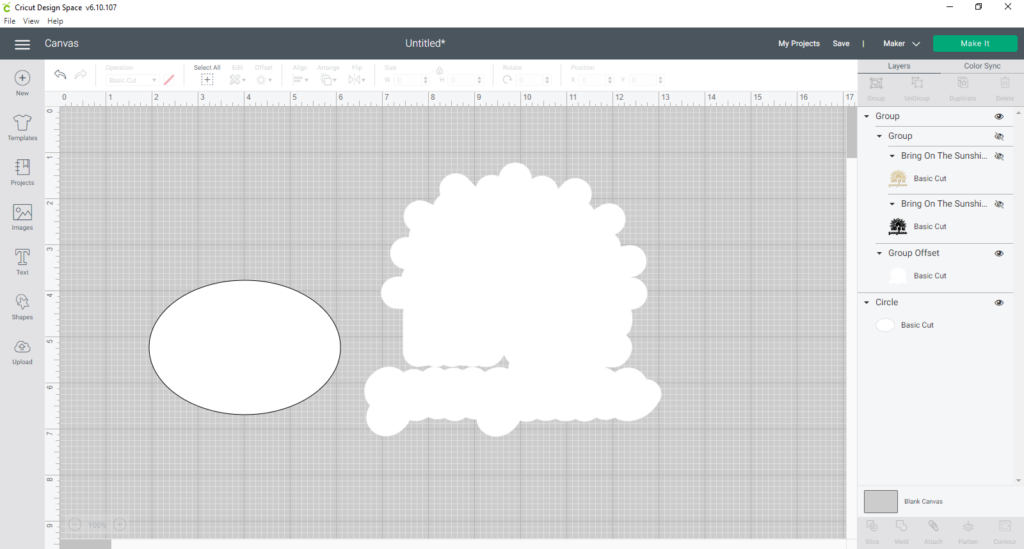 You can use any shape that will work well with your design. The idea is to cover up those areas that are still cutting out (and that you don't want to have cut out). An oval worked best with our design. Here, we've grouped the original file along with the first offset layer so you can see what it is we're trying to accomplish here a little better.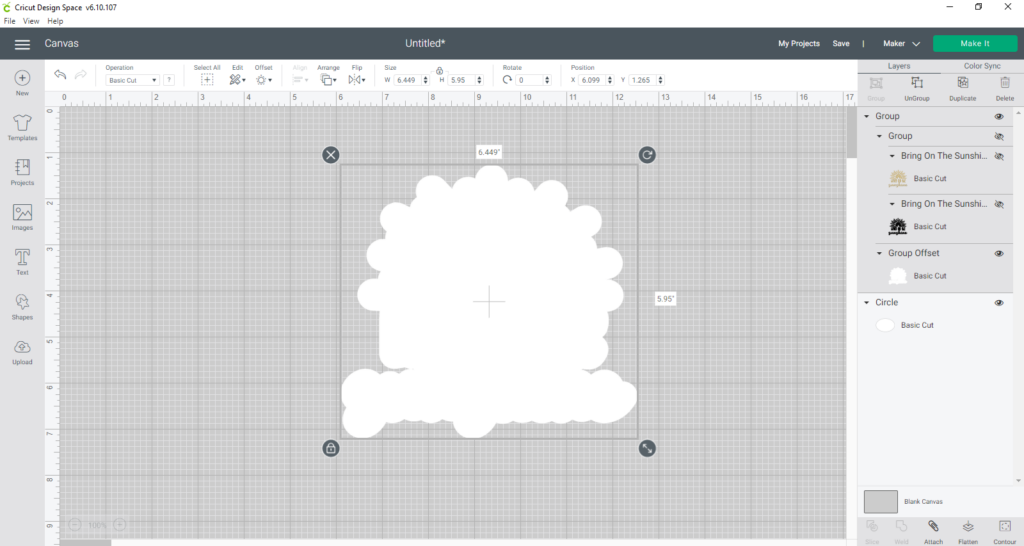 We changed the color of the shape to match the offset color so they will end up blending in. Then, we used Arrange to send the oval to the back, behind the offset layer. Now those cut out areas have been filled in the by the oval.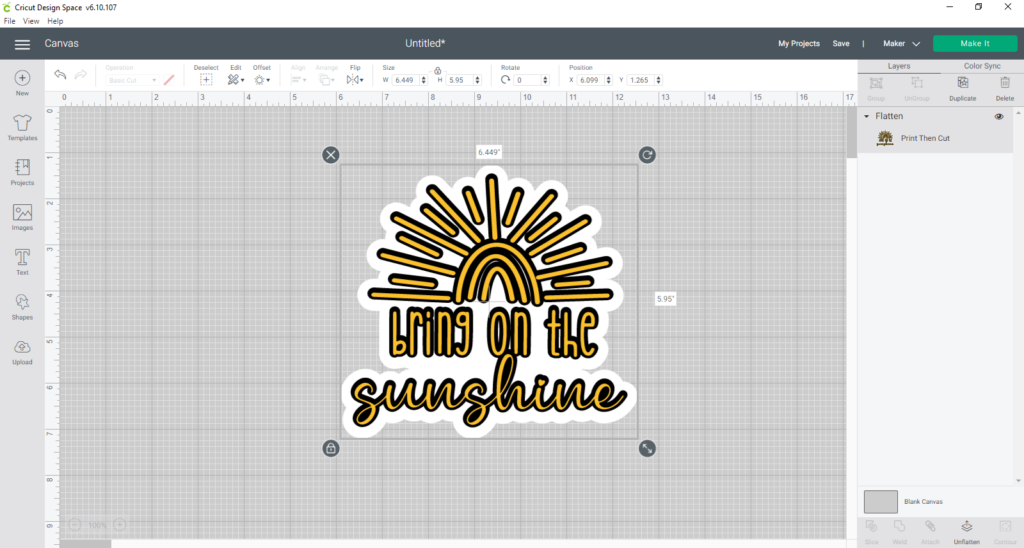 Then, we selected our whole design and chose Flatten to turn it into a Print then Cut sticker.
Another example using a shape to cover the holes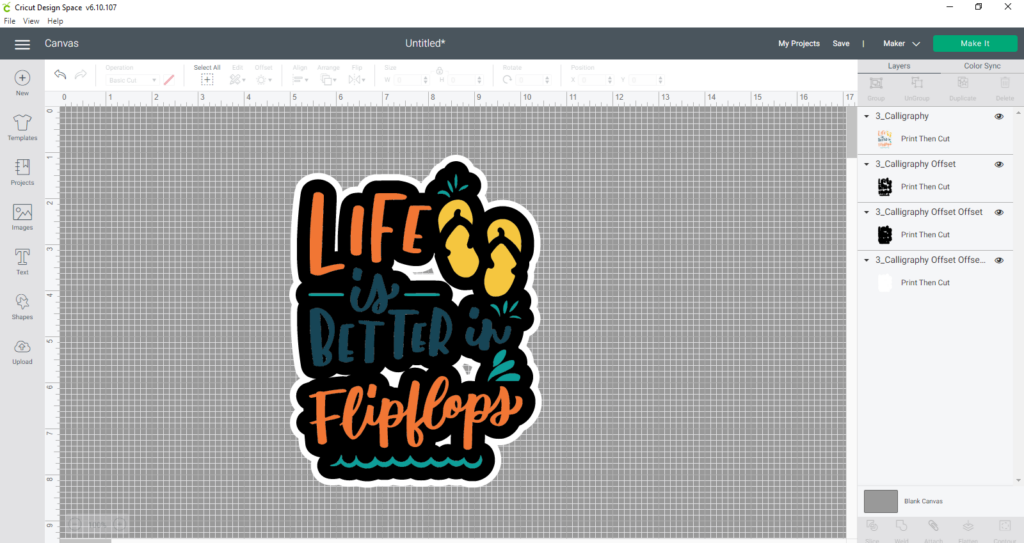 For this one, we were able to use a square to cover up the openings. Here we're using the file Life is Better in Flipflops from here on Makers Gonna Learn.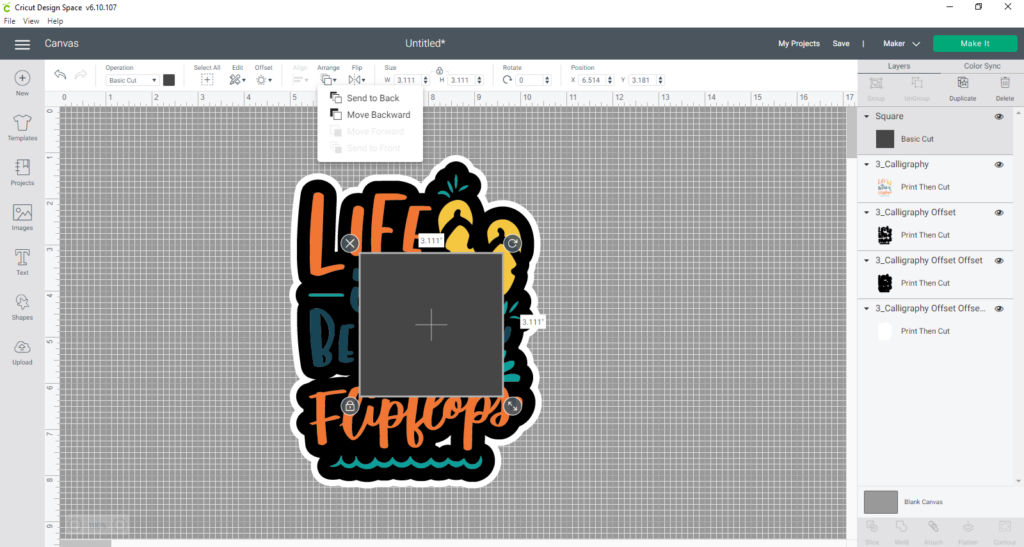 Send it to the back and change the color.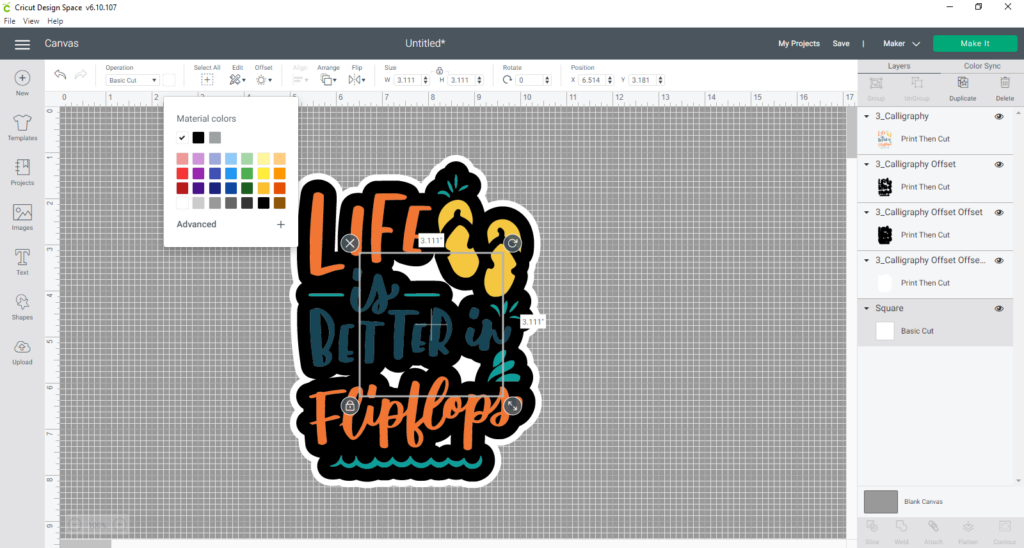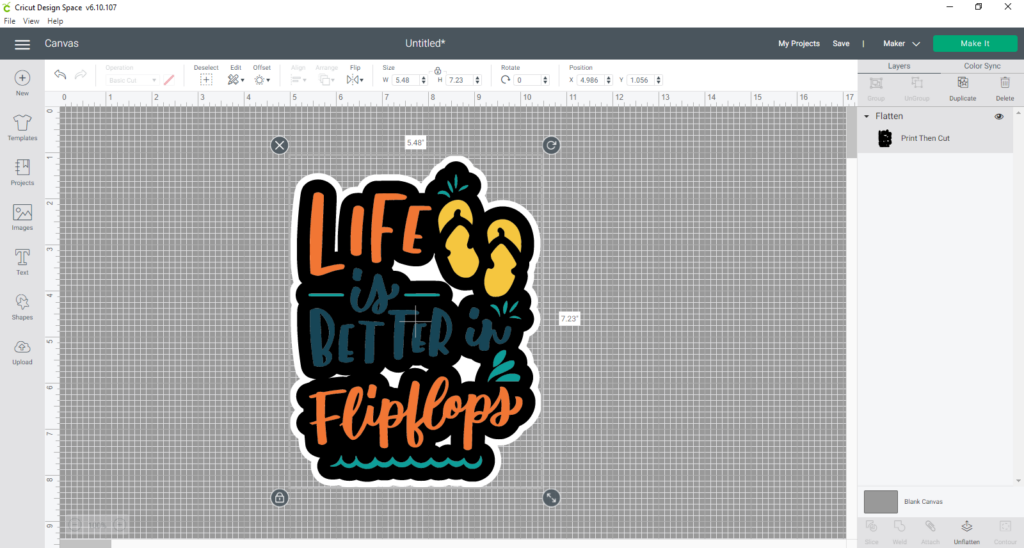 Finally, we selected all layers and chose Flatten to turn it into a Print then Cut sticker.
How to create an inset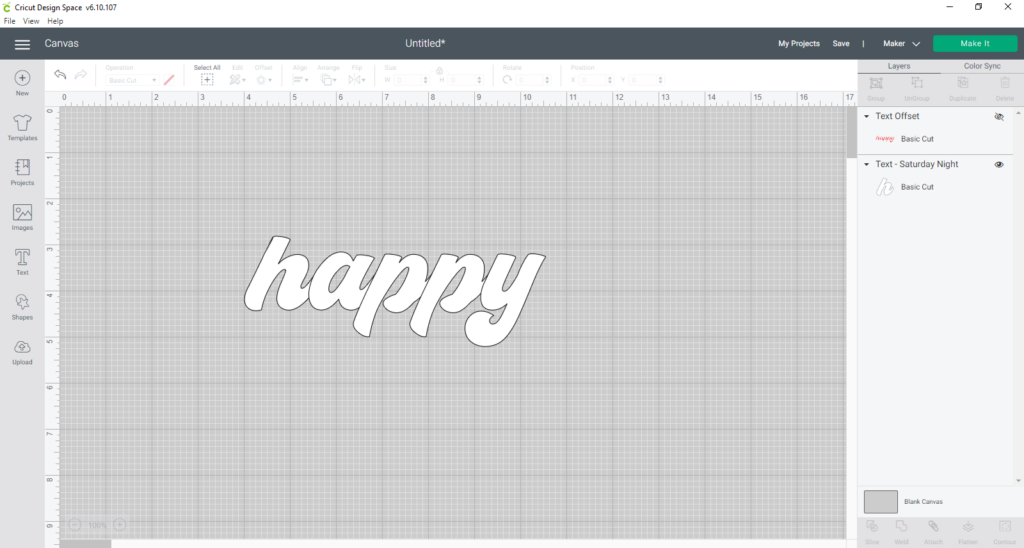 You can also create an "inset" instead of an offset by moving the slider to the left instead of the right.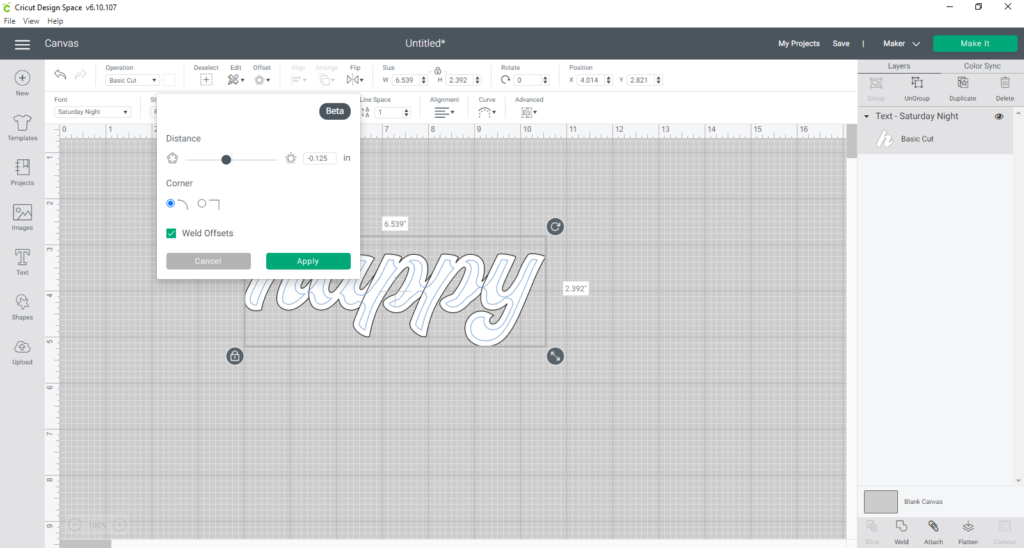 This doesn't work well for everything, but can be an interesting effect for some chunky fonts like Saturday Night from Makers Gonna Learn.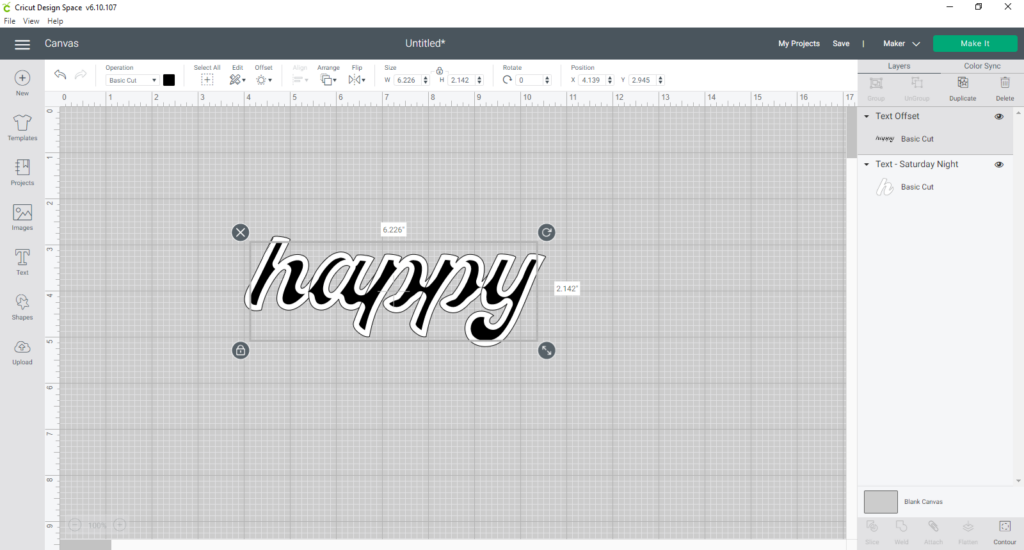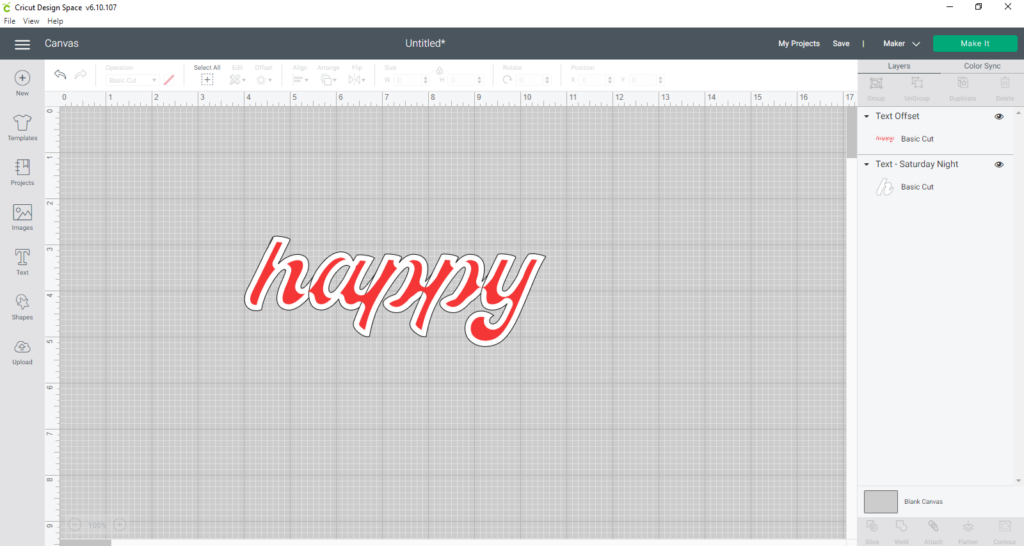 You can also use inset with basic shapes to create a border-like effect.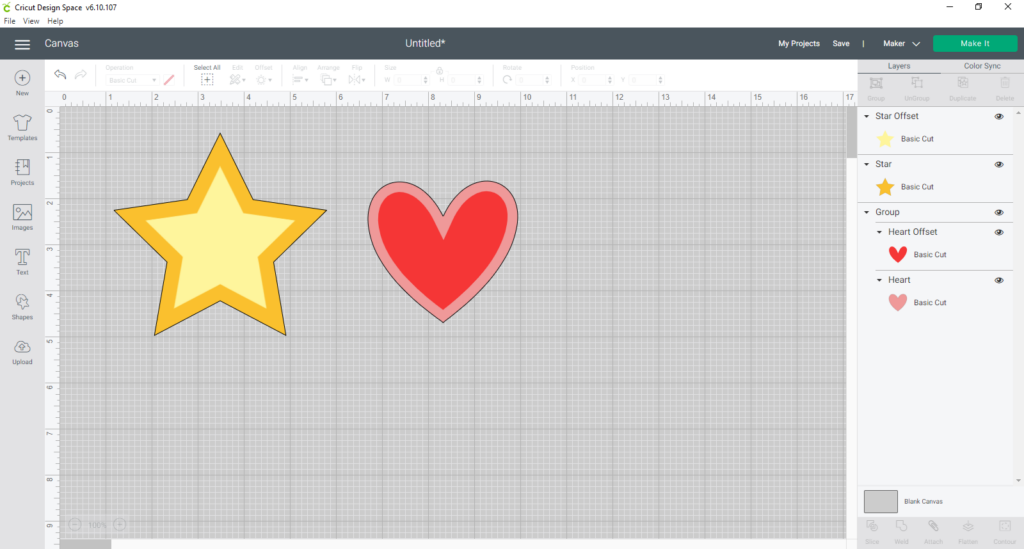 And you'll find that with some cut files that are basic designs without a lot of intricate details, you'll be able to use inset as well as you can see below. This is part of our Tropical Flowers file here on Makers Gonna Learn.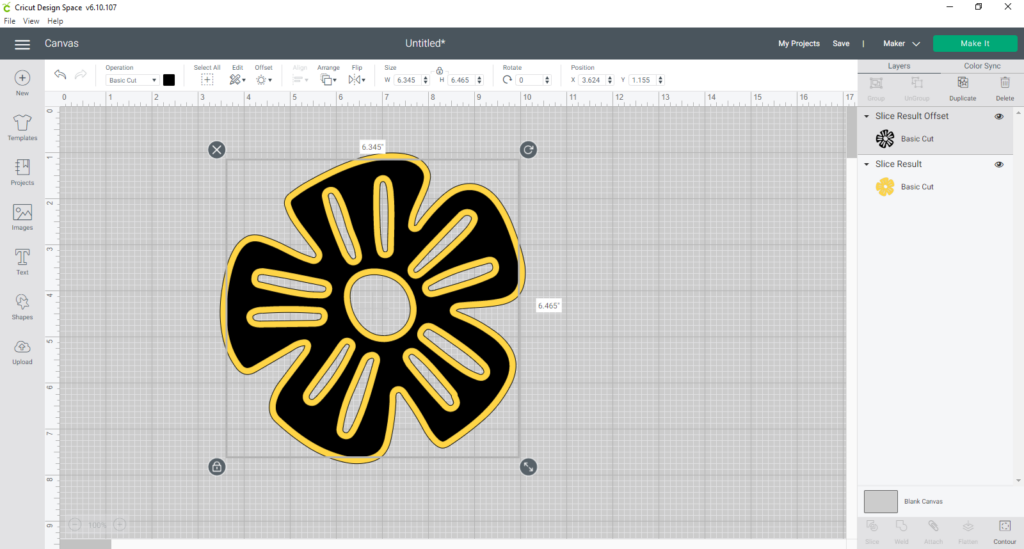 As you can see, there are so many fun ways to use the new Cricut offset tool. We can't wait to see your designs. Tag us on social media with hashtag #MakersGonnaLearn!