Planning a fun get-together for Memorial Day or July 4th? Make these cute patriotic party favors and surprise your guests (kiddos will especially appreciate the gesture) with a cute holiday-themed necklace or other wearable patriotic doodads for them to sport and express their patriotism throughout the day.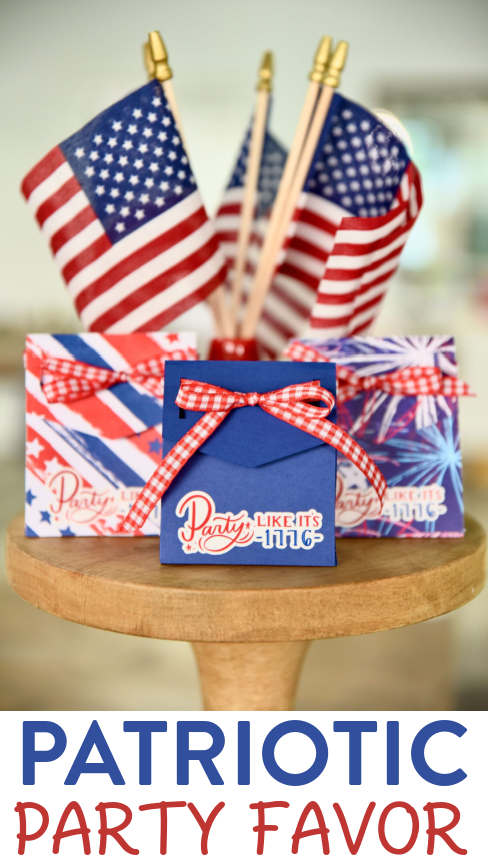 Patriotic Party Favors
Disclosure: Some of the links below are affiliate links provided for your convenience. This means, at no additional cost to you, we will earn a commission if you click through and make a purchase.
Cut Files Used:
Supply Links: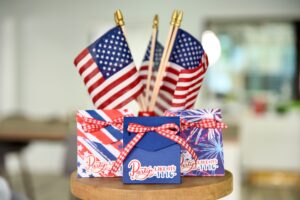 Step-by-step Instructions:
Import cut files into design space. Size 3d bag to fit the cardstock you're using.
Using the slice and duplicate actions, manipulate the "party like it's 1776" cut file from a portrait layout to a landscape layout. Edit the colors of the layers
Create a white offset of the new cut file layout and send it to the back of the design.
Select the cut file and offset layers and flatten them to create a print then cut image
Size the flattened image to fit on the front of the folding treat bag
Click "make it" and follow the prompts for your printer and design space
Once cuts are complete, use a bone folder to crease score lines
Assemble folding treat bag with double-sided dry adhesive (ATG gun)
Lace ribbon through the back of the treat bag and then into the flap at the front. Tie a bow with the ribbon
Place print then cut sticker on the front of the treat bag in the desired location