Have you jumped on the sublimation bandwagon yet? We are just loving this trend! We've been doing sublimation for a few years but now that it has become the big trend of the moment, we are trying it out even more. Today, we're going to show you how to sublimate on wood.
You won't believe how easy this is! The wood takes the ink really well and you get fantastic results. Follow along with our craft tutorial and get ready to make your own wooden sublimation projects.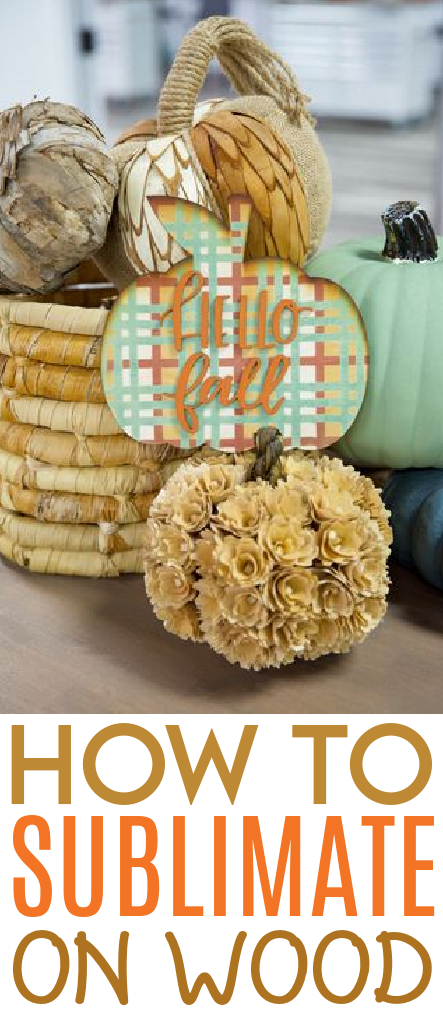 How to Sublimate on Wood
Cut Files and Fonts Used:
Supplies needed:
Cricut Maker
Knife Blade
Cricut Basswood
StrongGrip Cutting Mat
Sublimation Printer with Sublimation Ink in it
Sublimation Paper
Reverse Tweezers
DecoArt Paint – Burnt Sienna
Paintbrush
Cricut EasyPress
Glue – We used Gorilla Wood Glue.
What if I Don't Have a Cricut Maker?
We're using a Cricut Maker for this project because we are cutting Basswood. This requires the Knife Blade. If you want to make a similar project with a Cricut Explore, you would need to use one of the Cricut Wood Veneer products and the Deep Cut Blade.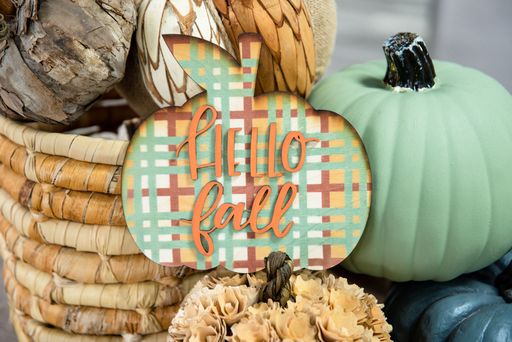 Is This a Good Project to Sell?
It's important to set expectations when working with materials like wood and your Cricut. The cost of the Basswood is a bit high for the amount you get. To make a project here and there, this isn't necessarily an issue, but this wouldn't be very practical for a craft project that you want to sell it.
In addition, remember that the Knife Blade does take quite some time to cut, meaning that your Cricut machine will be busy for longer than most vinyl projects, for example. This is time you could use for making other projects. Finally, we find that the Knife Blade isn't as accurate in its cuts as other blades such as the Fine Point Blade. Bear this in mind and give yourself some extra time to make projects out of wood.
Pro tip: You must use a laptop or desktop computer and connect to your Cricut machine with the USB cord when working with the Knife Blade.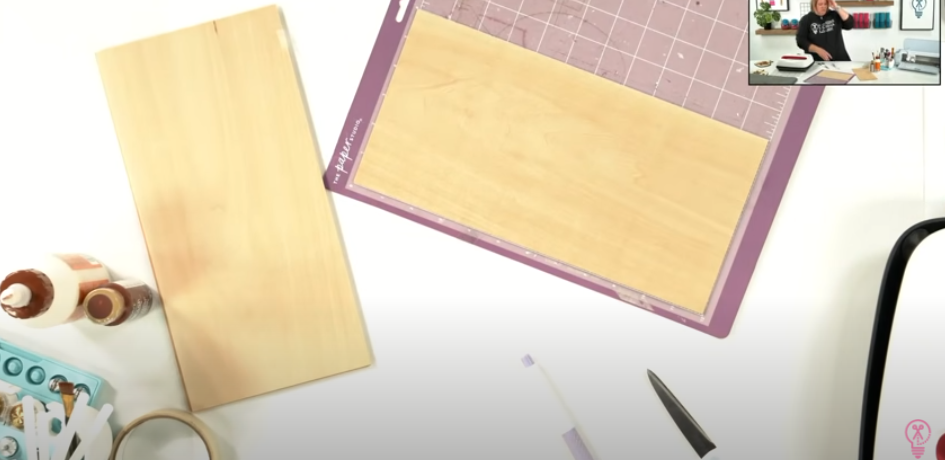 Preparing and Cutting the Wood
Place the wood on your mat. Use a brayer to help it adhere to the mat really well.
Tape down around the edges with masking tape. This is really important. Wood is a material that is prone to moving around, even on the StrongGrip mat, and this just adds a little extra security.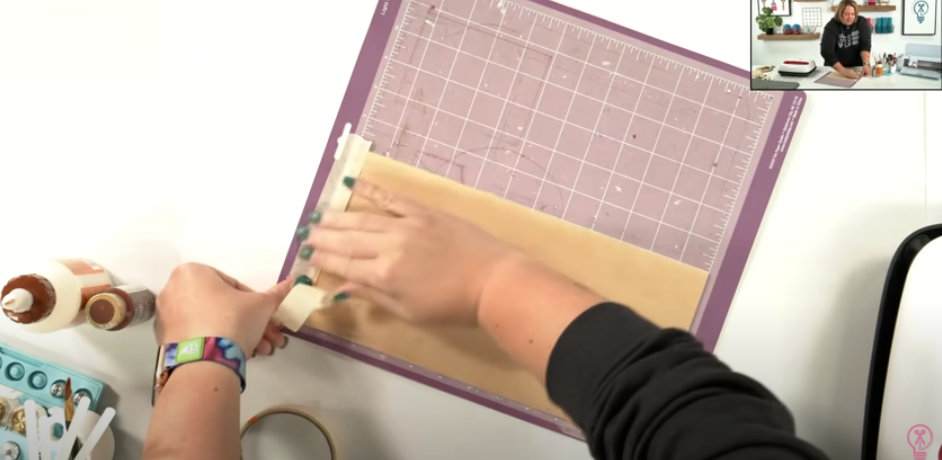 Pro tip: We like to place our design so that it doesn't cut right at the edge where the tape is. We have never had an issue with it – it cuts right through the tape just fine – but just to ensure that there are no problems, we move our design over a bit.
We decided to start cutting the wooden part of the design first since it takes quite a while. Then, we can go back and work on the rest of the design while it's cutting.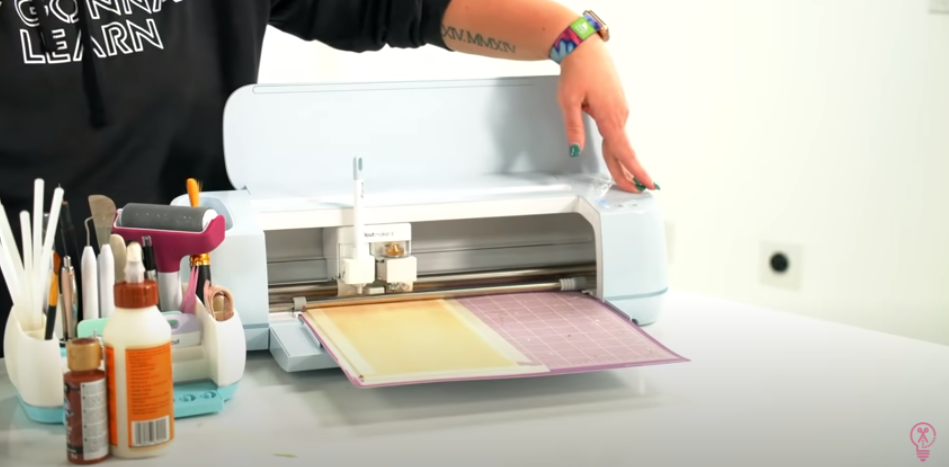 Click Make It and select the mat for your wooden design. Connect to your Cricut machine and click Continue. Select your materials and start cutting.
Pro tip: If you want to start cutting the wood, but then go back to Design Space to work on the rest of your project, you can click on File, New Window. You can work in that new window while the other window has your design for the wood cutting.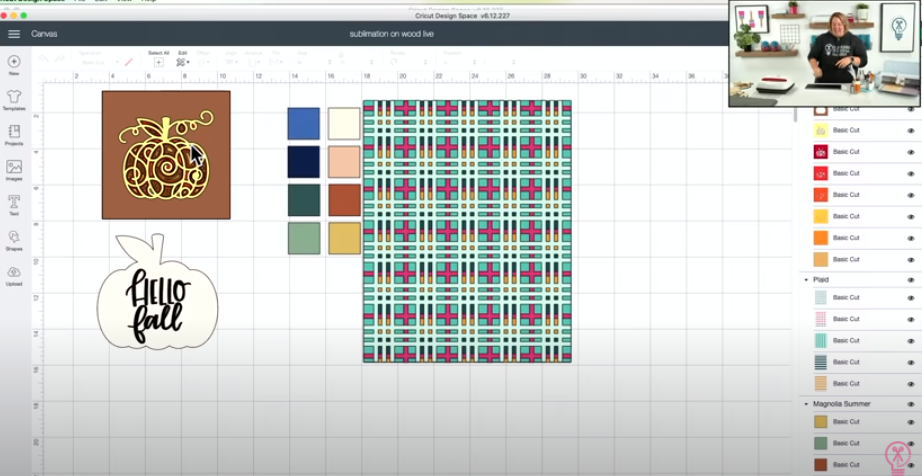 Working in Design Space
When working on sublimation craft projects, there are times when we prefer to use Illustrator. Since you'll be creating a Print then Cut design with sublimation, you are restricted to certain sizes in Design Space. Today, we're working within those restrictions, we can stick with Cricut Design Space, but it's something to bear in mind.
We are using several different files for this project. For the pumpkin shape, we manipulated the pumpkin mandala cut file. Since we're using only the top layer of this file, you can delete the rest of it.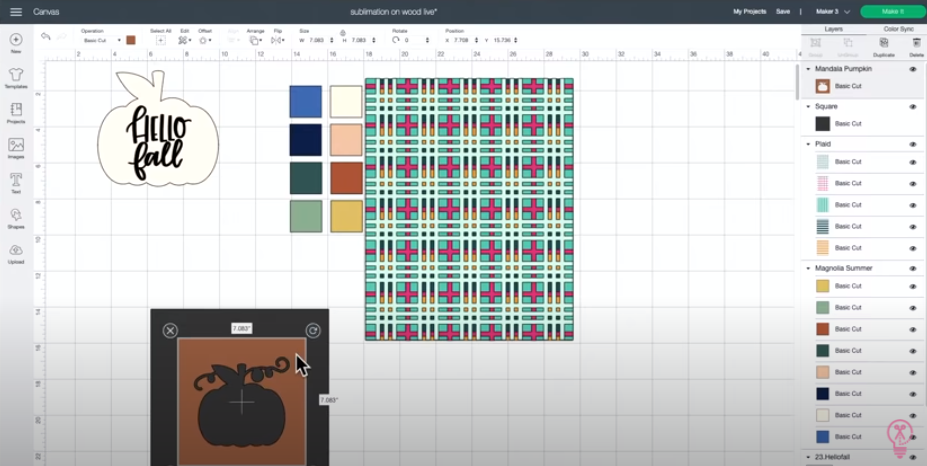 Grab a square from the Basic Shapes menu. Place the pumpkin outline on it and Send to Front.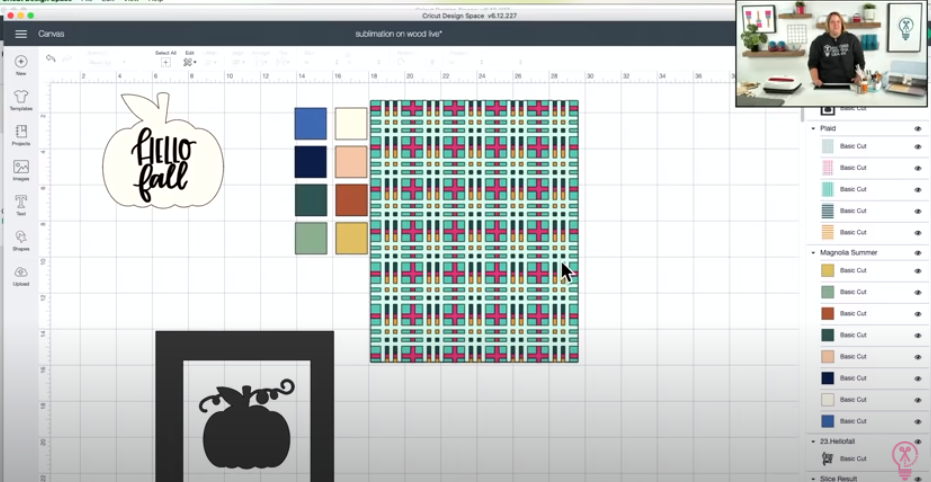 Select both the pumpkin and the square. Choose Slice at the bottom of the Layers Panel. Delete the layers that you don't need.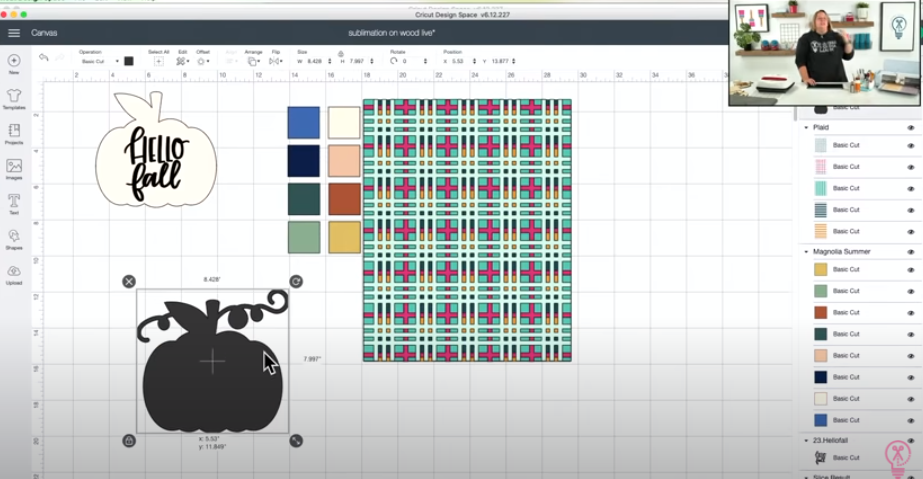 We used the same technique to slice away the curli-cues at the top of the pumpkin leaves. You can keep them if you prefer. We used a square on each one, turning and angling it as needed.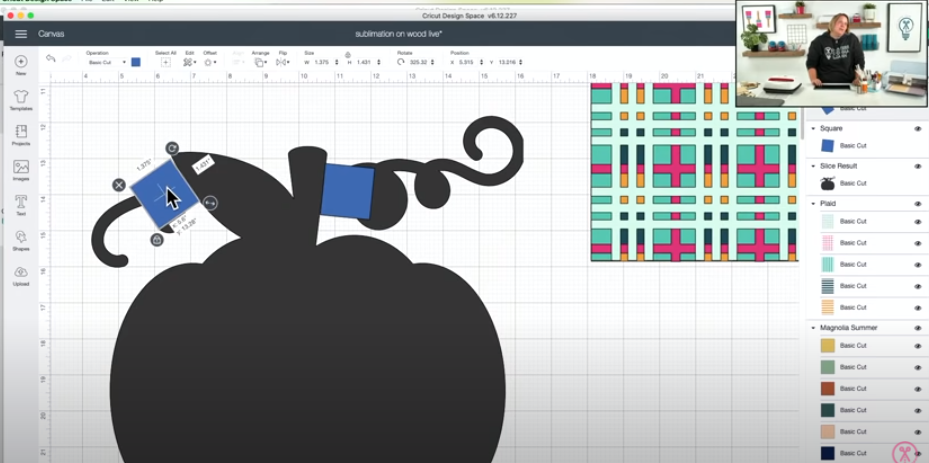 Weld the two squares together (to make them one layer). Select that layer as well as the pumpkin layer and choose Slice.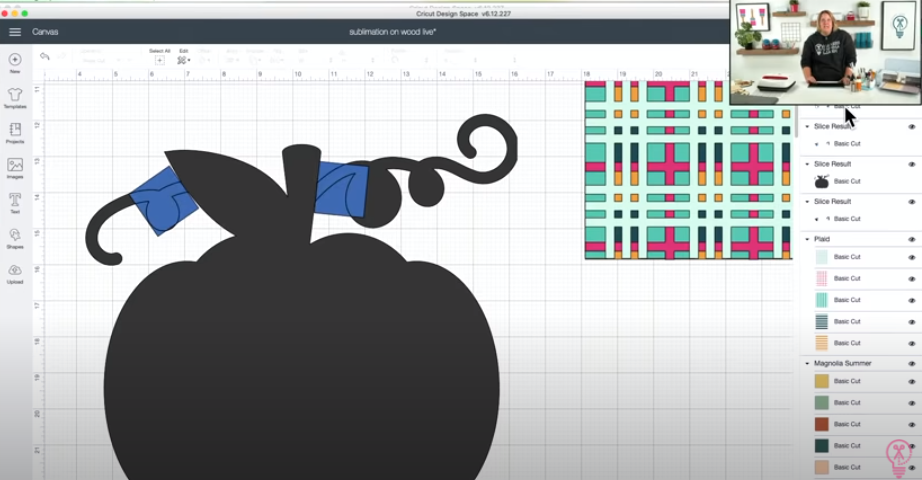 Delete the unnecessary slice results.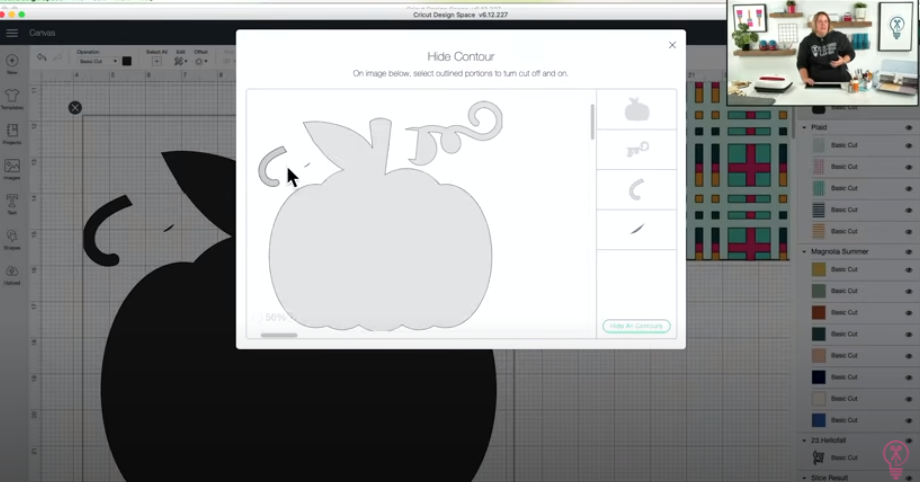 Select the remaining cut file and choose Contour. Now, you can contour away the last bits of the pumpkin's tendrils. Size the pumpkin as desired and size the Hello Fall cut file to fit on the pumpkin.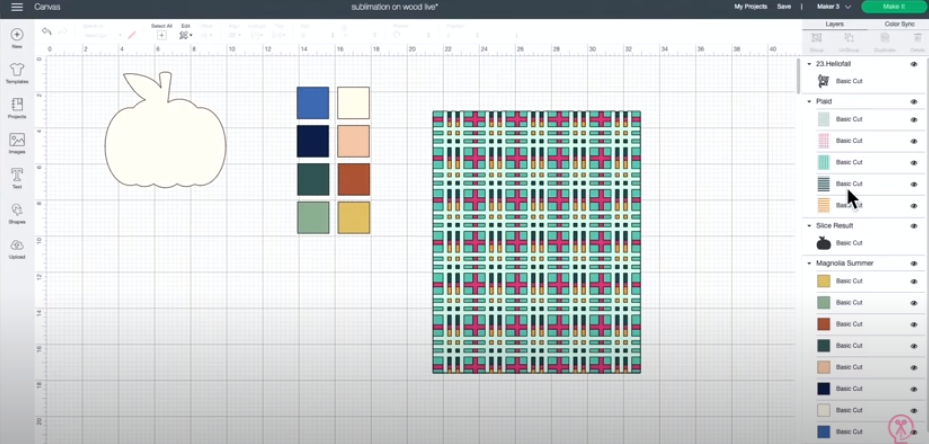 Next, you can manipulate the plaid pattern. You can pull in a color palette if you'd like and change the colors. You can even delete parts of the pattern if you find it too busy.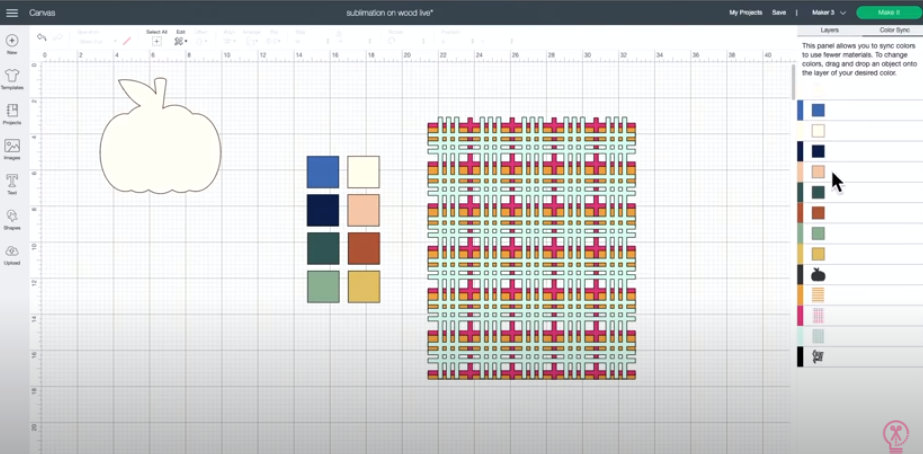 Use Color Sync next to the Layers Panel to drag and drop and change the colors in the pattern as you'd like. Select all the layers in the pladi pattern and choose Flatten. Your plaid pattern will change from multiple layers to one.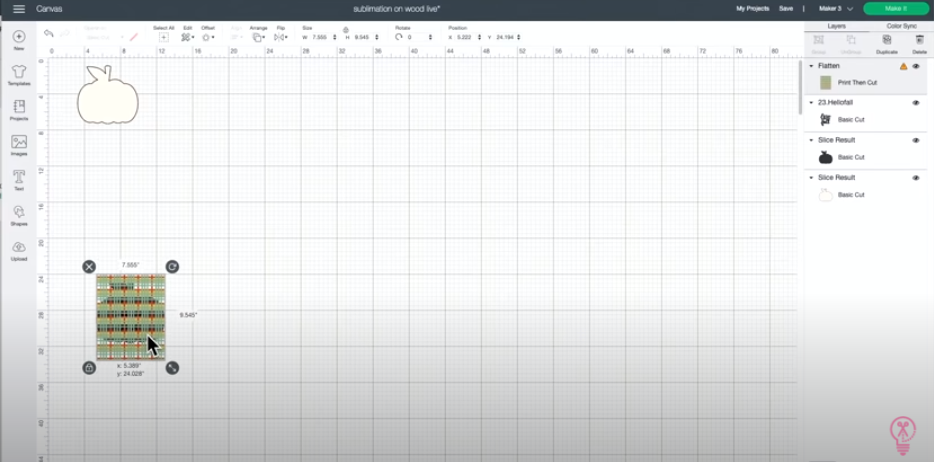 Size the plaid pattern to fit the pumpkin.
Cutting and Printing Your Project
Press Make It to send your project to the cutting mats and cut them out. The words and the pumpkin will be cut from wood. The plaid pattern is a Print then Cut design so it will be printed on your sublimation printer. We don't need to cut it out so we'll be skipping that step.
Pro tip: With sublimation, if it's words or an image where direction matters, you would need to mirror your image.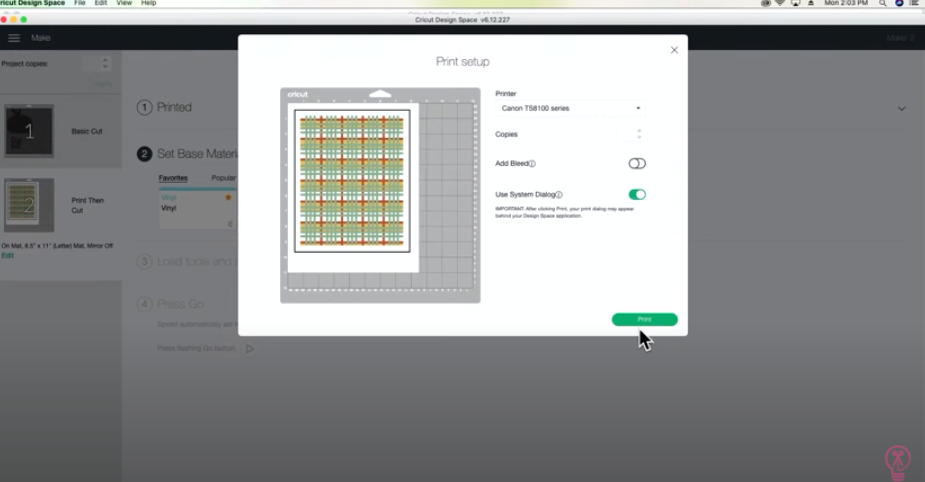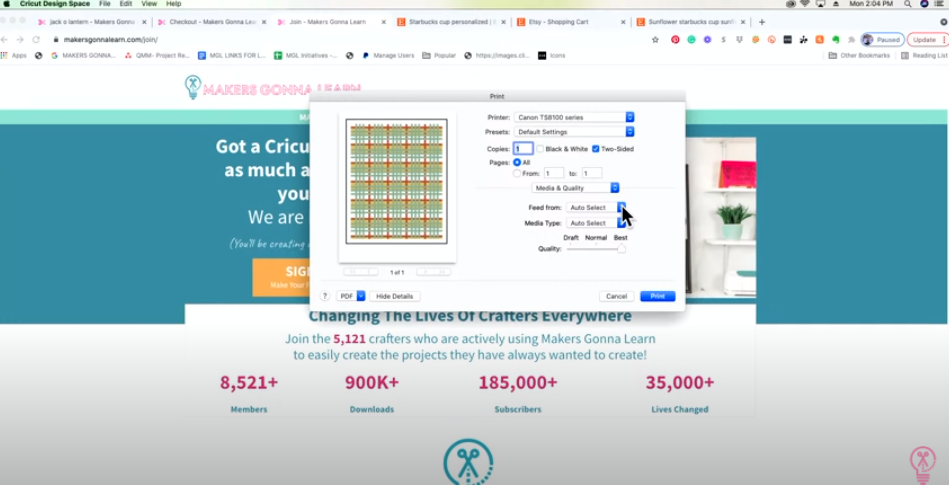 Since we have plenty of space in the plaid pattern around the pumpkin, we don't need to turn Bleed on, but with Print then Cut projects, we always like to turn on the System Dialog so we can go in and increase the print quality.
Assembling Your Craft Project
Paint the letters in whatever color you'd like. We used DecoArt Burnt Sienna.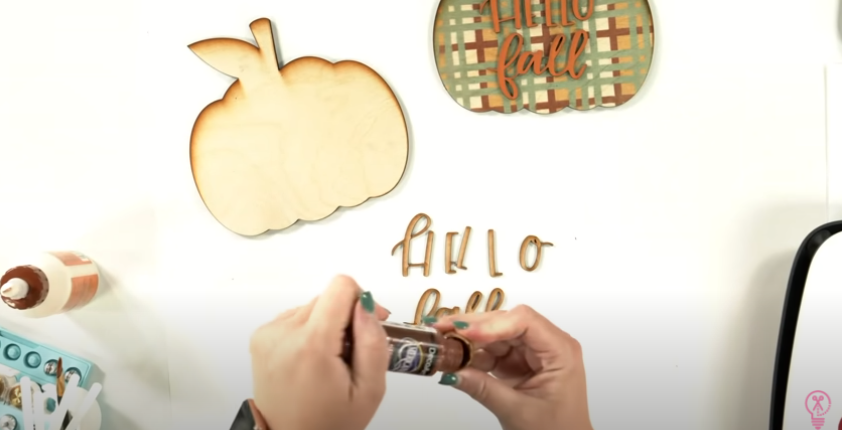 Place the printed plaid pattern wrong side up on the wooden pumpkin. Place the Cricut EasyPress on it to heat. We use a setting of 400 degrees for 50 seconds.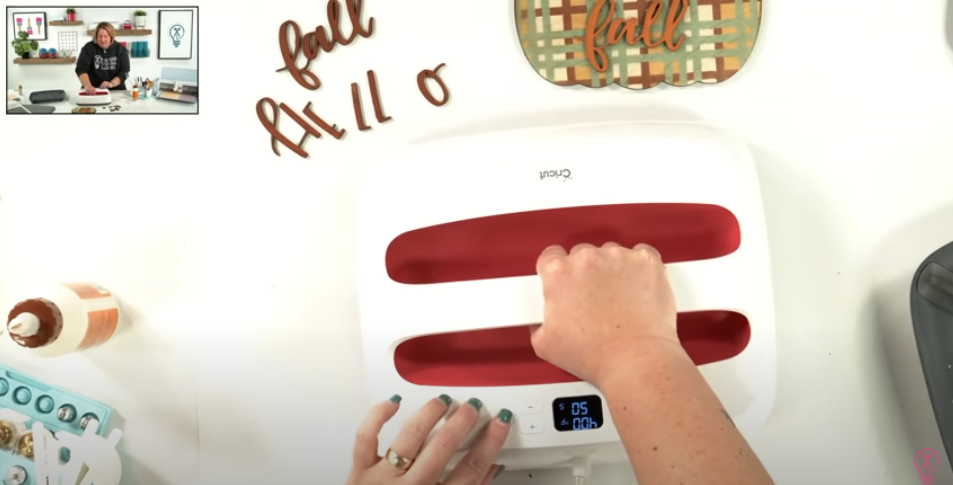 Pro tip: We placed a piece of poster board under our project to ensure that if any of the ink went beyond the edges of the pumpkin, it wouldn't stain our work surface.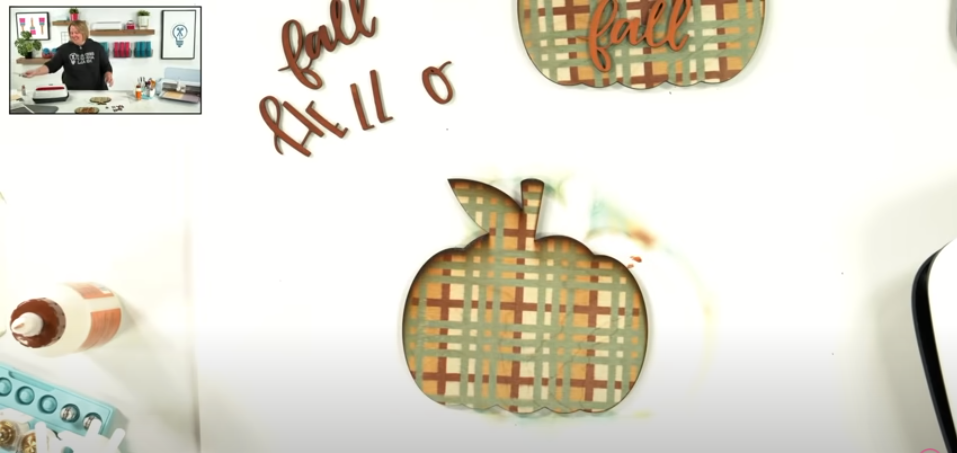 We used the reverse tweezers to place the letters on the pumpkin. It really helps us to position them perfectly!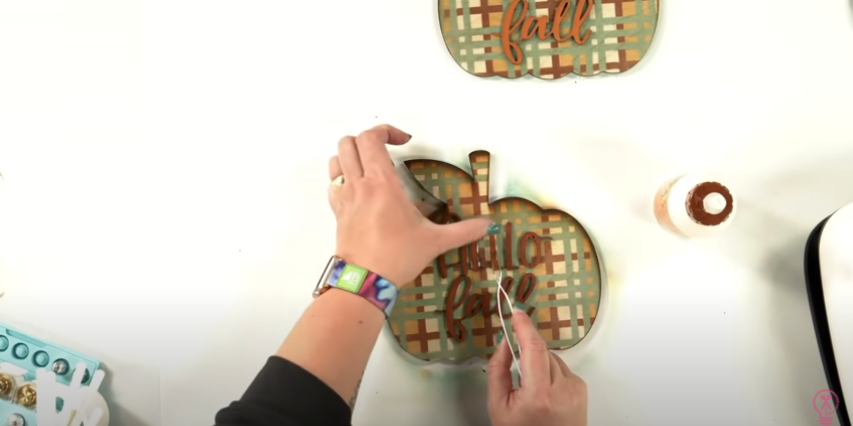 Isn't it beautiful? We just love how this turned out. Share yours with us on social media using hashtag #MakersGonnaLearn.