Sometimes we love finding alternatives to using HTV on fabric projects, and this lunch bag is a fantastic project for getting your feet wet in the screen print world! We used scrap vinyl to create a stencil for our tote and use screen print ink to create an adorable and long-lasting text on this lunch bag!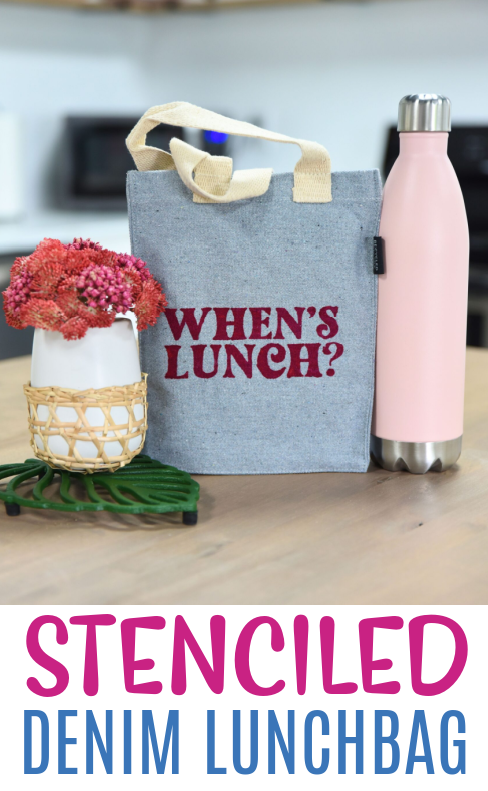 Stenciled Denim Lunchbag
Disclosure: Some of the links below are affiliate links provided for your convenience. This means, at no additional cost to you, we will earn a commission if you click through and make a purchase.
Font Used:
Supply Links: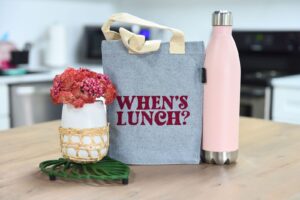 Step-by-step Instructions:
Measure the area on your tote where you want the graphic
Using basic shapes in the design space, add a basic shape that is sized to represent your tote
Insert a text box. Select the MGL's "Conscience" font and type the text "WHEN'S LUNCH?"
Place text on top of basic shape and size text to fit
Weld text so that it is one layer
To create a stencil, select the basic shape and welded text layers (2 layers total) and press slice
Delete yielded slice results that you do not need
Press make it
Choose a premium vinyl setting, load mad with vinyl, load mat into the die-cut machine and let Cricut cut
Unload mat and weed vinyl
Apply transfer tape to vinyl, and use a squeegee tool to burnish
Remove the mat from the vinyl and burnish vinyl from the back
Remove backing and place vinyl on the tote
Burnish vinyl (may also want to use fingers for this to make sure stencil has adhered well to tote)
Remove transfer tape
Use a paintbrush to apply screen print ink to the tote. Use up and down motions so that the ink does not move the stencil. Use small amounts of ink so that excess ink does not seep underneath the stencil
Once you are happy with ink coverage, remove the vinyl stencil
Allow screen print ink to dry 24 hours (or at least overnight)
Place butcher paper over screen print ink and heat set with the large easy press. (Make sure to protect whatever surface you're working on by placing a large easy press mat underneath your tote)