The Perfect Glitter Tumbler
I love making DIY tumblers! I went through a lot of trial and error to make sure I had The Perfect Glitter Tumbler Tutorial. It was a fun journey and I'm happy to share the tutorial with you all! You'll want to make glitter tumblers for yourself and for all your friends. They make a fantastic gift.
Be sure to check out our tutorial on how to build a tumbler turner too! It is so helpful when making these super cute tumblers.
Short on time? Check out this easy 15 minute Glitter Tumbler!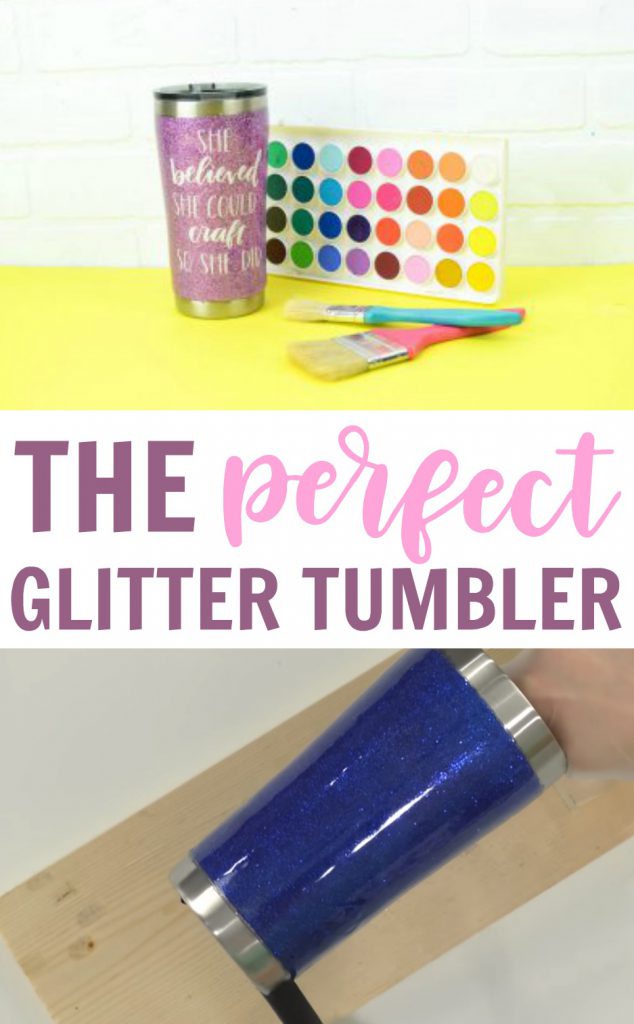 The Perfect Glitter Tumbler
Glitter tumblers are often one of the first things people want to make when they get their die cutting machines. They can seem really intimidating – especially for beginners. We certainly had our share of fails before we found the perfect glitter tumbler process.
So, don't feel bad if you've tried making one and had difficulties! It's a tricky one for all of us – even the most seasoned Cricut crafter. Now that we've perfected the process, we want to share it with you so you can have Cricut crafting success.

Materials
Stainless Steel Tumblers
Rubbing Alcohol
Paper Towels
Electrical Tape
Protective Gloves
Small Plastic Cups
Tumbler Turner (Automatic)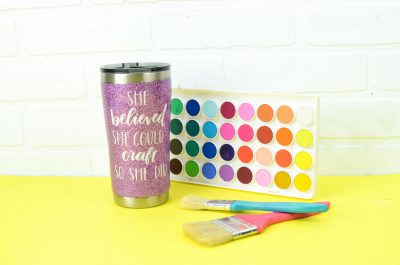 How to Make This Project
Take off the lid and remove the label from your cup. Wipe it down with alcohol to clean it.
Use electrical tape and wrap it around the top and bottom rim of the cup. Leave an inch of extra tape to fold under and make a little tail. That will make it easier to remove later.
In a well-ventilated area, glove one hand and place your hand in the cup. Apply a coat of spray adhesive evenly all around your cup.
Moving quickly before the adhesive dries, hold the cup over poster board and sprinkle your chosen fine glitter to cover the cup evenly. You can use the poster board to easily transfer the excess glitter back into your container.
Allow the cup to dry for 30 minutes and then repeat the process adding a second coat of spray adhesive and glitter.
Once the cup has dried for about an hour, go back to your well-ventilated area and spray the whole thing with a nice even coat of polyurethane.
Allow the cup to dry for at least an hour.
Once dry, remove the electrical tape and reapply it a tiny bit higher than you did before. We want the resin to create a nice seal around your glitter and reapplying the tape to allow room for the epoxy to seal is the way to go. Be sure to leave that extra bit of tape to make your little tail again.
Depending on the size of your tumbler, measure and pour 15-20 ml's of each part of the resin separately in your small plastic cups. Mix them separately with jumbo craft sticks for around 2 minutes then pour them together and mix for at least 3 minutes.
Put on gloves, stick your tumbler onto your turner, and start applying your resin. As your cup is turning, use your fingers to scoop and apply the resin to the cup, smoothing everything out with your fingers. If there's too much resin, you can use your finger to remove the excess. Allow the cup to turn on the turner.
After 30 minutes, carefully remove the electrical tape from your cup as it turns.
If you notice any resin on the rim where you don't want it, you can apply some alcohol to a paper towel and remove it easily.
Let your cup turn and dry for at least 5 hours, preferably 8.
After that, now is the time to apply any decals or monograms you want. No need to sand when using fine glitter!
Once you've added your decal, wipe the tumbler down with alcohol again and then retape your edges with electrical tape in the same spot you had it last time.
Repeat the process of mixing and applying resin onto your tumbler. You will end up using less resin this time than last time.
After 30 minutes take the tape off, remove any imperfections with alcohol, and allow it to spin for about 8 hours.
Now, set the tumbler somewhere safe and clean for 24 hours to fully cure.
Once it's cured, place the lid back on and enjoy!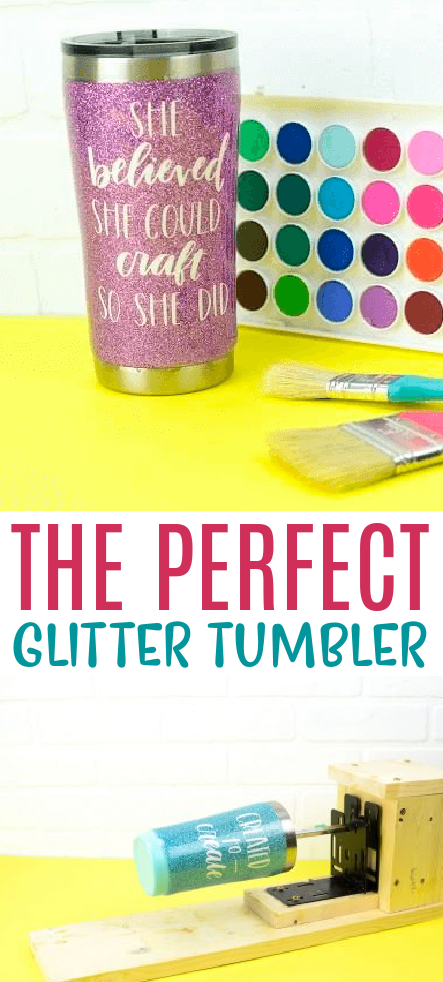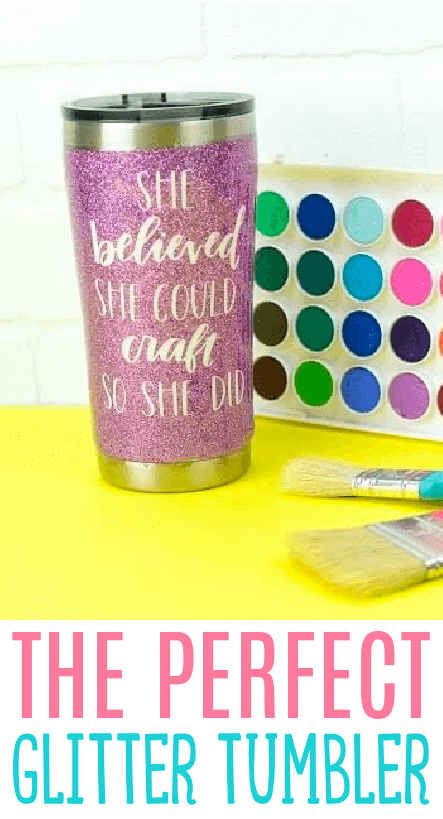 Be sure to check out this fun tumbler idea too: Make an etched stainless steel tumbler.
Tanner, Courtney, and the rest of the Makers Gonna Learn Team are all here because we love die-cutting and especially love sharing fun projects and tutorials with fellow makers. We are all great friends and are always having a blast when we are together- you will see this on camera, especially during live streams! We are here to inspire and support you in your crafting journey!