10 Things You Can Cut with Cricut that Will Amaze You
Have you been wondering about what materials you can cut with Cricut? Today we're going to share 10 Things You Can Cut with Your Cricut that Will Amaze You. These materials will help you stretch the possibilities of your machine and use it in as many ways as possible.
We're all about using the Cricut in as many different ways as possible, especially when it comes to using the Cricut Maker with the adaptive tool system. We want to get the most out of it and create as many beautiful craft projects as we can.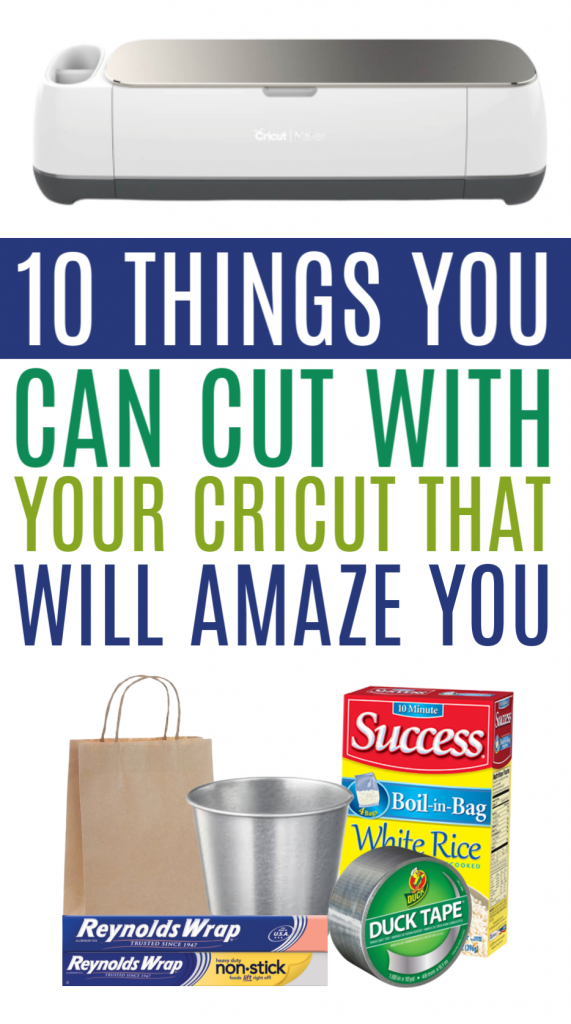 10 Things You Can Cut with Cricut that Will Amaze You
There are just so many amazing things you can cut and you know what that means. That means there are so many fantastic craft projects you can make! Read on and you will probably find some things you didn't know your Cricut could cut.
FREEZER PAPER
First is freezer paper. Cutting freezer paper in your Cricut is such a fun trick, especially if you're wanting to use fabric paint and create your own stencil using freezer paper. Make custom stencils and awesome projects with this fantastic technique!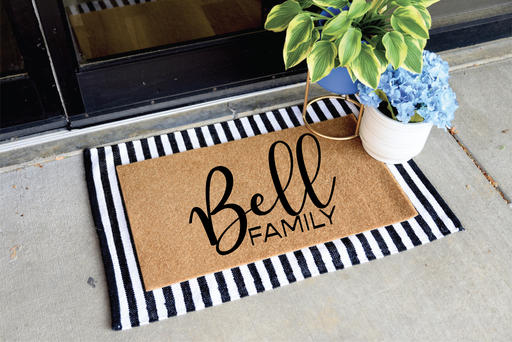 PAPER GROCERY BAGS
Next up, we have paper grocery bags. These cut beautifully in your Cricut! You can use these for so many DIY projects, repurposing projects, and even as a basic stencil. If you're trying to do some larger projects and just want to paint around it or maybe for some sidewalk chalk projects outside this summer, the possibilities are endless with these grocery bags.
STICKY NOTES
Have you ever thought about cutting some customized sticky notes? This is such a great idea for using with your planner! It's a nice lightweight paper and if you coordinate it well enough, you can even incorporate that automatic stickiness on the back of the sticky note. It's really awesome and really easy to use with your Cricut.

DUCT TAPE
Another thing you can cut with your Cricut is duct tape using the fine point blade or rotary blade. My personal preference is to use the rotary blade because it does such an amazing job of cutting the duck tape.
Pro tip: after you cut it, be sure to remove any of the sticky tape residue from your rotary blade or fine point blade.
PAINT CHIPS
I love repurposing different items to make crafts with and one of my favorites paint chips. Cutting paint chips is really easy with your Cricut! You probably have some leftover at home that you could get crafty with.
Pro tip: use the medium cardstock setting with extra pressure. It's a little bit thicker than a medium cardstock but it still should cut really well with that little bit of additional pressure.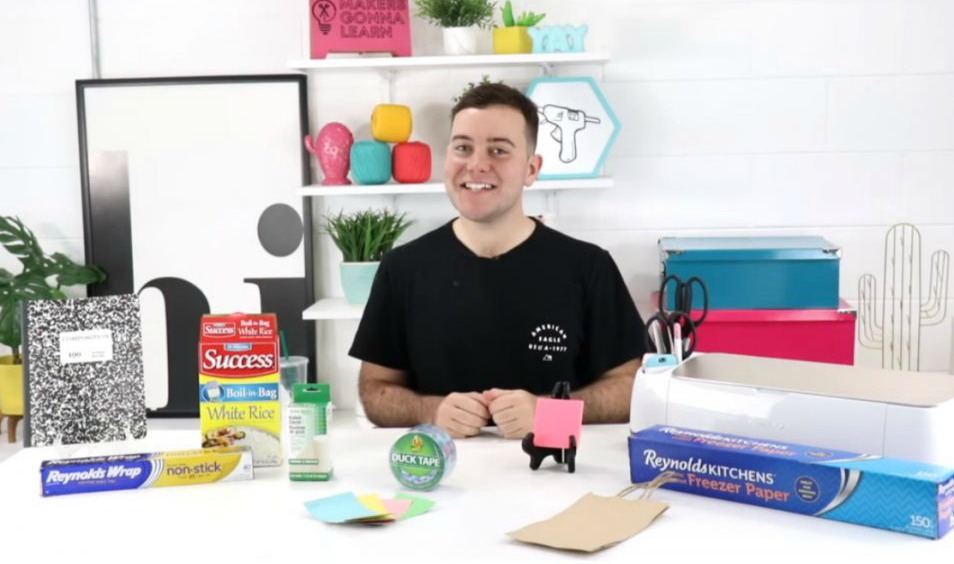 GAUZE
For this year's Halloween, if you need anything to do with gauze for your costumes or decorations, you are in luck. Yes! You can cut gauze with your Cricut machine.
Pro tip: We suggest using the Cricut Maker with the rotary blade and fabric grip mat to cut delicate materials like this. We've even seen people using their Cricut Maker and rotary blade to cut toilet paper!!
CARDBOARD BOXES
Who doesn't have leftover boxes? Whether it would be cereal or boxed rice or pasta, we love being able to repurpose this as additional chipboard. It's nice and thick.
If you guys are mixed-media artists or you're wanting to create your own planners, this is a great alternative to buying thin chipboard. You can even decoupage right on top of this after you cut it out!
Pro tip: cut it using that knife blade or your deep cut blade. We would also suggest that you use some masking tape to make sure it sticks down on your mat really well.
ALUMINUM FOIL
Another thing you probably didn't know your Cricut could cut is aluminum foil. It cuts really easily and you can make all kinds of shapes with it. If you string them together, they make a really fun reflective garland for New Year's Eve or other party occasions.
We're sure you could think of other uses for it too! Bonus: it's also going to sharpen that blade for you which is going to help get a longer lifespan out of your blades.
COMPOSITION BOOK PAPER
Next is composition book paper. If you're ever wanting to do some things for your kids' school, you can just rip these pages out and cut it. This would be perfect for scrapbooking pages too.
Pro tip: Since it's a very lightweight paper, you should use the copy paper setting and then lighten the pressure.
PHOTO PAPER
Last but not least is photo paper. If you have not thought about cutting out your photo paper, it cuts like a dream on the Cricut and you are truly going to love it! This can really take your scrapbooking or other photo projects to the next level.
What did you think about all 10 of these amazing things that we had we had no idea our Cricut could cut? Let us know which ones you try out! We can't wait to see what you make!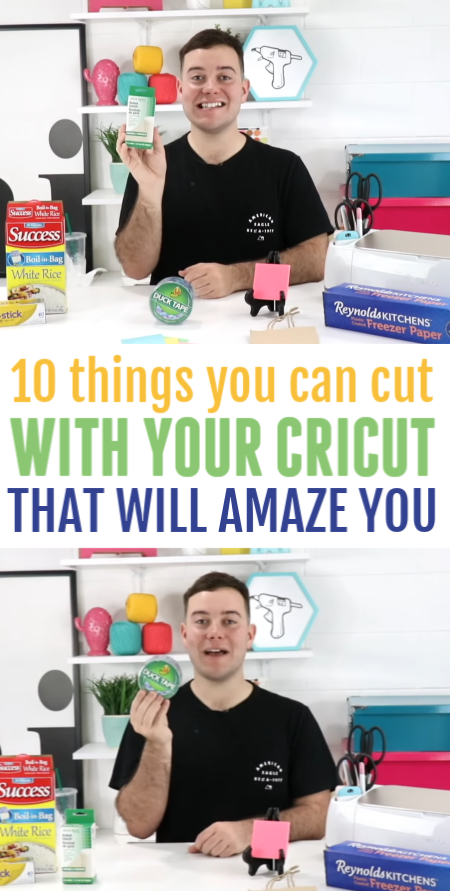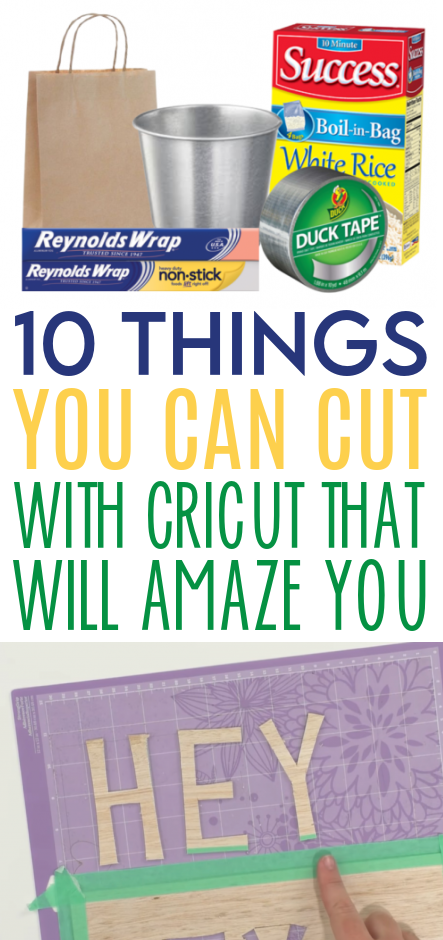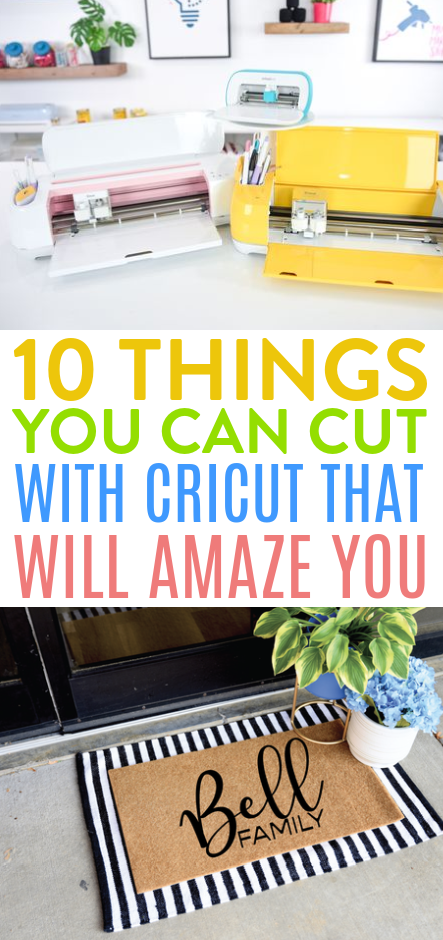 Tanner, Courtney, and the rest of the Makers Gonna Learn Team are all here because we love die-cutting and especially love sharing fun projects and tutorials with fellow makers. We are all great friends and are always having a blast when we are together- you will see this on camera, especially during live streams! We are here to inspire and support you in your crafting journey!