Tips for Using Resin with Cricut
Have you been wanting to learn more tips for using resin with Cricut? It might be something you haven't even thought of before, but it's a great way to take your projects to the next level.
Not only does it add a beautiful look to your Cricut crafts, it also helps seal and protect your projects. In fact, designs sealed with resin are pretty much permanent!

Using Resin with Cricut
We've got some fantastic resin tips and hacks here that you will find really helpful when you start working it. Let's get started.
Disclaimer: Please carefully read the label and instructions of the specific resin product you are using to find their safety recommendations. When working with epoxy resin, it's important to understand the risks and suggested safety precautions before beginning and proceed accordingly. Learn more below.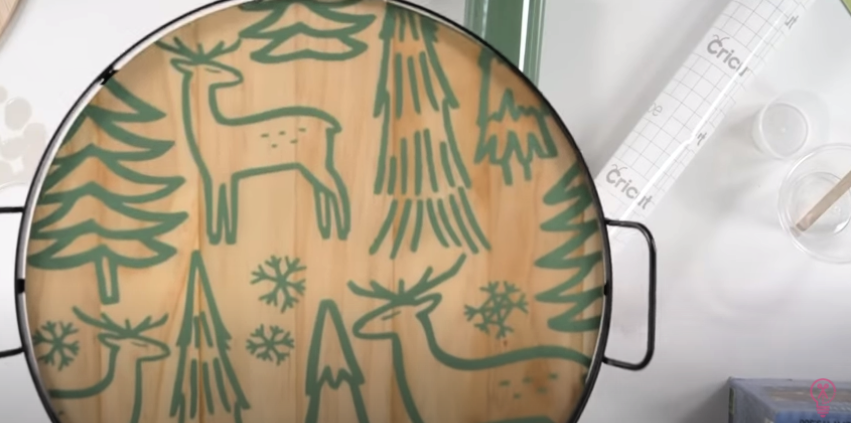 Resin Safety Guidelines
Let's begin by talking about safety guidelines for working with resin. It is a chemical and there can be some risks associated with using it. When working with epoxy resin, it's important to know about these risks and suggested safety precautions ahead of time. You need to learn how to make resin projects safely.
The following are general precautions that you can follow but it's really important to read the label and instructions of the particular brand you are using and adhere to their recommendations. We can share some basic guidelines here based on the products that we use, but we are not chemical experts and can't address every brand available.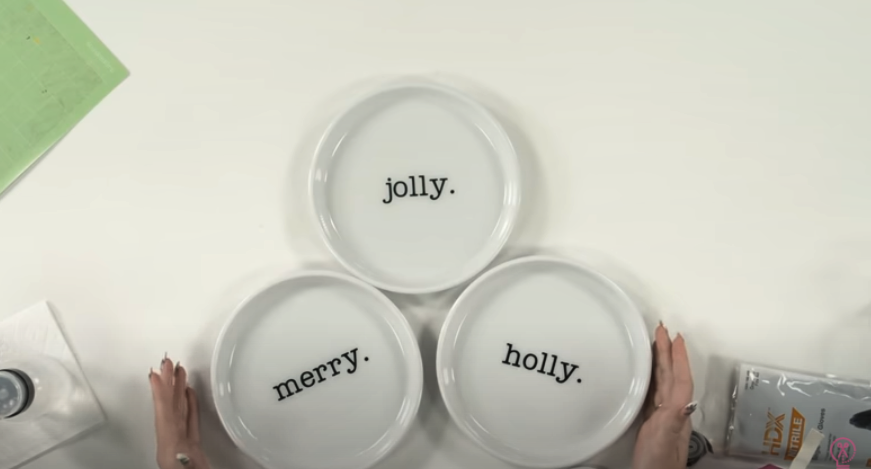 The most important precaution is to ensure that you are working in a well-ventilated area. The best option is to work outside. If that's not possible, open a window or two to bring in some fresh air. You should also wear a respirator-style mask for additional protection.
You don't want resin to come in contact with your skin or eyes. So, it's advisable to wear some protective clothing, disposable gloves, and safety goggles. If you choose not to wear these, be sure to wash with soap and water immediately. Again, this is the guideline for most resin products. You should double-check by reading the instructions of the specific resin product you are using. Clean up any spilled resin right away.
Remember that not all resin is food-safe. Look for "FDA Approved" on the packaging. Be sure to follow all the instructions and cure it for the required time or it will not be food-safe.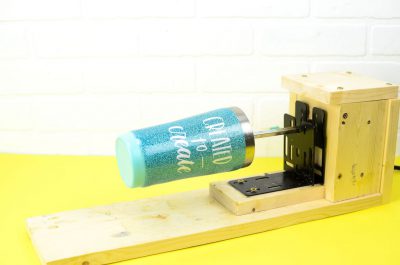 Want to make glitter tumblers?
How to make the perfect glitter tumbler.
Why Use Resin with Your Die Cutting Machine?
Resin is a great way to seal your die cutting craft projects. In fact, it's one of the closest to permanent ways to seal your crafts that there is!
What Are the Different Kinds of Resin?
There is art resin and casting resin. Casting resin is the best kind to use with molds because it provides a thicker pour. UV Resin has a much faster cure time (about 15 minutes). However, it does require the use of a UV light for curing.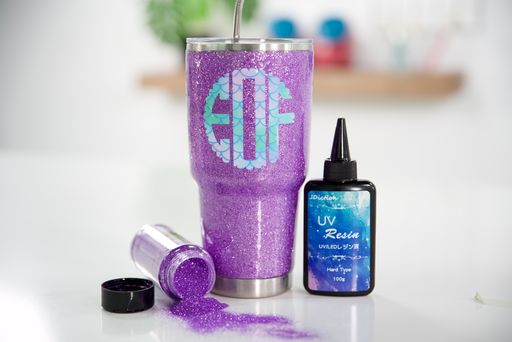 Check this out >>> How to make a 15 minute glitter tumbler
Tips for Using Resin with Cricut
The number one tip>>> It's really important to follow the instructions that come with the resin you purchase EXACTLY. This is a chemical reaction and you need to be precise to get the best results. For most resins, it will come in two parts that you have to mix together when ready to use it but this can vary. In addition, you'll need to mix those two parts together for varying amounts of time depending on the brand you buy. READ THE INSTRUCTIONS.
Use a measuring cup >>> You need to ensure that you are getting precise measurements and mixing the resin together in the correct proportions. With most resin products, it's a 1:1 ratio that is used but again, check your specific brand.
Plan ahead for the curing process >>> It takes time for the resin to cure. During that time, you want to ensure that you place it in a location where it won't be disturbed. It needs to be protected from dust, humidity, and excess temperature changes. You also want to be sure that it's out of reach of children and pets.
Speaking of the weather >>> The best temperature for working with resin is around 70-72 Fahrenheit (21-22 Celsius). Anything hotter and your resin may cure too quickly. Anything colder and your resin may never cure – it will just remain sticky forever! Avoid rainy or humid days.
Mix your resin well >>> It's better to overmix than undermix but we recommend using a timer set to the exact time it says on the instructions. Stir slowly but thoroughly. If you stir too quickly, you can create more bubbles that you then need to try to get rid of. You're looking for it to turn clear as an indication that it's thoroughly mixed.
Use a lighter >>> We like to use a torch lighter or one of those long handled lighters that are often used for lighting a grill. Quickly moving the lighter over the surface of the poured resin can help remove any of the air bubbles that have formed.
Be sure your blank is completely clean >>> You want to use rubbing alcohol on a piece of paper towel to clean your blank before applying your design and resin. Go over it with a lint roller if needed to pick up any debris so that this doesn't get embedded in your resin.
Wait at least 4 hours between layers of resin >>> If you're applying layers of resin to your project, you should allow it to dry and cure partially by leaving at least 4 hours in between the layers for best results. Even better, wait 48 hours between layers.
What Kind of Equipment Do You Need?
Resin kits will often come with mixing cups and sticks as well as a measuring cup. If yours didn't come with any or you need extras, remember to use disposable ones. We like using Solo cups because they give us plenty of room for mixing and stirring (without getting resin on anything else) and craft sticks (popsicle sticks).
You can also use a paper towel to wipe out the plastic cups while the resin is still wet and then reuse them. Some people prefer to use silicone cups instead. Once the resin has fully dried, you can simply peel the silicone away from it.
You will want to have something to protect your work surface. Even if you don't care about your surface, remember that you'll be leaving resin behind that can then be a safety issue for anyone who comes into contact with it before it cures. In addition, using resin isn't like using a spray sealant. It leaves more substance behind than the spray and so it will build up on your work surface, causing it to be uneven.
There are tons of silicone molds you can buy from craft suppliers, but you can also make use of the ones they sell for use in the kitchen too. It's important to remember though – once you use it for resin, it cannot be safely used for food again! If you're using resin as a sealant over your project, you won't need a mold but you can use molds to make coasters, jewelry, and more.
If you're working with molds, you might want to purchase a can of mold release too. This helps remove your resin from the mold more easily once it has dried and cured.
Pro tip: Remember that silicone can melt if too much heat is applied. Using a torch may not be advisable with silicone molds.
Did you know that you can even make your own molds? Learn how to make silicone molds here.
Frequently Asked Questions
What is my resin is too hot or cold? >>> If it's too warm, simply allow it to cool down before using. If it's too cold, you can place the bottle of resin in a bowl of warm water to warm it up. Do NOT heat your resin in any other way.
Does resin ever expire? >>> In general, if stored under ideal conditions, resin can last at least a year or more with no loss of quality or performance. This means keeping it in a dry, dark location that is kept at around 70-72 degrees Fahrenheit. Keeping resin consistently under such conditions can be tricky though, so it's best to use it within 6-12 months. Once opened, resin will last 30-60 days.
How do I know how much resin to use for each project? >>> This can be tricky! We wish we could give you a simple answer but in general, you have to eyeball it and will get better at knowing just how much to mix up each time. A little resin does go a long way. Our tip: have some extra projects prepped and ready to go in case you mix up too much resin. No waste!
Is there such a thing as colored resin? >>> Yes! You can purchase dyes and pigments to add to your resin to color it.
Is resin dishwasher safe? Is it microwave safe? >>> As mentioned previously, only some brands of resin are food safe and only if you follow all of the instructions exactly and allow your resin projects to cure completely. However, there are no resins that are either dishwasher or microwave safe. All of them must be hand-washed.
Will resin yellow over time? >>> Yes, but some brands will do so much more slowly than others.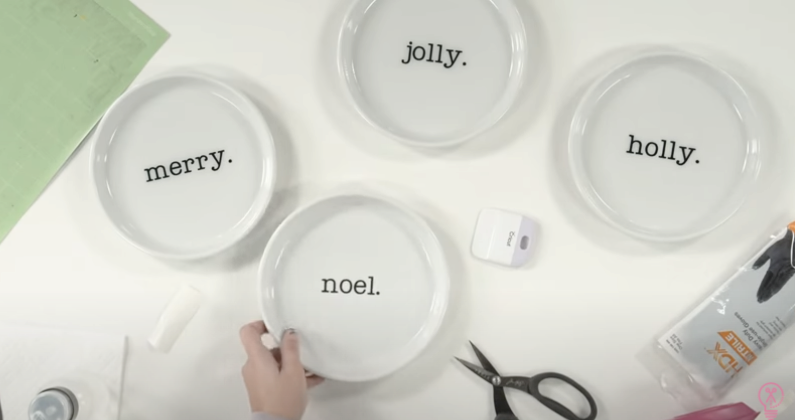 If you're ready to try out resin, keep these tips for using resin with your die cutting machine handy so you can refer back to them as needed. Be sure to use the hashtag #MakersGonnaLearn when sharing your projects on social media so we can check them out too!
Tanner, Courtney, and the rest of the Makers Gonna Learn Team are all here because we love die-cutting and especially love sharing fun projects and tutorials with fellow makers. We are all great friends and are always having a blast when we are together- you will see this on camera, especially during live streams! We are here to inspire and support you in your crafting journey!