Tooth Fairy Bag
This adorable DIY tooth fairy bag will be a delight for any little one losing their baby teeth. Personalize it with their name and watch them smile as they leave it under their pillow for the tooth fairy!
Grab your Cricut or other die-cutting machines, some heat transfer vinyl, and your EasyPress and you'll be all set to make this sweet little craft project. This is a really quick and easy die-cutting craft – perfect for Cricut beginners who want to tackle layering iron-on vinyl.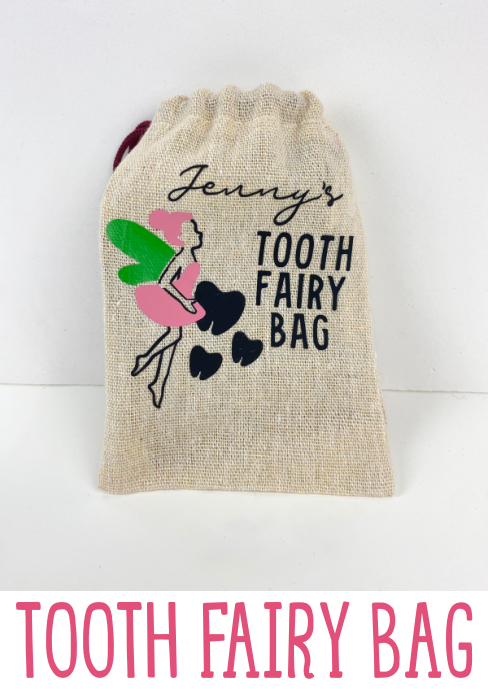 Tooth Fairy Bag
Disclosure: Some of the links below are affiliate links provided for your convenience. This means, at no additional cost to you, we will earn a commission if you click through and make a purchase.
Cut Files/Fonts Used:
Tooth Pillow
Pink Fairy
Juliette
American Story
Supply Links:
Mesh Bag
Heat transfer vinyl in the colors of your choice: we're using pink, green, and black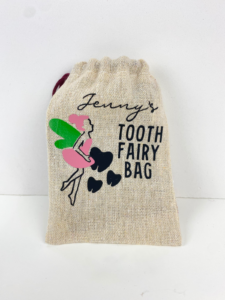 Step-by-step Instructions:
In Design Space, upload the two cut files we're using for this project and add them to your canvas.
Pull in a shape to represent the size and shape of the mesh bag. This will help you size your design to fit.
You're only going to need part of the tooth pillow cut file. Click on the face and delete or hide it.
Then, select all the black parts of the file: the two teeth and the rectangle. Choose Contour and click on the rectangle and one of the teeth.
From there, you can individually size the tooth. Duplicate it twice so you have three in total.
One will be placed in the fairy's hands and the other two will be placed around the design. You might need to move some of these items to the front as you place them on the rectangle representing the bag. Rotate the teeth as needed for your design.
Select all 3 teeth and Attach.
Open a text box and type in the child's name, using your chosen font. We used Juliette. Remember to weld the name so it cuts out together.
In another text box, type Tooth Fairy Bag on 3 separate lines. We used the font American Story.
To get it nicely centered, we first Ungrouped to Lines. Then, we used Align, Center Horizontally, and then Distribute Vertically.
Select the name, the other text, and the teeth and Attach.
Delete the rectangle that was there for visualization purposes representing the bag.
Click Make It. Because we're using HTV for this design, remember to "Mirror" your design.
After your heat transfer vinyl has been cut out, weed your design. Remember to check carefully for all the centers of the letters and other details.
Before heating the elements of your design, it's a good idea to place all the pieces on just to make sure of where they should go. Start with the largest layer (the text and teeth).
Remove the additional layers, leaving only the biggest layer on the bag. Heat that layer down with the EasyPress. We have it set to medium heat and are heating each layer for about 10 seconds. Remove the transfer sheet.
That's it! You can now present this to a special little one!
Tanner, Courtney, and the rest of the Makers Gonna Learn Team are all here because we love die-cutting and especially love sharing fun projects and tutorials with fellow makers. We are all great friends and are always having a blast when we are together- you will see this on camera, especially during live streams! We are here to inspire and support you in your crafting journey!