Top 10 Cricut Hacks
You are in for a real treat today! Whether you are a Cricut beginner or a seasoned pro, you're going to love the Cricut tips and tricks we are sharing with you. We have provided many great ideas for using Cricut die cutting machines for creating beautiful craft projects in the past, but these are our top 10 Cricut hacks!
We've got tips here that will save you time and save you money. We're going to make your crafting process easier and more enjoyable. Check them out and let us know which one is your favorite.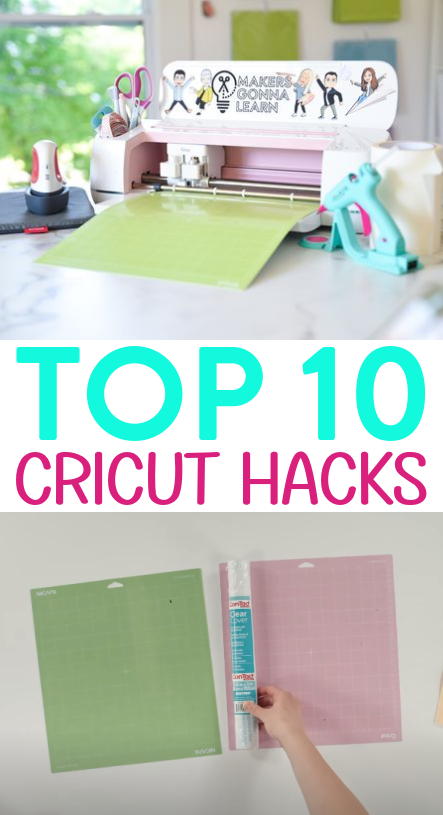 Top 10 Cricut Hacks
Some of our favorite Cricut materials and supplies: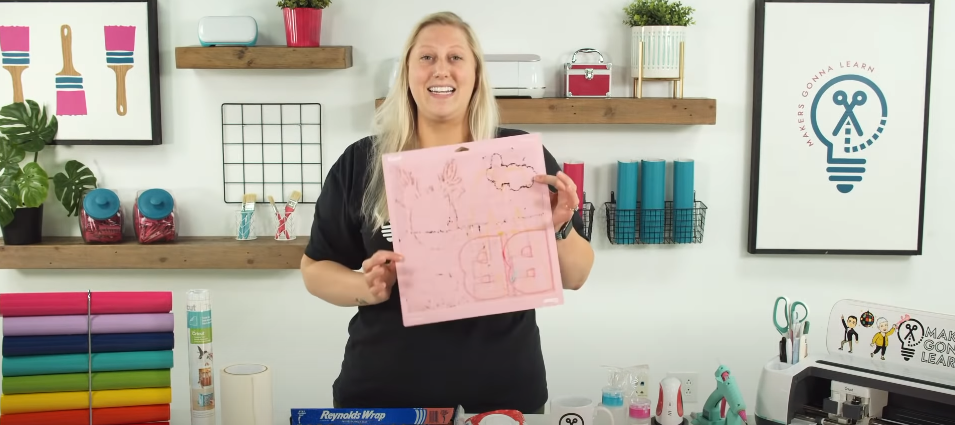 1 – Clean your cutting mats.
We have three different methods for cleaning cutting mats and you are going to want to know about these. Our favorite is using baby wipes.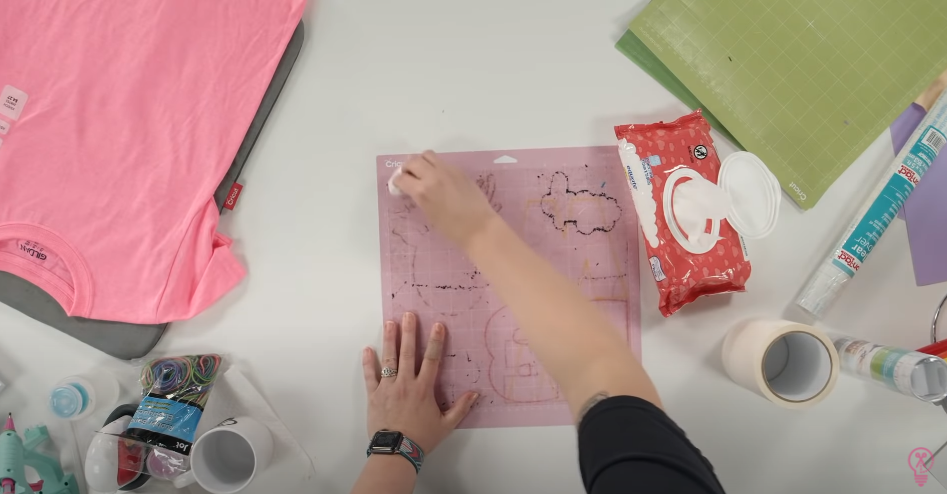 Use a folded-up baby wipe and working in circles, gently clean the cutting mat. Any brand of baby wipes will work. We do recommend that they are alcohol-free wipes as the alcohol may be damaging to the mat adhesive.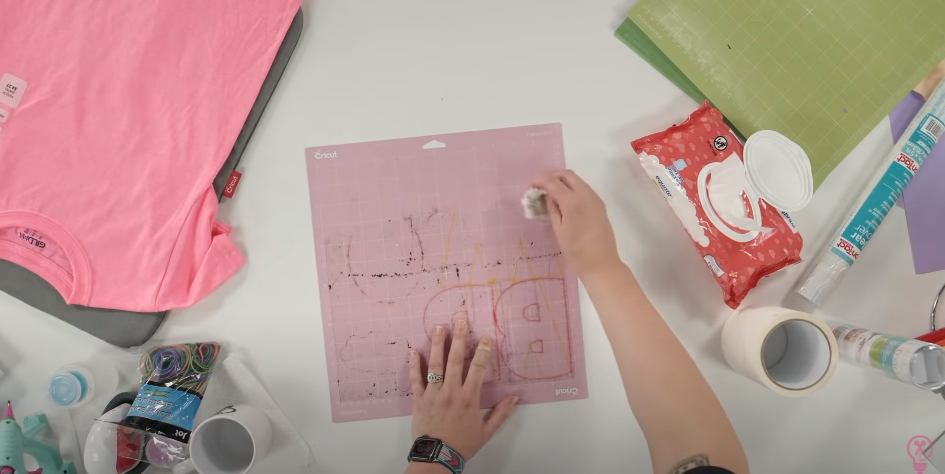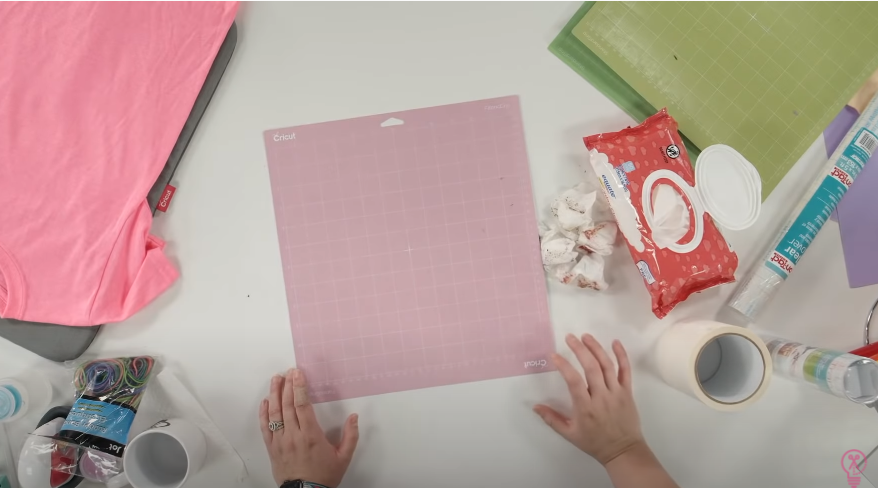 Look at how well the baby wipe works in cleaning the cutting mat! One important note: your mat won't seem sticky until it is thoroughly dry. Once dry, it will be clean and sticky once again!
2 – Keep paper and other materials from curling.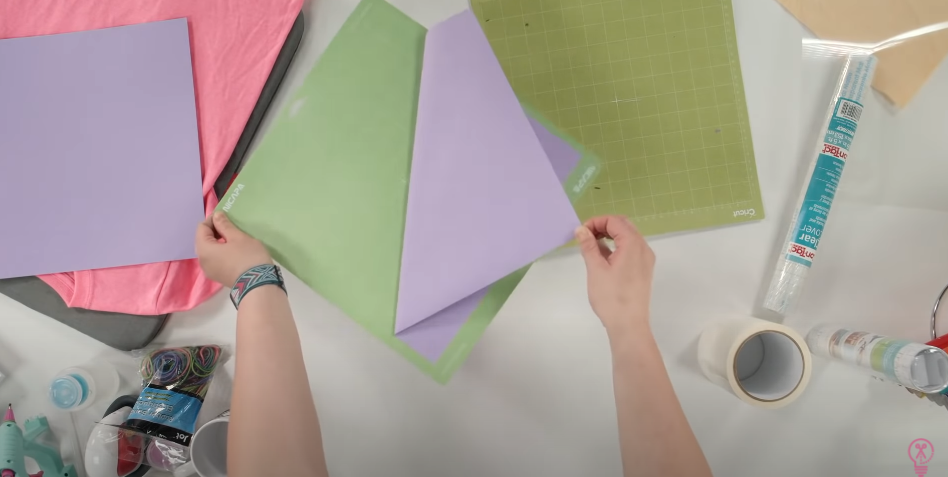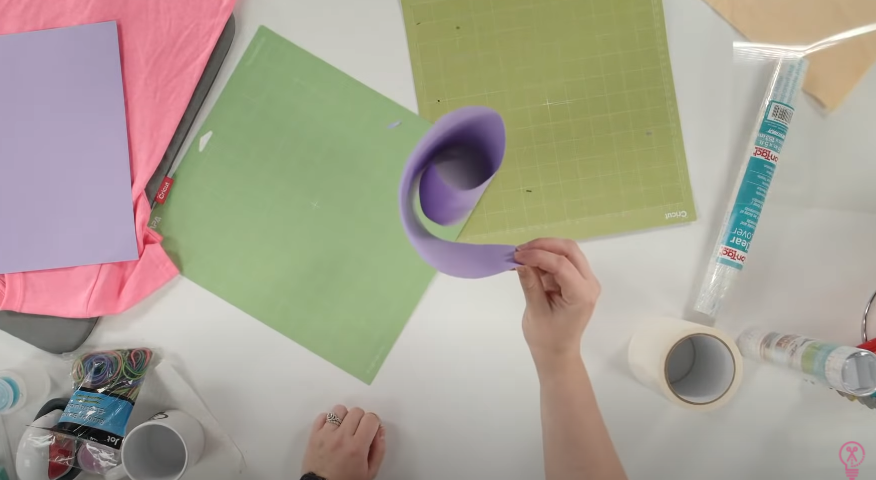 You may have found that when you pull your craft materials up from your cutting mat, they curl up. This is especially true when working with paper and cardstock. If you've encountered this problem, you are going to love this Cricut hack.
Our first tip is to ensure that you are using the correct mat for the material. You don't want to use a brand new StandardGrip cutting mat with lighter materials like cardstock and paper. In that case, use an older, more broken-in mat that isn't quite as sticky. Or you could use a LightGrip mat.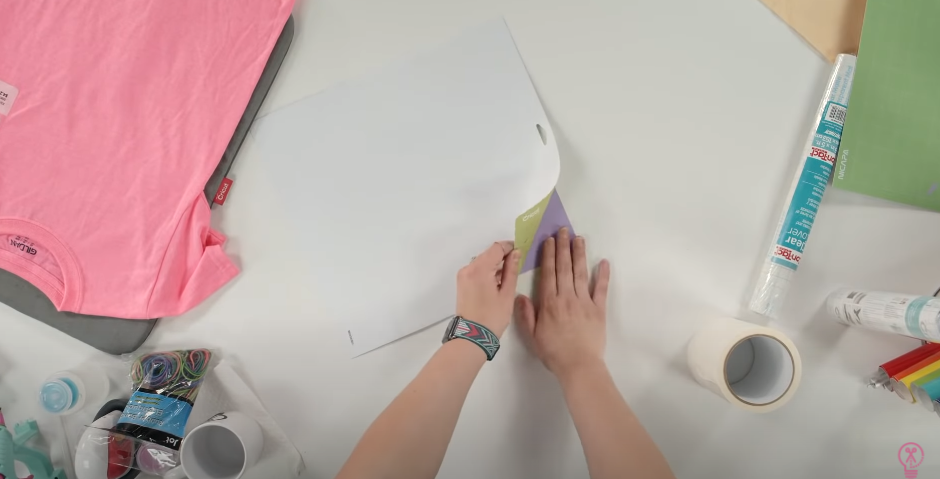 No matter which mat you use, we advise that you flip your mat over, upside down, and remove the mat from the material, not the other way around. Use one hand to hold down the paper or other material and the other hand to peel up the cutting mat.
3 – Use aluminum foil to clean your blades.
Wad up a piece of foil into a small tight ball. You can then stab your blade into it several times. It will help clean off any debris that has built up and as a result, your blade will perform better.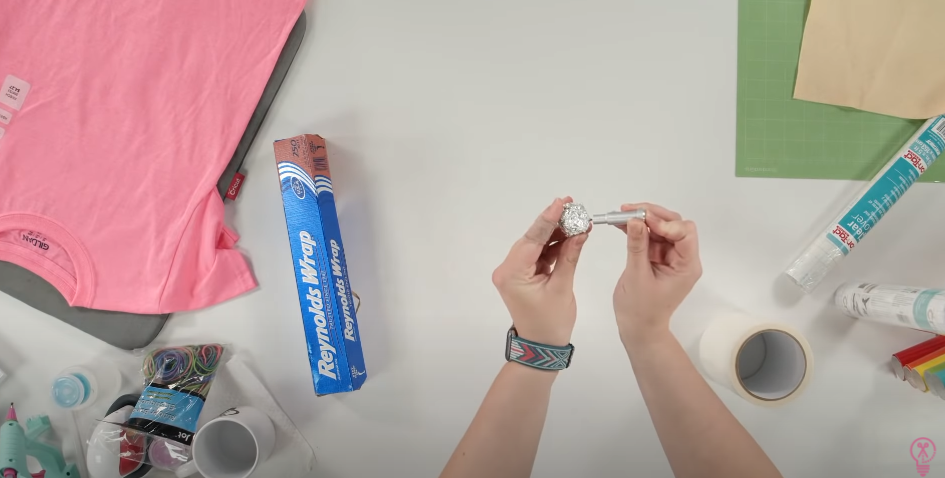 Remember to press and hold down the blade as you do this to fully extend and clean it.
Be sure to check out this post too: When should I change my blade?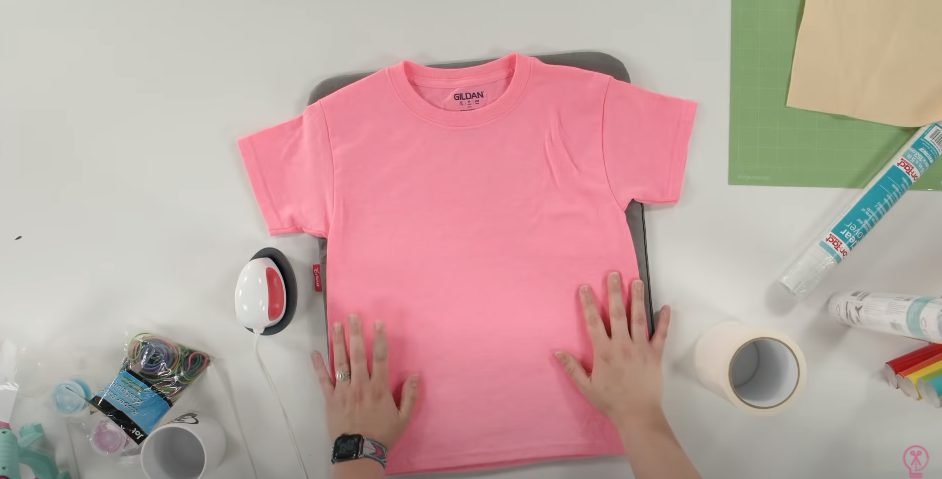 4 – Position designs on t-shirts perfectly every time
We always suggest that you measure and measure again when it comes to sizing and positioning Cricut designs on your surfaces. Even then, some people find it tricky to get their designs lined up perfectly on shirts.
This Cricut tip is a great one for ensuring you place your designs on t-shirts perfectly every single time.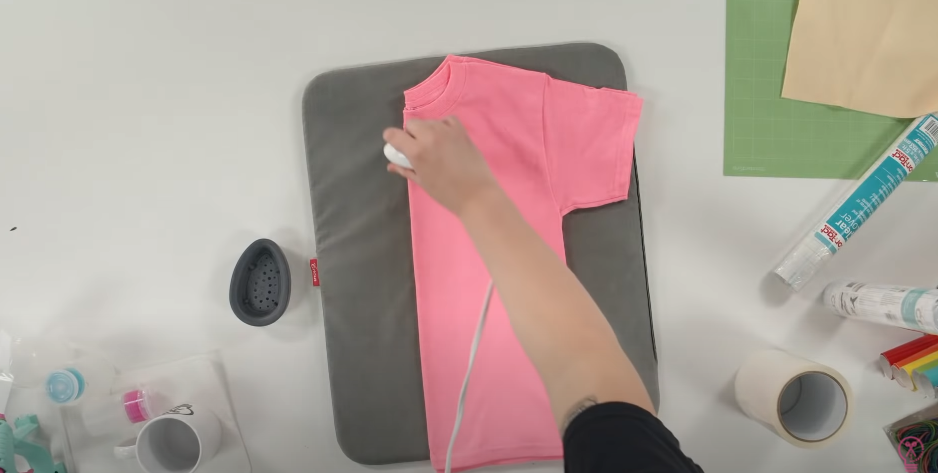 Fold the t-shirt in half lengthwise, taking care to line up the neck and shoulder seams. Use your Cricut EasyPress Mini to press a crease down the middle of the shirt.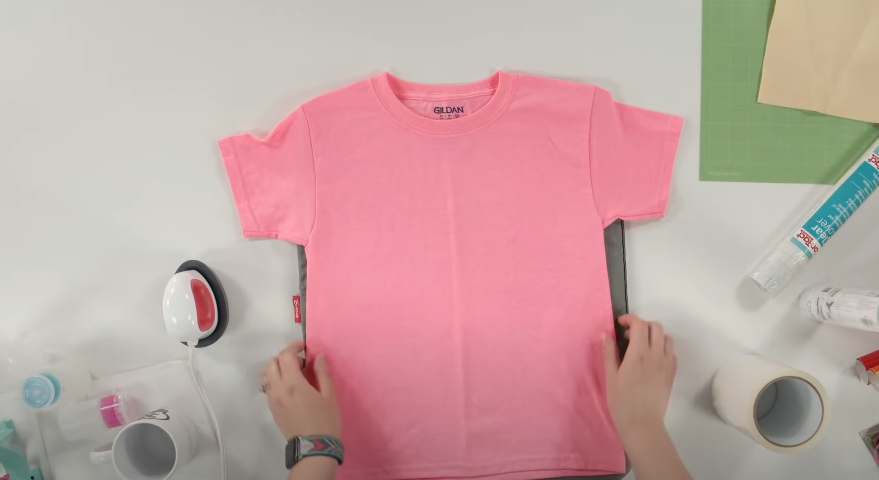 With this technique, you can center your design perfectly!
You might also like this post: Cricut EasyPress Mini vs. the Dododum Mini Press
5 – Store your vinyl the easy way.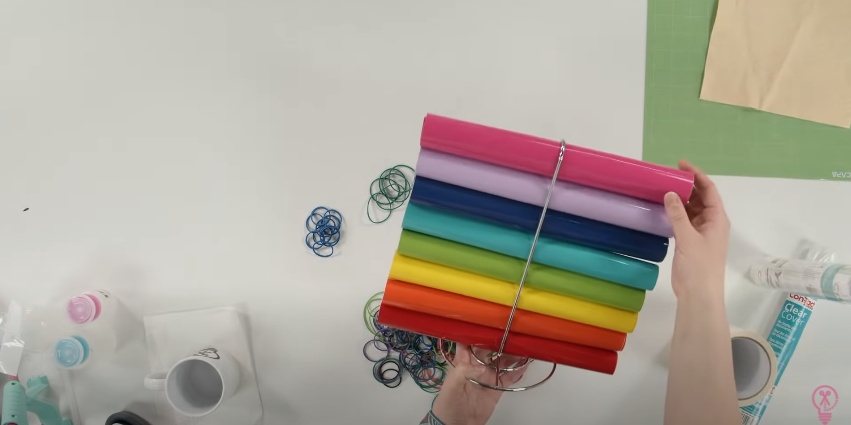 Use colored rubber bands to sort and organize your leftover rolls of vinyl. You can color-code them – purple is permanent adhesive vinyl, red is iron-on, blue is Sportflex, and so on. You could even color-code by brand. Be gentle with the way your roll your vinyl so it doesn't get crushed.
For smaller scrap pieces, we recommend writing on the back with a permanent marker to label them and keep track of which is which. Remember, vinyl does have a shelf life so you might want to write the date purchased on it too.
Pro tip: Use a paper towel holder as shown above for storing your most-used rolls of vinyl.
You might also like this post: A Complete Guide to Vinyl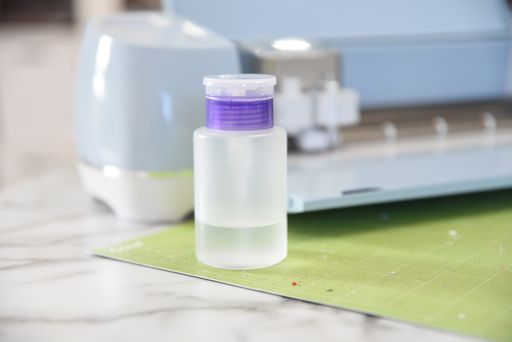 6 – Grab an alcohol pump bottle and clean your craft surfaces.
Before applying vinyl to any surface, you want to make sure it's completely clean. With non-porous surfaces, using rubbing alcohol on a paper towel to clean them will help remove any dirt, dust, debris, and oils from your fingers from the surface. A clean surface means much better adhesion of the vinyl and a longer-lasting more successful vinyl project.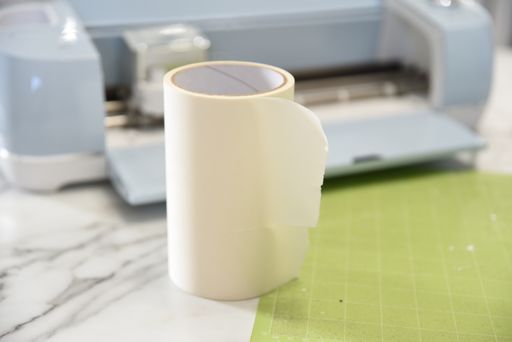 7 – Choose your transfer tape wisely.
Nine times out of ten, we choose masking paper transfer tape. It's economical and easy to use. There are, however, some situations where we will reach for the Cricut brand transfer tape.
For example, the masking paper transfer tape is translucent but it's not completely clear. So, with some designs, you may find it better to use the Cricut brand tape so you can see exactly what you're doing better.
One example of this is if you were trying to place a design around the logo on a Starbucks cup. You really need to be able to see precisely what you're doing with this and we recommend the Cricut transfer tape for that.
Once you have some experience with using these two products, you'll get a feel for when you need the Cricut tape – which has more adhesive – and when the masking paper tape is a good choice.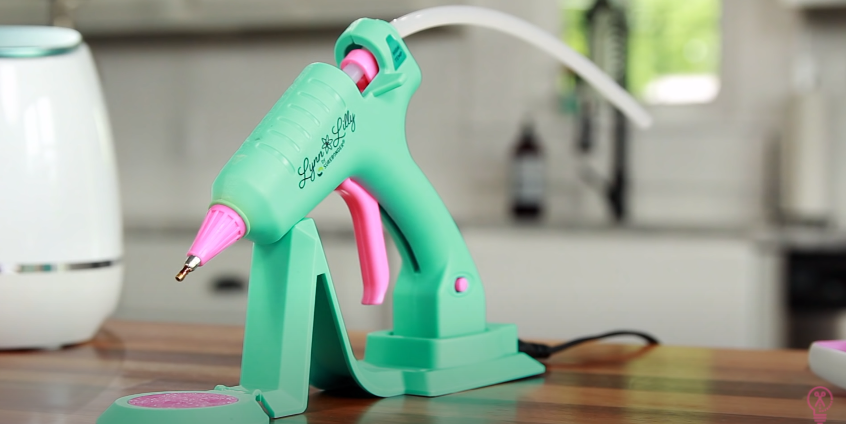 8 – Create an extra-long hot glue stick.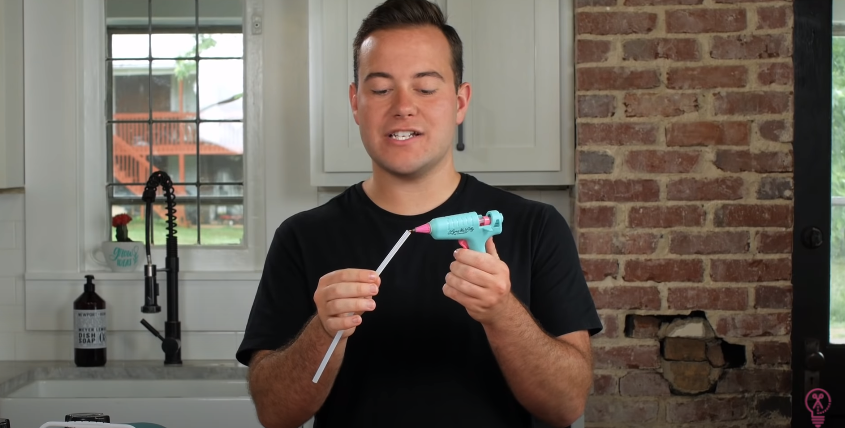 We love using this craft hack with our Lynn Lilly glue gun! You know that as the glue in your glue gun gets a little low, it becomes harder and harder to apply the glue. And sometimes, if we're working on a large project, it feels like we are constantly popping in new glue sticks.
So, apply a dab of glue to the end of a glue stick.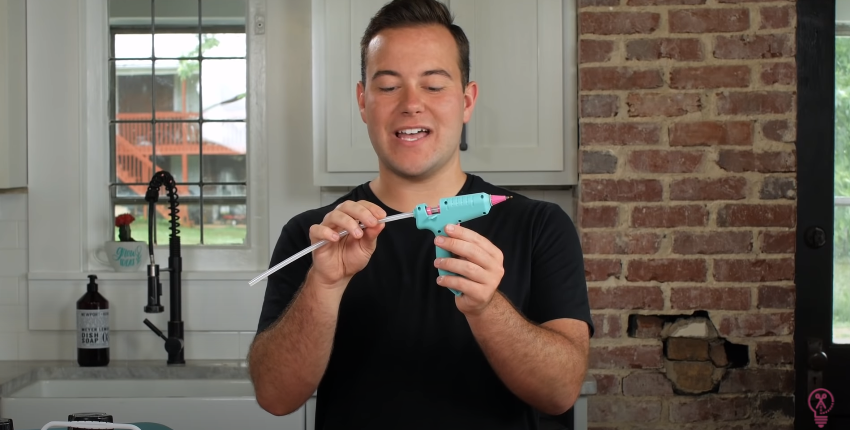 Then, stick that to the glue stick that's already in the hot glue gun. Ta da! Now you have an extra-long glue stick and can keep on crafting!
9 – Use adhesive Contact Paper with felt on your cutting mat.
If you're going to be cutting felt with your Cricut machine, you will find that it can leave behind lots of tiny little fibers and lint on your cutting mat. So, grab a roll of contact paper and lay it down over your mat, sticky side up.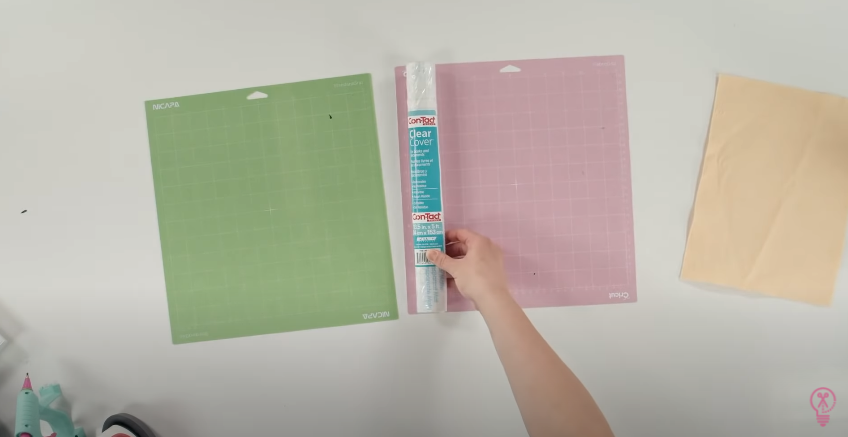 Then, you can lay your felt on top of it before cutting and it will help keep your mat clean.
Pro tip: Use with leather and other similar products to prevent too much debris from accumulating on your cutting mat.
10 – Keep the plastic cover sheets that come with your cutting mats.
When you get a new mat, you will see that it comes with a protective plastic sheet. KEEP IT! It's important to cover your mat in between use to help protect it from dirt and damage.
If you lost or damaged your cover sheet, grab a shower curtain liner from the dollar store and cut it to size. It makes a great protective cover for your mat too!
Tanner, Courtney, and the rest of the Makers Gonna Learn Team are all here because we love die-cutting and especially love sharing fun projects and tutorials with fellow makers. We are all great friends and are always having a blast when we are together- you will see this on camera, especially during live streams! We are here to inspire and support you in your crafting journey!