Ultimate Cricut Printer Comparison
If you're a Cricut beginner and have been wondering which printer would work best for your Cricut Print Then Cut projects, this Ultimate Cricut Printer Comparison is a must-read! We compare three different Canon brand inkjet printers at three different price points and help you decide which Cricut printer is right for you!
If you're new to Cricut crafting, you might be wondering why you need a printer at all. After all, you have your Cricut die cutting machine. Doesn't that do it all? Well, not quite. If you want to do any Print then Cut projects, you need an inkjet printer. Print then Cut allows you to make designs that you print first using your printer and then cut out with your Cricut machine.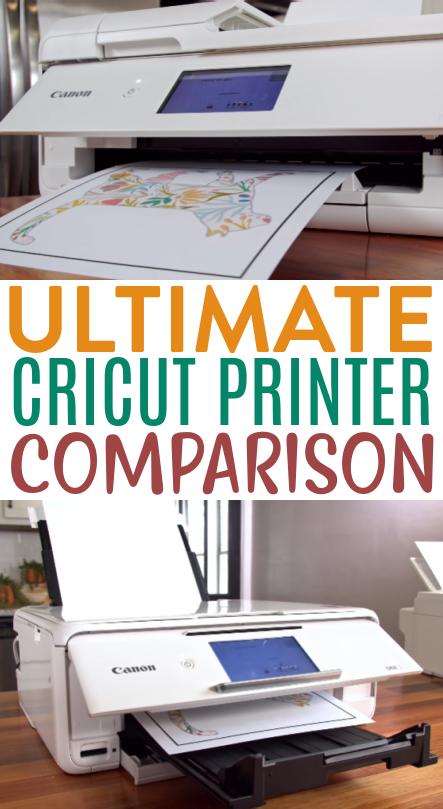 Ultimate Cricut Printer Comparison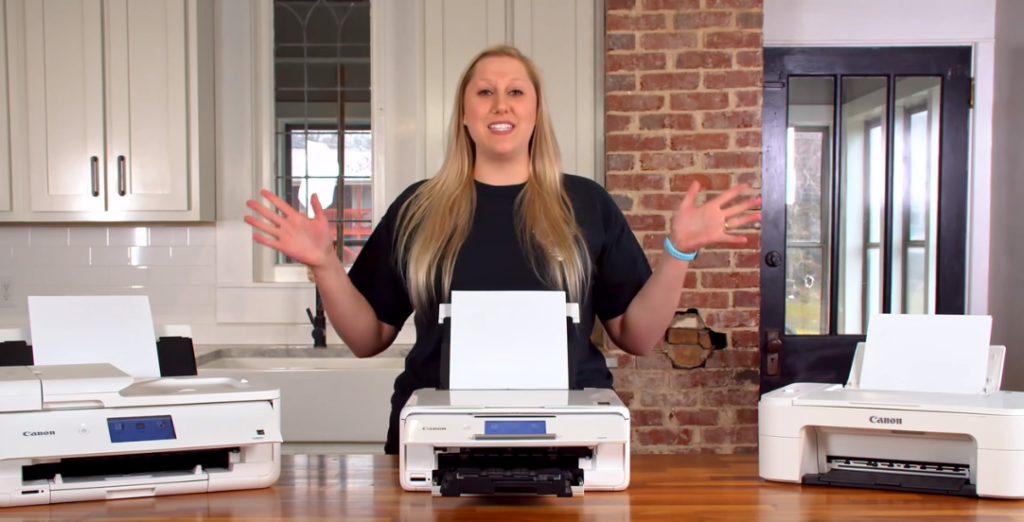 The three things these printers have in common:
1 – A rear loading tray: This is quite important for Print then Cut. Many of the materials, especially thicker ones, don't go through a front loader easily. They have to curve around while being printed and this can cause printer jams and other fails.
2 – Wireless capabilities: This can make it so much more convenient for you to use! You don't have to worry about more wires getting in the way.
3 – Inkjet printers: As mentioned before, this is the kind you will need to do Print then Cut. There are only limited materials available for use with a laser printer and Print then Cut so keep that in mind when shopping for your printer.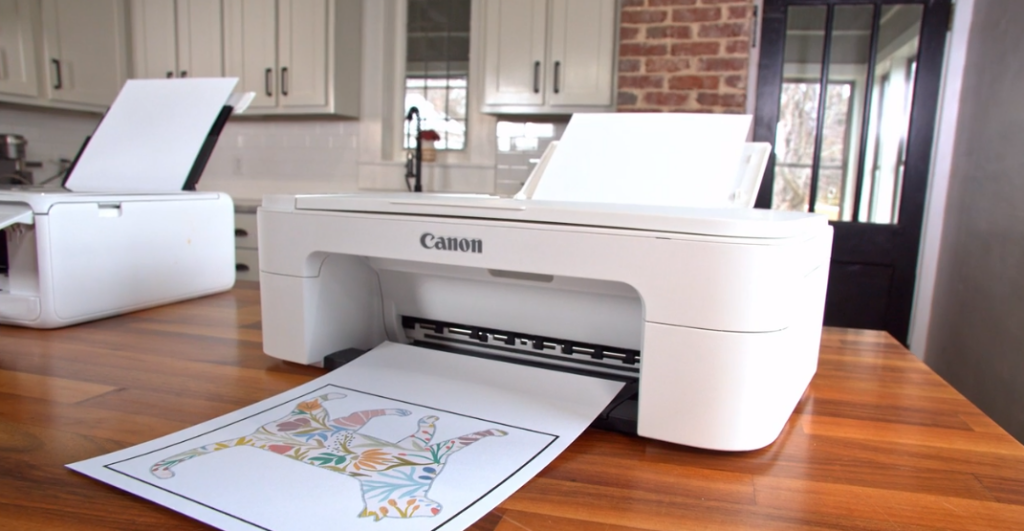 Let's compare the printers:
Canon Pixma TS3322: This printer generally runs around $40 making it very affordable. This one is quite small, compact, and light. Ink for this computer is also fairly inexpensive as well. It is approximately $25-27. You don't have to change the ink very often. In addition, the print quality you get with this machine is pretty good.
Canon Pixma TS8320: We use this one at Makers Gonna Learn HQ all the time! This one is a bit more expensive than the previous printer, but we think it's worth it. It's a bit sturdier than the other printer as well but it produces really good quality printing. The TS8320 is priced at around $150. The ink for it is about $25.
Canon Pixma TS9521C: This one is fairly big and heavy compared to the others, but it's a great quality printer. It can print a wide variety of items. Also, when it comes to Print then Cut, it produces beautiful prints for your craft projects. This one comes with the highest price tag – approximately $250. If you do a lot of Print then Cut projects and want a printer that will last quite a long time, this is the one for you. An ink replacement kit for this printer is about $50. Fortunately, you don't have to change the ink very often.
Check out the side by side comparison in the video below:
After doing a test print with each of these printers, we found that the results were quite similar in quality to one another. The only differences we really could find was that with the least expensive printer, the printed image was slightly lighter in color and the the registration marks around the design weren't as crisp.
Also, with the most expensive printer, you could see that the design was slightly darker than the others. However, the difference was minor and unless you're doing a lot of Print then Cut projects, it probably isn't worth the additional $100 in cost.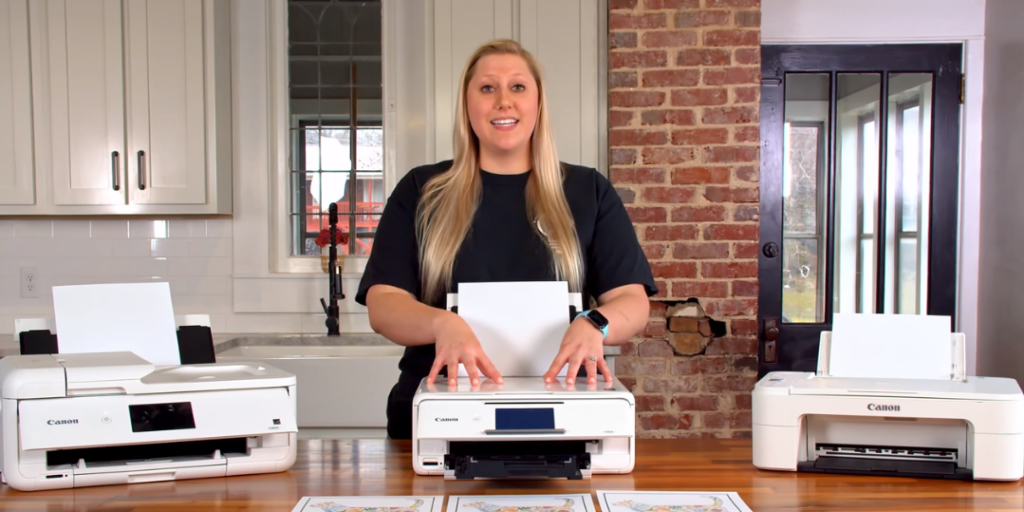 Our pick is the Canon Pixma TS8320. We have been using ours for years and it still produces really good quality prints. It's important to note that we use the best print setting you can on each of these printers when using them. Be sure to check out our post on this amazing hack for having perfect print then cut projects!
Any of these printers would be a great option for you if you're planning to make Print then Cut projects. If it's within your budget, we'd recommend the mid-range one, but even the lower end model produced really good results.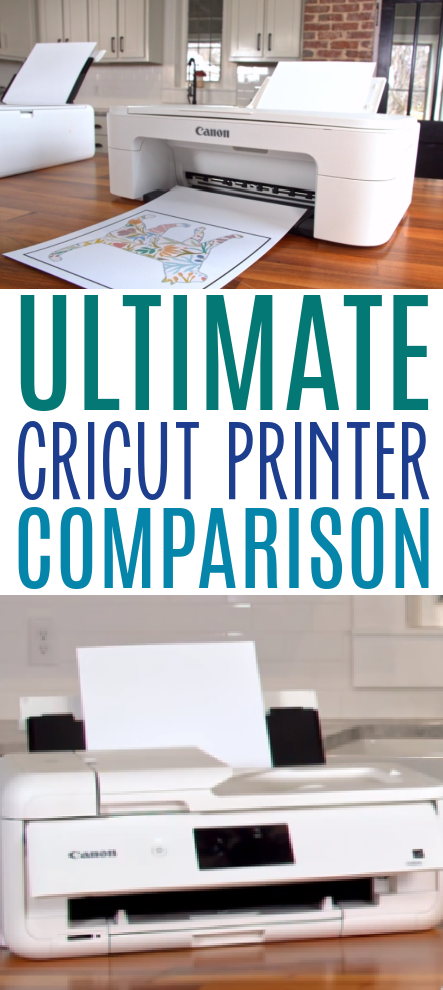 Tanner, Courtney, and the rest of the Makers Gonna Learn Team are all here because we love die-cutting and especially love sharing fun projects and tutorials with fellow makers. We are all great friends and are always having a blast when we are together- you will see this on camera, especially during live streams! We are here to inspire and support you in your crafting journey!