Ultimate Guide to Cricut Cutting Mats
If you want to get the best results for your die cutting craft projects, you need to use the right tools and supplies. This Ultimate Guide to Cricut Cutting Mats will be an invaluable resource for you, especially if you're a Cricut beginner. It's SO important to pick the right mat for each craft project and to maintain your cutting mats!
As a Cricut Machine owner, it's important to become familiar with each of the different types of cutting mats that are available and what each cutting mat is best suited for.

Ultimate Guide to Cricut Cutting Mats
Be sure to pin this post on Pinterest so you can refer back to it anytime you need a refresher.
General Information about Cricut Mats
Cricut machine cutting mats are available in an assortment of sizes and types. We'll help you figure out which mat to choose when and how to keep your cutting mats clean and in good condition.
Think about the materials you're going to be cutting and then choose appropriately. Cricut Cutting Mats are specifically made for use with commonly used crafting materials for your cutting machine.
Your cutting mats are designed to be sticky. This is how your materials are held in place during the cutting process.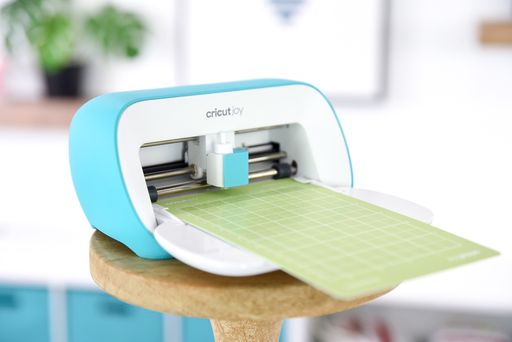 If you use a cutting mat with an adhesive that is too strong, it will hold your material in place while cutting, but you may have trouble removing it from the mat without damaging it. If you use a cutting mat that isn't strong enough, your material may move around and you won't get a precise cut. It can even cause some of the material to come loose and jam your Cricut.
So, you need to be sure to choose the mat that has just the right amount of stickiness to hold your materials in place during cutting but still allow you to easily remove the material from the mat after cutting.
Pro tip: If your mat is too sticky, you can dab it with a clean t-shirt to remove some of the stickiness. Not sticky enough? A temporary quick fix is to try using some painter's tape to hold your material securely in place. But really, if it's not sticky enough, your cutting mat needs to be cleaned.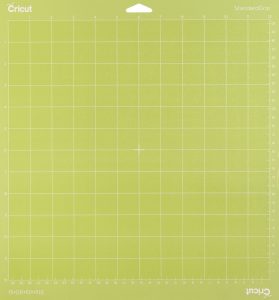 Standard Grip Mat
This is the one we use the most. It's the basic mat for many different projects and has a medium amount of adhesive on it. We use the green Standard Grip cutting mat for nearly any kind of vinyl or iron-on (although we usually find that unless our green Cricut mat is brand new, we need to use a StrongGrip mat for glitter iron-on).
We also use the standard grip mat for other medium-weight materials such as:
Cardstock
Patterned paper
Embossed cardstock
Sizes available:
12 x 12″
12 x 24″
4.5 x 6.5″ (for Cricut Joy)
4.5 x 12″ (for Cricut Joy)
Pro tip: we save our "less sticky" (aka well-loved) Standard Grip cutting mats and use them as Light Grip cutting mats. This is a great way to get more use out of them!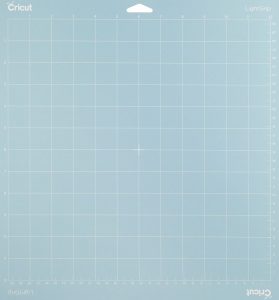 Light Grip Mat
The blue Cricut mat is the light grip cutting mat. This means it has the least amount of adhesive on it. You might be wondering why you would want a mat that isn't very sticky. Well, it actually comes in very handy for some materials.
The first materials that pop to mind are tissue paper, light cardstock, patterned paper, construction paper, and vellum. If you use light materials like these, you're going to want to use the blue Cricut mat because anything stronger than that may rip your material when you try to remove it from the mat.
You don't want to use the LightGrip mat with any thicker materials though as it may slide around and you won't get the perfect cuts you're looking for and it may even jam your Cricut machine.
The LightGrip Mat is well-suited for a wide range of lightweight materials such as:
Printer paper
Thin cardstock
Washi tape
Vellum
Construction paper
Wrapping paper
Sizes available:
12 x 12″
12 x 24″
4.5 x 12″ (for Cricut Joy)
Pro tip: After cleaning a light grip mat a few times, we find that it has lost so much of its stickiness that we can't really use it at all anymore as is. To get some additional uses out of it, we use painters' masking tape to tape down our materials to the mat.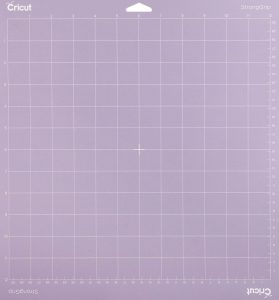 Strong Grip Mat
The Cricut Strong Grip mat can also be used for some of your fabric projects. They are quite similar in the amount of adhesive they have on them. If we don't have a fabric grip mat available, we have often used a purple mat in its place with good results, especially if it has been used a bit already.
The StrongGrip Mat works well for heavyweight materials such as:
Thick cardstock
Glitter cardstock
Magnet material
Chipboard
Poster board
Corrugated cardboard
Fabric with stiffener
Glitter HTV
Basswood
Balsawood
Sizes available: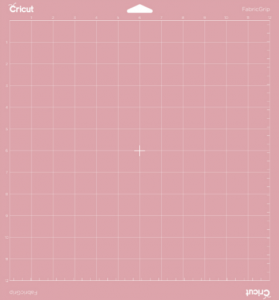 Fabric Grip Mat
The Fabric Grip mat is just as it says it is – designed for use with fabric and some fabric-like materials.
These materials include:
Fabric
Bonded Fabric
Crepe Paper
Felt
Sizes available:
Pro tip: When working with felt or leather, cover your mat with contact paper, sticky side up. Then, place your material on top of it. The contact paper will help keep your mat clean of all those little fibers and lint that accumulate when using these materials.
Cricut Joy Card Mat
This is a specialty mat made for the Cricut Joy. It's designed for use with insert cards. However, we have been able to use the Cricut Joy card mat with our Cricut Maker and Explore Air 2.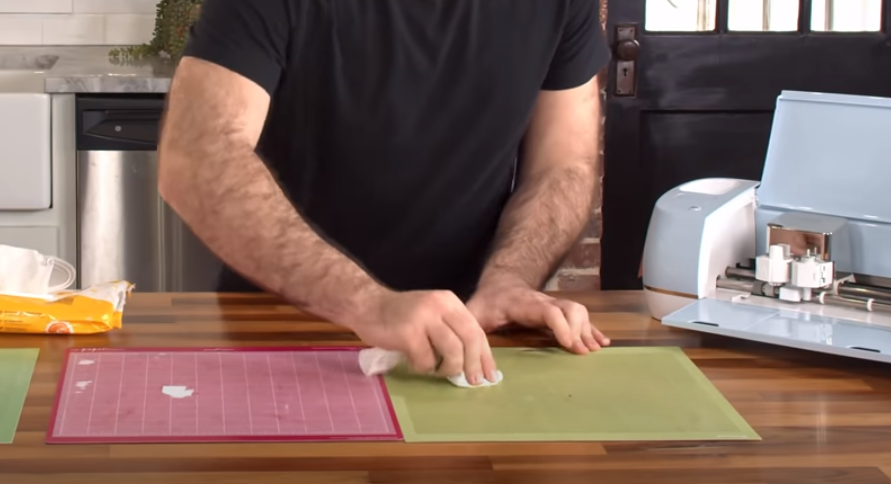 How to clean and maintain cutting mats
The most important step in caring for your mats is to use the right mat for your project. Placing paper on a StrongGrip mat means that it will be very difficult to remove and as you do so, it will add extra wear and tear to your mat and its adhesive. Using the correct mat helps preserve your cutting mats and ensures that they last longer.
If you have some bits of material left on your mat after using it, you can use your burnishing tool to gently scrape them away. A lint roller is handy for picking up little pieces of fibers and debris.
We have 3 different methods for cleaning cutting mats. One uses LA's Totally Awesome Cleaner, one uses Dawn dishwashing liquid, and the last, our favorite, uses baby wipes.
We reach for the baby wipes most often. They're easy to use no matter where you are and you don't need access to running water. The other two methods work well and there are times when the baby wipes simply aren't enough and we try one of the other techniques. But, most of the time, baby wipes do the trick.
Simply fold up a baby wipe a few times and go over your mat, gently rubbing in small circles. Once the wipe gets dirty, fold it over in another direction so you can a clean section showing and keep cleaning. It make take a few wipes to completely clean your mat.
Allow the mat to dry completely. Once dry, it will be sticky again and you can start using it again.
Pro tip: Keep the protective sheet that comes with your cutting mat and always put it back on the mat in between uses.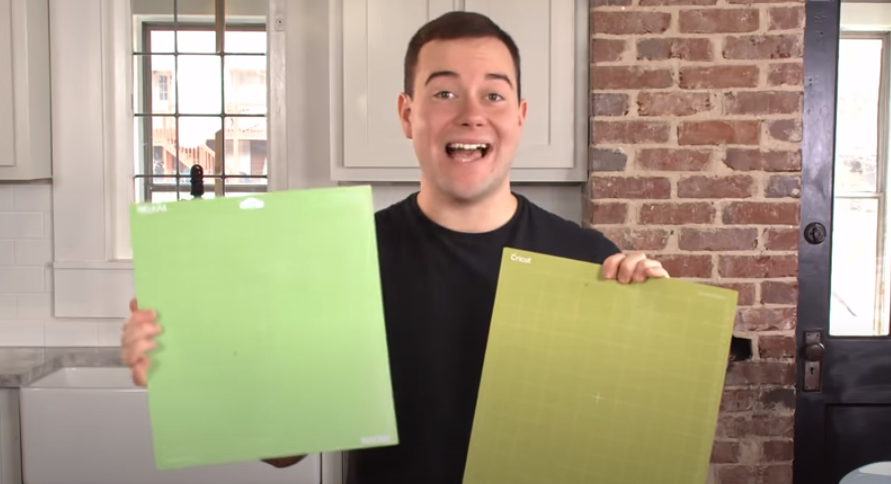 Do I have to use Cricut brand cutting mats?
We get this question a lot and the short answer is No. We have tested Cricut cutting mats against some off-brand cutting mats and the results we came up with might surprise you.
It's important to remember that if you use an off-brand cutting mat in your Cricut machine, you could void the warranty on your Cricut. You may want to wait until after your one-year warranty has expired.
In addition, remember that there won't be as much research going into these off-brands and there may not be as much customer support for them if something goes wrong, That being said, we have never had problems with the non–Cricut brand mats we use.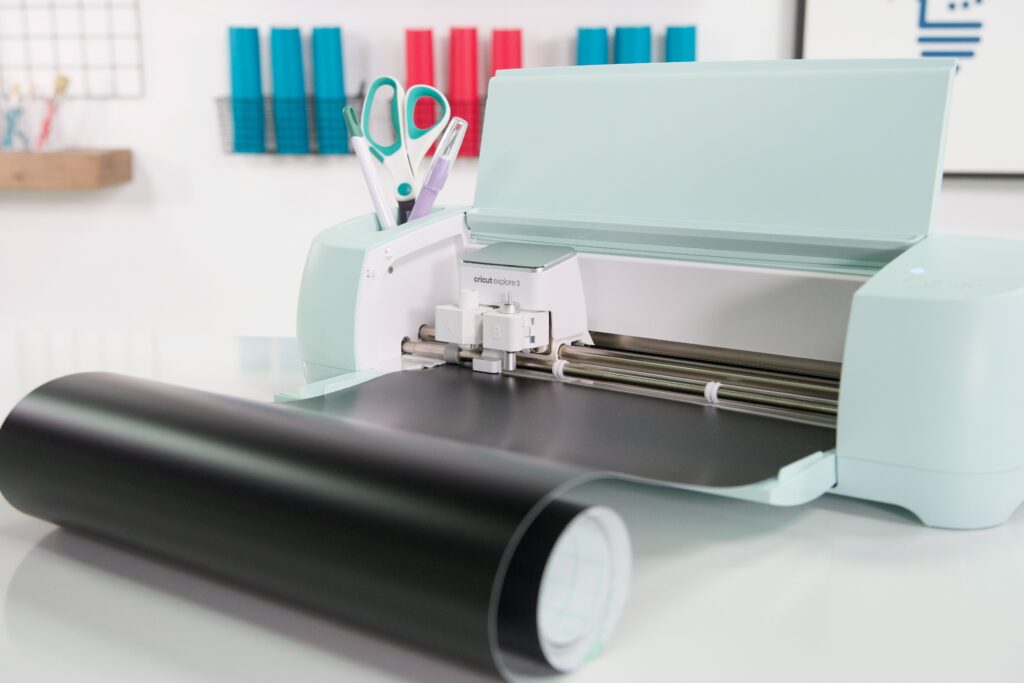 Can Cricut cut without a mat?
With the use of Cricut Smart Materials, you can do matless cutting on a Cricut Joy, Explore 3, or Maker 3. We have even recently tried cutting regular vinyl in a Cricut Maker 3 without a mat and got good results from it.
Tanner, Courtney, and the rest of the Makers Gonna Learn Team are all here because we love die-cutting and especially love sharing fun projects and tutorials with fellow makers. We are all great friends and are always having a blast when we are together- you will see this on camera, especially during live streams! We are here to inspire and support you in your crafting journey!