Ultimate Guide to Cricut Smart Materials
We were first introduced to Cricut Smart Vinyl with the release of the Cricut Joy machine. Now, with two new machines being released – the Cricut Maker 3 and the Cricut Explore 3 – there is even more buzz about it. What is it? What makes it so different? Is it easy to use? We'll answer these questions and more with our Ultimate Guide to Cricut Smart Materials.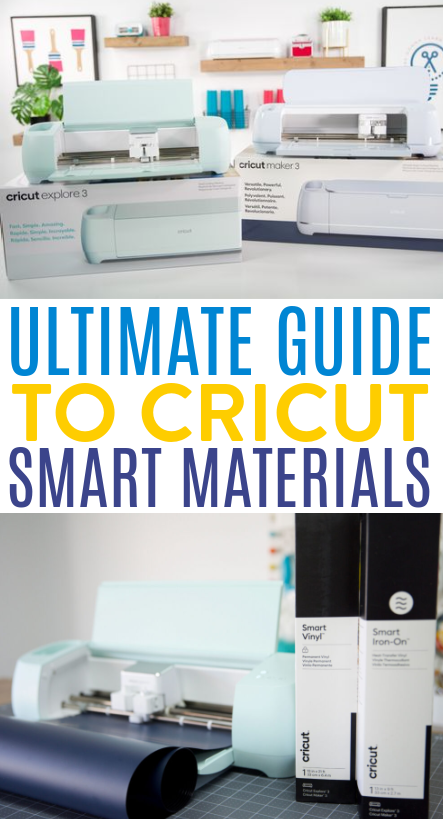 Ultimate Guide to Cricut Smart Materials
Since the Cricut Joy has been out for a while now, we're going to focus on using these materials with the Maker 3 and Explore 3. If you purchased one of these machines, you'll find some samples of the smart materials in the box so you'll be able to try them out for yourself too.
We're going to walk you through a Cricut project using all 3 kinds of the Cricut Smart Materials so you can see just what it's like to work with each one.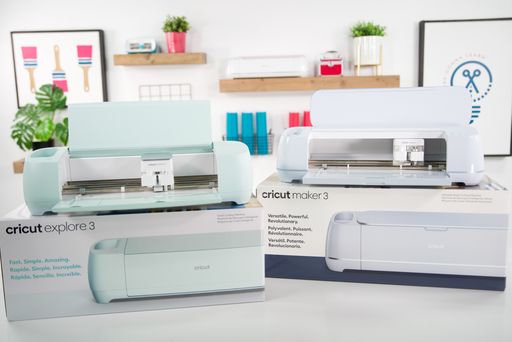 Materials we're using: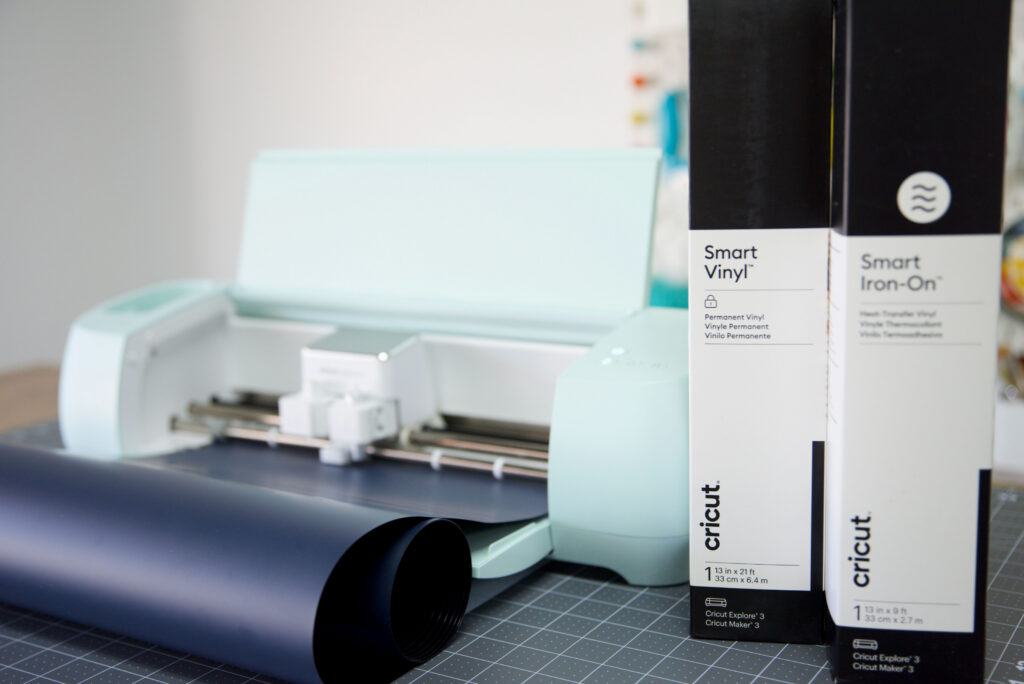 What exactly are Cricut Smart Materials?
They are meant to be used in your Cricut Joy, Cricut Maker 3, or Cricut Explore 3 by loading them directly into the machine without a cutting mat. You can purchase Cricut Smart Vinyl (in Permanent and Removable), Cricut Smart Iron-On, and Cricut Smart Paper Sticker Cardstock. We'll talk about the pros and cons of these new materials and share our honest impressions of them.
Tell me more about each of the different kinds of Smart Materials.
Removable Smart Vinyl
This vinyl can be removed without leaving behind a residue. Cricut recommends it for indoor projects or craft projects you might want to change up later. For renters, Cricut asserts that you can apply this to your walls and then remove it without any damage.
Permanent Smart Vinyl
This smart vinyl is weather-resistant so it's recommended for outdoor craft projects or any projects that you want to last as long as possible. In addition, Cricut asserts that projects with this vinyl applied can be placed in the dishwasher (with certain restrictions – further info below).
Note: In general, we have found that all vinyl is removable. Some, having less adhesive, is easier than others to remove. And when Cricut talks about "permanent" vinyl – we prefer to think of it as "long-lasting" instead, because unless you use Infusible Ink, none of it is truly permanent. We have not yet tested just how long-lasting Cricut Smart Vinyl is for ourselves.
Smart Iron-On
In Cricut testing, Smart Iron-On lasted through 50+ washes. You can layer up to 3 colors of Smart Iron-On.
Smart Paper Sticker Cardstock
With this sticker cardstock, you don't need to use any glue. While for many of our projects, it really isn't worth the extra cost to us simply to be able to avoid using glue, we can see some fun uses for this. For example, you could easily make sheets of stickers to give away or sell with this product.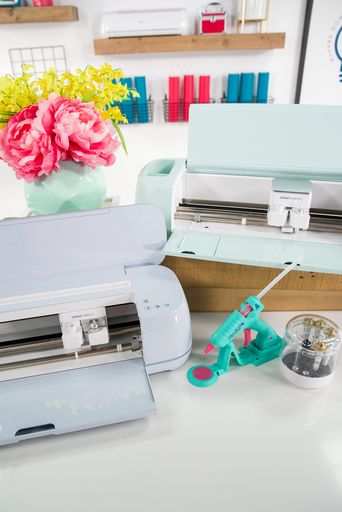 Which machines can cut Cricut Smart Materials?
As mentioned above, they were meant to be used in the Cricut Joy, Explore 3, and Maker 3. Cricut says that these machines were specifically designed and optimized for using Smart Materials.
Can you use smart vinyl on a Cricut Explore Air 2 or a Cricut Maker?
However, you can use them with the older models of the Maker and Explore. Cricut advises that you use them only on a mat with these machines. They assert that the newer machines were optimized to work with the Smart Materials for matless cutting. If you use them with older machines for matless cutting, they may jam the machine, cause cutting errors, or damage machine parts.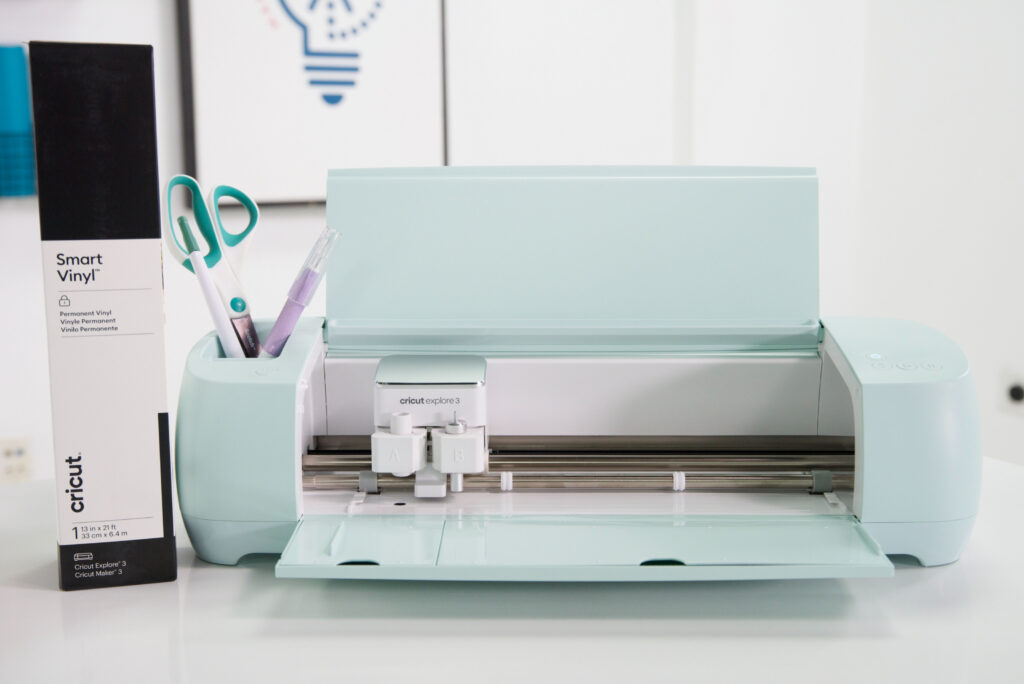 How much do Smart Materials cost?
As of July 2021, these are the prices (USD) from Amazon (which usually has better prices than on the Cricut website especially when you take shipping into account). Bear in mind that prices change frequently and that you may be able to get a deal with a bundle, sale, or coupon.
Permanent Smart Vinyl (Cricut brand)- 13 inches by 12 feet – $19.45
Smart Iron-On (Cricut brand) – 13 inches by 9 feet – $39.99
Smart Paper Sticker Cardstock (Cricut brand)- 10 pack of 13 x 13 inch sheets – $13.99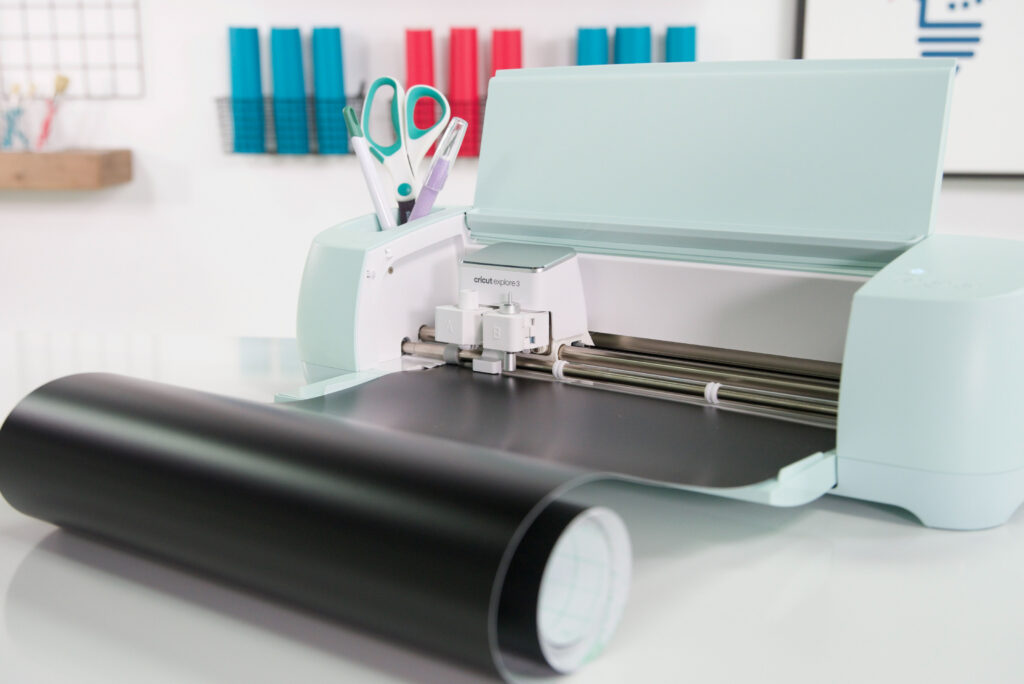 What size are Smart Materials available in?
Cricut Smart Vinyl – 13 inches wide. Available in rolls that are 3 feet, 9 feet, 12 feet, 21 feet, and 75 feet long.
Cricut Smart Iron-On – 13 inches wide. Available in rolls that are 3 feet and 9 feet long.
Cricut Smart Paper Sticker Cardstock – as mentioned previously, this is available in 13 x 13 inch sheets
What is Smart Vinyl used for?
Smart Materials can be used for matless cutting, allowing you to cut much larger designs. A Cricut Explore 3 or Cricut Maker 3, using Smart Materials, can cut a single image or repeated cuts up to 11.7 inches wide and 12 feet long.
If Smart Materials are 13 inches wide, does that mean I can cut designs that are 13 inches wide too?
No. Despite the fact that the Smart Materials are 13 inches wide, as mentioned above, the widest designs you can cut are 11.7 inches. Your Cricut machine will leave an allowance on either side for feeding the material through, as well as a small allowance above and below your design as well.
So, when you load your Smart Materials, your Cricut will then measure it to ensure that there is enough there for your project, including these extra allowances. It's important, because of this, to wait until after your design has been cut to trim your materials when using Smart Materials.
Is that the only difference between Smart Materials and regular materials – the width of them?
No. Not only are Smart Materials wider than traditional materials, they are also thicker. They have a special backing on them that makes it easier to feed them through the Cricut Maker 3 or Cricut Explore 3 without a mat.
Since you don't use a cutting mat, are there special instructions for loading Cricut Smart Materials into the machine?
Line up your Smart Material with the left-hand guide on your machine and then slide it under the mat guides so that it is against the rollers. Press the Load button. Once your design has been cut, you can trim off the excess and save it for future craft projects. Be sure to trim the material straight across in order to use it again later.
With pieces that are less than 13 inches wide or less than 6 inches long, Cricut advises that you place these on a cutting mat to use them.
Uh oh. My Smart Materials went into the machine crooked. What do I do?
Your Cricut will try to straighten out the materials as it measures them. If they are still crooked after that, unload your materials and reload.
Are Smart Materials dishwasher safe?
We haven't personally tried placing an item with Smart Vinyl on it in the dishwasher. However, according to Cricut, the Smart Permanent Vinyl is dishwasher safe when you follow their guidelines:
Be sure to apply the vinyl to a dishwasher-safe surface.
Make sure that the surface is clean before applying the vinyl. We advise cleaning it with rubbing alcohol on a paper towel to get rid of all dust, oils, and debris.
Ensure that the surface is completely dry before applying the vinyl.
Apply the vinyl smoothly – burnish well and use our simple Cricut hack for applying vinyl smoothly to a rounded surface.
Wash your item on the top rack of your dishwasher only. Avoid settings that involve extra heat like "sanitize" and heated drying. The more heat your design is exposed to, the more likely it is lift up.
Before washing your item for the first time, let it sit for at least 24-48 hours to allow for curing time.
How easy is it to apply Cricut Smart Materials?
We found that our Smart Materials cut well and weeded easily. Unfortunately, when it comes to applying most of them, we aren't a fan. The thickness of the material makes them a little trickier to work with and more difficult to apply to our surfaces.
Cricut states that regular Cricut transfer tape works well on most Smart Vinyls. With vinyl that has a textured finish, such as the Shimmer Smart Vinyl, they advise using the StrongGrip Transfer Tape.
It is still quite important to burnish. Once you apply the transfer tape, burnish from both the front and the back of your design. Be sure to burnish again when you apply the design to your surface, before peeling up the transfer tape.
And, although Cricut now makes longer rolls of transfer tape in order to accommodate the longer projects you can make with your Cricut Maker 3 or Cricut Explore 3 and Smart Materials, they also advise that it can be easier to cut designs into smaller sections for application.
Note: We have heard of people who struggled to transfer their Smart Vinyl using either regular or stronggrip transfer tape. In addition, we ourselves have experienced issues with this. You'll see as we demonstrate using the materials what happens – essentially we often find that it doesn't stick well to the transfer tape.
Can you score the Cricut Smart Paper Sticker Cardstock?
You cannot score when working without a mat. Your materials must be on a cutting mat if you wish to score them. Remember that Smart Materials are more expensive than the regular ones so if you want to create a project on a mat, you'd be better off simply using the regular materials.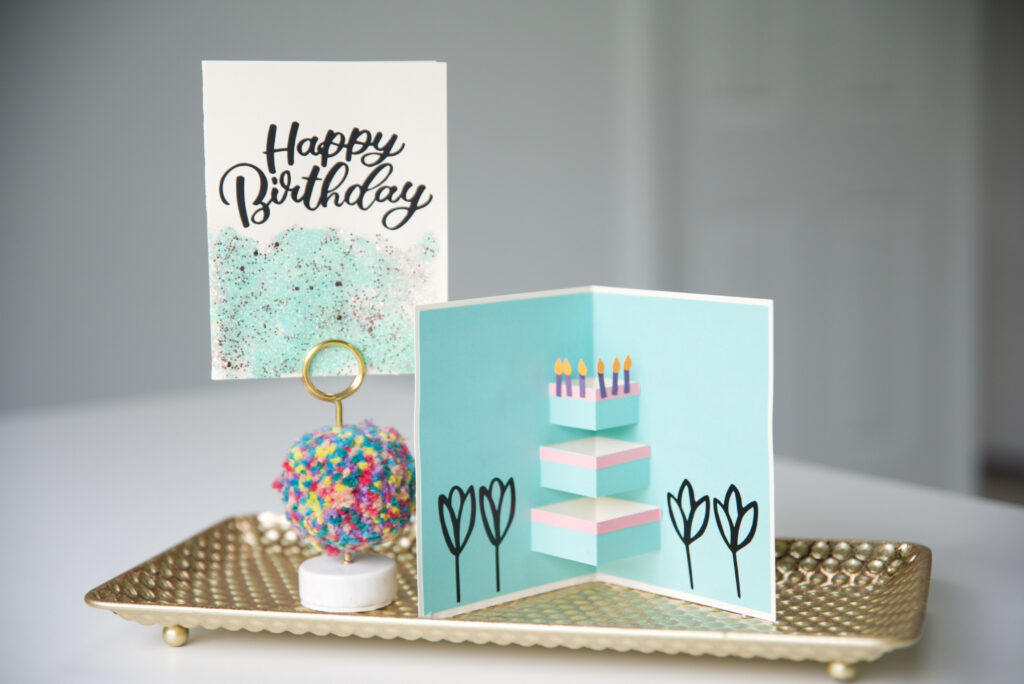 Making the Birthday Greeting Card
We're going to make this birthday card using Smart Iron On, Smart Vinyl, and the Smart Adhesive Cardstock. Although we don't usually use Iron On on a card, we wanted to test out all 3 materials.
The Happy Birthday sentiment is a Makers Gonna Learn cut file. The flowers cut file is also from Makers Gonna Learn. The rest of the card was created using Basic Shapes in Cricut Design Space.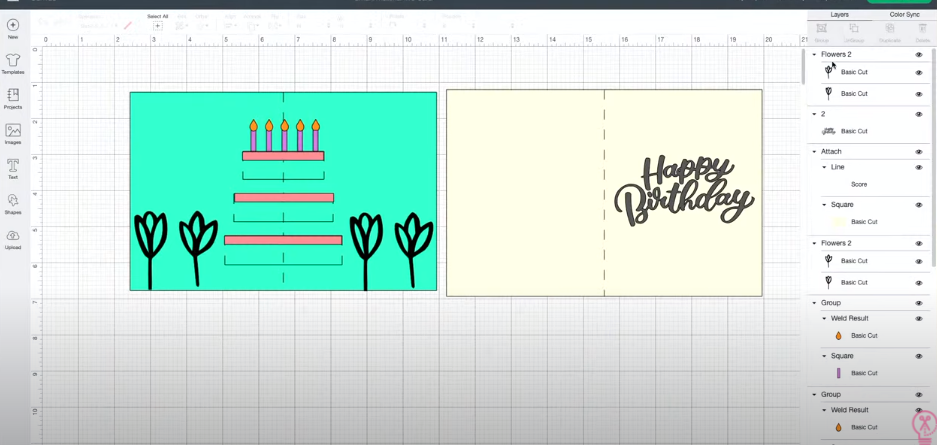 Working in Design Space
We began by creating 2 rectangles in Cricut Design Space, sized to the size of the card we want to make. Make the plain white rectangle (the outer layer of the card) a little larger than the inner one. We attached a Score Line to each one.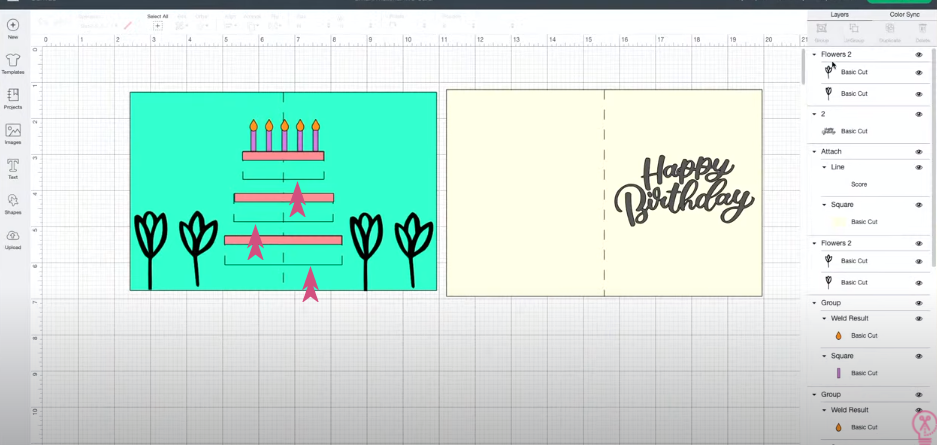 Here, we have added 3 horizontal cut lines.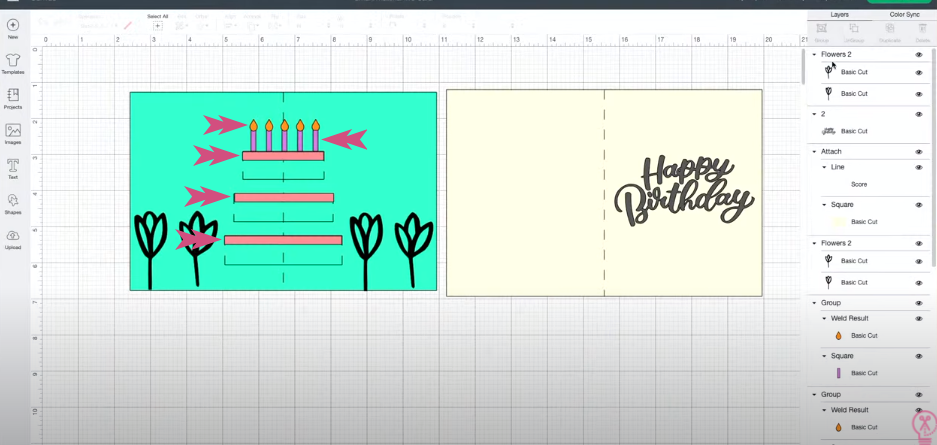 We used Basic Shapes to add 3 pink horizontal rectangles for part of the cake, 5 purple vertical rectangles for the candles, and then created the flames using triangles and circles that we welded together.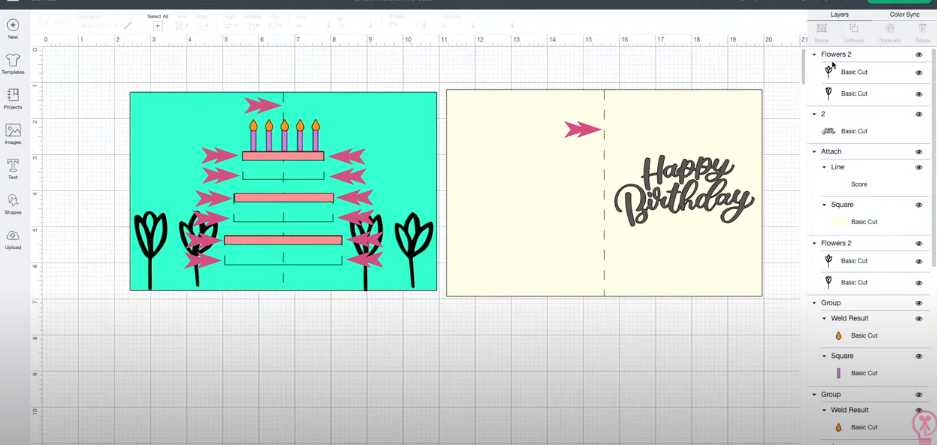 We placed more score lines at the ends of each of the pink rectangles and each of the 3 horizontal cut lines. The above image shows where all of the score lines should be.
Cutting your design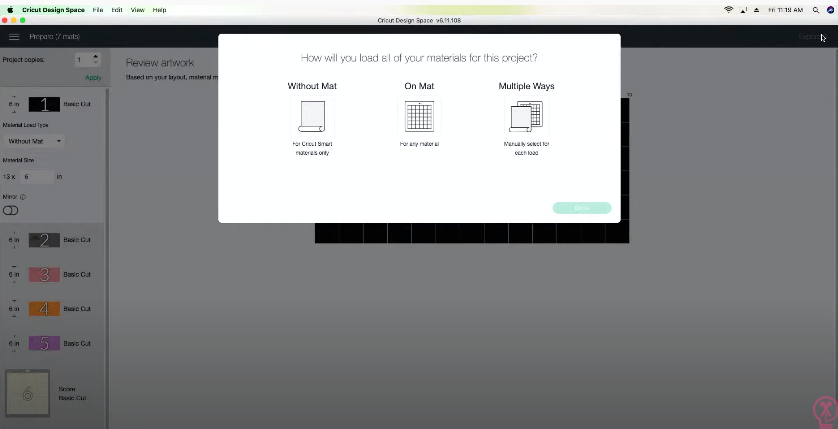 As you can see, you have the option for matless cutting or cutting with a mat. There is also the 3rd option, which is the one we chose: "Multiple Ways".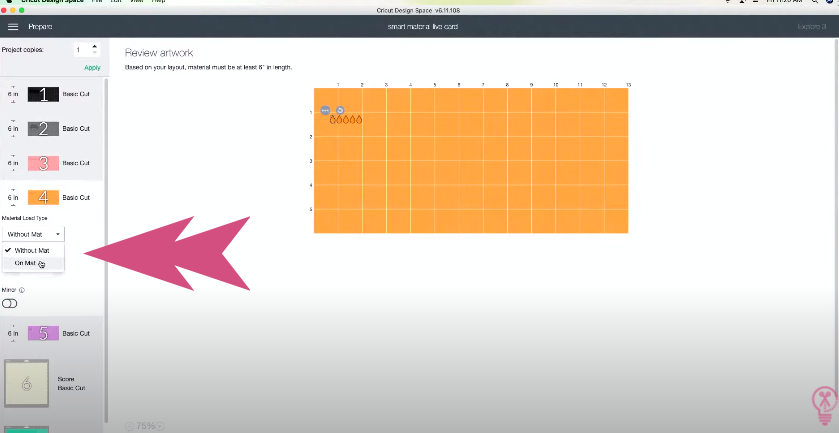 This allows you to go through each section of your design and choose to make it matless or not.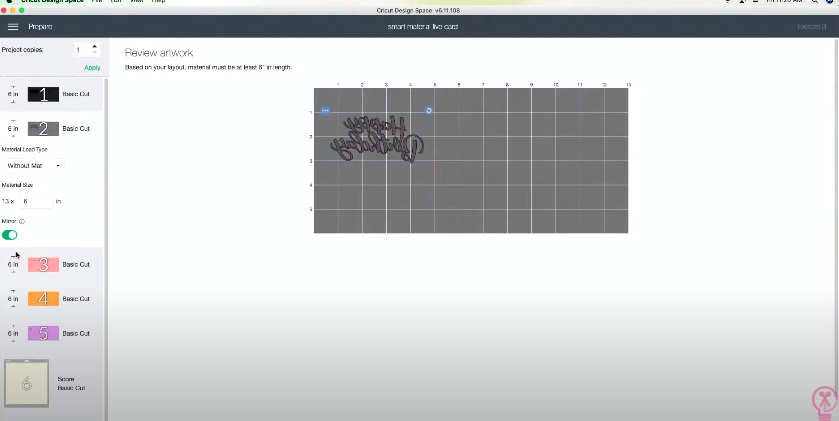 Since we're using Iron On for the Happy Birthday sentiment, we made sure to Mirror it.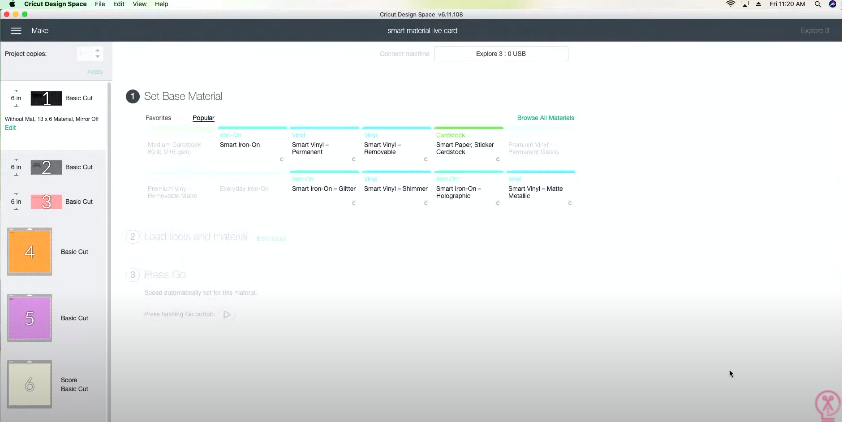 Select your material.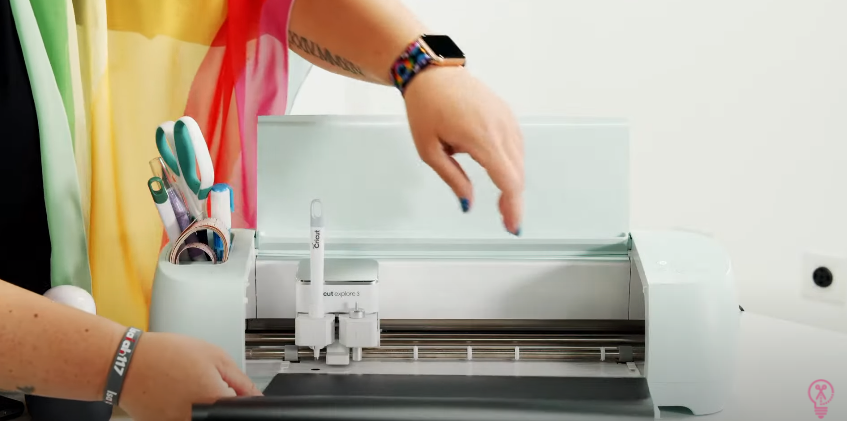 Load your Smart Iron-On Vinyl into the machine. We're using the Cricut Explore 3 here. Note: we aren't using it here, but there is a roll holder available from Cricut for your Cricut Maker 3 or Cricut Explore 3. It not only holds the roll of vinyl for you, but also has a built-in trimmer. Cut your vinyl
Note: It seems to us that Cricut really intends us to use the Smart Vinyl and Smart Iron-On mainly for large projects. If you use them for smaller ones, there is some wasted vinyl. You can use this excess vinyl on a mat, but of course, you'd have to buy that mat separately as it doesn't come with either the Cricut Maker 3 or the Cricut Explore 3. In addition, the fact that you need a straight edge in order to load your materials into the machine means that you may have some waste from trimming it.
Weeding your design
When it comes to weeding Smart Vinyl, this brings us to another point that we're not a big fan of. Because we're doing matless cutting, we can't weed on the mat, as is our preference. This can make weeding a little trickier – particularly if you are making an especially intricate design.
Tip: You can create a weeding square. We don't typically do this with our regular designs because we don't find it necessary and it does waste some material, but it can be really helpful with Smart Materials.
So, what you do is create a square around your design in Design Space. Your Cricut will cut out this square along with your design. Because it doesn't cut through the backing, you then don't need to trim away the excess material. Then, you can simply load the roll back in for your next project without having to worry about cutting off excess and possibly wasting it if you don't have a mat to use it with.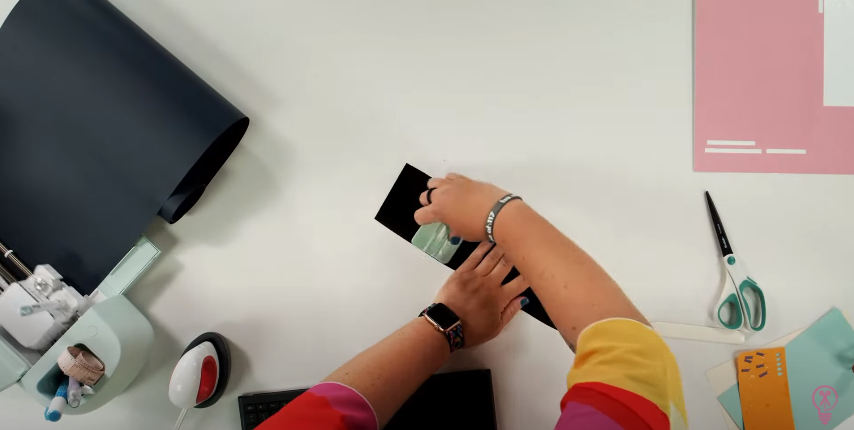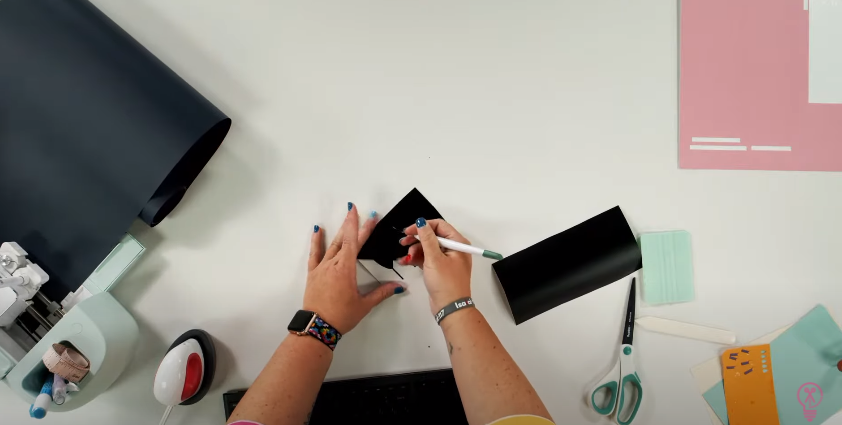 It's still important with Smart Vinyl and Smart Iron-On to burnish your vinyl before weeding. Then, weed your design.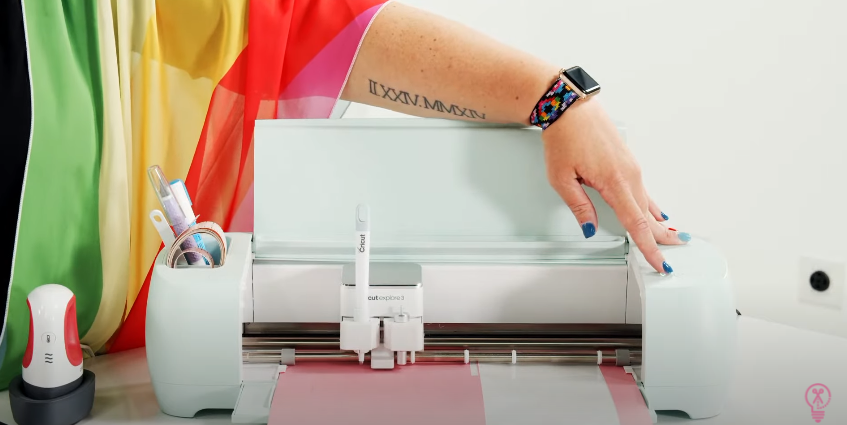 Here you can see that we're loading the Smart Cardstock into the machine. Because we've already cut out of this piece of cardstock before, it's important to note that even when working matless, you can still go into Design Space and move your design around to ensure it's where you want it to be.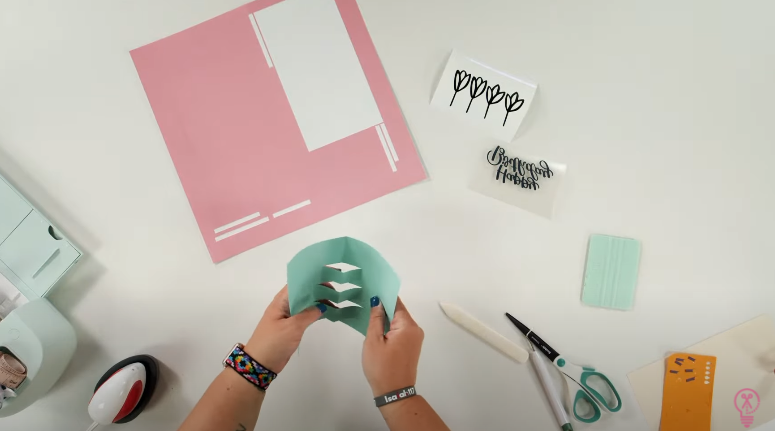 Assembling the card
Fold your card along the score line and gently push the cake layers in the other direction along their score lines. Fold the outer card layer along the score line as well. Glue the inner card into the outer card layer.
Note: we did try to use the Smart Cardstock for the outer layer of the card. There were a couple of issues with it. One, as mentioned before, was that you can't add score lines when doing matless cutting. Secondly, when we tried to fold the card ourselves, there was adhesive in places we didn't necessarily want it to be and the pop-up part of the card didn't work properly.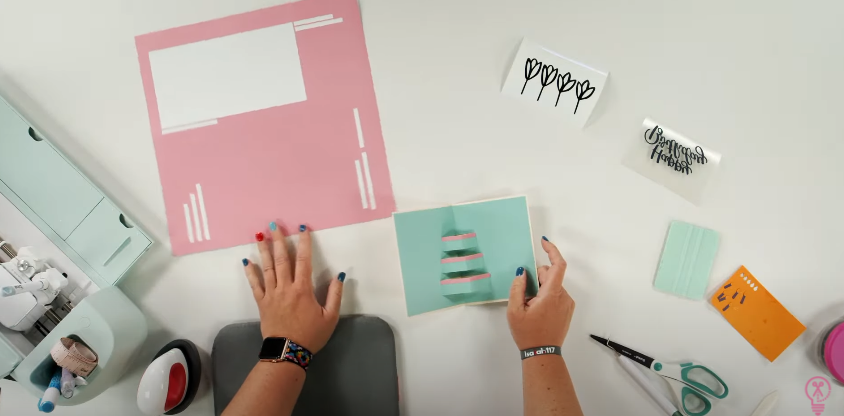 Peel up the pink cake layers from the Smart Cardstock that you cut. You'll see that they peel up beautifully! Then, lay those pieces onto the cake layers on your card.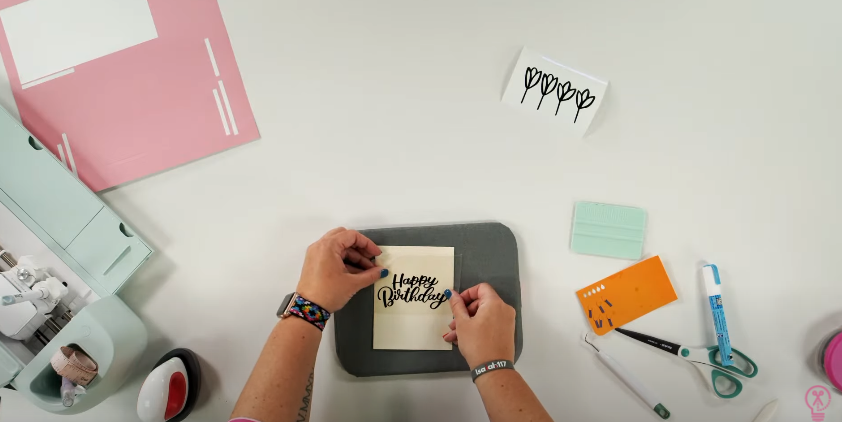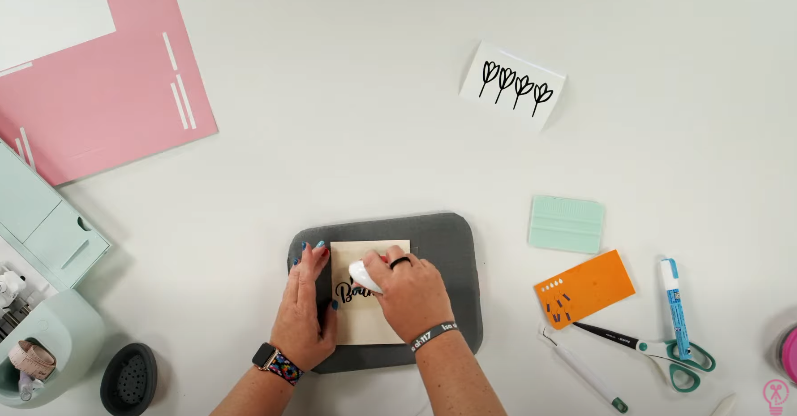 Apply the iron-on vinyl to the card and use your Cricut EasyPress Mini to heat and adhere it. We find that the iron-on applies well without any seepage like you might get when applying regular iron-on to a non-traditional surface.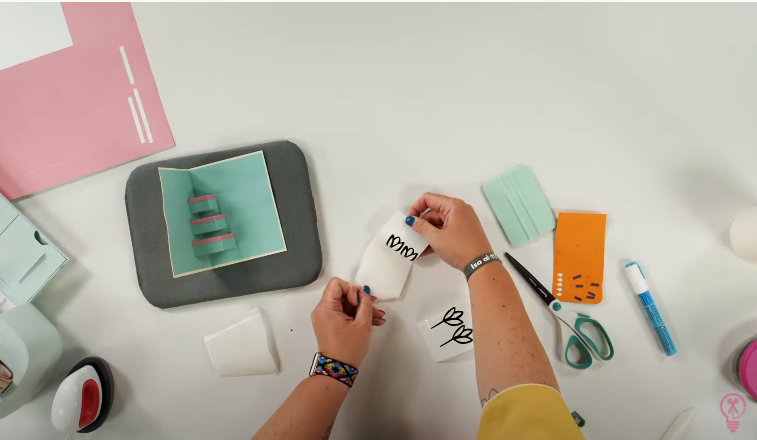 Now, add your transfer tape to the Cricut Smart Vinyl flowers. Burnish really well. You can see that as we started to remove the backing, our design is not sticking to the transfer tape. This is one of the issues we have had with the Smart Vinyl. We find that we have to keep putting it back down, burnishing and burnishing, and working with it to get it to transfer well.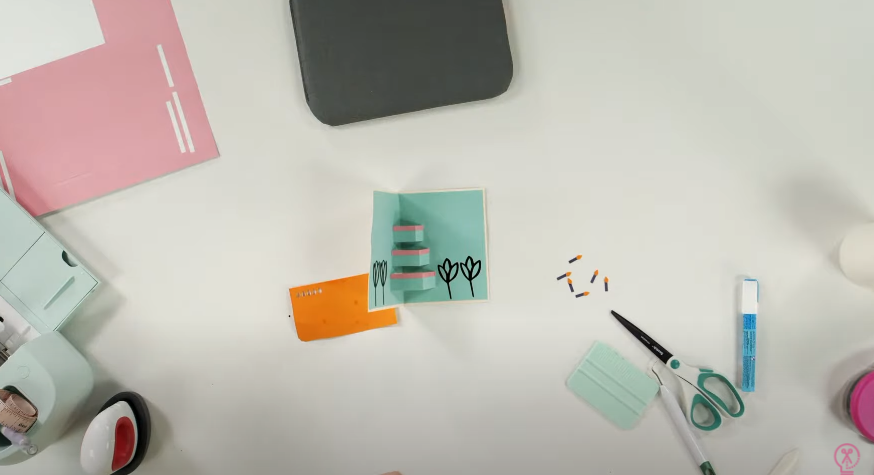 Once you have added your vinyl flowers to the card, it's time to add the candles you cut from the Smart Cardstock. We suggest using reverse tweezers to apply tiny elements like these.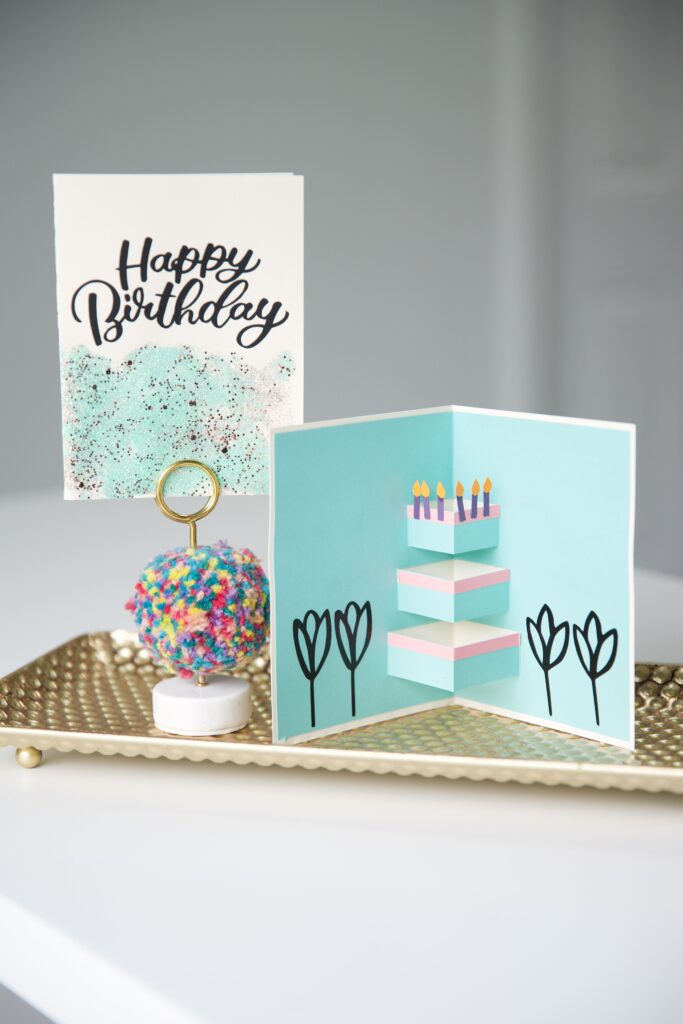 And there you have it! The finished card. If you would like to see the full video where we demonstrate using these new Cricut Smart Materials, check it out below.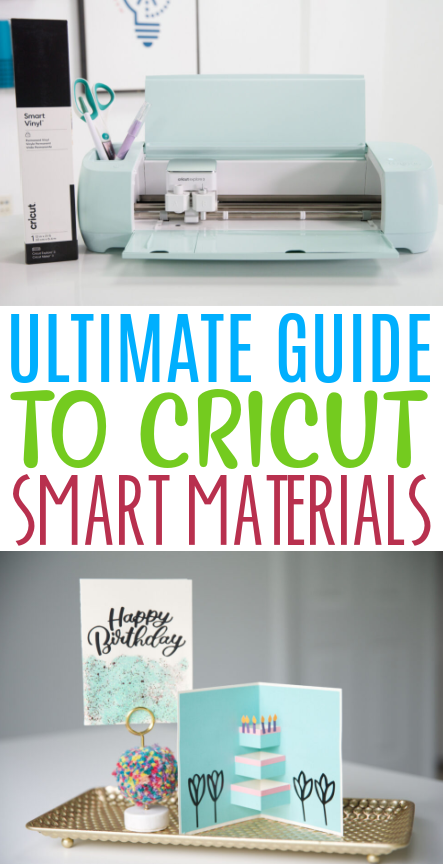 Tanner, Courtney, and the rest of the Makers Gonna Learn Team are all here because we love die-cutting and especially love sharing fun projects and tutorials with fellow makers. We are all great friends and are always having a blast when we are together- you will see this on camera, especially during live streams! We are here to inspire and support you in your crafting journey!