Using Leather with Cricut
Using Leather with Cricut is something that we love to do. We often hear from people who are too intimidated to try it, but with our handy Cricut tips, you'll be ready to tackle creating leather Cricut projects in no time.
You can cut leather with both a Cricut Explore and a Cricut Maker machine. The difference will be the type of leather that you can use with each machine successfully.

Using Leather with Cricut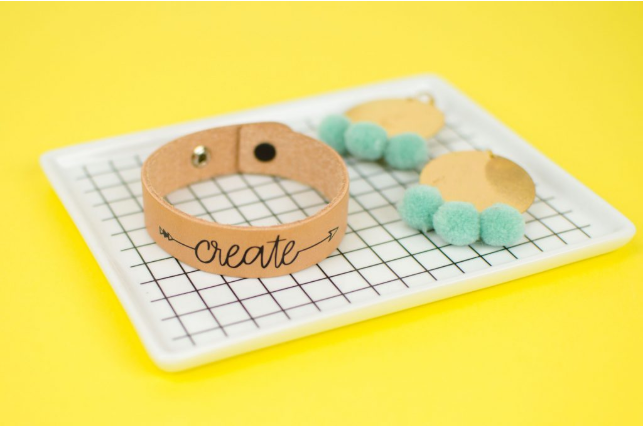 Cutting Leather with Cricut Explore or Cricut Maker
We love to use Cricut faux leather. It's paper thin and easily cut with your fine point blade using your Explore or Maker. If you're concerned about it not sticking as well to the cutting mat, some people use the StrongGrip mat but we find that to be too much adhesive. We usually use our StandardGrip or FabricGrip mat. To ensure that it sticks well, use a brayer to burnish it to the mat.
Pro Tip: This product is vegan, so if you don't use animal products you can safely use this for your craft projects.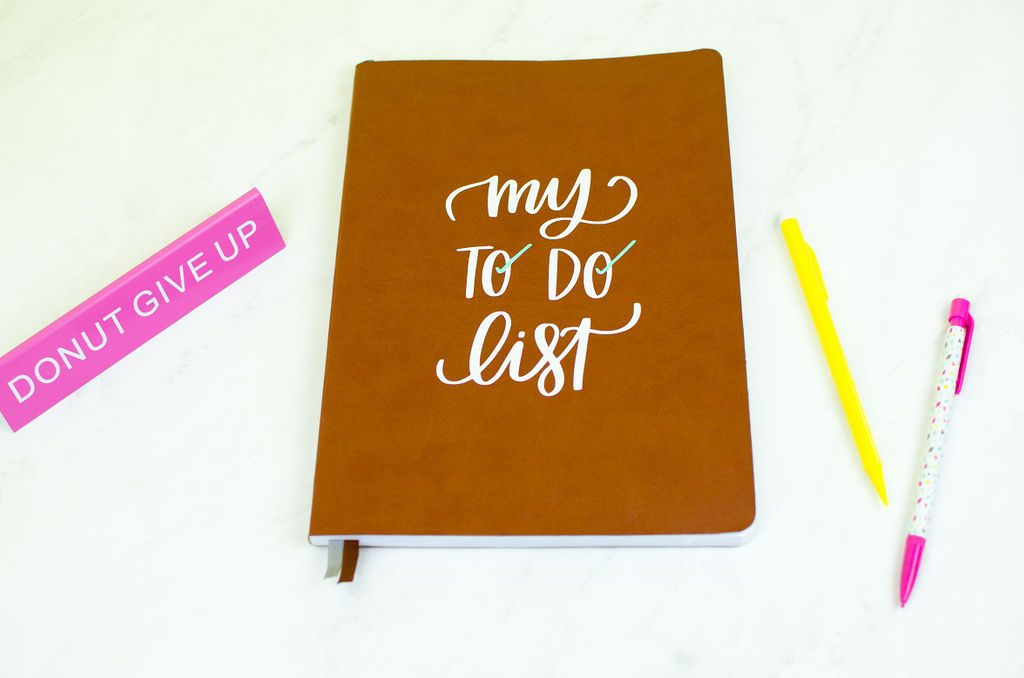 Cricut also has a genuine leather product that is thin enough to be used with the Cricut Explore or Maker. For this material, you will want to use the Deep Cut Blade since it is thicker than the faux leather. In addition, we suggest using your StrongGrip mat, once again burnishing the leather with a brayer.
We have heard of some people having success with using a FabricGrip mat for this leather, so if you find the StrongGrip mat too sticky, you might want to give that a try. Again, be sure to brayer it really well!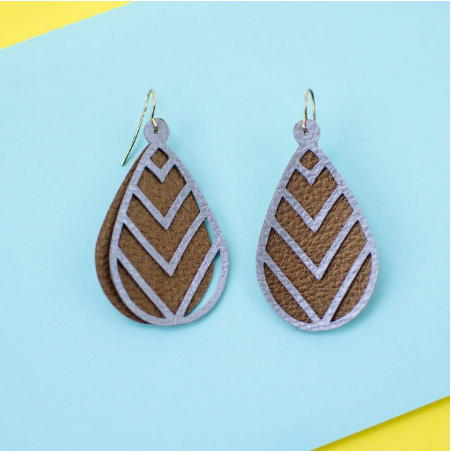 Which one of these products should you use? The thicker the leather product, the more difficult it can be to cut an intricate design such as our earrings above.
Beyond the intricacy of the design, you can consider what you plan to use the leather for. If it's an accent design on something else, you might want to use the paper thin faux leather. For the cover of a journal that will get a lot of use, you might consider using the thicker leather.
Pro tip: Layer two or more pieces of the thin leather to make it sturdier.
What about leather that is NOT from Cricut?
Working with leather products that are not made by Cricut can be a little trickier. This doesn't mean impossible, but it does mean that we would suggest you experiment with it before trying to make an entire project. In general, we find that you will need a Cricut Maker to cut leathers that are not from Cricut.
With some of the thinner leathers – ones that are quite flexible and soft – we recommend starting with the rotary blade and either your FabricGrip or StrongGrip mat. (Try one and if it doesn't work well, try the other!). Make a test cut and see how it does. You can try cutting this the same way as with the Cricut Genuine Leather and your Cricut Explore, but we find we almost always need to use our Cricut Maker for this.
With the thicker leather – the kind that tends to be rather stiff and not nearly as pliable – you will DEFINITELY want to use your Maker, your knife blade, and your StrongGrip mat. Again, make a test cut before working on an entire project. Leather can be expensive! You don't want to waste a large piece. Even with using the StrongGrip mat, you will still need some masking tape to hold this thick leather down well.
The thickest material a Cricut Explore can cut is 2 mm. For the Cricut Maker, the thickest material it can cut is 2.4 mm thick.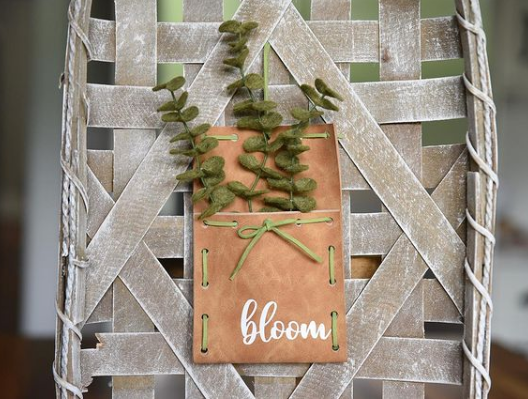 Troubleshooting
When working with a new material. we always advise you to make a test cut before cutting out your whole design. It's important to get a feel for just what blade, mat, and other items and techniques you need to use for that particular material.
My leather isn't sticking well to the mat.
Try using a stickier mat. A brand-new mat is best if you're working with a thicker leather, in particular.
Important! Sometimes with the paper thin faux leather from Cricut, we find that a brand-new StandardGrip mat is just too sticky! In that case, we use an older mat or a LightGrip mat.
Remember to use a brayer to really adhere your leather well to the mat.
Already using the stickiest possible mat? Try adding masking tape all around the edges to hold the leather down.
You can also try flipping the leather upside down. Sometimes the "right" side of the leather sticks better to the mat than the "wrong" side. Don't forget to mirror your design.
Cover the back of your leather with a piece of Contact paper (adhesive shelf paper). Again, this can help it stick better to the mat, but the bonus is that it can also keep your mat cleaner. Sometimes when cutting leather, especially a thick one, there will be some bits of fibers left behind that make your mat dirty. Instead of having to clean your mat, you can keep it clean with this craft hack.

My blade isn't cutting the leather properly.
With the Cricut faux leather (paper thin), the fine point blade works really well and you shouldn't need to switch blades. If your blade isn't working well, you might need to clean it. Crumple up a ball of aluminum foil and stab your blade into it over and over again to clean off any residue and debris. Still not working well? Try increasing the pressure setting to More Pressure. If this doesn't do the trick, it's probably time to change your blade and put in a new one.
For the Cricut genuine leather, we usually have good luck with the deep point blade. Once again, begin by trying the cleaning method mentioned above. Again, you can also try increasing the pressure to More Pressure. If that doesn't work, change your blade However, on occasion, we do find it doesn't work as well. If you have a Maker, you can switch to the rotary blade or the knife blade in this case.
Pro tip: Be sure to move the star wheels out of the way so they don't leave any marks or indentations in your leather.
How to Apply Vinyl to Leather
It is so easy to apply vinyl to leather, especially when using adhesive vinyl and one of the Cricut leather products. Simply follow the same techniques you would for applying vinyl to anything else. You might want to use your brayer again instead of your scraper tool for burnishing if the leather you're using is prone to getting marks in it quite easily.
You can also apply HTV to Cricut Faux Leather. Again it works pretty much the same way it does with other materials. We find that a setting of 280 degrees for 26 seconds works well for us.
With other leather products, again, we suggest experimenting with a small piece. We find it works well with pretty much any kind of leather, but you want to be sure it's not going to discolor or damage the leather in any way when you apply the heat.
Leather Project Tutorials
Ready to start making some amazing leather craft projects? Here are a few to get you started:
Embossing Leather with Cricut Maker
Faux Leather Earrings with Cricut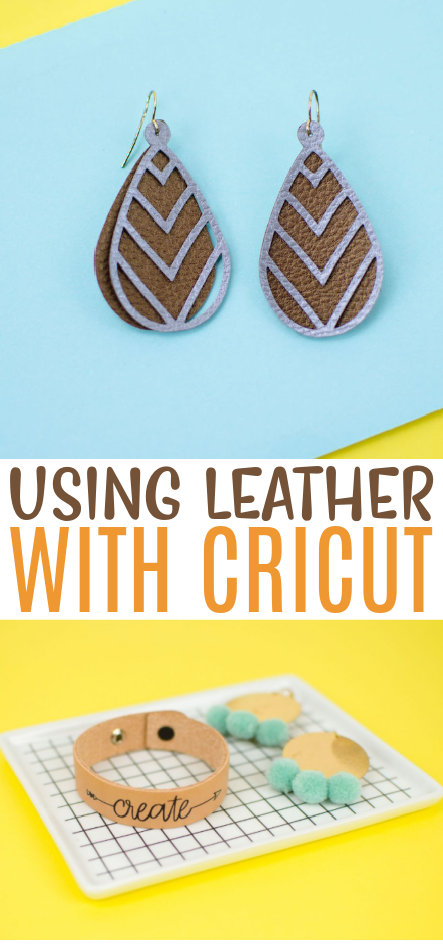 Tanner, Courtney, and the rest of the Makers Gonna Learn Team are all here because we love die-cutting and especially love sharing fun projects and tutorials with fellow makers. We are all great friends and are always having a blast when we are together- you will see this on camera, especially during live streams! We are here to inspire and support you in your crafting journey!