Using Off Brand Infusible Ink
Cricut Infusible Ink is a super fun unique material you can use with your Cricut machine to get a sublimation-like look to your craft projects. It can open lots of crafty possibilities for Cricut beginners. The big downside of Infusible Ink is the price. So in this post, we are using Off Brand Infusible Ink and comparing it to the original Cricut Brand Infusible Ink.
Like many Cricut products, the price makes it hard to justify using it in everyday crafting. Luckily, we found this off-brand Infusible Ink, We'll share our results from our side-by-side comparison and then you can decide if this is a product you want to try too.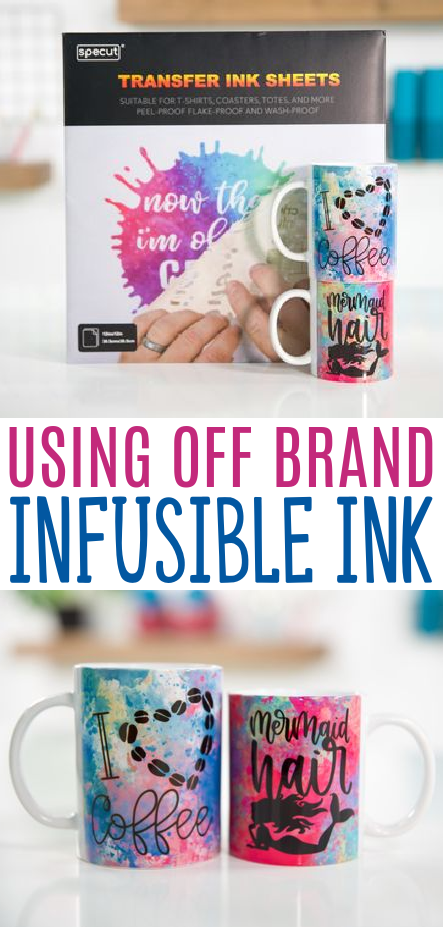 Using Off Brand Infusible Ink
Materials we used:

Cut File Used: Bear Cut File from Makers Gonna Learn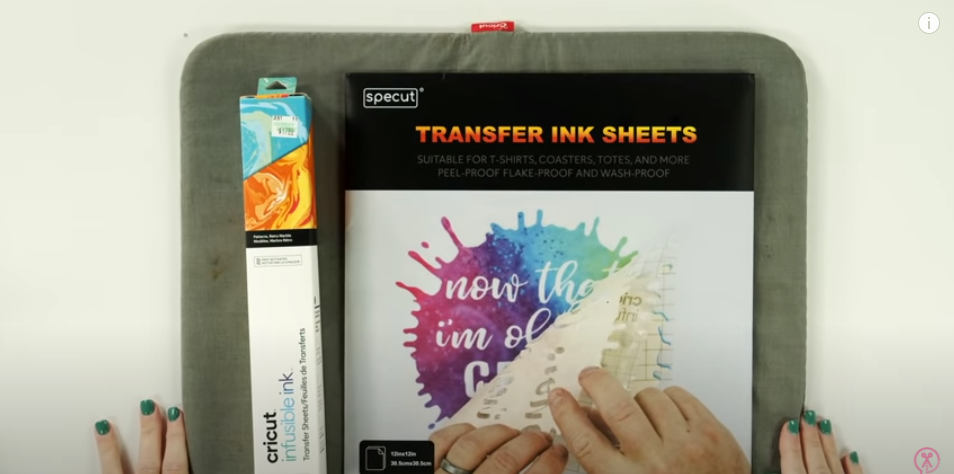 Each of these packages contains 12 by 12 inch sheets of transfer ink. In the Cricut brand Infusible Ink package, you get 2 sheets and the price (at the time of this writing at Hobby Lobby) is $17.99. The Specut Transfer Ink package contains 12 sheets and the current price on Amazon is $19.99. (prices are subject to change).
Clearly, if this off-brand transfer ink performs as well as the Cricut Infusible Ink, it is a much better deal!
Working in Cricut Design Space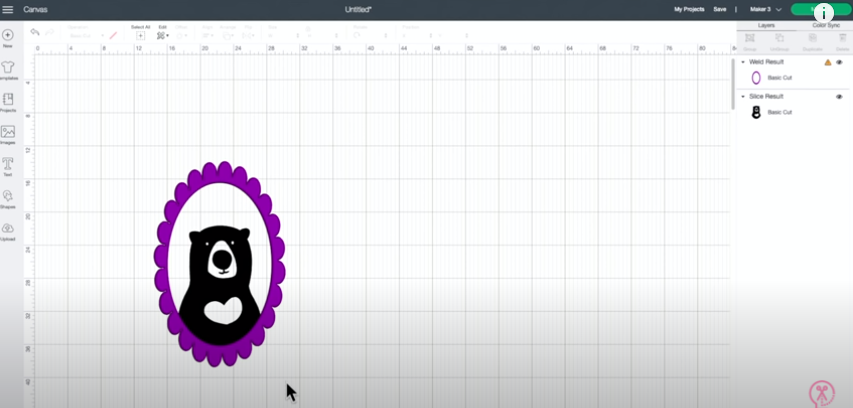 Open your chosen cut file in Design Space. To create the frame around our bear, we grabbed a circle from Basic Shapes. Resize it to create an oval. Then, add lots of little circles and contour them onto the frame. Once happy with your frame and scalloped edge, choose Weld. Size your design to fit well on the shirt and on the sheet of transfer ink.
Press Make It. Choose the "on mat" option for cutting with or without a mat. Connect to your Cricut machine and select your material: Infusible Ink.
Pro tip: Don't forget to mirror your design!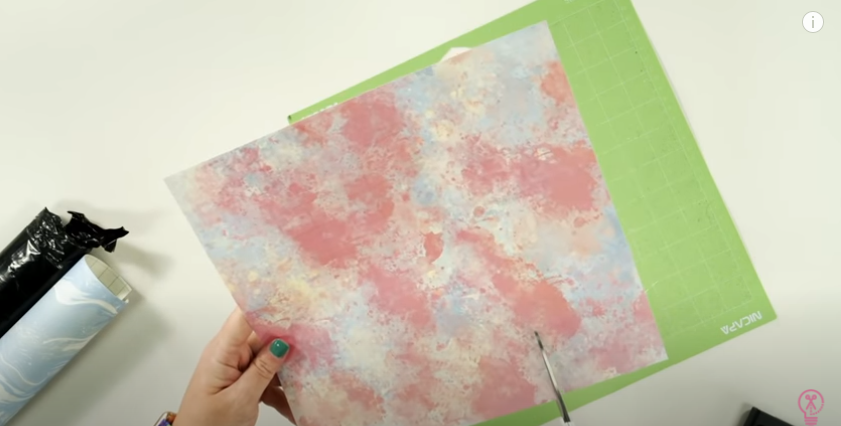 Cutting your design
Cut a piece of ink transfer sheet large enough for your design. If your hands tend to be a bit damp, you will want to wear cotton gloves when handling any Infusible Ink type products. Otherwise, you could actually remove some of the ink onto your fingers.
Note: we're using the off-brand ink transfer sheets for the bear.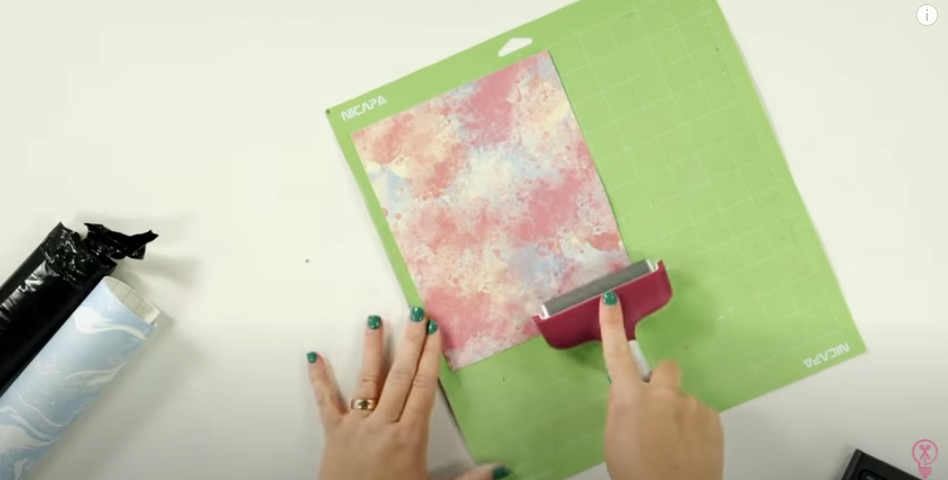 Use a brayer to smooth out and adhere the ink sheet to your cutting mat.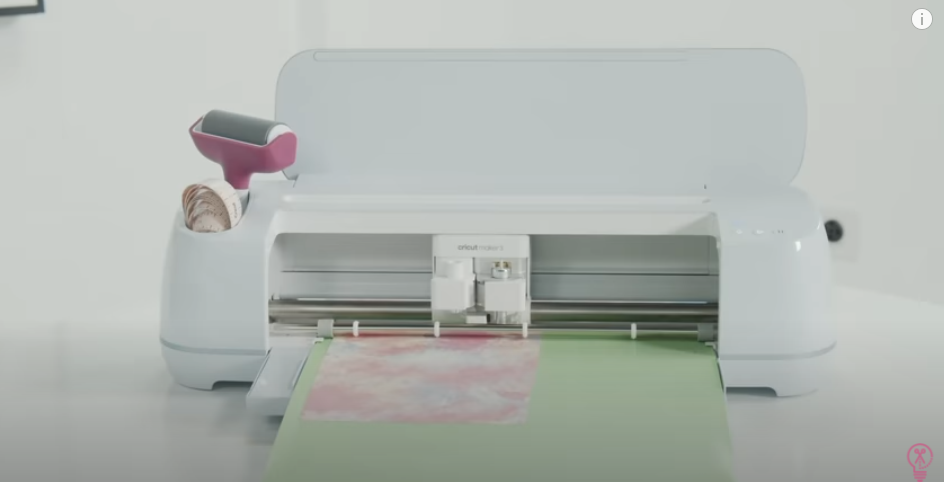 Cut out your design.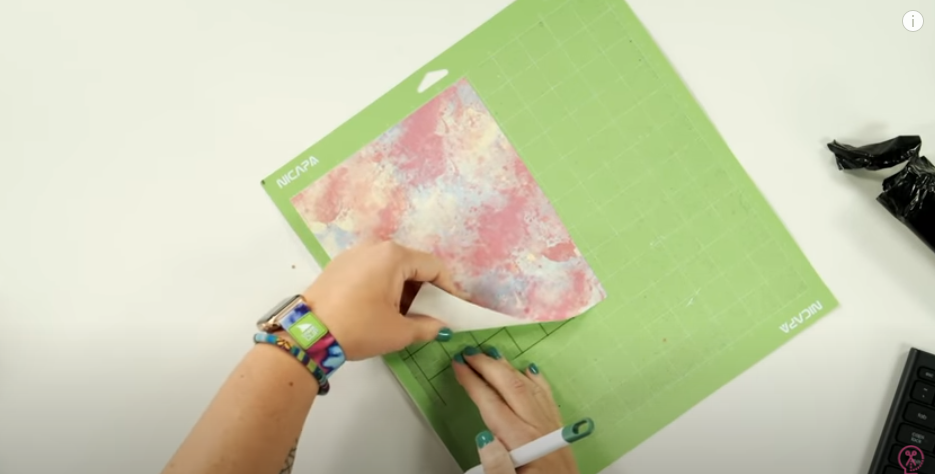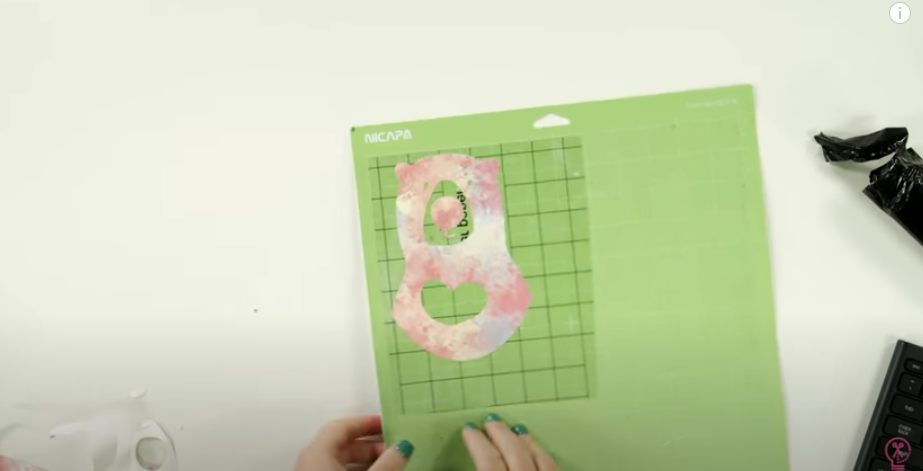 Weed by removing the outer parts of negative space first. We use a weeding tool to lift up one corner and then continue with our fingers. You may feel like you are "breaking" the ink because you can feel it cracking. This is perfectly normal.
We repeated this same process for the frame using the Cricut brand Infusible Ink. One of the differences we noted between the two products was that the Cricut Brand ink didn't actually weed as well as the off brand. It didn't seem to cut through as well and this caused us some difficulties when we went to weed it.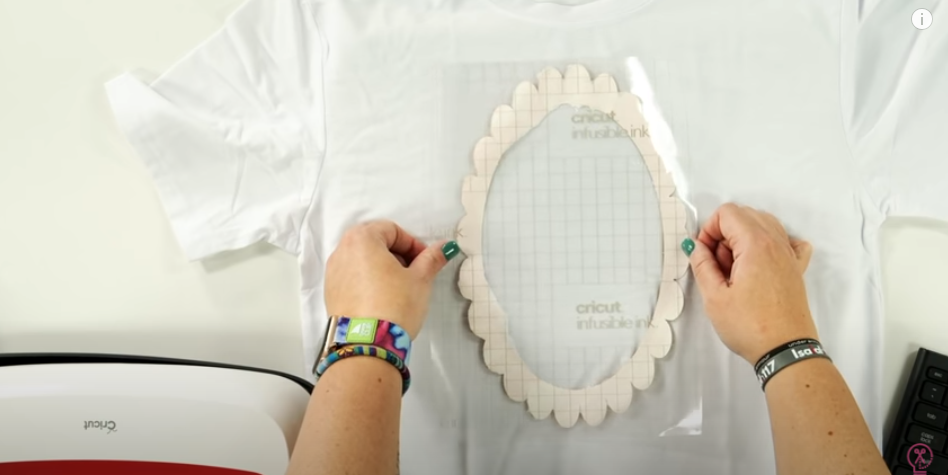 Placing design on shirt
We began with the frame shape cut from Cricut Infusible Ink. Place it on the shirt, lining it up as you wish. You can use butchers paper (some comes with the ink sheets) as a barrier if you want, but we don't. We find that we get great results even without it.
Use a Cricut EasyPress to heat your design. We set ours to 400 degrees and heated it for 45-50 seconds.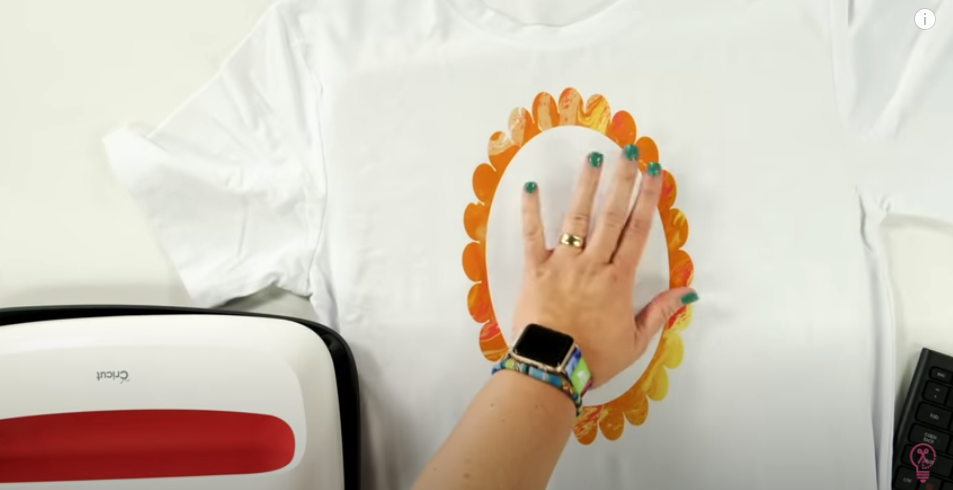 Remove the transfer sheet from the design.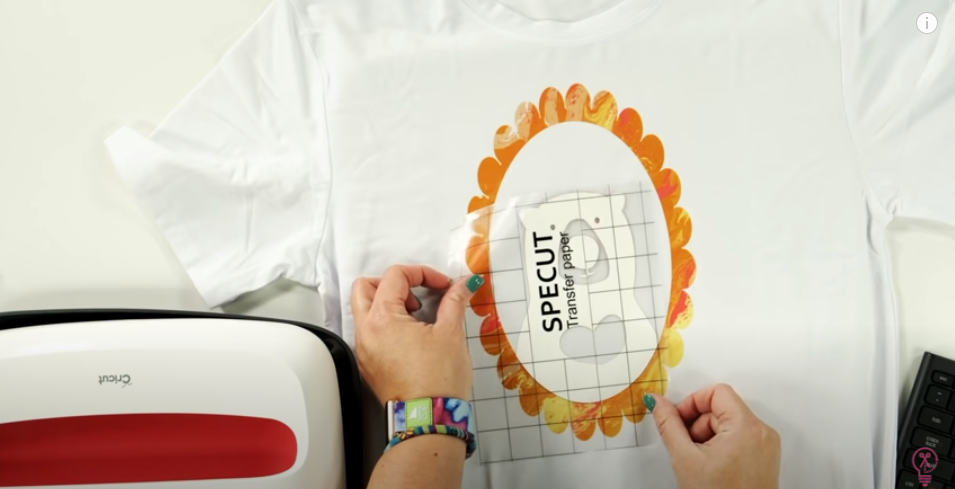 Add the bear design inside the frame. If needed, you can use some heat resistant tape to help adhere it and ensure that it stays in place. We didn't find that necessary for our design.
Cover the entire design with butcher paper (or you can use the transfer paper that you just removed) to ensure that you don't remove any of the ink you already put down for the frame as you transfer the ink for the bear.
Heat for another 50 seconds at 400 degrees.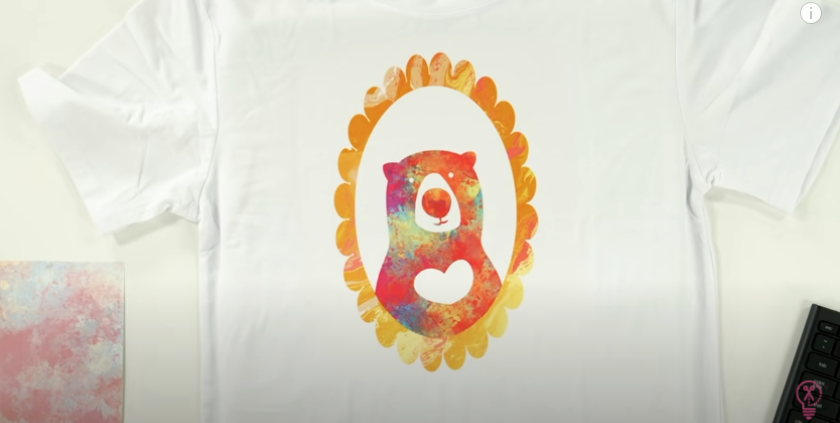 Overall Results:
We found that the off brand cut and weeded more easily than the Cricut brand ink transfer sheets. When it came to transferring, we got beautiful results from both of them. They both resulted in vibrant colors that transferred well.
One thing about the Specut Transfer Ink Sheets that we aren't a fan of – in the package, there are 12 different ink colors/designs, but there's really no way to see what they will look like after transferring until you do it. Cricut Infusible Ink does provide you with an image of what each sheet will look like once used.
Pro tip: The ink is always much more vibrant after being heated and applied.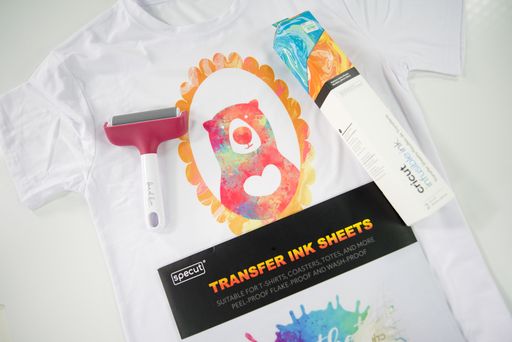 BE SURE TO CHECK OUT THE LAYERED INFUSIBLE INK MUGS WE MADE IN THE CRICUT MUG PRESS USING CRICUT BRAND INFUSIBLE INK AND SPECUT BRAND TRANSFER INK SHEETS TOO!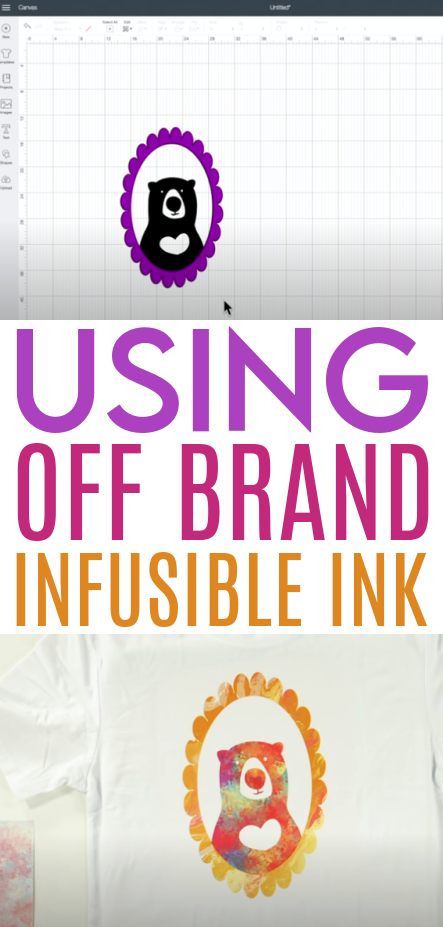 Tanner, Courtney, and the rest of the Makers Gonna Learn Team are all here because we love die-cutting and especially love sharing fun projects and tutorials with fellow makers. We are all great friends and are always having a blast when we are together- you will see this on camera, especially during live streams! We are here to inspire and support you in your crafting journey!