Vinyl Hacks You Probably Didn't Know
If you're a die-cutting craft fan, you are going to love these ideas. These are some amazing vinyl hacks that we use all the time in our craft studio. They make crafting so much easier!
We have tips for making it easier to weed your vinyl, applying your vinyl to your chosen surface, making long-lasting projects, and more. Pin this post so you can save it and refer back to it anytime you want. These Cricut tips are going to help take you from die-cutting beginner to expert in no time!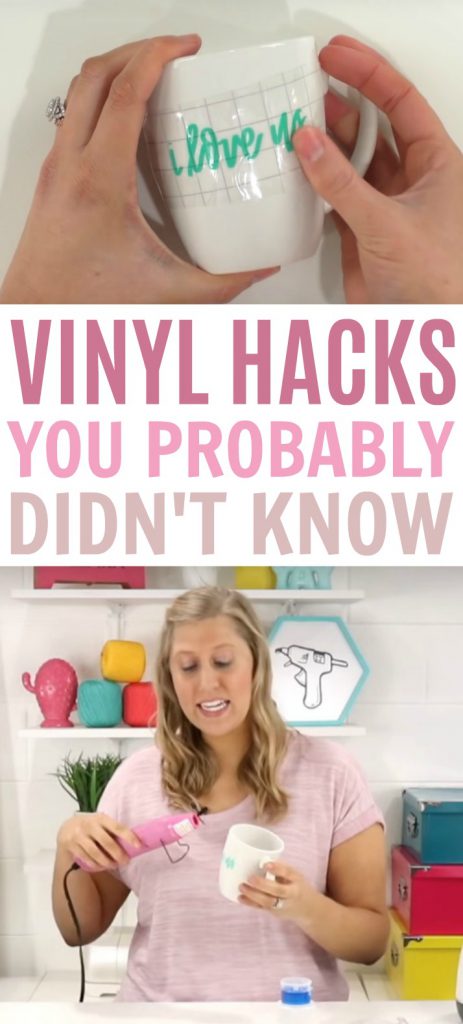 Vinyl Hacks You Probably Didn't Know
Disclosure: Some of the links below are paid links provided for your convenience. This means, at no additional cost to you, we will earn a commission if you click through and make a purchase
Weeding on the mat:
This is one of our favorite hacks! We love to weed on the mat. Keeping your design on the mat helps hold it down for you. It's almost like having an extra hand to work with.
Once you unload your cutting mat from your die-cutting machine, take your scraper tool and burnish down your project before you start weeding. Go over the whole design with your scraper and help ensure that everything is sticking to the mat really well. This will help keep everything securely on the backing so that when you weed, the only parts that lift up are the ones you are purposely trying to remove.
Burnish, burnish, and burnish again:
Not only do we burnish when we first remove our design from our machine, but we burnish again once we apply the transfer tape. Again, we want to be sure that the tape is sticking to the design really well so it all transfers over to our surface flawlessly. We even like to burnish once more after removing our design from the mat – this time we flip it over and burnish from the back!
Finally, once we lay our design on the surface material, we burnish again. There's no such thing as burnishing too much! This time, we're trying to ensure that the design is well-adhered to the surface. Once we've burnished it well, it's time to carefully peel away the transfer tape. It might be tempting to skip all of this burnishing, but we have found it makes a huge difference when it comes to the successful adhesion of our die-cutting craft projects.
Clean your surface.
Speaking of getting good adhesion, this tip is another one that has helped us with the successful application of vinyl to non-porous surfaces like ceramic and glass. Not only does it help with the initial sticking down of your design, but it helps it last so much longer too!
By using some rubbing alcohol on a paper towel, you can clean away all the dirt, dust, oil, and debris that can build up on the surface because of handling it or from simply sitting around. Cleaning your project can eliminate these issues and gives you a super clean surface that vinyl will adhere to perfectly. You'd be amazing at what a big difference this can make!
Applying vinyl to a rounded surface
Before you try applying vinyl to a rounded surface, such as a mug, tumbler, or Christmas ornament, take some scissors and cut little slits along the transfer paper being sure not to cut any of your weeded image. It can be difficult because of the rounded surface to get a smooth, wrinkle-free vinyl design, but this little tip makes it work much better.
Reuse your transfer tape.
If you're using a traditional transfer tape such as the kind Cricut makes, we have found that we can get up to 7 uses out of one piece of transfer paper. This can save you time and money.
Another money-saving tip – use masking paper transfer tape. We love this product and it works for 90% of the craft projects we create. It's not nearly as sticky as standard transfer tape.
We have had issues in the past with transfer tape having such a strong adhesive on it (even when labeled standard grip) that we couldn't remove our designs from it. It just wouldn't come up. Or with paper and cardstock, it would rip parts of our design. The masking paper transfer tape has just enough stickiness to hold our design (especially if we burnish!) but not so much that it will ruin our crafts.
Save those vinyl scraps.
This is another great way to save money! After you've cut your design out of vinyl, be sure to use your Cricut TrueControl Knife to cut away the excess from around the design. Save your vinyl scraps and use them for other craft projects. You'll save money by making the best use of your craft materials.
We have more great ideas for not wasting vinyl and getting the most out of it. You can save money by making the best use out of your craft materials!
You can remove your vinyl if you need to.
If you need to remove vinyl from things like mugs, try heating it with a heat gun or blow dryer. While it's still warm, use your weeding tool to peel up the vinyl from the surface. They will usually come right up with no residue left behind. We've got more tips for removing vinyl that you might find helpful too.
Keep track of how old your vinyl is.
It's important not to buy too much vinyl at once. Vinyl has a shelf life and as it ages, it won't work as well as it once did. It can be more difficult to cut, weed, and apply. It may not last as long on your craft projects either.
We like to estimate how much we will use in the next several months and only purchase enough to last for that time period. In addition, with leftover vinyl and vinyl scraps, we like to mark it on the backing paper with a permanent marker to track when we purchased it so we can be sure to use it up before it "expires".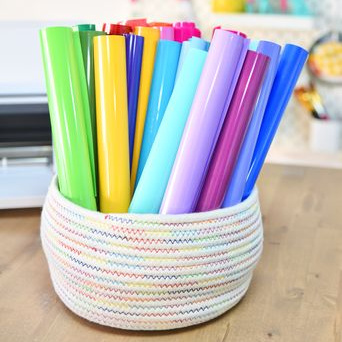 Use the right kind of vinyl.
We have to deal with the elephant in the room. Some people really like to save money on their craft supplies and so they go for the cheapest ones they can find. We like to save money too, but we have found that sometimes when we are buying the cheapest craft products, we are also getting ones that are poor quality.
You have to balance things like ease of use, how durable the product is, and how much value you get out of it with the price to really see the true cost. You can't just look at the price tag!
If you use a poor quality vinyl and then it won't stick to your surface or it only lasts a few months, it's a waste. If you can't weed it without damaging it, you'll have to start over again and you've wasted material. Buying a good-quality adhesive vinyl or heat transfer vinyl can be economical!
You also want to be sure to choose the right vinyl for the surface you're applying it to. Educate yourself (we can help!) and learn which vinyl works best for each type of craft project. You'll have flawless results time and time again!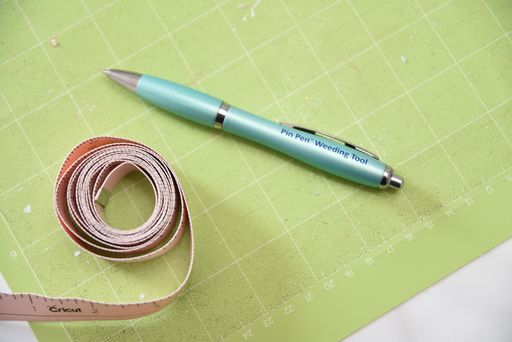 Try using a Pin Pen tool for weeding smaller, more intricate pieces of vinyl.
We love our Pin Pen weeding tool! Because of the needle-like point, it's a great tool for removing those tiny pieces from your designs – things like the centers of letters and tiny, intricate designs like mandalas.
For small, intricate designs, use reverse weeding.
With reverse weeding, you're going to apply your transfer tape BEFORE weeding your design. Then, flip your design over and place it face down on the cutting mat so you can weed from the back.
Peel away the backing paper. Start weeding as you normally would by using your weeding tool to lift up a corner. You will remove the edges (the excess or negative space vinyl) from your mat, leaving the actual design adhered to the transfer tape. You can see a video below that shows you this process in action.
Weed a large project in sections.
When you start weeding a large project, you may reach a point where you have a huge wad of excess vinyl in your hand. This can start making it more difficult to weed so we suggest cutting that away and discarding it. Then, you start working on another section of your project without that vinyl getting in the way.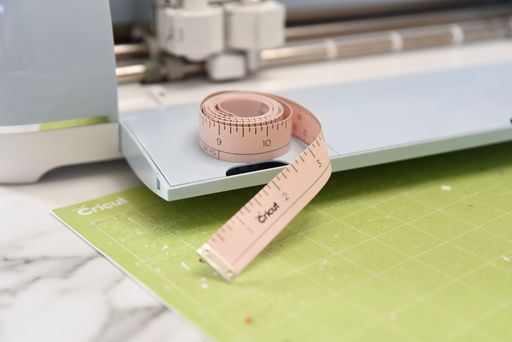 Measure twice and cut once.
You've probably heard this before but it's really important for die-cutting projects too. Measure twice – or more – so that then when you cut out your design, it will be the perfect size for your surface material.
When it comes to sizing your vinyl designs, you want to be sure that you have measured the available space you have to work with and size your design accordingly. We like to create a shape in Cricut Design Space that represents the shape of our surface (photo frame, sign, etc) and size it to the area we have to work with. For example, with a picture frame, we want to know the size of the area where we could place a design, not including the frame itself.
This helps us visualize the size and placement of the vinyl for our finished project. We'll know exactly how big our design should be! Cricut even has some templates in Design Space that you can use
We use vinyl all the time and we're still finding and refining our tips and techniques for working with it. These are our favorite tried-and-true vinyl hacks that serve us well every time we are creating a new craft project. You should give them a try! In fact, you might find that they save you so much time and energy (and money!) that you'll be able to make even more vinyl craft projects. Win-win!

Tanner, Courtney, and the rest of the Makers Gonna Learn Team are all here because we love die-cutting and especially love sharing fun projects and tutorials with fellow makers. We are all great friends and are always having a blast when we are together- you will see this on camera, especially during live streams! We are here to inspire and support you in your crafting journey!