Which Cricut Mat Color to Use?
There's a lot to remember when you're a Cricut beginner. One of the things you might be wondering about when you start a new craft project is which Cricut mat color to use. We're going to break it down for you here so you'll always know the differences between Cricut cutting mats.
The basic thing you need to know is that each of the Cricut mats gives you clues in its name just how strong the adhesive on that mat is or what it is meant to hold. Cricut machines can cut much more than vinyl. LightGrip, StandardGrip, and StrongGrip all go from least to most adhesive. The stronger the mat's hold, the heavier the material you can place on it.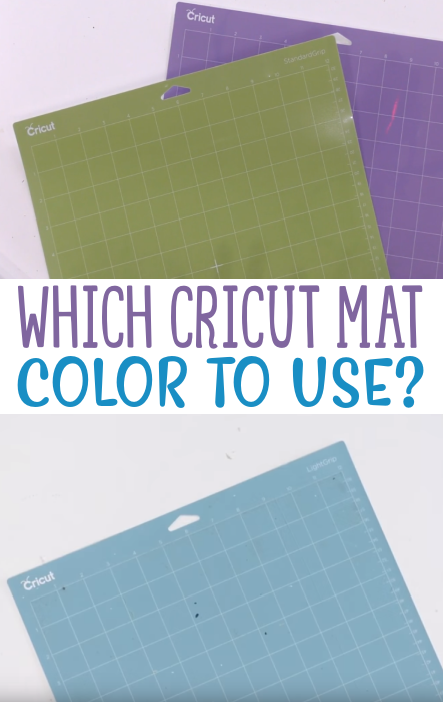 Which Cricut Mat Color to Use?
Let's go through the mats color by color to give you examples for each one.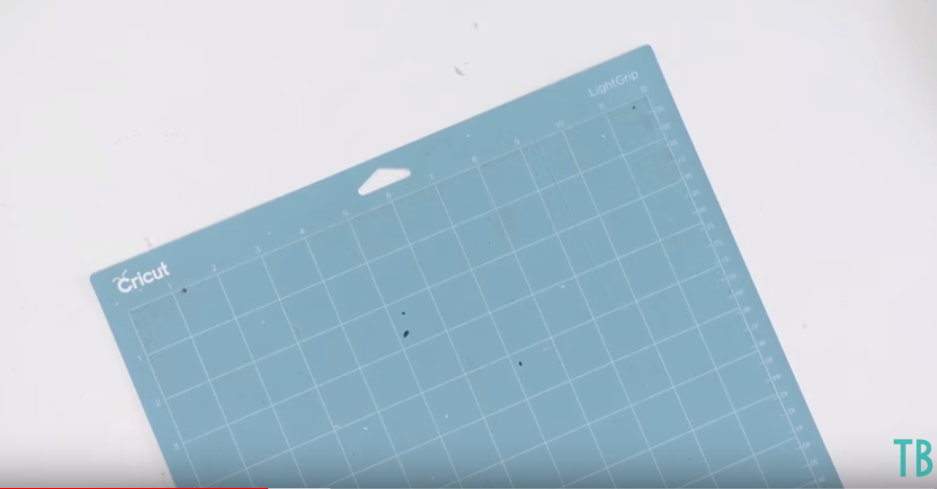 Blue LightGrip Mat
The blue Cricut mat is the light grip cutting mat. This means it has the least amount of adhesive on it. You might be wondering why you would want a mat that isn't very sticky. Well, it actually comes in very handy for some materials.
The first materials that pop to mind are tissue paper, light cardstock, patterned paper, construction paper, and vellum. If you use light materials like these, you're going to want to use the blue Cricut mat because anything stronger than that may rip your material when you try to remove it from the mat.
You don't want to use the LightGrip mat with any thicker materials though as it may slide around and you won't get the perfect cuts you're looking for and it may even jam your Cricut machine.
Pro tip: After cleaning a light grip mat a few times, we find that it has lost so much of its stickiness that we can't really use it at all anymore. So, we save our "less sticky" (aka well-loved) Standard Grip cutting mats and use them as Light Grip cutting mats. This is a great way to get more use out of them!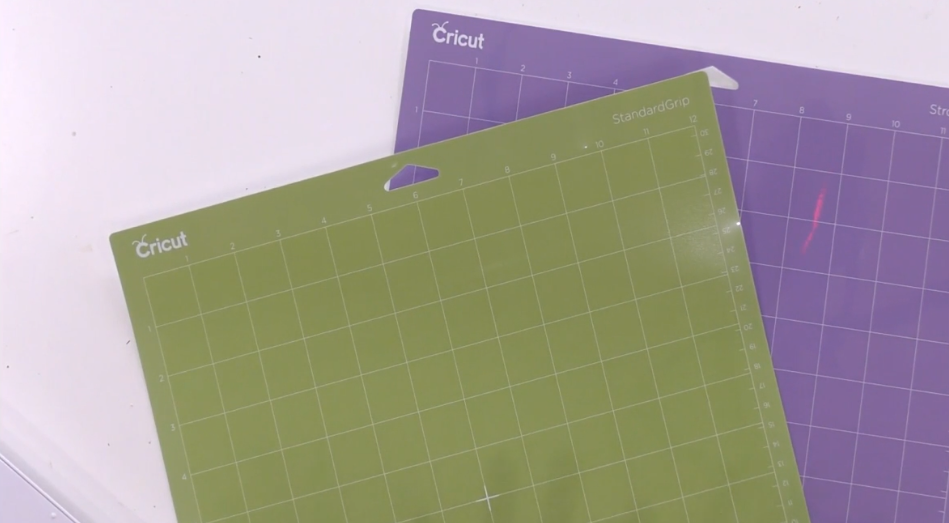 Green StandardGrip Mat
This is the one we use the most. It's the basic mat for many different projects and has a medium amount of adhesive on it. We use Standard Grip cutting mat for nearly any kind of vinyl (although we usually find that unless our green Cricut mat is brand new, we need to use a StrongGrip mat for glitter iron-on).
We also use the standard grip mat for thicker cardstocks – about 60-110 lb. cardstock – and other medium weight materials.
Comparison of Cricut brand mats with 2 other off-brand cutting mats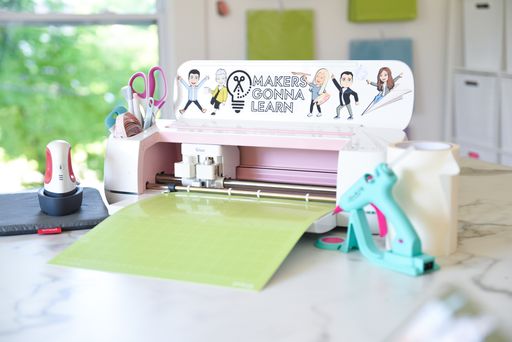 Pink FabricGrip Mat
This one pretty much tells you right in its name what it's used for. You can use the pink Cricut mat for leather, faux leather, felt, fabric, and so on. It has just the right amount of adhesive to hold your fabric in place securely for cutting.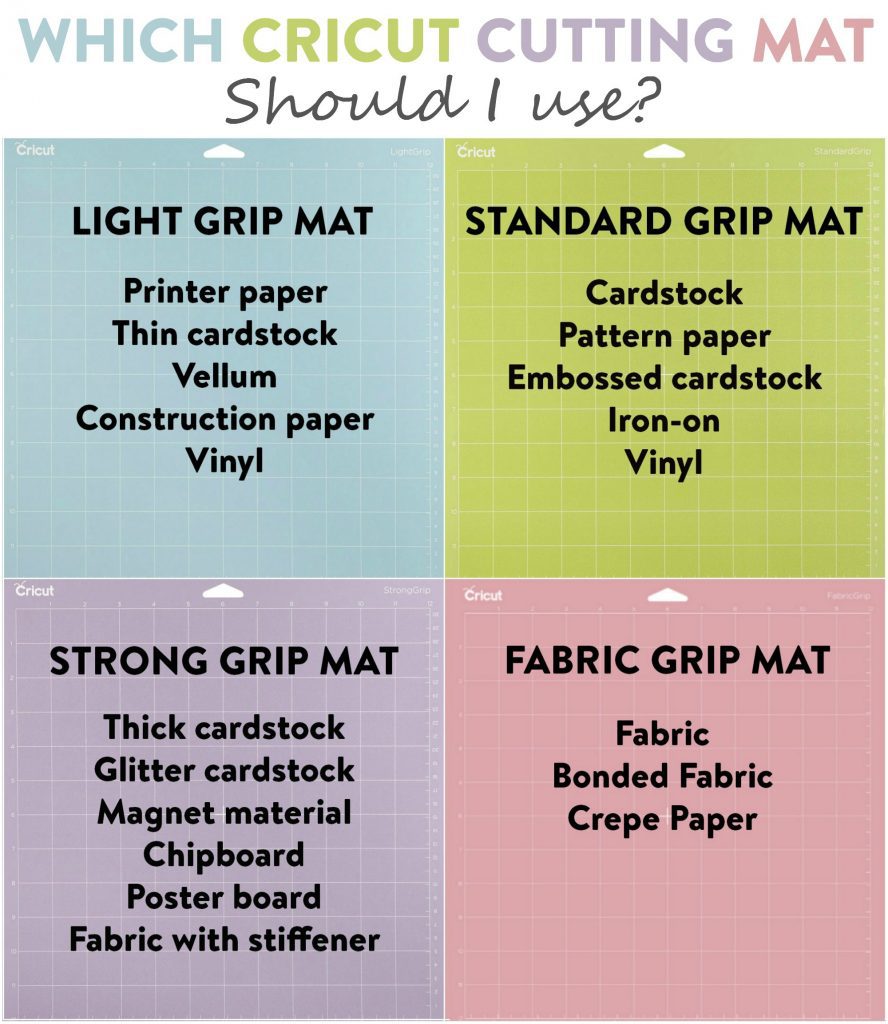 Purple StrongGrip Mat
The Cricut Strong Grip mat can also be used for some of your fabric projects. They are quite similar in the amount of adhesive they have on them. If we don't have a fabric grip mat available, we have often used a purple mat in its place with good results, especially if it has been used a bit already.
The StrongGrip Mat works well for glitter HTV, really heavy cardstock, chipboard, balsawood, basswood, and other heavy materials like that.
Ultimately, it's really important to pick the right mat for the job so you can have the greatest success with your die cutting craft projects.
Why is it so important to know which mat is which and choose the right one? Well, if you use a cutting mat that is too strong, it will hold your material in place while cutting, but you may have trouble removing it from the mat without damaging it.
If you use a cutting mat that isn't strong enough, your material may move around and you won't get a precise cut. As mentioned previously, it can also cause some of the material to come loose and jam your Cricut.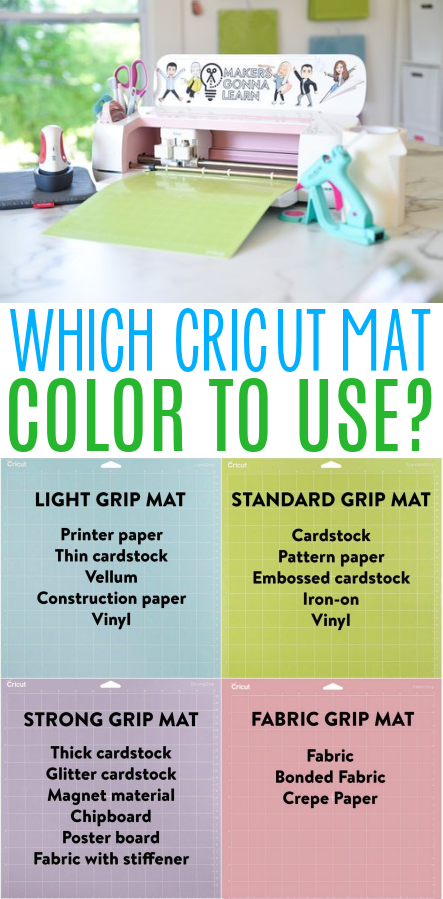 Tanner, Courtney, and the rest of the Makers Gonna Learn Team are all here because we love die-cutting and especially love sharing fun projects and tutorials with fellow makers. We are all great friends and are always having a blast when we are together- you will see this on camera, especially during live streams! We are here to inspire and support you in your crafting journey!