Which EasyPress Should I Buy?
In today's tutorial, we're talking about one of my most asked questions and it's Which EasyPress Should I Buy? There's four different EasyPress models on the market right now and it can be kind of overwhelming to decide. If you're now thinking about adding an EasyPress to your arsenal of craft supplies so that you're able to make perfect t-shirts and heat transfer projects, you might be looking for a little help in deciding.
So, we're going to break down some of the comparisons on the EasyPress 2 line up versus the original EasyPress. Then, we're going to dive into the different sizes of EasyPress to choose from. We love having all of them here but we realize that not every crafter needs to have every single EasyPress on hand. So, we're going to share with you what we think is the best one for you.
Once you buy your EasyPress (yes, we really think you should get one at some point!), you're going to love these EasyPress Hacks You Might Not Know.
Let's go over the three different sizes of Easypress. First of all, we have the 6 by 7. It's perfect for socks, onesies, and other smaller projects. Then we have the 9 by 9 EasyPress which is definitely our most recommended size in the original or the EasyPress 2. If you find yourself making larger projects whether it be sweatshirts, curtains, or anything like that you will love the 10 by 12 EasyPress. It is super handy for those larger projects and it is going to save you time when you're crafting which we all appreciate.
With all that being said, you are going to love any EasyPress. Ultimately, no matter if we are making a whole table spread and we used our little small 6 by 7 EasyPress it's still going to do a great job. So, we always like to recommend going for whichever one is in your budget.
A lot of people think that if they're getting an EasyPress and they can only get one, that they should go for the largest one. I am actually going to suggest you stay away from that and here's why. I find that the larger EasyPress takes a little bit longer to heat up, it's harder to give that evenly distributed pressure that we preach about here on the channel and it is a little bit more cumbersom to use. If you can only get one EasyPress, stick with a 9 by 9. It's a nice working size.
Before we go on, I'd like to also mention that I have used this EasyPress for going on two years now and before the EasyPress 2 come out last summer this was an amazing EasyPress. It does everything you need it to do and more.
What I love about the EasyPress 2 versus the original EasyPress is that it can heat up quicker. It actually does even hotter temperatures too. It's important to note though, that I have not had to use any hotter temperatures than the original EasyPress has. One other thing I do absolutely love besides the red color is the low profile cradle It is definitely a selling point as compared to the original EasyPress cradle.
What I love is that no matter which one you have, the cradle does the job! Believe it or not with the EasyPress 2, I could take my hand it could be 400 degrees bump up against it, and just like with our original EasyPress, you're going to get that same protection and you're not going to hurt your hands or burn yourself. Of course, with any of these EasyPress is if we stick our fingers and hands in there it's going to be hot but overall, if it's sitting on your table and you bump up against either of these, the cradle is going to do the job and protect you.
I really appreciate the price point that the original Easypress is at and you can often find these on sale since the newer ones have come out. The original works well so it's a great item to purchase, but if you have it in the budget to splurge a little and treat yourself to the Cricut EasyPress 2, that's going to be the best one for all around use.
So, to prioritize which ones I think are the best for you: if you can only purchase one EasyPress, I would say go for the EasyPress 9×9 or the Easypress 2 9×9 depending on your budget. My preference is the EasyPress 2 9×9 – I absolutely love it! If the EasyPress 2 9×9 isn't in the budget, my next choice would be originally EasyPress 9×9 or if not that one, then this adorable 6×7 EasyPress. Just remember that the 9×9 size really does make creating things like t-shirts and their larger surface area so much easier.
The last thing I would like you to know is that if you're purchasing an EasyPress, be sure to pick up a Cricut EasyPress mat too. They're very affordable and they're going to help you get great project results each and every time! We sure hope this post about Which EasyPress Should I Buy helps you make your decision much easier.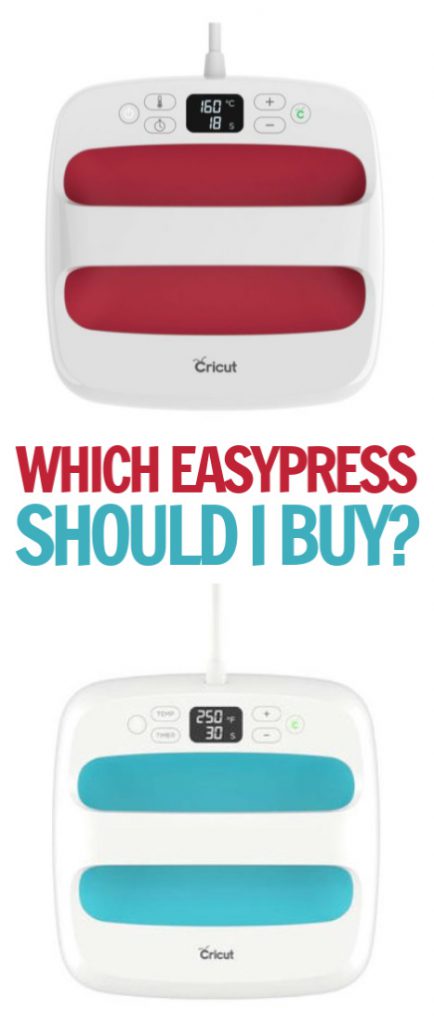 Tanner, Courtney, and the rest of the Makers Gonna Learn Team are all here because we love die-cutting and especially love sharing fun projects and tutorials with fellow makers. We are all great friends and are always having a blast when we are together- you will see this on camera, especially during live streams! We are here to inspire and support you in your crafting journey!