Working with Cut Files for Beginners
When you're a Cricut beginner, it can feel overwhelming to think about using cut files in Cricut Design Space to create the designs you want. It's really much easier than you might imagine! We'll teach you everything you need to know about Working with Cut Files for Beginners.
Before you can cut anything with your Cricut machine, you need to upload your cut file into Design Space and customize it. That may simply mean sizing it to fit the available space on your craft blank or could go even further by changing cut file colors, adding text, or slicing away unwanted parts.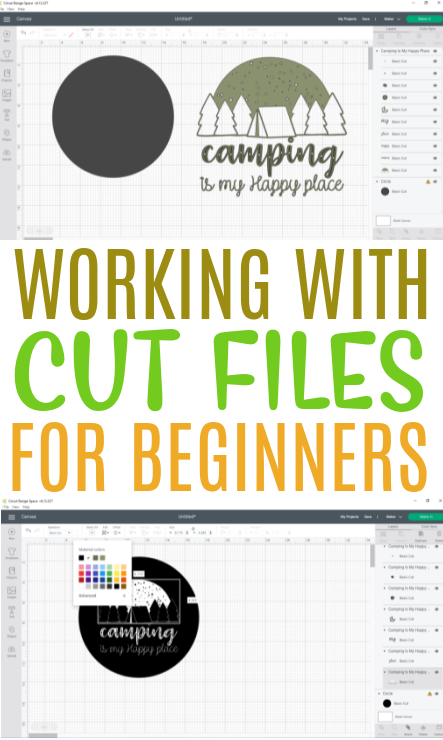 Working with Cut Files for Beginners
We are going to show you how to use cut files exactly as you'd like in Cricut Design Space so you can cut them and apply them to your projects. Let's get started!
Download Cut Files and Upload into Cricut Design Space
The first step before you can work with any cut files is to download the files from whatever site you're using (for example, your Makers Gonna Learn membership), and then import them into Cricut Design Space. Your files will download as a zip file which you'll need to unzip before they can be used on your canvas.
This video will take you through it step-by-step. If you want to see written instructions and screenshots, you can also find it here: How to Upload 3rd Party Cut Files and Fonts into Cricut Design Space.
Sizing your cut files
Once you have your cut file in Design Space, if you're happy with it exactly as it is, you only need to size it to fit your surface. We have a trick that we like to teach people to make it much easier to size it perfectly.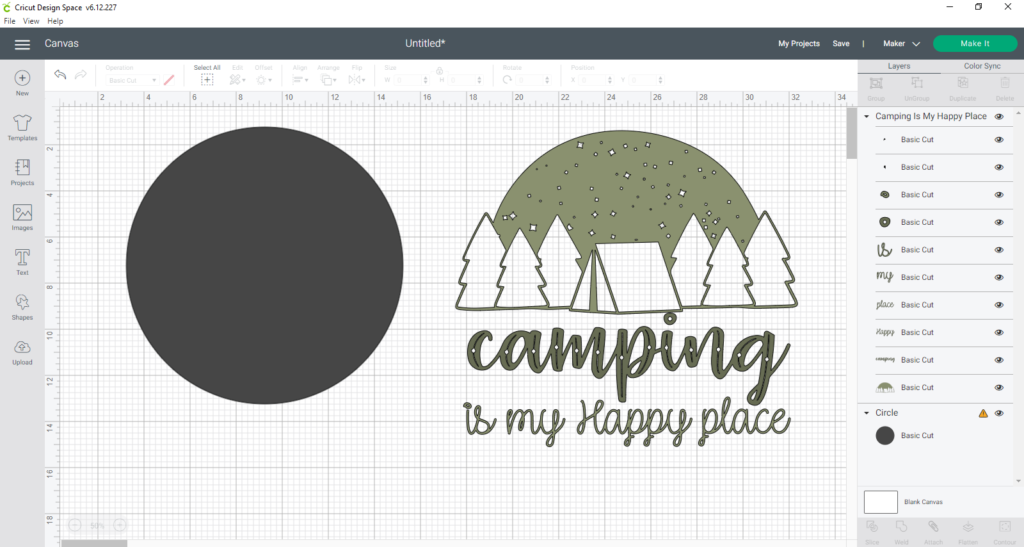 We suggest using basic shapes (left hand side bar menu on Design Space) to add a shape to your canvas to represent the craft blank you're using. In this case, we added a circle to represent a circular wooden sign we are making.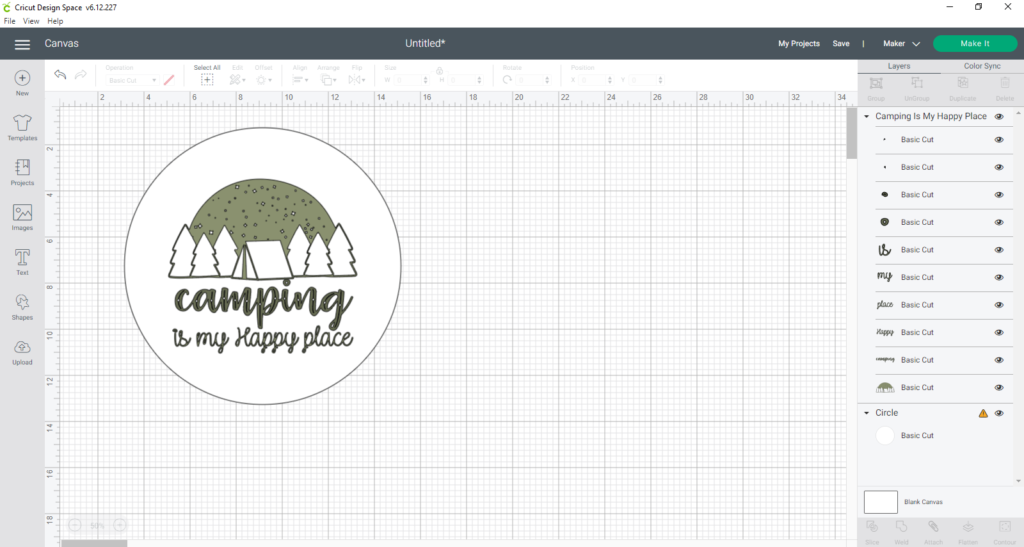 You can then size your cut file to fit that shape exactly as you'd like for the finished project. We even suggest changing the colors to match your finished craft so you have a really good visualization of what your project will look like. Once you're happy with the sizing, simply delete the shape and cut out the file.

Changing cut file colors
What if you want to change the cut file colors? In this example, we wanted to change this to a chalkboard look with a black circle and a white design.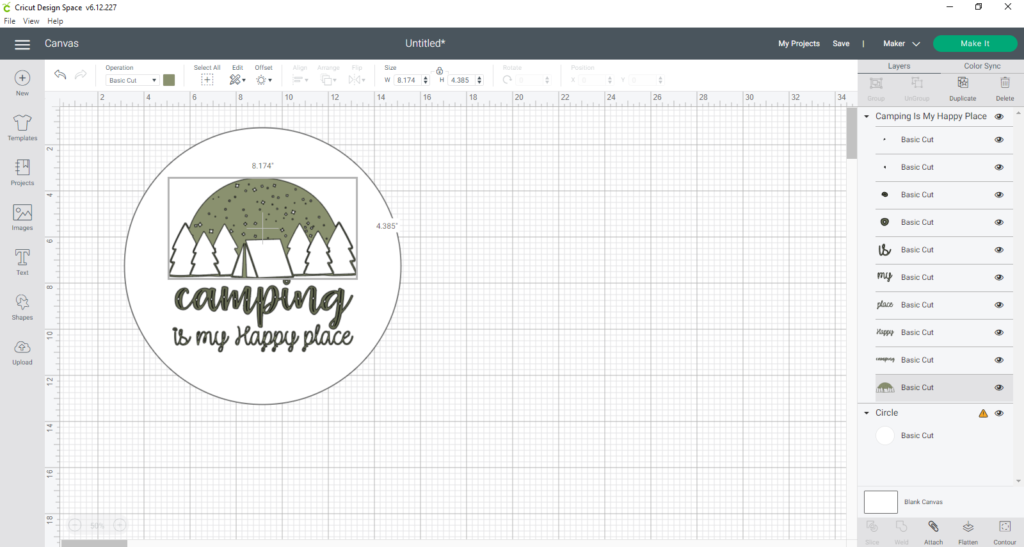 You can simply select the layers you want to change and go up to the top toolbar where you see a small colored square just to the right of Operation.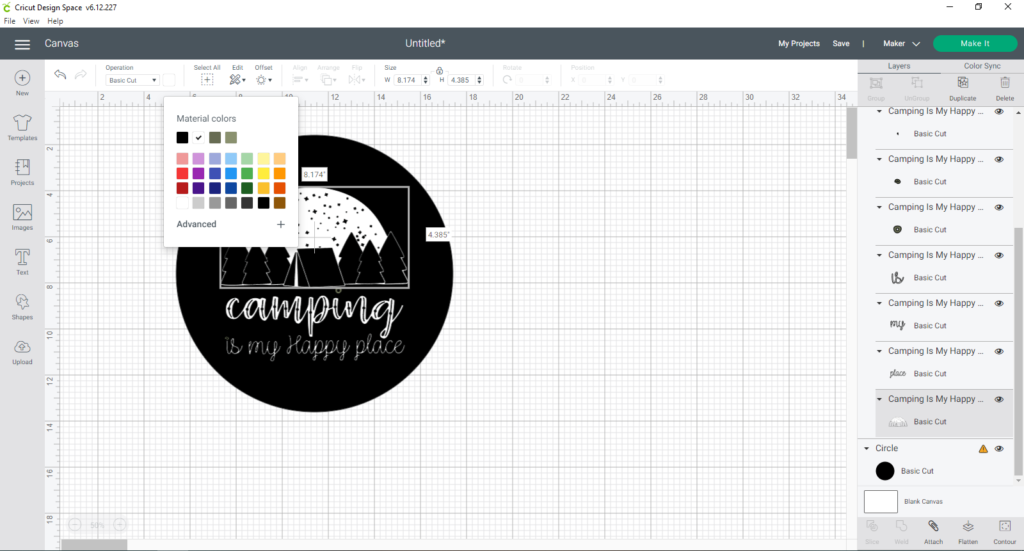 There, you'll get a dropdown menu allowing you to choose the color you prefer. You cannot change colors with more than one layer selected at a time.
If you're working with a single layer design, you may need to do some duplicating and contouring in order to be able to change colors. This post has step-by-step instructions on how to do that – How to Change Cut File Colors.
Removing unwanted design elements
There are also ways you can change your chosen cut files by removing unwanted design elements. This is generally done by using Slice or Contour.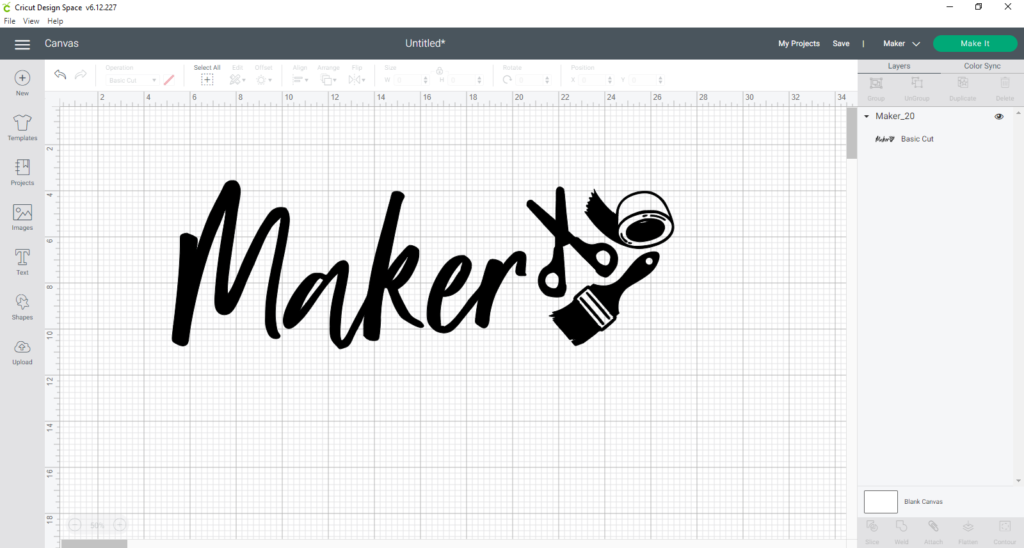 If we want to customize this SVG file by eliminating the paintbrush, one of the ways we can do that is by using Contour.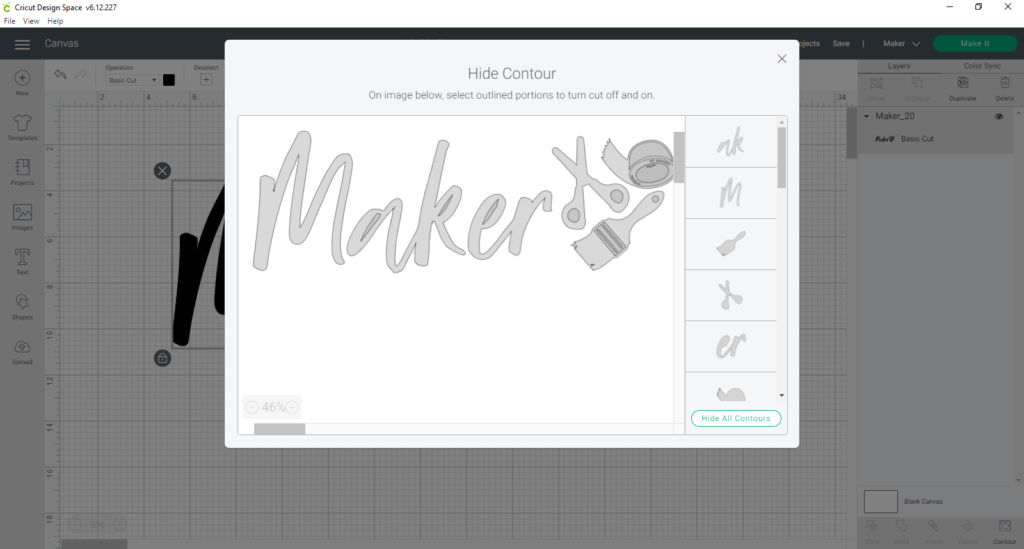 Select the file and choose Contour in the bottom right corner under the Layers Panel. This opens up the Contour panel.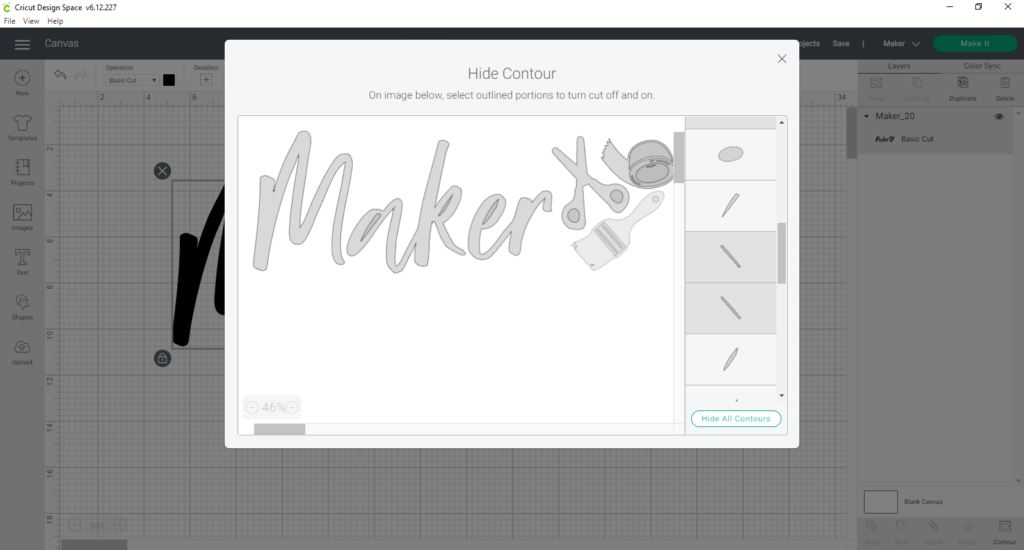 From there, you can start clicking on the parts you want to delete. You'll see that the ones you click on get "greyed out".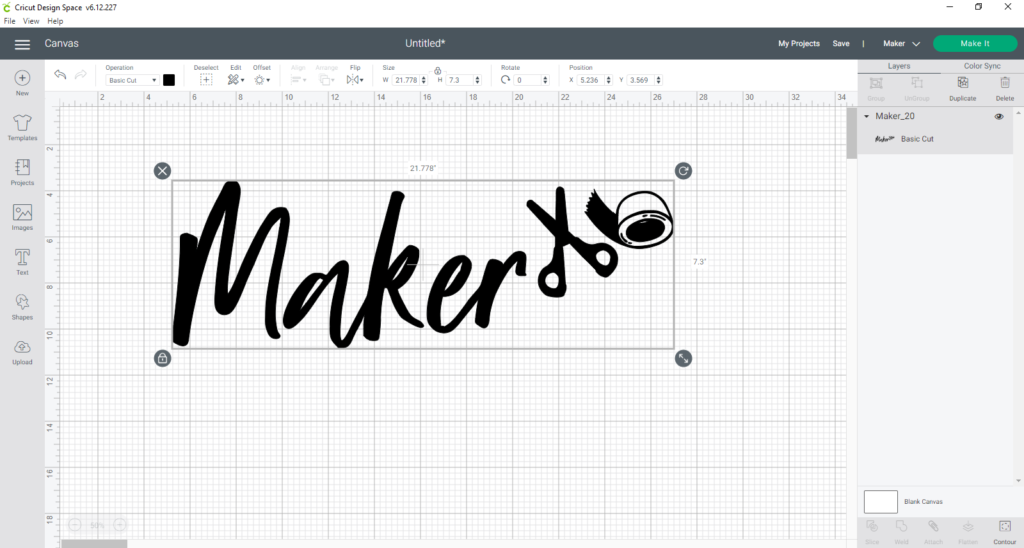 Once you close the Contour panel, you'll see that the pieces you clicked on have been removed.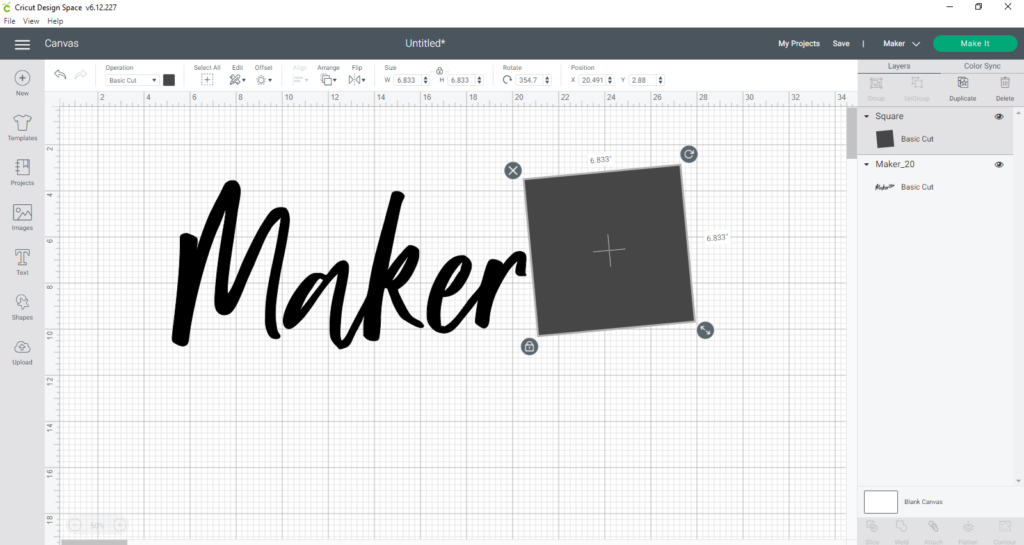 Another way to eliminate parts of a design that you don't want is by using Slice. Here, we wanted to delete everything except the word Maker. Choose a shape from the left sidebar menu and cover up the parts you want to remove. We chose a square and then rotated it a bit to make it fit well.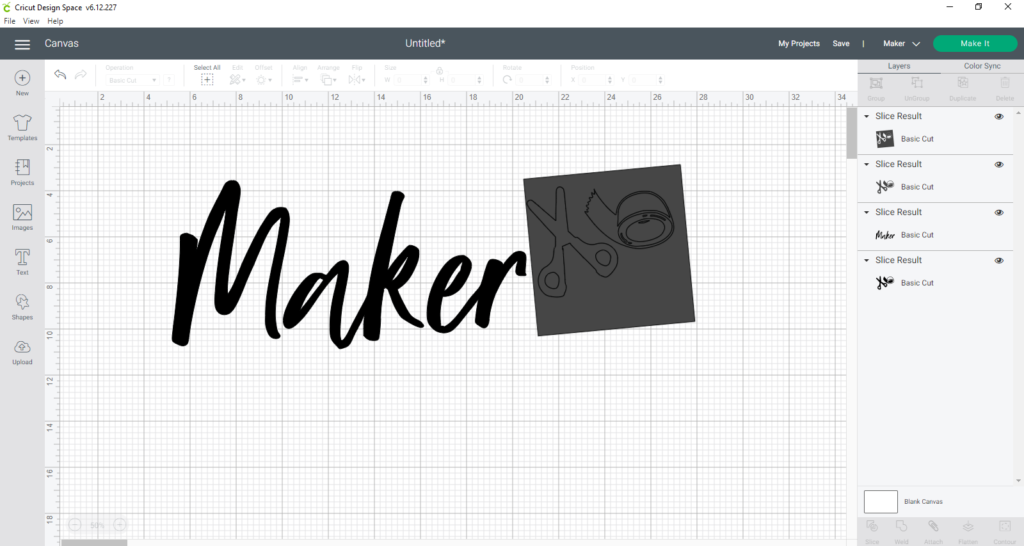 Select both the SVG layer (the Maker design) and the square. Choose Slice from the right hand side under the Layers Panel.
PRO TIP: You can only slice through two layers at a time.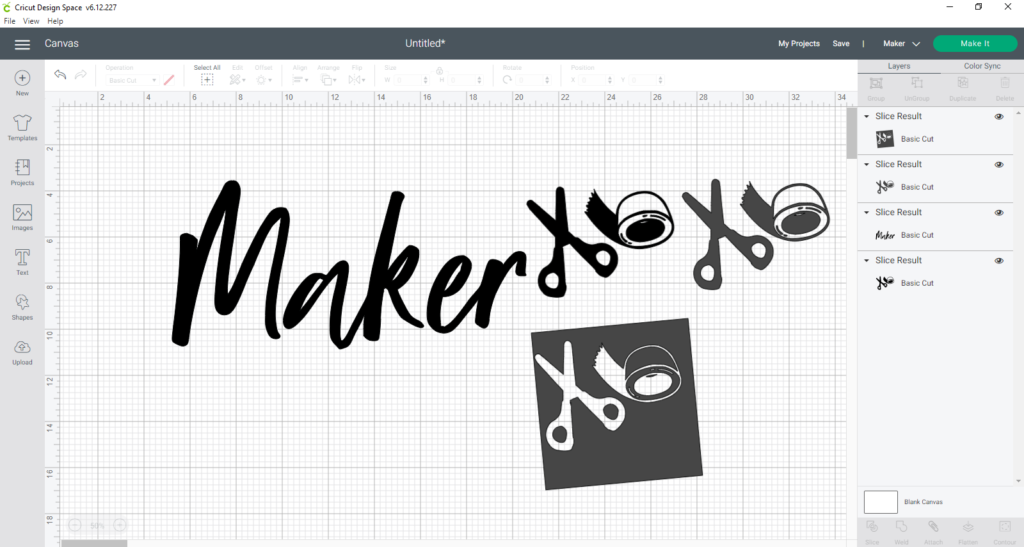 Look in the Layers Panel after slicing and you'll see all of the slice results. You can now simply delete those.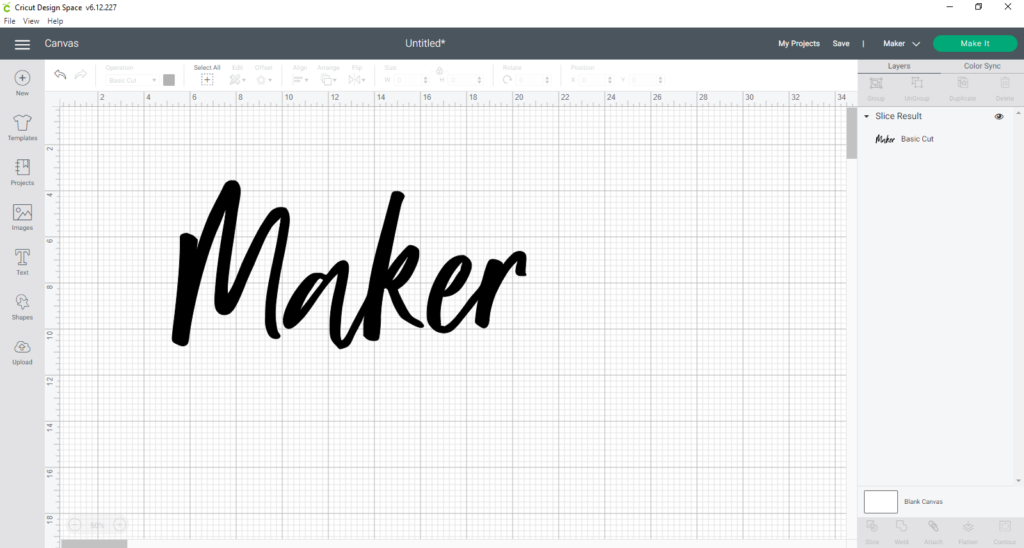 This leaves you with only the word Maker and the rest of the design has been eliminated.
There are so many ways to customize the cut files that you work with. You don't have to leave them just as you find them; you can change the colors, eliminate parts you don't want, add text, and more!
We can't wait to see what you do with your designs. Be sure to tag us on social media using hashtag #MakersGonnaLearn!
Tanner, Courtney, and the rest of the Makers Gonna Learn Team are all here because we love die-cutting and especially love sharing fun projects and tutorials with fellow makers. We are all great friends and are always having a blast when we are together- you will see this on camera, especially during live streams! We are here to inspire and support you in your crafting journey!