10 Cricut Holiday Home Decor Ideas
You are sure to enjoy these 10 Cricut Holiday Home Decor Ideas To Make For Your House Today. We love making a handmade home for the holiday season, and these home decor ideas you can make with your Cricut die cutting machine are the bomb.
These Cricut home decor ideas perfect to make this Christmas using cut files from the Makers Gonna Learn membership. If you love making your own die cutting home decor projects, you will love this post! These Cricut Christmas crafts are a game-changer.
10 Cricut Holiday Home Decor Ideas
We have so many amazing ideas for Christmas decorations you can make. These are perfect for decorating your own home or giving as gifts.
Each of these die cutting craft projects makes use of the cut files in our Makers Gonna Learn Christmas Collection.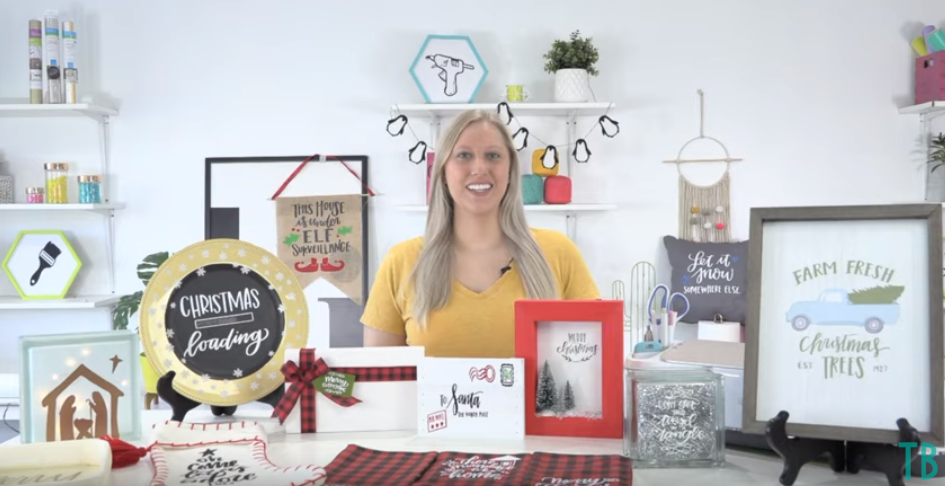 Burlap Banner
Behind me, you'll see an adorable banner we made from burlap and heat transfer vinyl with our super cute "This house is under elf surveillance" cut file added to it. Hang this up in your home, on your front door, or even use it as one of those fun lawn flags.
Holiday Throw Pillow
The other item you can see back there is a holiday throw pillow. With our "Let it snow…somewhere else" SVG added to it, this will be the perfect accent to your living room not only through the Christmas season, but all winter long!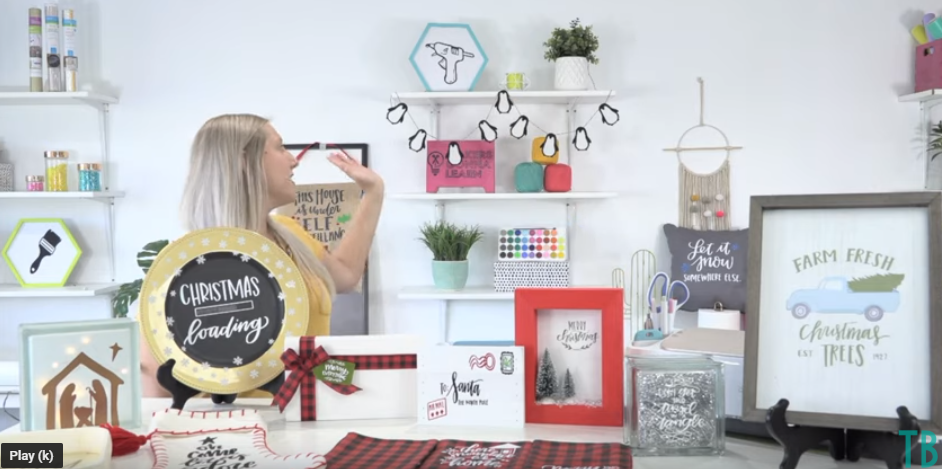 Felt Penguin Garland
And how cute is this felt penguin garland? We took one of our penguin cut files and manipulated it just a bit to create this. This would be so sweet hanging from your mantel or over a window.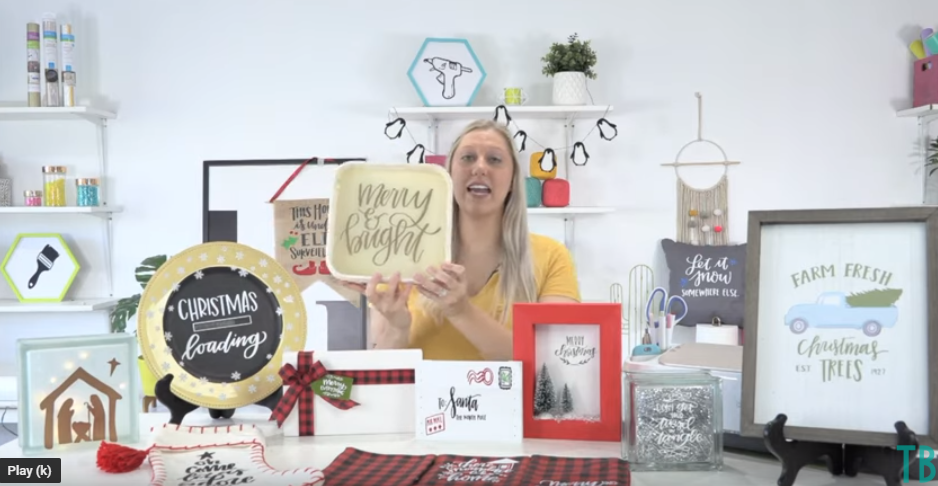 Holiday Treats Tray
This beautiful holiday tray would be just lovely on display in your home or filled with yummy treats for a party. Take it to a cookie exchange loaded with goodies and leave the tray behind as a special gift for the host. We cut our Merry & Bright file out with vinyl, adhered it to the tray, and then sealed it with epoxy resin.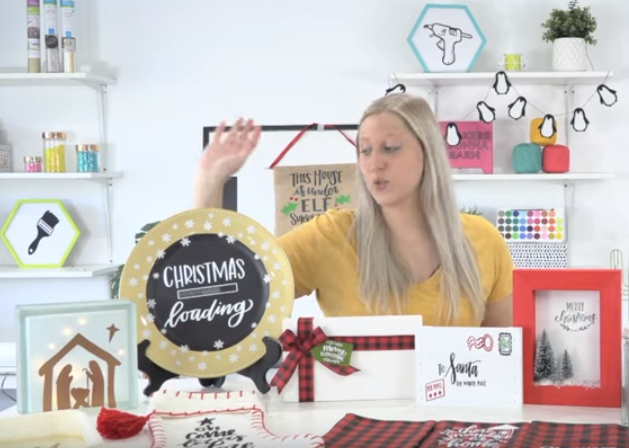 Nativity Scene
The twinkle lights add just the right touch to our Nativity scene cut file. We grabbed a glass block from our local craft store to use as the base and sprayed it with some of the frosted glass spray.
Then, we cut out our file on gold Cricut vinyl and added this to the block along with some fairy lights. You could even make this double sided with a different design on the back!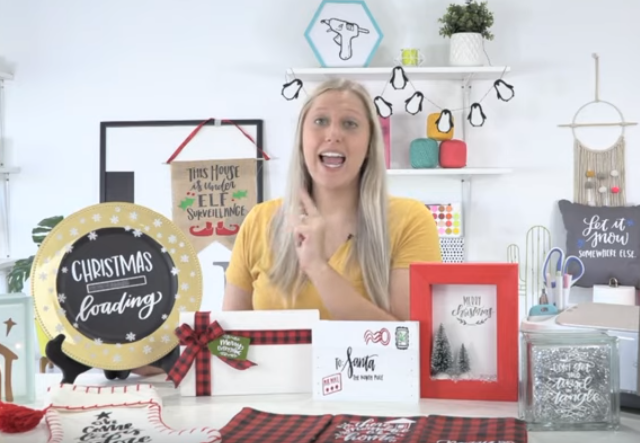 Christmas Loading Charger Tray
For our "Christmas Loading" tray, we took a charger plate and painted the center of it with black chalkboard paint. We added our cut file in vinyl and then some glitter snowflakes as the final touch.
Because it's made as a chalkboard, the kids can come in and use chalk to fill in the Christmas Loading progress bar a bit more each day until it's finally Christmas! It's a more modern spin on the traditional Advent countdown calendar.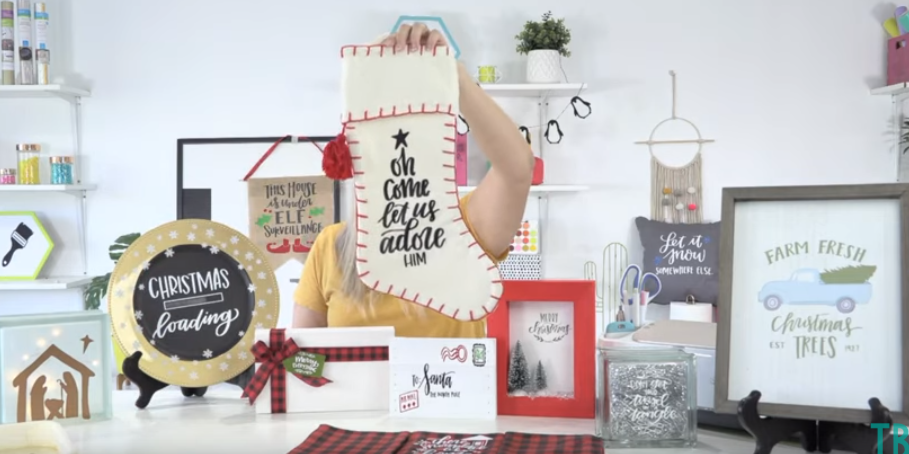 Customized Christmas Stocking
Next up, we're using iron on vinyl, our Cricut machine, and a plain stocking to make something more customized to our holiday home decor. As a yearly member with Makers Gonna Learn, you can use one of our fonts to personalize it with the person's name too.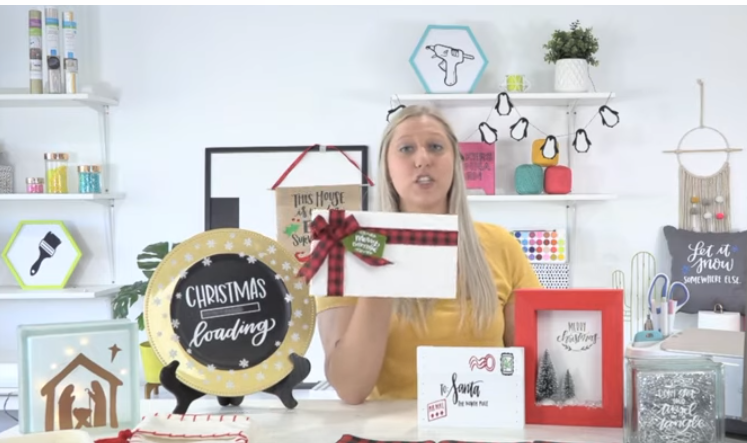 Decorative Gift Box
This accent piece looks like an adorable little gift box all wrapped up for Christmas. It would be perfect on your mantel or hearth or even as part of a tablescape. Because it comes with a picture hanger on the back of it, you can even hang it on your wall as part of a lovely holiday display.
We made it using a plain wooden box/plaque that we painted white. Add some beautiful ribbon and a bow (—>>>Need help making the perfect bow? Our tutorial can help!) The final touch is a tiny felt tag we embellished with one of our cut file sentiments – Merry Everything!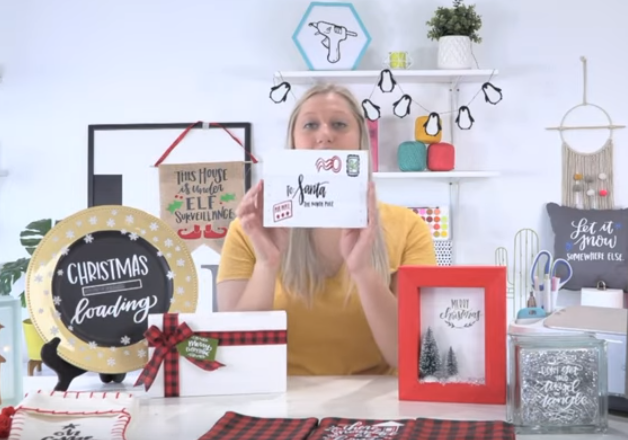 Santa Envelope
Here we've created a Santa envelope using our Santa Mail cut file and three different colors of HTV on a wooden frame. This would be adorable sitting anywhere in your home over the holidays. It's crisp, clean, and modern looking and will fit in with pretty much any decor scheme.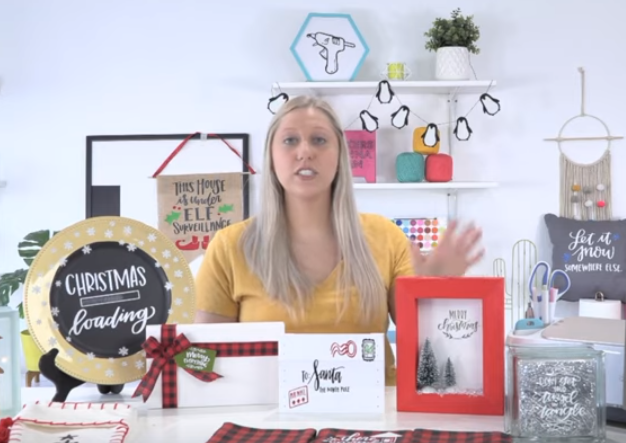 Christmas Shadowbox
This Christmas shadowbox is so easy to make and adds not only a lovely decorative touch but some dimension to your decor too! We started with a wooden shadowbox frame that we painted red on the outside and white on the inside.
We added our Merry Christmas SVG file, some little bottle brush Christmas trees, and some faux snow. It gives it that classic holiday look. There are so many variations you could make of this idea. Try changing the colors, adding presents under the tree, and more!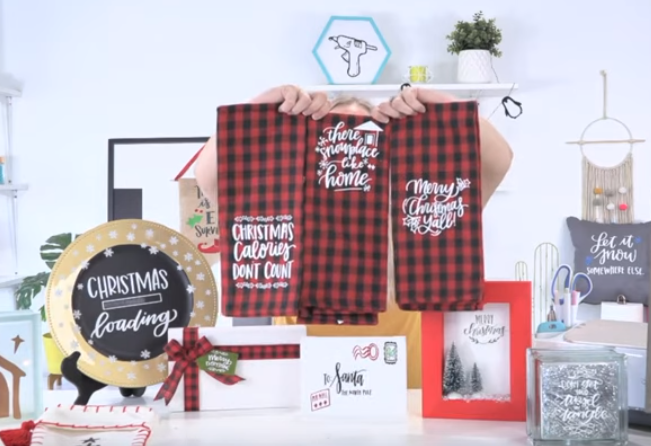 Holiday Kitchen Towels
We chose three of our cut files from our Christmas collection to customize these kitchen towels with heat transfer vinyl. These look so pretty in the kitchen throughout the holiday season. It's so fun that you can inexpensively swap these out seasonally.
They also make ideal gifts for family and friends. Add some holiday goodies and present them to a teacher, neighbor, or party host. They're sure to be a big hit!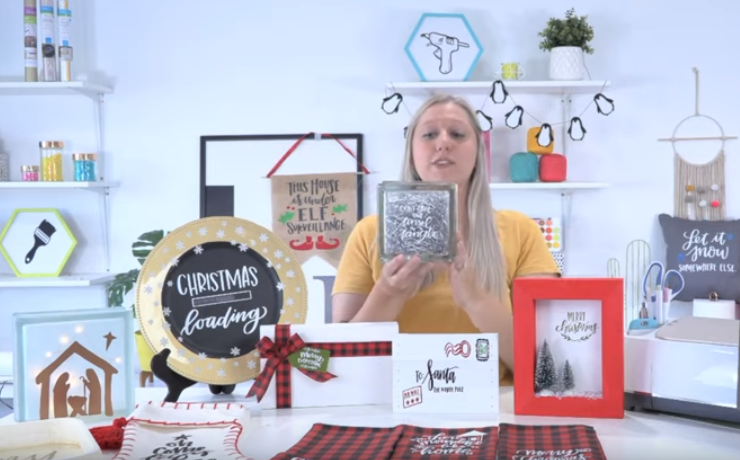 Holiday Glass Block Decoration
Here's another pretty glass block Christmas home decor idea you can make with your Cricut die cutting machine. This is one of the easiest craft projects you could make!
All we did was fill it with some silver tinsel and apply our Don't Get Your Tinsel in a Tangle cut file. It's similar to another one we have made filled with jingle bells that had "Jingle All the Way" on it. They're just so cute!
This would be really cute filled with faux snow, tiny ornaments, or all kinds of other things. Just get imaginative and see what you can come up with!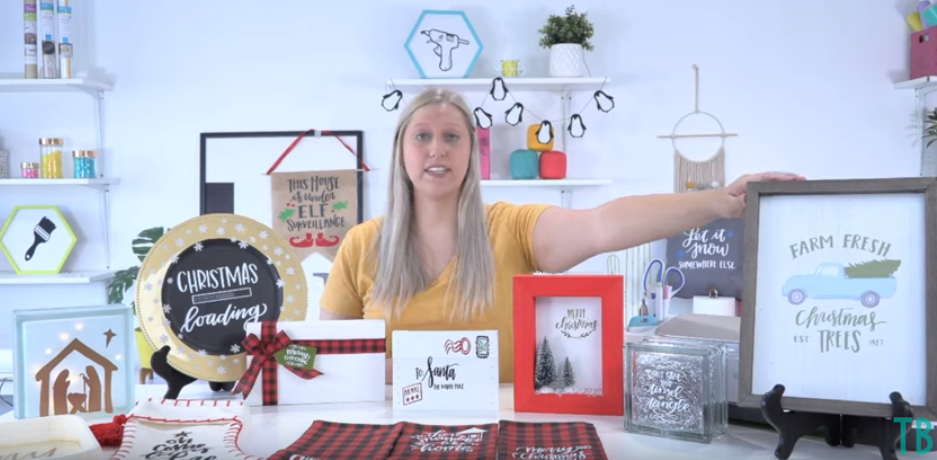 Framed Holiday Sign
Here we are with a beautiful framed sign we created using our Farm Fresh Christmas Trees PNG file. This is one we released last year and it's still oen of our favorites.
With the beautiful wooden frame and some Cricut printable vinyl, we were able to make this gorgeous sign. It's the perfect accent for any rustic or farmhouse decor schemes.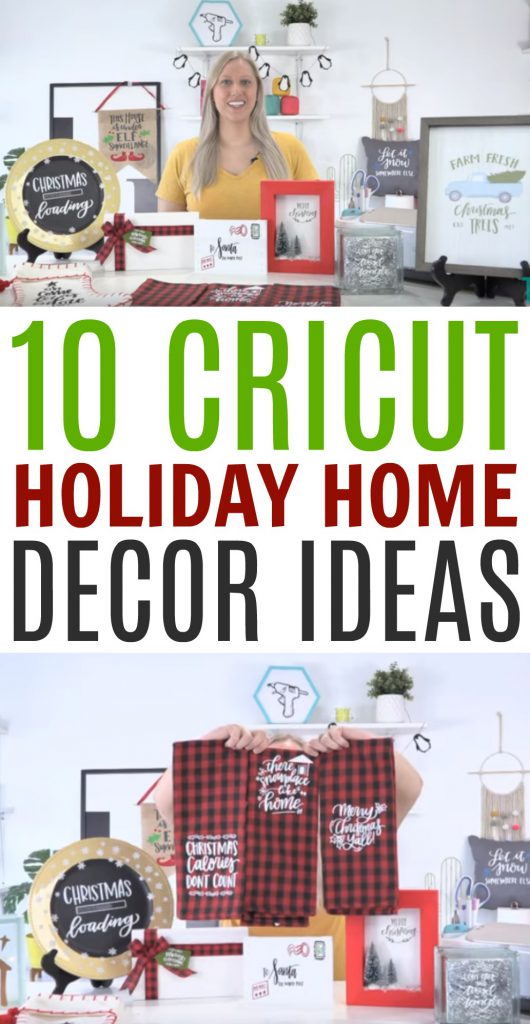 Don't forget that any of these would make lovely Christmas gifts! Make two – one for you and one for someone special. We like to give them a few weeks before Christmas. Then, they can make use of them throughout the holiday season.
Tanner, Courtney, and the rest of the Makers Gonna Learn Team are all here because we love die-cutting and especially love sharing fun projects and tutorials with fellow makers. We are all great friends and are always having a blast when we are together- you will see this on camera, especially during live streams! We are here to inspire and support you in your crafting journey!